Need to get a great gift for a swimmer this year? Find your inspiration with our 2021 gift guide. You'll find that they're great ideas no matter the occasion! 🙂
While 2021 has still been a hard year for some, birthdays, holidays, anniversaries, and special events give us something to look forward to. Even during difficult times. 
Want more gift guides or ideas for swimmers? 
Be sure to check out our other articles: 14 Gifts That Swimmers Will Actually Use, 6 Last-Minute Gifts for Swimmers, and Best Pride Gifts for LGBTQ+ Swimmers.
You can also get some ideas from last year's gift guide: Best Gifts for Swimmers in 2020.
Disclosure: This post may contain affiliate links, meaning we earn a small commission at no cost to you if you purchase something through one of our links. As an Amazon Associate, we earn from qualifying purchases. Please check out our disclosure page for more information.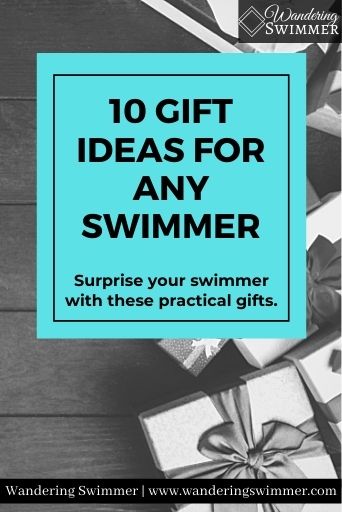 Gift Guide for Kids
Diving Toys and Mazes
Nearly every child who likes to play in the water also likes diving under the water for sinking toys. And let's be honest, it's fun for adults too!
Diving toys aren't just a great way to have fun in the pool. 
They're also a good way to help encourage your child to swim. Next to getting into the water, having your child put their face in the water is one of the hardest obstacles to learning how to swim.
But diving toys can help take some of the fear away from this step. They naturally encourage children to put their faces under the water so they can see and get the toy. 
You can start slow and simple by putting the diving toys on the steps where it's more shallow. 
And for those kids that already know how to swim, diving toys are just plain fun! It's a way to exercise without feeling like you're exercising. 
Diving toys come in all shapes and sizes. Pick from dive sticks and rings, ones shaped like animals, or even ones you can swim through!
No matter which one you pick, your child (and you) are sure to have a blast!
Swim Lessons
This year, give the gift of swimming! Swimming is a life-saving activity and it's a gift that keeps giving.
Check with local pools and learn-to-swim programs to see what options they offer. 
Most offer a variety of classes based on age and swim ability. And they usually have several different scheduling options to help work with your schedule. 
Related article: A Quick Guide to Swim Lessons
Get your child excited for swim lessons by taking them shopping for a new suit and some goggles. Letting them pick out what they like and will use can help ease the nerves that come with swim lessons.
You can also look at getting them a Swim Lesson Journal from H2O Society. This journal can document every moment of their swim lesson journey. And allows them to see the progress that they've made along the way!
It also makes a great gift for when they're older. So they can look back and see what they've accomplished. 🙂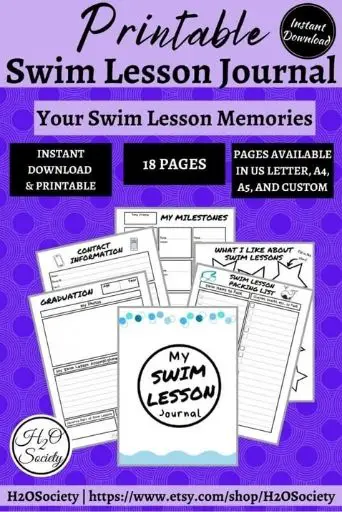 New to Swimming Gifts
Swim Shirt or Rash Guard
Those new to swimming might not feel comfortable swimming in just a swimsuit alone. And it's hard to swim or start swimming when you feel anxious about something.
And while t-shirts can help provide confidence when swimming, they're not the best suited for the water. 
The material makes them heavy and weighed down once wet, and they billow out in the water, making it more difficult to swim. 
A better alternative to your standard t-shirt is a swim shirt. Or even a rash guard. 
Both of these shirts are designed specifically for swimming or use in the water. Such as boating, surfing, or even fishing. They're made from a lightweight material and fit close to the body so they're safer to wear in the water.
Related article: Answering Your Questions About Rash Guards
Swim shirts are designed to be worn over a swimmer's suit, providing modesty, confidence, protection from the sun and sand, and more!
But most importantly, they allow the swimmer in your life the chance to enjoy the pool without fear. 🙂
Gear
Most swimmers who are looking to start swimming or have started will usually need some gear or equipment. They'll probably already have a swimsuit. But gifting them with other items such as a towel, swim bag, or kickboard can help support them.
More Content for You: What Should You Take When You Go Swimming?
We do recommend that you clarify what they already have and what's on their wish list before looking at swim gear. They might already have a gear bag or they might not want new fins. 
Doing this can save everyone some headaches down the road.
If they're not sure, we have some suggestions for you and them on some great gear for new swimmers.
Gear does vary by brand and what fits one swimmer might not work the next. 
That said, be sure to check out our posts on What Equipment do you Need to Start Swimming, Best Kickboards for Swimmers, How to Pick the Right Swim Goggle, and Your Quick Guide to Swim Caps to help get you started.
For even more information and reviews on products, head over to our Swim Gear & Equipment page!
Competitive Swimmers
New Tech Suit
As quarantine restrictions start to lift, swimmers have started training more regularly. Even swim meets have picked up again.
For some competitive swimmers, it's been well over a year since their last competition. A lot can happen during that time! To include the need for a new racing suit.
Tech suits aren't made to last, sadly. 
And if it's been over a year since your swimmer's last meet, their tech suit might not be good to race in anymore. The fabric might have dry rotted or the straps might have lost some of their strength.
Even if the suit is still good, a new backup tech suit is never a bad thing!
Remember that tech suits (or any suit) aren't one size fits all. Every swimmer has a preference for tech suits. Everything has to be exactly right. From the brand to the style, the cut, and the size. If you're unsure, consider a gift card so your swimmer can get exactly what like! 🙂
It's also important to know that not all ages can wear the same tech suit. FINA recently announced that swimmers 12 and under cannot compete in certain tech suits. 
You can read the new ruling here!
If you're looking at getting your swimmer a new tech suit as a gift, we recommend asking them exactly what they want. Write it down and then verify it.
Or consider a gift card instead. This way, they can get exactly what they're looking for.
Any Swimmer
Parka 
Parkas are a great gift idea for those swimmers who swim during the cold months or in cold water! Especially those that have to train or compete at outdoor pools.
Parkas come in various sizes and 'weights'. This helps provide the warmth and comfort level that best matches each swimmer. 
For those swimmers who have a hard time staying warm, we recommend Arena's Team Line Parka or Speedo's Elite Parka
Related articles:
For other swimmers who need just a bit more warmth, consider a parka from Sporti. 
They're not as heavy but still offer a way to wrap up and protect against the cold. Especially if you need to run from the pool to the locker rooms! 
Parkas also offer a benefit to those who don't feel comfortable changing in the locker room. They make it easy to wrap up in and drive straight home.
Lastly, parkas are ideal for competitive swimmers who have difficulty staying warm at meets. Or compete outside. Most swimmers perform better at meets when their body is warm and a parka is the best way to help   
Related articles: 
Reusable Water Bottle
One common swimming myth is that you don't sweat when you swim. And that you don't need to stay hydrated either. 
And they couldn't be more wrong!
Surprisingly, you do sweat when you swim, especially when the water is warm. And because you sweat, you need to stay hydrated whenever you're in the pool. 
Just because you're surrounded by water doesn't mean you're staying hydrated through osmosis 😉
To help the swimmer in your life stay safe and hydrated, consider the gift of a reusable water bottle. 
They're an easy gift to give and have several benefits over plastic bottles, such as:
Reusable water bottles are less likely to get mixed up with other bottles on the pool deck
Screw top lids on plastic bottles are more difficult to use when in hurry and in between quick sets
Flip-top lids reduce the risk of contamination because the mouthpiece isn't exposed
Great for the environment! 
We're a big fan of flip-top lids for all of the above reasons and because they don't spill if they get tipped over. We recommend this 32oz bottle from Contigo. It has an easy handle at the top to hold and it has a flip lid. 
An added note is to remember to wash out your water bottle frequently! This can help prevent mold from building up and decrease the chances of getting sick.
Stores and online retailers sell specialized brushes to help clean the inside of a water bottle, along with the straw. OXO Good Grips Water Bottle Cleaning Set is a good set to help clean every bit of your reusable water bottle 🙂
Swim Bag
Any swimmer who goes to the pool can always use a good swim bag to store all their belongings and gear. Gym bags can work but swim bags are designed specifically for swimmers.
They have sections to hold wet belongings and side pockets that are ideal for storing extra goggles. 
Related article: 8 Best Swim Bags for Swimmers
Plus, swim bags are more water-resistant than your typical gym bag. And they hold swim gear, such as fins and kickboards, better.
Swim bags come in various sizes based on your swimmer's needs. From smaller bags such as Arena's Fast Urban Fastpack to Speedo's Teamster bags. Whatever your need, there's a bag out there for it 🙂
Chlorine Remover
The smell of chlorine tends to linger. Even well after the last time a swimmer was in the pool. Getting rid of the smell and the damaging effects is at the top of every swimmer's wish list.
In terms of skin and hair care, look for options specific to swimmers.
Brands such as TRISWIM and UltraSwim can help remove chlorine from a swimmer's hair and body. Malibu C also provides facial scrubs and other skincare sets.
Chlorine is also rough on swimsuits. Knowing how to take care of a swimsuit can help make them last longer.
Rinsing swimsuits with just water is a great way to extend the life of a swimsuit. But using a swimsuit cleaner helps just a bit more.
Summer Solutions and Suit Saver have suit-saving options to help remove chlorine when added to water. They also offer a variety for beach/lake use that removes sand, sunscreen, and salt from suits. For a product that uses natural ingredients, you can opt for Molly's Suds Swimwear Cleaner.
Simply fill the sink or a bucket with water and add a small amount of solution. Let the suit soak some and then rinse well. This helps the fabric keep its color and shape longer.
Your swimmer will thank you!
Teen or Adult Swim Lessons
Learning to swim isn't just for kids. It's also for teens and adults! Any age really 🙂
For adults, consider working with a Masters' team for lessons. 
Related articles:
Why You Should Join Masters Swimming
Masters Swimming is specific for adults and within the US, certain individuals are certified to teach adults to swim. 
It's never too late to learn how to swim and if know someone who wants to learn, we highly encourage you to help them along!
As always, happy swimming!
Chevron
---
Bonus Content
8 Awesome Gift Ideas for Swim Coaches: Swim coaches work hard and deserve some thanks throughout the year. Here are 8 awesome gift ideas for swim coaches to get you started!
9 Amazing Gift Ideas for Swim Parents: Swim parents are one of the unsung heroes in the sport of swimming. And they deserve some wonderful gifts throughout the year as thanks for sticking with us! 
---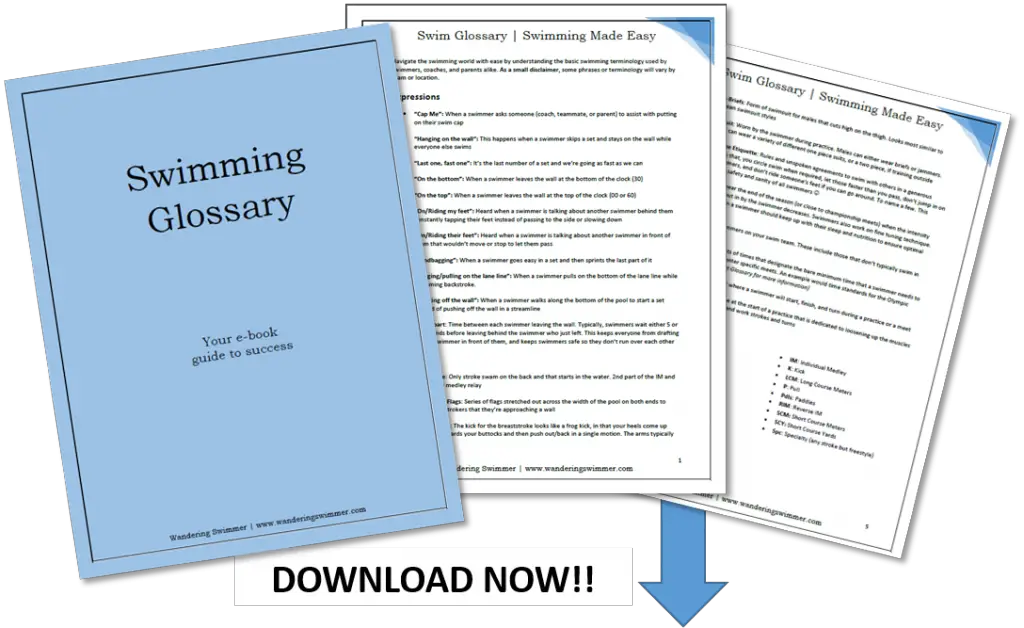 Want to Improve at the Pool?
Join swimmers and swim parents to receive my free newsletter and receive a free Swimming Glossary e-book as a thanks!
Every month you'll receive tips and coaching to help you find success at the pool.
---
About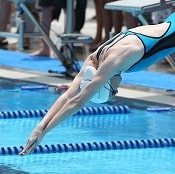 Chevron is a current competitive swimmer with almost 20 years of experience in the pool. And although she fell into the sport by accident in her high school years, she still trains daily and competes throughout the year. She's committed to providing guidance to all levels of swimmers and believes that everyone should know how to swim.