Learning to swim is an important skill to have. But trying to find out where to start and what questions to ask can be confusing. 
Picking out a swim school or instructor shouldn't feel like pinning the tail on the donkey. Just as you shouldn't have to fumble your way through what all you need to bring and other various items to consider.
To help take some of the confusion out of the process, we've compiled a brief summary to help you get started. Giving you answers and starting points to the various questions you have about learning how to swim.
If you already know how to swim, we recommend that you start with our Swimming Basics to Get You Started article. 
DISCLAIMER: I am not a doctor or a counselor. Everyone develops differently and you need to consider your abilities before considering lessons. This guide is meant only to inform and act as a broad guideline. It's not law and shouldn't be interpreted as such. If you want to start swimming lessons, please consult your doctor first.
Disclosure: This post may contain affiliate links, meaning I earn a small commission at no cost to you if you purchase something through one of my links. As an Amazon Associate, I earn from qualifying purchases. Please check out my disclosure page for more information.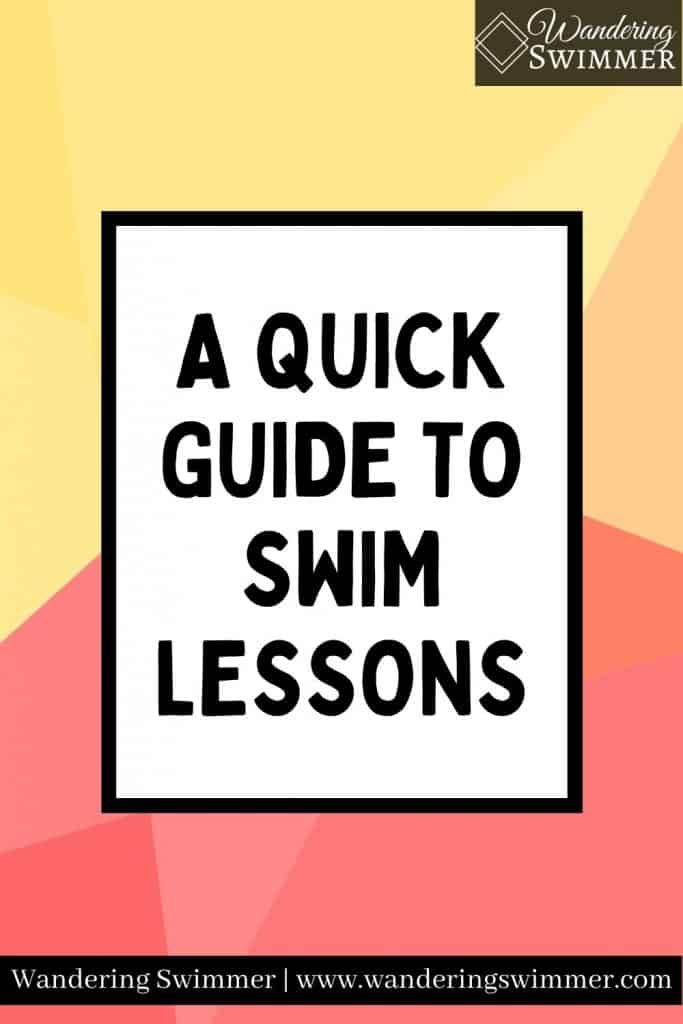 Why Should I Learn How to Swim?
Knowing how to swim can be the difference between life and death. Drowning remains one of the leading causes of death around the world.
Take a moment to look at the numbers for deaths related to drowning (Source):
Top 5 causes of death for people aged 1-14 years old
In the US alone, 80% of drowning victims are male
Children ages 1-4 have the highest drowning rate
The number for minorities is 5.5 times higher than that of Caucasians of the same age
While these numbers focus more on kids and teens, adults can and do drown. Learning how to swim is a life-saving benefit for anyone of any age. 
Related article: Make Learning to Swim Your New Year's Resolution
The Right Age to Start Swim Lessons 
Honestly, there is no 'right age' to start swim lessons. While lessons may seem to aim only at toddlers and kids, it's also possible for teens and adults to take swim lessons, too.
One thing about learning to swim is that the ability to learn doesn't stop at a certain age. If your doctor says you're healthy and safe to learn how to swim, then start looking at programs! It's a life-saving benefit that you shouldn't pass.
When Should My Child Start Swim Lessons?
DISCLAIMER: I am not a doctor or a counselor. Every child develops differently and you need to consider your child's abilities before putting them into lessons. This guide is meant only to inform and act as a broad guideline. It's not law and shouldn't be interpreted as such. If you want your child to start swim lessons, please consult your doctor first.
Many parents ask us 'what age should my child start swim lessons?' Or even, 'when should my child start swimming?'
It's a great question that every parent needs to consider with each of their kids. However, it's also a question that doesn't have a straight answer. 
In March 2019, the American Academy of Pediatrics (AAP) updated their recommendations for water safety. They stated in a recent article that children over the age of 1 should learn to swim.
While age plays a large factor, it's not the only thing to consider when looking to start swim lessons. Your child should also be ready to swim, which does happen at different times for each child.
How Do I Find the Best Swim School?
No two swim schools are the same. Even with a company that has different locations, you'll find some levels of difference at each location
That said, when considering different swim schools, you should consider the following:
Safety: First and foremost, you want a safe swim school. This includes not just water safety, but around the pool as well. 
Qualified Instructors: Instructors need to go through some type of training before teaching swim lessons. They should also be CPR certified.
Teaches Water Safety: A good swim program not only teaches you how to swim. They also teach the importance of water safety. Swim lessons don't make you drown-proof
For more things to consider when selecting a swim school, be sure to read our suggestions at: How to Choose the Best Swim School
Qualities to Look for in a Swim Instructor 
Swim schools aren't the only options for lessons. You can also consider a private swim instructor.
However, just as no two swim schools are the same, not all private swim instructors are the same. You'll want to look for certain qualities, traits, and characteristics to find the best one. 
Safety, much like a swim school, is a key quality in swim instructors. They should have the appropriate certifications and experience. Ensure that your swim instructor is also reliable. In that, they're on time and they have a quick response time.
One good quality to look for in a swim instructor is their people skills. Experience and a convenient location mean nothing if they can't communicate well with you. 
What to Wear for Swim Lessons 
While a swimsuit is standard to wear for lessons (keep reading for more on that subject!), it's not the only thing you can wear. 
To make lessons easier, consider wearing goggles. They'll help keep the water out of your eyes and keep the chlorine from burning them. It's also a good idea to pull back long hair with some hair ties and/or hair clips.
Related article: What Your Child Should Wear for Swim Lessons
If those don't work well, consider a swim cap instead! Swim caps have the benefit of protecting hair from chlorine damage and keeping it out of your face.
Swimsuits for Swim Lessons
One of the hardest parts of swim lessons is picking the best swimsuit to wear! 
When looking at swimsuits, you'll want to ensure that you have a good fit. One that's not too tight that it digs into the shoulders or hips. But not too loose that it will slide right off. 
One word of advice. To feel more comfortable in your suit, make sure you try on your swimsuit before heading to the pool. This will ensure it fits and won't leave you scrambling at the pool if it doesn't. 
Not comfortable with wearing just a swimsuit? Consider the option of a rash guard or swim shirt!
Related article: Answering Your Questions About Rash Guards
Rash guards are worn just like a regular t-shirt and come in long and short sleeves. A short sleeve design does offer more freedom of movement, which is important in swim lessons. 
A Packing List for Swim Lessons
While by no means a complete list, below are some items that we believe are essential items to pack for swim lessons. These will help you get started with minimal effort.
Should you bring anything else? You could consider packing some goggles and ear drops. Ear drops (or even earplugs) can help prevent swimmer's ear. Which yes, you can get from swim lessons!
Related article: Can I Get Swimmer's Ear from Swim Lessons?
What Should I Bring to Swim Lessons?
Don't forget any paperwork that you might owe the swim school or instructor. While the mentioned items to pack are important, some programs require completed paperwork before you can take lessons.
If you're going to your child's first swim lesson, don't forget to bring your phone. And make sure it's charged with plenty of memory space. First swim lessons are exciting and you'll want to make sure you get enough pictures and videos to remember the day. Or any day after!
Related article: Best Items to Take to Your Child's First Swim Lesson
Lastly, don't forget to bring a positive attitude. Swim lessons are hard and having a negative attitude or not showing support makes them that much harder.
Instead, showing support and giving encouragement can go a lot further.
How Do I Prepare My Child for Swim Lessons?
First swim lessons can be exciting and scary for kids and parents alike. The good news though is that you can help your child prepare for their first swim lesson. 
Before you even start lessons, make sure you discuss swim lessons with your child. Let them know why they're important and what they can expect. Bringing them to a lesson without telling them what they're doing will only scare them.
Try to get them comfortable around water if you can. Let them splash around in the bathtub or take them to a public pool. This gives them experience in a safe and controlled environment with you nearby.
Remember to stay positive and heap on the praise. The more positive you are and build up the lessons, the better chance they'll enjoy their lesson.
Why You Should Use a Journal for Swim Lessons
It's easy for kids to compare themselves and their abilities to their friends in swim class.  And it makes it easy for your child to feel discouraged if they don't perceive that they're making progress. 
Related article: 6 Reasons To Use A Journal For Swim Lessons
One of the best ways to help prevent this and show your child firsthand how much progress they've made is with a journal for swim lessons. For some children, having physical and documented proof of their accomplishments can be an encouragement.
Using a journal for swim lessons benefits both you and your child, as a journal can be a way to keep yourself organized with checklists. Swim lessons can be chaotic and having a checklist or daily reminder for lessons can help make them run smoother.
Swim lesson journals can also help record memories. From various milestones to the journey through each swim lesson, each memory is precious.
We recommend H2O Society's swim lesson journal. It's a thorough journal that helps you document the start of swim lessons all the way through the very last lesson.
You can find a full list of pages provided and more information on the listing. And you can also browse more swimming related items at their store 🙂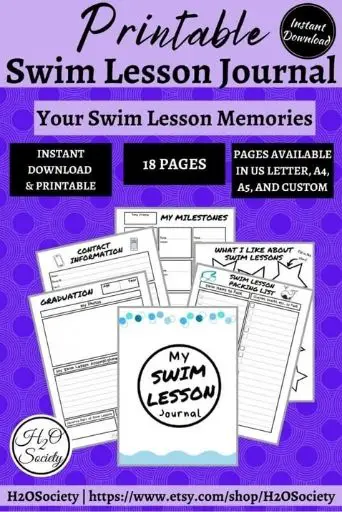 Swim Lessons for Adults
While learning to swim or taking swim lessons may seem like it's only for kids, it can be for adults, too. There's no age limit to when you can or can't take swim lessons. 
Related article: Your Complete Guide to Swim Lessons for Adults
Some programs, such as those with Masters Swimming, have instructors specifically trained to work with adults. However, some swim schools do offer swim lessons for adults. You can also consider seeing if your local gym or YMCA offers lessons, too.
If a program doesn't work for you, private swim instructors are also an option. 
Can't find one or not sure where to start? Try looking into AquaMobile. AquaMobile Swim School is the largest provider of at-home private swim lessons. They offer swim lessons for adults and children, based on the qualifications of the instructor. 
Cost of Swim Lessons
It's easy for us to stand here and say that everyone should take swim lessons and learn to swim. But lessons cost money and not everyone can afford them.
Before committing to a program or instructor, ask about the price upfront. And be prepared for some sticker shock. Especially if you're taking a private lesson. 
Some programs do allow for payment schedules. See if the program allows installment payments instead of needing to pay for everything upfront. This might make it easier on your budget by paying for it in smaller chunks.
---
Bonus Content:
10 Qualities to Look for in a Swim Instructor: It can be overwhelming to pick the best swim teacher. Here are the 10 best qualities and traits to help you find your next swim instructor.
How to Prepare Your Child for Their First Swim Lesson: Swim lessons can be exciting and scary for kids and parents alike. Learn how you can help your child prepare for their first swim lesson.