Wanting to find the best private swim instructor for your child? A quick online search of 'swim instructors near me' will bring up dozens of various results. And it can make the search overwhelming when trying to pick the best swim instructor.
Not all private swim instructors are the same. And you'll want to look for certain qualities, traits, and characteristics to find the best one. 
Related article: How to Choose the Best Swim School
Not sure what to look for? Here are the best qualities and traits to help you find your next swim instructor.
Disclosure: This post may contain affiliate links, meaning I earn a small commission at no cost to you if you purchase something through one of my links. As an Amazon Associate, I earn from qualifying purchases. Please check out my disclosure page for more information.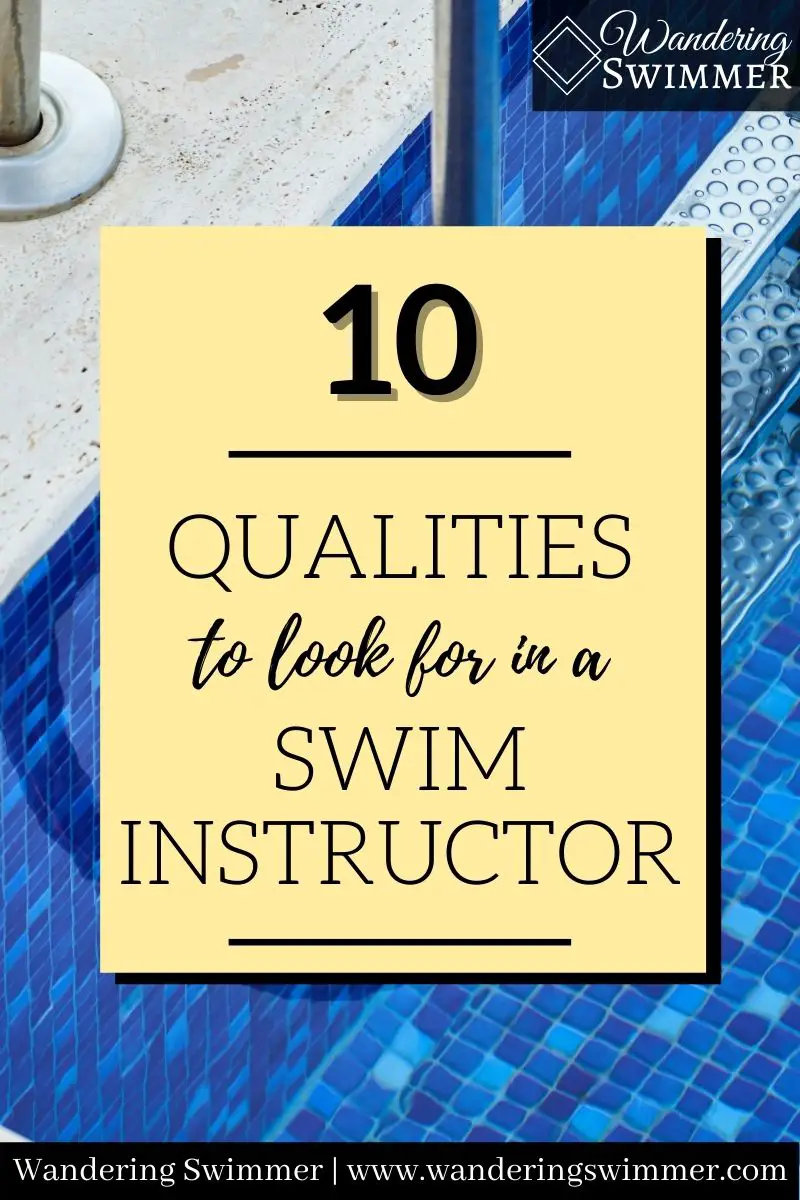 What Makes a Good Swim Instructor?
1. Safe
Safety always makes it to the top of the list when looking for an instructor of any kind. You want your kids to be safe, especially around the water. 
A good swim instructor is first and foremost, safe. They keep their eyes on their student(s) at all times and never turns their back to them. And they don't let the child(ren) in the next lesson wander around without supervision. 
They should also be current in their CPR certification. Don't feel bad about asking to see their certificate or asking if they are CPR certified. When dealing with swim lessons, safety is key. 
More Content for You: Can You Get Swimmer's Ear from Swim Lessons?
If they're not CPR certified, ensure that they hold lessons at a public pool where a trained lifeguard is on staff in the event of an emergency.
As a personal opinion, you should choose a swim instructor that teaches and enforces water safety. Such as walking around the pool deck and not getting into the water without permission.
Knowing how to swim isn't a guarantee that your child (or you!) will never drown. It only lessens the risk. Teaching water safety helps add a layer of safety that swim lessons already provides.
2. Qualifications
If someone recommends an individual to you, check to make sure what makes them qualified. Just because someone is/was a great swimmer doesn't mean they're a great teacher. 
Years of Experience
One good trait to look for in a swim instructor is that they have a proven history of teaching swim lessons. 
How many years of experience you're looking for depends on your preference.
Something to keep in mind. An instructor with only a year under the belt isn't necessarily a bad teacher. And chances are, they'll probably have cheaper rates as they continue to build their experience.
Try to consider a wide range of experience when it comes time to pick your next swim instructor.
Age Groups and Swim Level
Some swim instructors excel at teaching young kids. Others thrive with teaching older kids. At the same time, certain instructors work better with those who know how to swim already.
And that's okay! Because on the other hand, you have other coaches or instructors who work better with children or beginner levels.
If you're looking to chose a swim instructor, make sure they're comfortable teaching your child and their swim level. Be upfront with your instructor about the age and level that your child is at. 
3. Peer/online reviews
Most private swim instructors find their business by word of mouth or online community forums. Such as neighborhood Facebook channels. 
More Content for You: What Do You Need to Pack for Swim Lessons?
If you're looking for a qualified swim instructor, check online or with your peers. Need lessons for your child? Ask families who have kids at or around your age where they took lessons from. Chances are they can give you a good recommendation.
Just remember to take every review with a grain of salt. Not every personality meshes well with each other. A clash of personalities or ideas can lead to an unhappy review.
4. Location
Location, location, location! 
Swim instructors can operate at various locations. And that location can be at their pool, your pool, or even a public pool. Some will travel between various pools, while others might request the lesson to be held at a specific pool.
Related article: Best Items to Take to Your Child's First Swim Lesson
Ask where they hold lessons and see which option works best for you. Some kids find they're more comfortable in a familiar pool. While others don't seem to have a preference. 
If you have a pool and your child has struggled with lessons before, consider having the lesson in your pool. The familiarity might make a difference with how your child learns.
5. Reliable 
Reliability is one important quality of a swim instructor. Your time is important and if your swim instructor isn't reliable then you might have a hard time trusting them. 
In terms of reliability, some things to consider are:
The instructor shows up early (or is there before you) and they start their lesson on time
Lessons are finished on time so the next lesson can start without delay
They don't cancel lessons last minute unless there's an absolute emergency
Communicate in a reasonable amount of time, whether that's answering questions or communicating delays or cancelations
6. Personalized Lessons
When looking at your swim instructor, make sure you let them know your reason for lessons. Is your child learning to swim for the first time? Or are they looking to make a competitive team and they need coaching?
More Content for You: 6 Reasons You Should Use a Journal for Swim Lessons
This is important because an instructor who only teaches beginner classes won't offer much help to someone who can already swim. 
7. Structured Lessons
Swim lessons should have some type of structure and repetition to them. And your instructor should have lesson plans designed to grow/develop your child. 
Choose a swim instructor who follows a proven process and set lessons. 
Should there be room for change and flexibility? Of course! But winging every lesson doesn't provide the quality lesson that will help your child learn how to swim. Or help develop them. Structure and repetition in swimming is a huge driving factor to success.
8. People Skills
A soft quality, but it's an important one to have. People skills are often overlooked in terms of a flashy resume and years of experience.
But those mean little if the instructor can't work well with kids. Or if they don't know how to explain a concept so young minds can understand it. 
Some good people skills you should look for in a swim instructor are:
Listens to what your child says
Explains processes clearly and are easy to understand
Patient during the difficult times
Flexible when a lesson doesn't go as planned
Creative in building engaging lessons 
It's not an all-inclusive list and will vary by your needs. But it can give you a starting point!
9. Price
While this can vary, swim instructors that aren't affiliated with a swim school typically charge much less for private lessons compared to private lessons through a program. Again, this can vary but it's helpful to know when you're doing your research.
Consider the costs of swim instructors around your area and what they offer. Some instructors will offer a discount for families if they enroll more than one kid. 
10. Fun
It might seem silly to list, but a swim instructor should know how to have fun with their lessons.
This can be something as simple as showing off what they learned for parents or diving for toys. Swim lessons are hard for kids and rewarding them with some play helps them enjoy lessons.
A fun, happy personality is a great quality to look for in a swim instructor. Especially one for kids.
Laughter is encouraged during lessons! For both student and instructor 🙂
BONUS! 11. Group Size/Private
And one more for good luck!
Most swim instructors do private lessons if they're working outside of a swim school. However, some do offer small group lessons, too.
If you find an instructor who offers group swim lessons, make sure that the group size is small. No more than 2 would be fantastic, but groups of 4 are more normal. Anything larger than 4 to a group means your child won't get as much personalized attention.
Some kids though thrive in a group setting compared to individual lessons. If you find this is the case with your child, see if the instructor can offer group lessons. 
In Closing
Picking a swim instructor isn't always easy and you have many options to consider. Remember that what worked for one family might not work for your family. 
Ask questions to help you chose the right swim instructor for your child. And know that it's okay to ask follow up questions! If something doesn't seem right, trust your instincts and go with a different instructor.
Do you still have questions? Free free to leave it in the comments box below and I'll do my best to assist you!
As always, to happy swimming!
Chevron
---
Bonus Content:
When Should My Child Start Swim Lessons?: Swim lessons are a necessity for anyone. But what is the 'right age' for your child to start swim lessons? And what should parents know about them?
What Should Your Child Wear for Swim Lessons?: Do you know what your child should wear for swim lessons? Be ready on your first day with these options to wear for swim classes.
---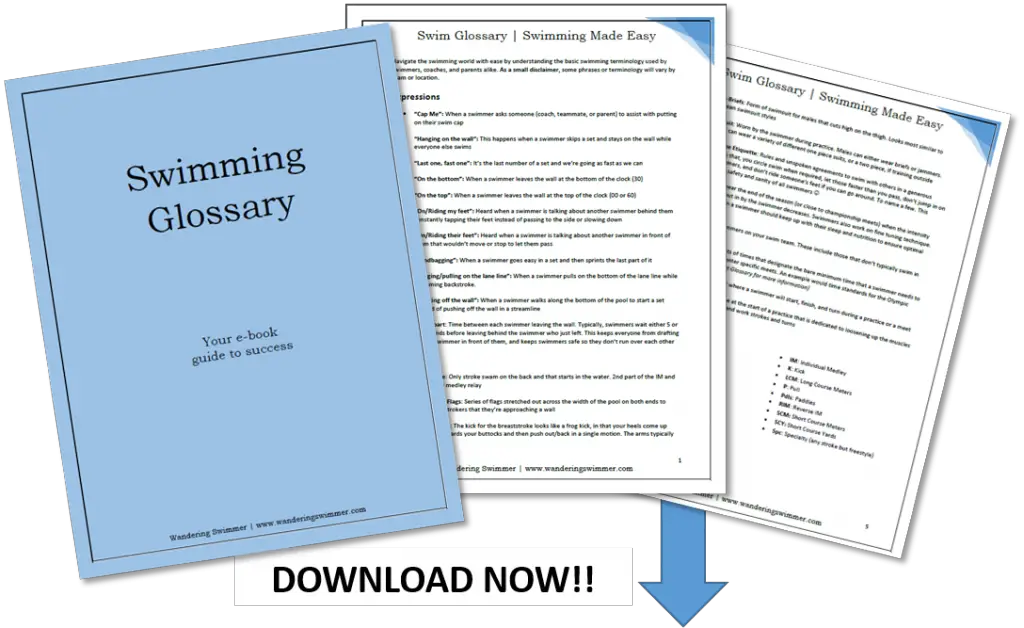 Want to Improve at the Pool?
Join swimmers and swim parents to receive my free newsletter and receive a free Swimming Glossary e-book as a thanks!
Every month you'll receive tips and coaching to help you find success at the pool.