Swimmers can be a complicated group when it comes time for gift shopping. No two swimmers are the same. And even something as simple as goggles can prove a purchasing challenge when faced with so many options.
To help cut through the confusion, we've gathered various gift guides for swimmers to help spark some inspiration. 
From just starting to competitive swimmers. Or for young swimmers to Masters Swimmers. And even coaches and parents! We've done our best to cover everyone 🙂 
Browse each year's gift guide for new ideas. You never know what you'll find!
For even more information and reviews on products, head over to our Swim Gear & Equipment page!
Disclosure: This post may contain affiliate links, meaning we earn a small commission at no cost to you if you purchase something through one of our links. As an Amazon Associate, we earn from qualifying purchases. Please check out our disclosure page for more information.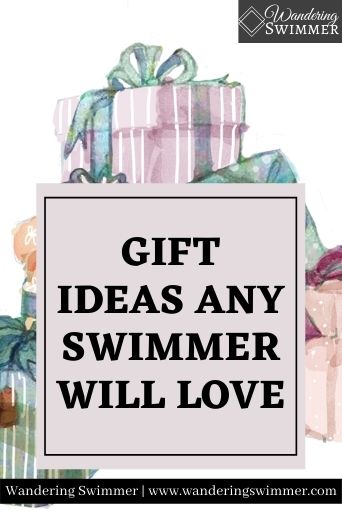 Gift Ideas for any Swimmer
Competitive Swimmers
New Tech Suit
Nearly every competitive swimmer uses a technical suit (or tech suit) for swim meets. Tech suits come in a wide range of prices, styles, designs, and even compression. 
And sadly, they're not the longest-lasting suits. So tech suits are always on a swimmer's wish list.
A moment of honesty for you. 
Tech suits aren't something you should surprise your swimmer with. Swimmers are incredibly picky on the suits they race in (along with everything else). Size matters, as does the fit and design.
It's also important to note that age plays a large factor too. Swimmers under the age of 12 cannot compete in certain tech suits.
If you want to get your swimmer a new racing suit, please ask them what suit they use to compete in. Or bet yet, give them a gift card so they can pick out their own. You'll save yourself a headache and some money. 
Chlorine Removal
Some competitive swimmers spend hours in the pool each day. And even when they're out of the pool, the smell of chlorine lingers. 
One gift idea for swimmers is a set of chlorine removing products. TRISWIM, MalibuC, and UltraSwim all offer hair products to keep hair healthy and strong. TRISWIM though also has body wash and lotion that we recommend for a complete set.
These aren't just a great gift idea for competitive swimmers, but any swimmer, too!
Lap Swimmers 
Waterproof MP3 Players
Let's face it. Swimming is a lonely sport and workout most of the time. And lap swimmers could use the benefit of adding some music to their workout to stave off the boredom.
Related article: 7 Best Waterproof MP3 Players for Swimming
Waterproof MP3 players, such as SEWOBYE, Sony Sports Wearable, and FINIS Duo can help cut through the quiet while swimming laps. It's important to note that Bluetooth isn't the best when swimming, as the signal doesn't work in water.
Because of this, Bluetooth headphones will not work well when swimming. Even if they are waterproof. Instead, we recommend looking at waterproof MP3 players to save you some money.
Fitness Tracker
Counting laps when you swim isn't the easiest for some. It's incredibly easy to lose count and zone out while you swim. I am 100%, completely guilty of it!
Some fitness trackers on the market now can help swimmers of any type monitor their workouts. From lap swimming to water aerobics, most of these devices can track pretty much anything! The key, of course, is to find one that is waterproof. 🙂
Related article: 8 Best Waterproof Fitness Trackers for Swimming
While some waterproof fitness trackers are expensive (such as the Apple Watch Series or FORM Swim Goggles) a few are on the cheaper side. 
Fitbit Inspire 2 and Amazfit GTS 2 track swimming workouts (among many other activities) but won't break the bank. 
We do recommend checking to see if the swimmer in life has an interest in a fitness tracker before purchasing. Not everyone likes to wear something on their wrist when they swim.
Learning to Swim
Working up the courage to learn how to swim can be challenging. Especially as you get older. However, learning to swim is a life-saving activity that everyone should have.
For this reason, we highly recommend swim lessons for anyone you know who doesn't know how to swim. Even if that's you!
Related article: A Quick Guide to Swim Lessons
If you're signing your child up for swim lessons, you can get them engaged and excited by letting them pick out their new swim gear. Such as a new swimsuit or even goggles. This can help them feel as though it's part of their choice, especially if they're anxious about it.
Diving Toys
Swim schools and instructors often use diving toys to encourage kids to put their faces in the water. 
Consider getting some diving toys for your child that you can take with you to lessons. And use them to practice at home in the bath or even a community pool!
For teens or adults, we also want to stress that it's never too late to learn how to swim. If you're looking for swim lessons for yourself or someone older, some swim schools now offer adult learn to swim classes.
You can also see if you have a local Masters' swim team that also offers swim classes for adults!
New to Swimming 
Know someone who just started swimming? See if they need any gear or equipment as they start their swimming journey.
We recommend checking with your swimmer to see what gear they already have. And if they have any gear on their wish list that they truly want. This can help save any duplicate gear.
Some gear and equipment suggestions are:
Want some other options or suggestions? Check out our posts on What Equipment do you Need to Start Swimming, Best Kickboards for Swimmers, How to Pick the Right Swim Goggle, and Your Quick Guide to Swim Caps to help get you started.
Open Water Swimmer or Triathletes 
Open Water Swim Buoy
For any swimmer or triathlete who trains in open water, safety is always key. 
Anyone who trains in open water (ocean, lake, river, etc.), should swim with an open water swim buoy. 
These are bright, inflatable buoys that attach to a swimmer's waist while swimming. They trail behind the swimmer on the surface of the water, making them much more visible to other people in the area. 
Two options are the Buddy Bag from BlueSeventy and the Swim Bubble from New Wave Swim.
Thermal Swimwear
You wouldn't think it, but swimming outside (even in the summer) can be cold if you're in a lake or ocean. For open water swimmers, staying warm is incredibly important. 
This is why thermal swim gear can be a great gift idea for open water swimmers or triathletes. 
When looking for thermal swim gear, ensure that the product is made from neoprene. Usually around 2-3mm thick depending on the swimmer. You most commonly see this in wetsuits. Other options are:
Lastly, while not made for use in the water, a swimmer's parka is perfect for before and after a swim. We like Arena's Team Line Parka for colder temperatures or Sporti's Comfort Parka for slightly cooler weather.
Related article: 8 Best Swim Parks for Swimmers (And Water Enthusiasts)
Home or Backyard Swimmer 
Not every swimmer wants to train at their local pool or gym.
And if they have a backyard pool, the YYST Swim Bungee can turn any backyard pool into a personal lap pool. 
Related article: A Swimmer's Review of the YYST Swim Bungee
This inexpensive but effective swim bungee allows swimmers to train at home in the comforts of their pool. All they need is a secure anchor and enough space to swim in place. 
If they don't have a pool already, a cheap, non-permanent option is the Fitmax iPool. It's just the right size for someone to swim in place and it fits well in tight spaces. Another benefit is that it can be taken down when not in use.
We will note that the Fitmax iPool doesn't come with a harness or harness set up. This would need to be purchased separately. Or use a YYST Swim Bungee.
Lastly, for any swimmer training at home, consider some dryland equipment. Such as free weights, a pull-up bar, or stretch cords. 
Best Gifts Any Swimmer 
No matter what type of swimmer is on your shopping list, some gift ideas work for pretty much any swimmer. 
Related article: 14 Gifts that Swimmers Will Actually Use
Aside from the needed gear/equipment and a swimsuit, here are a few suggestions that will be a win for any swimmer.
Ear Drops
No swimmer, in our humble opinion, should go without having a bottle or two of eardrops with them.
Ear drops can help prevent swimmer's ear if used correctly. Combine a bottle of swimmer's ear drops with a gift of swimmer's earplugs, and your swimmer has double protection from swimmer's ear.
Related article: Best Earplugs for Swimming 
Ear drops and earplugs also make excellent last-minute gifts for any swimmer in your life. 
Microfiber Towel (or Shammy)
It's no secret that towels are bulky and take up a lot of space in a swim bag. Microfiber towels though are a bit smaller than towels but don't require much space. They also dry incredibly fast compared to towels.
These are great to use at swim meets when space is at a premium. Or when you're out at the beach or lake and need to save the towels for the drive home.
Shammy's on the other hand, are smaller than a Microfiber towel and can be used when they're still wet. You can wring them out and keep using them.
Related article: 5 Reasons Swimmer's Should Own a Shammy
They're perfect for drying off before using your towel!
Swim Bag
Every swimmer needs something to carry their belongings in. Most swimmers prefer a swim bag over a gym bag, simply because they're designed specifically for swimmers. Hence the name 😉
Swim bags come in a wide variety of sizes and colors, even though the design is pretty much the same across the board. That said, some bags do offer different perks compared to others.
We like that Arena's Spiky 2 Large Backpack has a separate shoe compartment at the bottom of the bag. Just as much as we like extra pockets that come with Speedo's Teamster 2.0.
Related article: 8 Best Swim Bags for Swimmers (And Water Enthusiasts)
When it comes to swim bags, we recommend checking with your swimmer to know what works best for them. Some swimmers like smaller swim bags (Speedo's Teamster 2.0 at 35L) and some prefer the extra space with larger swim bags (Arena Team 45 Backpack or TYR Alliance, both at 45L).
One thing to note is that swim bags are different from gear bags. So be sure to check that wish list twice!
Gift Cards
Sometimes gift cards get a bad reputation as being a lazy gift. But if we're honest, swimmers are a picky bunch. We're particular about the brands and styles that we prefer when it comes to our gear and especially our suits.
It's why giving a gift card can save you time and money by allowing your swimmer to get exactly what they want.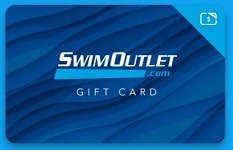 Gift Ideas for Swim Coaches
Without our swim coaches, most of us wouldn't be where we're at today. They commit numerous hours of their time to their job and their swimmers. It's not always an easy job! 
And they deserve some incredible gifts throughout the year as thanks for sticking with us! 
Related article: 8 Awesome Gift Ideas for Swim Coaches
Thank You Card
If you're wanting to say thanks to your swim coach this year, consider getting them an awesome gift to show your appreciation. 
Probably the simplest gift is just saying 'thank you'. 
Verbal 'thank you's' are always appreciated and probably unsaid if we're honest. However, a physical thank you card is an easy but meaningful way to show gratitude. 
H2O Society has 'thank you cards' dedicated specifically to swim coaches (along with a few other swimming items!)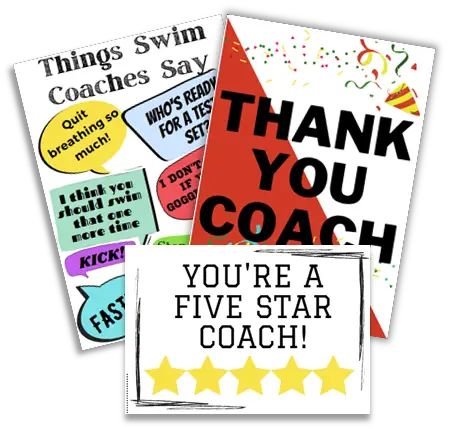 Dry Erase Markers
Not every swim coach uses dry erase boards. But for those that do, dry erase markers are always in high demand. 
Black dry erase markers tend to work the best in this. Whereas reds and greens can be a bit more difficult to read.
Swim Parent Gift Ideas
Much like swim coaches, swim parents do some heavy, back scene lifting. They shuttle us around, cheer like crazy, pay for everything, and support us throughout our swimming journey.
But we as swimmers aren't always the best at saying or showing our thanks. 
This year, consider something extra for the swim parent in your life!
Related article: 9 Amazing Gift Ideas for Swim Parents
Earplugs or Headphones
Let's face it, swim meets are loud. Up in the stands or down on the deck. For some parents, the noise leads to headaches. And if we're honest, everyone should probably wear some to protect their hearing.
Consider some of these earplug options:
You can also gift your swim parents with some noise-canceling headphones! 
Swim Parent Swag
Most swim parents like to show their support for their swimmers with fun swimming shirts or other items. And while it might be a bit embarrassing to see them sporting their funny apparel, we know they mean well 😉
Check out some funny shirts or stickers for their cars. It's small but some swim parents enjoy showing their support. And letting everyone know that their child is a swimmer!
Swimmer Gift Guides by Year
If you've made it this far and still don't have any idea what to get your swimmer, check out our gift guides by year. The items on these lists rarely go out of style from year to year. So you're sure to find something!
About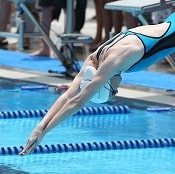 Chevron is a current competitive swimmer with almost 20 years of experience in the pool. And although she fell into the sport by accident in her high school years, she still trains daily and competes throughout the year. She's committed to providing guidance to all levels of swimmers and believes that everyone should know how to swim.