Whether you're at a swim meet, lap swimming, or playing water polo, staying warm is crucial to finding success in the pool. You can't perform well if your muscles and core temperature are too cold.
Related article: Best Warm Clothes for Swim Meets
And for those who struggle with staying warm, swim parkas are the best way to keep yourself warm. Either in between events at a swim meet, before and after practice, or while cheering on your teammates.
Here's our breakdown of the 8 best swim parkas for swimmers and other water enthusiasts.
Disclosure: This post may contain affiliate links, meaning we earn a small commission at no cost to you if you purchase something through one of our links. As an Amazon Associate, we earn from qualifying purchases. Please check out our disclosure page for more information.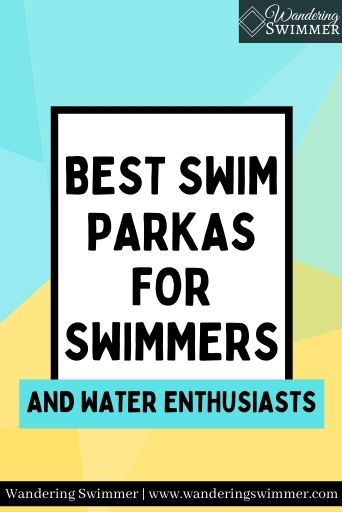 Best Swim Parkas for Swimmers
When it comes to the best parka from swimmers (or any other water enthusiast), our top pick is Sporti's Comfort Fleece-Lined Swim Parka.
It might look like a simple design at first glance, but it excels at its job of keeping you warm after you leave the pool. It's lined with soft fleece to warm you up after getting out of the water. And due to the long coat, it will keep the majority of your legs warm, too.
The outer shell is water-resistant, meaning it can stand up to some splashing around the pool deck. It's also good for keeping your car seats dry on the way back from the pool or lake.
In terms of storage, this parka comes with two outside zipper pockets. Along with an inside chest pocket. Use them to store your belongings, such as goggles, swim cap, wallet, and more.
Related article: How to Stay Warm at Swim Meets
The double zipper makes it easier for you to walk and sit in. And the front and back feature ventilation flaps for air circulation. Helping make sure you don't overheat. 
And while some parkas can be bulky, making them hard to travel with and carry, this parka is a bit more streamlined. Making it easier to carry around and store when you're not wearing it.
One of the things we like most about Sporti's parka is all the color options. Most parkas only come in a few colors. Sporti comes in about ten different colors, with different color linings based on the outer color.
There are also two different style options. A solid color parka or one with different colored stripes on the sleeves. It's not much of a difference, but it's nice to have the option.
You can also personalize this parka if purchased through SwimOutlet.
It comes in both adult and youth sizes, which helps ensure the correct fit. This is important as a parka too large or small won't do its job at keeping you warm. For kids, we suggest sizing up so they have room to grow into their parka.
Lastly, the price. While the cost of Sporti's parka is on the expensive side, it's the cheapest parka on this list. We recommend checking for sales and buying then to save even more money.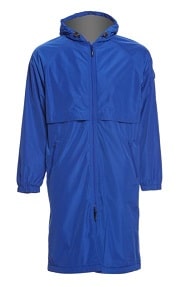 Nearly every parka on the market is listed as unisex. Which usually means that it's designed and sized for the male body. 
For women, this can be frustrating as the cut and design don't accommodate the female body. This means that most parkas can be tight in certain areas, such as the hips or chest. And too large in other places.
TYR Women's Alliance Podium Parka though is designed specifically for females. The cut of it makes it comfortable for women to wear without the need of sizing up.
And it still comes with the same features as your typical unisex parka.
This parka has two outer pockets and an inner phone pocket, to store your belongings. There is an adjustable hood and the inner lining comes with a honeycomb brushed fleece. 
While the parka is only available in three colors (black, navy, and red), you can personalize the front through SwimOutlet.
The cut of the parka is a little shorter than most parkas. Which is our only negative feature. However, it is a bit longer in the back, which makes it great for sitting down.
And for those wondering, yes, there is a men's version with TYR's Men's Alliance Podium Parka.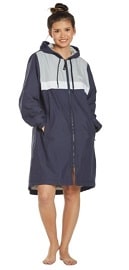 If you struggle to stay warm in any type of cold weather, Arena's Teamline Parka is the best option to keep you toasty warm. 
As a disclaimer, this is my favorite parka because I'm so cold-blooded. And without it, I'd freeze at nearly every swim meet. But without fail, this parka keeps me warm and performing at my best.
Related article: A Swimmer's Review of Arena's Teamline Parka
To start, it's lined with polar fleece on the inside for optimum warmth. The hood is also lined and has bungee drawstrings to maintain body heat. It has a zipper front which can be covered by an additional panel to keep in the warmth.
In terms of storage, this parka has several options. 
There are four front pockets, two of which are also lined with fleece. They're higher up on the chest, which is a bit awkward, but worth the comfort. It also comes with an inner pocket.
You have the option between three colors, black, asphalt, and navy. You can also customize and add your name to this parka if ordering through SwimOutlet.
The two main downsides of this parka are that it's very bulky and on the more expensive side. 
However, if you have a hard time staying warm, at or away from the pool, this parka does a remarkable job at keeping you warm. I use it in the winter months whenever I need to go outside.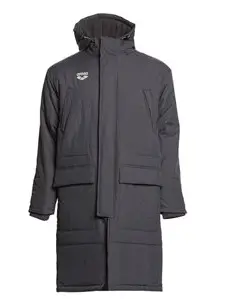 Much like Arena's Teamline Parka, Speedo's Elite Parka is designed for optimum warmth.
It features a water-resistant outer shell and a fleece inner lining. The back has a ventilation flap to keep you from overheating. The back is also longer than the front, so you can sit down with ease.
One unique feature of this parka is the hood. 
It comes with drawcords to keep the hood tight against your head. But the zipper also comes up high to the neck and face to keep your face warm, too.
There's a large internal zip pocket to keep everything safe.
This parka is a bit on the bulky and expensive side. And at this time, it only comes in one color option, which is black.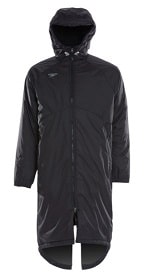 Speedo's Unisex Color Block Parka offers some of the most color options, next to Sporti's parkas. They're a bit fun with the color varieties, but they do their job at keeping you warm.
This parka features a fleece lining and a drawstring hood. The two zippers on the outside zip-up for tight, secure storage. And the inside pocket can be used for additional storage. 
More Content for You: How to Join a Swim Team
It comes with a water-resistant outer shell, designed to keep you dry from splashing. And the back has ventilation to ensure you don't overheat. It also makes it easier to customize 
If you're looking for a cheaper version and without the color variation, we recommend Speedo's Team Parka. It's the same parka (fleece lining, front pockets with zippers, etc.) but with solid color options instead.
We like both these parkas for their less bulky fit and customization, much like Sporti's design. This makes them easier to pack and carry around at meets.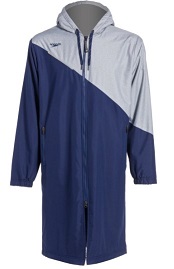 Although Adoretex isn't a well-known swim brand, they do make warm and comfortable swim parkas. They have a water-resistant parka and a recently released waterproof swim parka. 
Adoretex Swim Parkas are lined with soft fleece, (although they do have a faux-fur parka, which is best for parents and coaches). Their two exterior pockets and draw cord hood are also lined with fleece for maximum warmth.
Related article: A Swimmer's Review of Adoretex's Swim Parka
On the arm, you'll find a small sleeve pocket that closes with velcro to keep your belongings safe. 
The zipper is two-way, however, it stops relatively high on the parka. Great for walking but not so great at keeping out the cold air.
Lastly, this parka can be a bit heavy to wear and carry. This can also make it challenging to wash. One other minor negative is that the water-resistant outer shell is a bit on the slippery side. This makes my bag slide around if I'm carrying it on one shoulder.
For a lightweight parka without many extra features, Dolfin's Swim Parka is a good option. 
Although it's lightweight, it still keeps you warm with an inner fleece lining and a water-resistant shell. The sleeves velcro at the end to keep out any cold air.
There are two outside pockets, however, they can be small in terms of storage size.
This parka features a one-way zipper, whereas most of the parkas on this list have dual feature zippers. For some, the one-way zipper makes the parka a bit more difficult to sit and walk with. But others may find that the simple zipper is easier to use.
The Dolfin Swim Parka comes in two colors black/gray and blue/gray.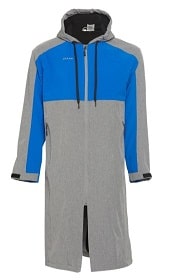 These are great parkas for after swim practice or driving home from any water activity.
AquaDash Swim Parka (formerly Great Aussie Swim Parkas) are lined with a thick terry cotton towel. This helps you stay warm and dry off quickly. 
And because the outer shell is water-resistant and treated, you can sit on it during the drive home without getting your seats wet. 
More Content for You: Swimming Basics to Get You Started
These parkas come with two zippered pockets to keep your belongings safe. And they're long enough to keep your legs warm and dry.
One downside is that the terry cloth inner lining may take a while to dry. Keep this in mind if you go to the pool more than once a day.
While they're labeled as a swim parka, they're not ones that we would recommend specifically for meets. Instead, they're best used just before getting in the water and right after getting out of the water.
These come in both youth and adult sizes. For kids, buy a few sizes larger so they can grow into them!
More Swim Parka Questions and Answers
What is a Swim Parka For?
In short, swim parkas are designed to keep swimmers warm and comfortable when they're out of the water. They can be used at swim practice during colder times of the year. And swimmers use them at swim meets throughout the year.
However, due to their warm nature, parkas can be used by other water enthusiasts. Such as water polo players, divers, and surfers. 
They're also great for outdoor activities during the winter, such as watching games or walking the dog.
Are Swim Parkas Worth It?
The knee-jerk reaction is to say the swim parkas are worth it. But I'm biased because I use my parka year-round at swim meets. And frequently during the winter for outdoor activities.  
But I also have trouble staying warm when the weather and/or water is crisp, cold, or chilly.
If this sounds like you, then yes, swim parkas are 100% worth it! You don't perform well at competition or practice when your body is cold. And parkas do an excellent job at keeping you warm.
However, if you're not typically cold at meets or when you're out of the water, they might not give you the same benefit. In fact, you might find that they'll make you too warm. Even with ventilation. 
That said, if you're not sure if a swim parka is worth it, we encourage you to borrow one before purchasing. See if your teammates have one you can try and how it works for you.
Are There Alternatives to Swim Parkas?
There are! If you're more likely to overheat in a parka, don't want to deal with the cost, or hassle of a bulky parka, consider a team warm-up instead.
Team warm-ups are a pant and jacket combination that you can buy together or separately based on your needs. 
Warm-ups vary from lightweight materials (such as Arena's Prival Warm-Up) to heavier materials (such as Speedo's Tech Warm-Up).
You can also go with sweats and a hoodie, which is the most affordable option. However, they aren't always wind-proof for outdoor functions.
Are Parkas Waterproof?
A common belief is that swim parkas are waterproof. In reality, we've yet to find a parka that is 100% waterproof. 
Instead, most parkas are water-resistant. Meaning they can repel water but only up to a certain point.
Adoretex does have a waterproof parka, but we're still not sold just yet.
Can You Wash a Parka?
Parkas are washable but we recommend checking the tag before sticking it in the washer or dryer. 
I take a damp washcloth and wipe down the inside and outside of my parka. Then dry it outside so it doesn't risk shrinking in the dryer.
How to Choose a Swim Parka
Nearly every parka is the same in what they offer. A long coat (typically stopping just above the knees), with a hood, and a water-resistant shell. However, it's the smaller details in each parka that help separate them from the rest.
Based on what you need and like will determine which parka to choose.
Parka Lining: Most parkas on the market today are lined with fleece. And in some cases, polar fleece for extra warmth. Fleece is preferred for athletes, as it dries quickly and is extremely soft. A few parkas may be lined with a sherpa-like material. Warm, but they mat quickly and take ages to dry
Pockets: Every parka should have at least two side pockets to keep your hands warm and hold goggles, etc. Most parkas also have an inner pocket for phones or mp3 players. For added protection, look for parkas that have zippers or snap closures to keep everything secure.
Ventilation: To keep from overheating, some parkas come with ventilation sections. Usually, these consist of back flags or little vents under the arms
Hood: A good parka will have a hood. A great parka will have it lined with fleece. The best ones are lined with fleece and have bungee straps to keep them tight to your head. 
Size/Shape: Parkas are great, but only if they fit you correctly. Find a size that fits you without feeling too constricting. Or so large that it lets in too much air. For women, we suggest reading the reviews for all 'unisex' models. Some women find that parkas can be tight on the hips due to the cut.
In Closing
Parkas are great, not just for swimmers but for anyone who goes in the water year-round. No matter which parka you get, you're sure to find yourself warm and comfortable.
As always, happy swimming!
Chevron
---
Bonus Content
A Swimmer's Review of the YYST Swim Bungee: Swimming at home in your backyard pool is possible by using a swim bungee. For swimmers of any level, the YYST Swim Bungee is affordable and easy to use.
6 Best Earplugs for Swimming: Tired of water in your ear or looking to prevent swimmer's ear? One of the best solutions is to get a good set of earplugs for swimming. 
---
About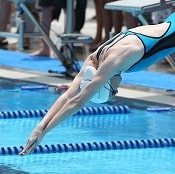 Chevron is a current competitive swimmer with almost 20 years of experience in the pool. And although she fell into the sport by accident in her high school years, she still trains daily and competes throughout the year. She's committed to providing guidance to all levels of swimmers and believes that everyone should know how to swim.