Tired of water in your ear or looking to prevent swimmer's ear? One of the best solutions to prevent this is to get you a good set of earplugs for swimming. 
There are dozens of different earplugs out there. But to be most effective, you need to get earplugs designed for water use.
Here's everything you needed to know about picking the best swimming earplugs for you.
Disclosure: This post may contain affiliate links, meaning we earn a small commission at no cost to you if you purchase something through one of our links. As an Amazon Associate, we earn from qualifying purchases. Please check out our disclosure page for more information.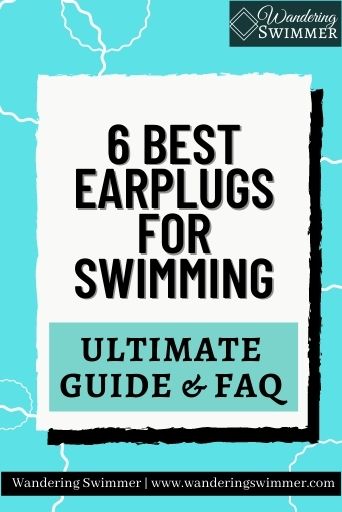 What are the Various Types of Earplugs?
Earplugs come in many different shapes and while they're all meant to protect your ears, not all are meant for the water.
When it comes to earplugs, you have a few choices. Starting from best to worst (in our humble opinion)
Silicone Putty Earplugs: These are molded and formed to your ear. It's important to note that they don't go inside your ear. Rather, they're pressed and formed along the opening of the ear.
Flanged Silicone Earplugs: These are pre-formed earplugs that are inserted into the ear. They tend to last longer because they can be cleaned easier.
Custom Earplugs: Yes, they do exist! You can talk to your medical provider or specialist about custom earplugs. One thing to note though is that they can be incredibly expensive and you need to ensure they can be used in the water.
Foam Earplugs: Great for land use, but not so great in the water. These are not made to be used in a pool, lake, or river. They might seem like a cheap option but we can guarantee you that they will not keep water out of your ears.
The 6 Best Earplugs for Swimming
When it comes to picking the right earplug for swimming, you have several choices. We've helped narrow the options down to the 6 best earplugs. 
Hands down, our favorite earplug for swimming is Mack's Pillow Soft Silicone Putty Earplugs. 
You can find these earplugs at most pools because they do their job of keeping your ears dry. They form a tight seal around the ear but still provide a comfortable fit. Pair them with a swim cap and they'll never fall out!
I use them at practice and meets to help prevent swimmer's ear. Or to keep an infection from getting worse. Just don't tell my doctor 😉
Related article: What is Swimmer's Ear?
These earplugs can be used by kids or adults, regardless of ear size. Making them an ideal option for any swimmer. Although we will note that they do have a set specific for kids that work well, too.
These can get dirty over time and can end up looking pretty gross. Rinse them off after each use and dry them to help extend their life. And keep them looking their best.
In terms of cost, they're very affordable for how well they work. You can get a set of 2 if you want to try them out first. Or, get the value pack with 6 pairs.
Mack's specializes in earplugs. So much so that they're the number one selling and doctor recommended earplug brand! So you know you're in good hands 🙂
From foam earplugs to reduce noise to ones that help you sleep better, they have a large variety of earplugs to use away from the pool. We recommend that parents use them at swim meets, too!
Yes, another product from Mack's! They're just that good. 
Mack's AquaBlock Earplugs come pre-molded in a flanged design, which can make them an easier option for some swimmers. And unlike the silicone putty design, these are inserted directly into the ear canal.
Due to their silicone design, they not only help prevent water from getting into your ear, but they also last longer. These earplugs can be washed and reused for several weeks before you consider replacing them.
These come in two colors, purple and clear. We recommend the purple option, as it makes them easier to see in the water if they ever fall out.
One downside that comes with Mack's AquaBlock (or any flanged model), is that the tips can stick out of your ears. This makes them a bit prone to fall out. Or cause discomfort when wearing a cap.
More Content for You: 6 Reasons You Should Wear a Swim Cap
You should also be careful when inserting these types of earplugs. Especially for children, as they tend to push them in too far.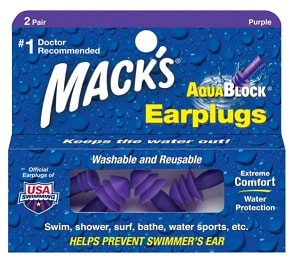 Children frequently suffer from ear issues. And swimmer's ear is most common in children.
Putty Buddies, created by ENT physicians at Jaco Enterprises, can help make pool or bath time less painful. 
These earplugs come in fun, bright colors that make them more appealing to kids. Plus, they're made from incredibly soft material for added comfort.
And their bright colors mean that they're easier to find if they ever fall out!
Roll them up and mold them to your child's ear for a tight seal and secure fit. For more protection, consider pairing them with a swim cap or an ear band for swimming. 
Another option for younger swimmers are TYR Kids Soft Silicone Earplugs. 
Much like Putty Buddies, these come in bright colors and have a carrying case to help store when not in use. 
Each case comes with 6 pairs and are made from soft silicone for a comfortable fit. Especially for small ears. Even though they're advertised for kids, teens and those with smaller ears can also use them.
The smaller size means they'll fit and mold better to your ears compared to ones specific to adults.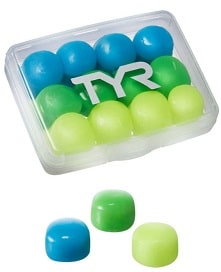 These earplugs come pre-molded but don't come in the standard flanged shape. 
Instead, the TYR Silicone Molded Ear Plugs have a flattened outside that fits snug to your ear to help keep water out. They do have a small end to insert into your ear but it fits more shallow in your ear than normal flanged earplugs.
More Content for You: Your Quick Guide to Swim Caps
They are specifically designed for your left and right ears, making them somewhat customizable. And unlike the other earplugs on this list, they have a hollow stem so you can hear easier.
These earplugs come with a storage case to help keep them safe while not in use. When you can, keep the case open to help it dry out so it doesn't start to smell.
We do recommend that you clean them frequently and dry them off after each use.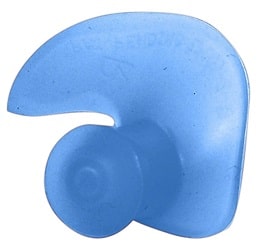 Speedo's Ergo Earplugs is a combination of a flanged design that inserts inside your ear canal and a molded outside to form a water-tight seal. 
These two features help minimize leaks and provide maximum comfort. And because they're not silicone putty, they can last much longer than moldable putty. 
To maximize use, be sure to clean them after each use and pat them dry. Keep them out of the sun and store them in their case when not in use.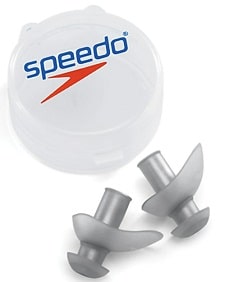 FAQs Regarding Earplugs for Swimming
Have some other questions? The below are some of the most frequently asked questions and answers for earplugs and swimming
Should You Use Earplugs When Swimming?
If you're prone to constant ear infections or don't like water getting into your ear, then yes. You should use earplugs when swimming. 
For those that don't suffer from frequent swimmer's ear (lucky you), it's honestly up to you. They are a good preventative tool to avoid swimmer's ear though.
How to Use/Wear Earplugs While you Swim
It's important that you wear your earplugs correctly to have them work the way they should. 
For silicone putty earplugs: Do not insert directly into the ear canal!
Make sure your hands and ears are dry
Roll/mold into a ball
Place the ball over the opening of your ear
Press it against your ear so it's flat and covers the out ear canal
Wearing a swim cap or swim ear band can help keep your earplugs from shifting around or falling out. Especially as they get older and lose some of their stickiness.
How do I Stop Water from Getting in my Ears when I Swim?
When worn correctly, earplugs can help prevent water from getting into your ears. 
That said, we also recommend that you pair your earplugs with a cap to help keep the plugs tight and staying in your ear.
Can You Still Hear When Wearing Earplugs?
Yes, but the sound can be muffled. Especially if you have a swim cap covering your ears. 
Typically, this doesn't impact your swimming or time in the water. But we do caution you to be a bit more aware of your surroundings.
Should I Still Use Eardrops After I Swim?
We recommend using ear drops. Prevention is the best way to help avoid getting an ear infection. However, the choice is completely up to you. 🙂 
Can I Use These Earplugs Outside of the Pool?
You can! 
We use our silicone earplugs when flying, cutting the grass, and vacuuming the house. Or anything else that would require ear protection. 
We've found that they're much more comfortable to wear compared to foam ones.
Where Can I Buy Earplugs for Swimming?
Most retail and sports stores, such as Wal-Mart, Academy, and Target carry a limited section of earplugs. And you'll typically find these leading up to the summer season. 
We recommend searching the online section at SwimOutlet, which is a dedicated swim shop. They carry a large variety of earplugs specific for swimming. And you'll get a good range of reviews and questions.
You can also buy earplugs online through Amazon or a retail/sports store.
---
Bonus Content:
What Equipment Do You Need to Start Swimming?: What swim equipment do you need to start lap swimming? We help you break down which gear you need so you can make the best decision and get started!
The Best 11 Kickboards for Swimmers: Kickboards come in all shapes, sizes, and materials. Finding the best kickboard for you might seem easy enough but which is the right one for you?
---
About
Chevron is a current competitive swimmer with almost 20 years of experience in the pool. And although she fell into the sport by accident in her high school years, she still trains daily and competes throughout the year. She's committed to providing guidance to all levels of swimmers and believes that everyone should know how to swim.