Did you know that you can get prescription goggles for swimming? Gone are the days of struggling to see the clock and having blurry vision until you finished your workout.
If you wear any type of corrective lenses, you know how frustrating it is when the world is out of focus. And while swimming without the pool being in focus is possible, it can lead to some struggles.
The good news is that the options for prescription goggles have greatly increased from when I first started using them. The even better news is that they've become more affordable as well.
Related article: How to Pick the Right Swim Goggles for You
Whether you're looking for prescription goggles to help you see better at practice or make your child feel more confident, these goggles will get the job done.
Here's our breakdown of the best prescription goggles for swimming or pool needs.
Disclosure: This post may contain affiliate links, meaning we earn a small commission at no cost to you if you purchase something through one of our links. As an Amazon Associate, we earn from qualifying purchases. Please check out our disclosure page for more information.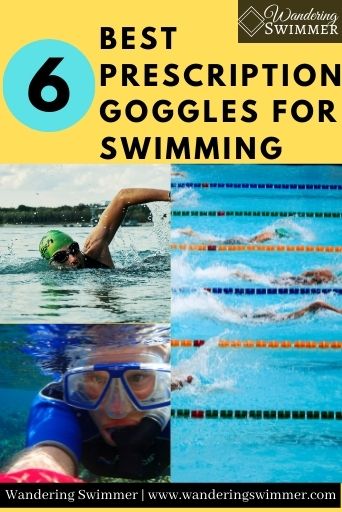 Quick Note: For Different Prescriptions in Each Eye
For those swimmers (such as myself) who have a different prescription in each eye, be prepared to buy two sets of goggles. 
Unless you're getting a custom set of prescription goggles (which can be expensive), most pre-made goggles don't account for different prescriptions in each eye.
Instead, you'll need to get a set of goggles in each prescription and switch the lens to match your prescription. You'll also have to wear one pair upside down.
It might sound tedious and frustrating, but it gives you an extra set of goggles that's ready to go!
The 6 Best Prescription Goggles for Swimming
Speedo Vanquisher Goggles are some of the most popular goggles at the pool. They fit most faces and rest comfortably around the eyes.
And they also come with a prescription option! The Speedo Vanquisher 2.0 Optical Goggles.
I used prescription goggles exclusively from Speedo during my high school and collegiate swimming years. And I can say that they work well and last long. 
In recent years, they've finally come out with a mirrored option for bright and outdoor swimming. No more squinting into the sun!
To help ensure a tight fit on your face, these prescription goggles come with 4 different nose pieces. Change them out so you find the fit that works best for you.
Both the non-mirrored and mirrored goggles come with an anti-fog coating and UV protection. And they can be used for recreation or competitive swimming. To include using it at swim meets.
Speedo also produces the Speedo Jr. Vanquisher 2.0 Optical Goggle for kids and younger teens. Same goggle, just a bit smaller so they fit better on the face 🙂
In terms of prescription, the Speedo Vanquisher Optical Goggles range from -1.5 to -8. These numbers usually match your prescription numbers for your glasses.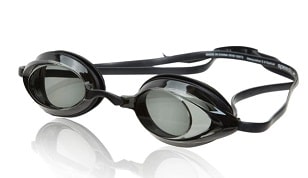 Looking for a good goggle that's a bit more affordable than Speedo Vanquishers? Sporti's Antifog S2 Optical Goggle might be an option!
Like the Vanquishers, Sporti's optical goggle comes in both a non-mirrored and a mirrored style to fit your water needs. You can also pick between clear or smoke lens.
Related Content :7 Reasons to Wear Goggles When You Swim
They also offer anti-fog material and UV protection. Just be sure not to rub the inside of the goggle or you run the risk of wiping off the anti-fog coating.
The lens design features a low-profile design, which makes them ideal for competitive swimmers. And with three different nose pieces, you can find the fit that fits your face.
Sporti Optical Goggles have a prescription range from -1.5 to -8.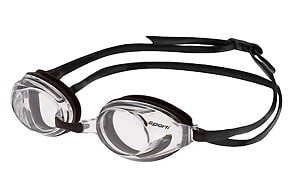 Not everyone needs corrective lenses for seeing items in the distance. For some swimmers, being able to see things up close can be a challenge. 
If you're far-sighted, Sporti is one of the few brands to make a prescription goggle for positive prescription ranges. 
Sporti Antifog Positive Optical Goggle comes in three different tints for your vision preference: smoke, blue, and clear. They also come standard with adjustable nose bridges, anti-fog coating, and UV protection.
And like most goggles on this list, they come in a mirrored and non-mirrored option.
We will note that while these can be used for competition, some swimmers might find that they have a higher profile design. This can make them less ideal for swim meets, as they might fall off at the start. 
However, the lenses have a wider range of view, which some swimmers may prefer. They also fit slightly wider around the eye, making them more comfortable for longer swims.
If you're looking for a good pair of optical goggles for your child or recreational swimming, you might want to give them a shot. 
The prescription ranges +2.0 through 6.0
BONUS: You can also check out Sporti's Antifog Optical Pro II Goggle if you're nearsighted but are wanting a comfortable goggle. They have a wider fit and range of view that makes them comfortable for all ages. And they come in two tints: blue and smoke.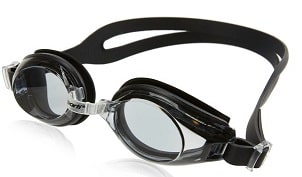 TYR's Corrective Optical Goggles are a great goggle for recreational swimming. But they can also be used by competitive swimmers. 
We like these goggles because they have a wider lens so that they sit outside the orbital bone instead of directly on it. This design makes for a more comfortable fit for all ages.
They come with an adjustable nose bridge, ant-fog, and UV protection. Along with split straps to distribute pressure while swimming.
In terms of prescriptions, you can get them from -2 through -8. They also come in two colors, smoke and clear.
BONUS: If you want smaller prescription goggles designed more for racing, be sure to look at TYR's Blackhawk Racing Prescription Goggles. They range from -1.5 to -8. 
Just know that they are a low profile design and sit on your orbital bone, which can cause some discomfort.
Aqua Sphere makes some exceptionally comfortable goggles, especially for open water swimming. And they've recently introduced their Eagle Diopter Lens, which allows you to build a 'custom' set of goggles.
We say custom because you can only use the lens with Aqua Sphere's Eagle goggles.
From there, it's as simple as switching out the lens and replacing it with your diopter lens!
This works well for those who only need a prescription for one eye. Or for swimmers who have different prescriptions in both eyes.
Related article: How to Fix Common Swim Goggle Problems
These lenses are clear, so they're best suited for indoor swimming or outside in low light. They feature 100% UV protection and anti-fog coating.
The lenses are available in half-step increments from -2.0 to -6.0. 
One negative of the goggles are that the lenses do not come as a pair. You'll need to order two if you need prescription lenses for both eyes.
You also need to order Aqua Sphere's Eagle goggles in addition to the lenses. Which can make them a bit more expensive than the other goggles on this list.
However, they're probably one of the most affordable 'custom' pair of prescription goggles.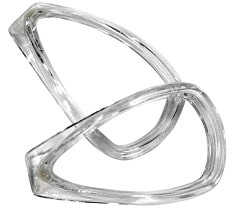 While regular swim goggles can be used for snorkeling, they're not always the best in terms of comfort and view. 
Kammoy Nearsighted Swim Goggles are prescription goggles specifically for snorkeling or open water use. 
The larger design of the goggle means eliminates pressure around the eyes, making for a much more comfortable fit.
Especially if you plan to wear them for extended periods.
These goggles are treated with UV protection and anti-fog coating, much like you would find on your typical goggles. 
They also come with earplugs, a nose clip, and a protective case. Giving you a bit more value for your money. 
It's important to note that, unlike regular snorkeling masks, these goggles do not have a covered nose piece. Hence the nose clip 🙂
In terms of prescription, the range only goes from 0 to -6.
While these are used more frequently for snorkeling, you can also use them in the pool, if you want. 
FAQs About Prescription Goggles
Are Prescription Swim Goggles Worth It?
Having used them for nearly ten years, I'm probably biased when I say that prescription goggles are worth it. Especially these days when they cost just a smidge over regular goggles. 
Prescription goggles help you to see safely underwater and above. This isn't just for your comfort and ability to see the clock at the pool, but also for your safety. You can better see if the lifeguard is signaling for you or other dangers in the water around you.
How Expensive are Prescription Goggles?
Most prescription goggles, such as those from Speedo, Sporti, and TYR, cost just a few dollars more than your non-prescription goggles. 
Some optical goggles though, can be expensive, especially if you're going with a custom pair. You might find that these can run from $30-70 or more, based on the brand.
Where Can I Get Prescription Goggles?
You can get most prescription goggles online! Swim stores such as SwimOutlet and retailers such as Amazon carry these goggles. 
There are other sites with more detailed options, such as those wanting polarized goggles for open water or triathlons. 
And with most prescription goggles, you don't need your optometrist to order them for you. You can buy directly from the site. You just need your prescription 🙂
How to Choose Prescription Goggles
Choosing your prescription goggle comes down to what you like and need in a goggle. You can find prescription goggles for both recreational and competitive swimming to fit your needs.
Related article: How to Pick the Right Swim Goggles for You
You will want to have your prescription handy when selecting your set of goggles so you know what lens to pick. If you're ever not sure, contact your optometrist to have them verify the right prescription strength for you.
Remember that if you have different prescriptions for each eye, you'll need to order a set of each prescription. And then switch the lenses to match your prescription. 
Test out your goggles before getting into the pool to ensure you can see properly. And know that it might take a little while to adjust to your new goggles. 🙂
---
Bonus Content:
5 Reasons Swimmers Should Own a Shammy: While a shammy may look small, it wins big on what it offers swimmers. Quick drying and thin, you might find yourself reaching for it first over a towel
How to Select the Best Fin Socks: Using fin socks is one of the best ways to keep your fins from giving you blisters. Here are the best fin socks to consider for your next workout.
---
About
Chevron is a current competitive swimmer with almost 20 years of experience in the pool. And although she fell into the sport by accident in her high school years, she still trains daily and competes throughout the year. She's committed to providing guidance to all levels of swimmers and believes that everyone should know how to swim.