At some point in time during your swim career, you've probably faced down the pain of blisters on your feet due to fins. And if you haven't, you're either extremely lucky, or you probably will soon 🙂
One way to prevent this is by using fin socks. Fin socks can help prevent rubbing, chafing, and blisters when wearing fins. Or even water shoes!
Related article: How to Stop Your Fins from Rubbing
But with all the different brands out there, what's the best option? We'll help you break down the various options and help you select the best fin sock. 
Disclosure: This post may contain affiliate links, meaning we earn a small commission at no cost to you if you purchase something through one of our links. As an Amazon Associate, we earn from qualifying purchases. Please check out our disclosure page for more information.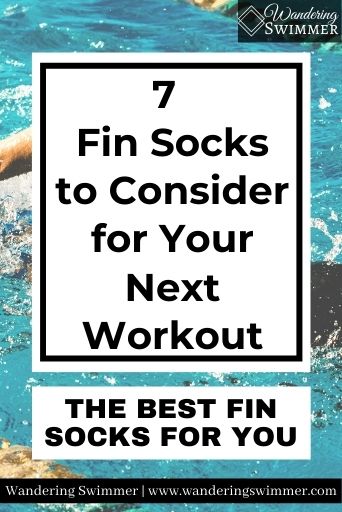 What are Fin Socks?
What is a fin sock? In simple terms, it's a sock that you wear underneath your fins to make kicking with fins more comfortable.
Fins tend to rub and cause chafing or blisters. And when faced with blisters, you have three options to avoid or prevent them. 
Kick with only one fin until the blister(s) heals
Avoid fins altogether
For some, waiting until the blisters heal or avoiding fins is a good solution. But if you want to keep using fins without them causing blisters, your best bet is to invest in a good pair of fin socks.
Fin socks might be a hassle to put on and take off, and it's tempting to never use fins again. 
However, once you find a good pair that prevents blisters, the hassle is well worth the comfort and ability to finish your workout without tearing up your feet in the process.
Regular Socks
The cheapest and easiest route is to use regular socks. 
Most swimmers will use these in a pinch, and in some cases, they do work. The thicker the sock, the better, as it provides more cushion and protection between the skin and the fin itself. 
However, there are a few downsides to using a regular sock.
One is that over time, the fabric of the sock, along with the elastic, will start to lose its shape. This means that the sock will stretch out and you're more susceptible to the fabric bunching and rubbing against your skin to create a new blister. 
If you plan to stick with socks due to their ease and inexpensive cost, be sure to select thicker socks over thinner ones. We also recommend that you switch out socks whenever one starts to stretch out too much.
FINIS Skin Socks
If you typically don't get blisters and want a thin sock to help ensure you don't get blisters, consider FINIS Skin Socks.
These fin socks are lightweight, thin, and can be used much like regular socks. They're made with nylon and lycra material for a soft fabric that runs around 1-2mm thick. 
Because they're thinner, they don't offer as much protection as thicker fin socks.
Personally, we don't recommend them for those who get blisters easily from their fins. When we tried them, the sock didn't fit well which caused more rubbing. And we found that the socks themselves were more on the loose side.
More Content for You: Best Kickboards for Swimmers
However, if you can find a good fit for your foot and don't mind the thinner fabric, this could be a good fin sock for you. But, if your feet tend to blister easily in the same spots due to rubbing, you'll want to skip this sock in favor of something with a bit more cushion. 
FINIS Skin Socks, Black
Sporti Nylon Swim Fin Sock
Sporti's Nylon Swim Fin Sock is a good balance between too thin and too thick for most swimmers. The nylon stretches a bit more than fin socks made from neoprene. This can make the fin sock more comfortable in terms of fit and temperature.
Although they come with a padded sole, we don't recommend walking on the deck or in the locker room with them on. They're best used in the water only. Wearing them outside of the pool will wear out the material and create holes in the fabric.
More Content for You: How to Pick the Right Swim Goggles
These particular fin socks also have an extra high cuff length, which provides extra protection for your ankle. This is a great feature if your fins tend to rub against your ankle and cause blisters.
We will note though that the elastic around the ankle band will eventually stretch out. When this happens, the fabric will slip down some, which could cause rubbing.
Neoprene Fin Socks
For the thickest and best protection against blisters, neoprene fin socks are the best option. Most neoprene fin socks come in 2.5 or 3mm thickness. This helps ensure that your fins won't rub, even after hours of use.
The only downside of neoprene fin socks is that they can feel too tight for some swimmers and they can make your feet warm. Neoprene fin socks are also used by open water swimmers and divers to keep their feet warm in cold water.
More Content for You: What Equipment do You Need to Start Swimming?
But that doesn't mean that you can't use them in the pool for your fins. I only use neoprene fin socks because they're the only ones to keep my boney feet from getting blisters.
We will point out that because neoprene is a thicker material, you might have trouble getting your fins on over them. If your fins are already a bit loose, these will help keep them from slipping off!
When it comes to neoprene fin socks, you have a few options!
Dakine Fin Socks
If you're looking for a thicker sock that offers more cushion, Dakine Fin Socks are our recommendation. They're made from a soft neoprene fabric that is 3mm thick and provides enough cushion that you can barely feel the fin on your foot.
Unlike other fin socks, these ones don't fit exactly like a regular sock. This is due to the design of the sock, which has a cut out for your heel and keeps the fabric flush against the ankle.  
More Content for You: Basic Pool Etiquette: 15 Ways to Share the Pool
I use these fin socks almost daily at practice. They hold up well to long kick sets and do their job at protecting my feet. I will note that my pair developed holes at the toes about 6 -7 months after I started using them.
This might be due to the constant use of the sock. Or because it was a bit small on my foot. But this is one thing to consider when looking at Dakine's fin sock.
One other thing to note is that these fin socks due run small. I wear a large, which was US size 10-11. My shoe size is 9-10.5 and the fin socks felt a bit tight. They have, however, stretched out some to fit better.
Dakine Fin Socks – Black
Sporti Neoprene Fin Socks
Sporti's neoprene socks come in a 2.5mm thickness. If the 3mm is a bit too thick, try sizing down with these fins.
In addition to being a little thinner, these fin socks come in two different styles:
Neoprene Bodyboard: Sporti lists these for bodyboarding, but you can use them for swimming without any issue. They have an open heel, which can fit better with certain fins, such as Arena's Powerfin Pro. But we've also used them with FINIS Z2 Zoomers and had no issue.
Neoprene Swim Fin Socks: These have a closed heel and should be used for swimming or snorkeling only. Because the heel is closed, you won't have a good grip on the board if you use them for bodyboarding.
Whichever option you go with, they'll work well for protecting your feet from blisters and chafing caused by fins.
FINIS Footbooties
These differ from the rest of the fin socks on the list because they're not true fin socks. 
Rather, they're short booties that only cover about half of your foot. They're great for those that only get blisters or rubbing on your toes or tops of your feet.
Because they just slip over your toes and don't cover your whole foot, we don't recommend them if you get blisters by your ankles. 
FINIS Footbooties, Black
Fin Sock Care
To keep your fin socks lasting long, you'll want to ensure that you take good care of them. Some brands can be more expensive than others, so you'll want to make sure you get your money's worth!
Here are 5 quick tips to save your fin socks:
Don't walk on deck or in the locker room with your fin socks on
Put your fin socks on in the pool to make them easier to put on
Rinse out your fins socks after use
Let them air dry in between workouts
Once dry, store away from sunlight and heat
Whether you swim every day or just a few times a day, following these tips will help keep your fin socks lasting longer. And help save you some money!
As always, happy swimming!
Chevron
---
Bonus Content
A Swimmer's Review of the YYST Swim Bungee: Swimming at home in your backyard pool is possible by using a swim bungee. For swimmers of any level, the YYST Swim Bungee is affordable and easy to use.
Best Gear for Swimmer's Returning to the Pool: Returning to the pool? Chances are that you'll need to replace some gear. Here are 7 pieces of gear for swimmers returning to the pool.
---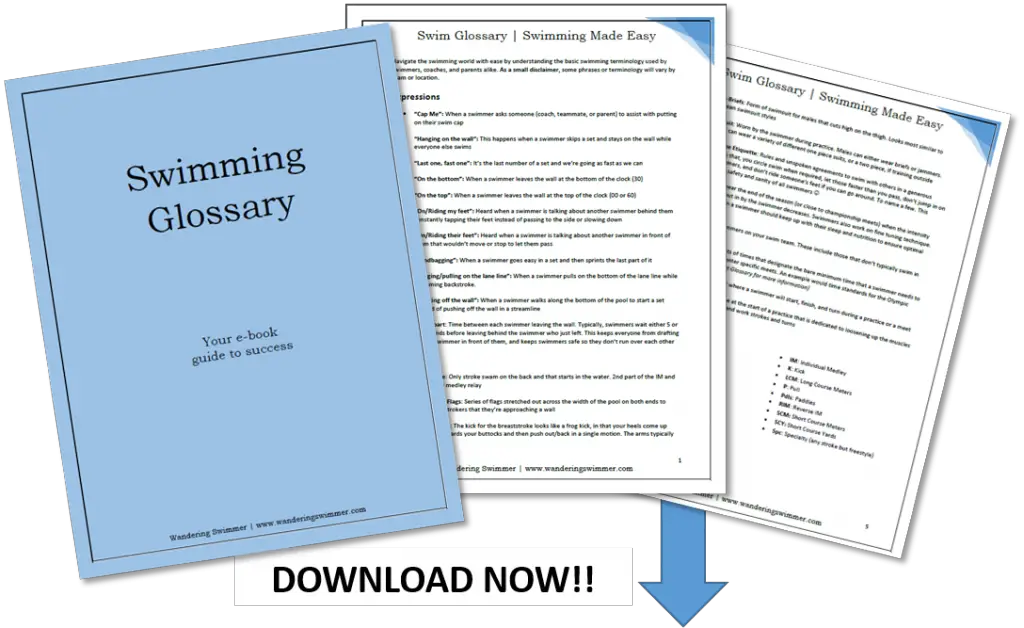 Want to Improve at the Pool?
Join swimmers and swim parents to receive my free newsletter and receive a free Swimming Glossary e-book as a thanks!
Every month you'll receive tips and coaching to help you find success at the pool.