For swimmers returning to the pool after a long break, the months away from the pool might not have been kind to your gear. Most of us left the pool without realizing that it would be our last workout for months.
And some of us didn't bring our gear/equipment home with us before lockdown happened. For those of us that didn't, there's a chance that some of our gear will need replacing. 
If you're ready to start training again, here are the 7 best pieces of gear for swimmers returning to the pool.
Disclosure: This post may contain affiliate links, meaning I earn a small commission at no cost to you if you purchase something through one of my links. As an Amazon Associate, I earn from qualifying purchases. Please check out my disclosure page for more information.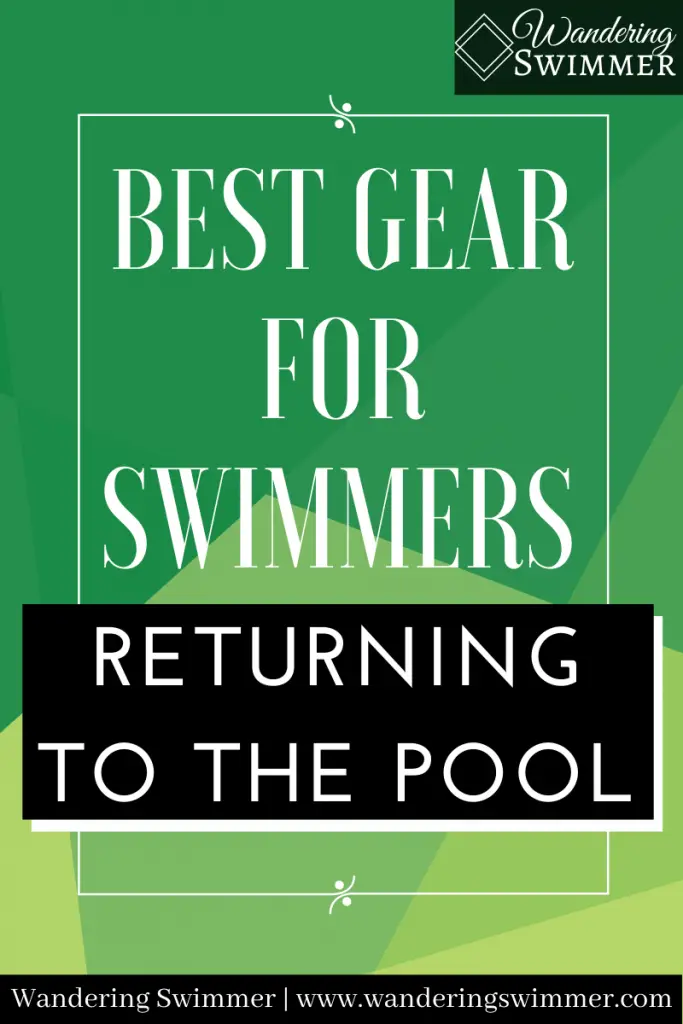 Goggles
For those swimmers that keep their goggles in their gear bag, you might find that your goggles aren't in the best shape anymore after months away from the pool. 
Heat isn't kind to plastic and rubber. If you store your gear outside or in an area that's not climatized, there's a chance that your goggles have been melting during these summer months. 
Even if you keep your goggles in your swim bag or a locker, it's hard to know what state they'll be in upon your return. 
The sockets around the goggles don't do well when items in your bag or locker have pressed up against them for months on end. If this has happened to your goggles, they more than likely won't offer a good seal when you're swimming. 
Related articles:
It's always a good rule of thumb to keep extra goggles with you. In this case, it's probably a good idea to pick up a new set of goggles before returning to the pool. 
If you don't need them, great! You have another backup set 🙂 But in the event, you come back to the pool and realize that you can't use your old goggles, you're prepared.
Goggle Straps
Don't think that plastic goggle straps will outlive bungee goggle straps. Both suffer under high temperatures and can turn brittle. 
Much like keeping an extra set of goggles on hand for backups, you should also keep some spare goggle straps handy, too.
Already have some? Then you're set for returning to the pool! If you don't, it won't hurt to go pick up another set. 
Caps
Ever leave a swim cap out in the sun for too long? They have a tendency to melt in extreme heat. Latex caps especially don't hold up well under heat. 
And even silicone caps have a point at which they can break.
More Content for You: 8 Reasons Your Swim Cap Slides Off
Again, if your gear didn't come home with you prior to quarantine, your gear might not have held up well throughout these last few months. 
Along with goggles and goggle straps though, keeping a spare on hand isn't a bad idea. If you don't have an extra, now would be a great time to get one!
Fins
Fins such as Zoomers from FINIS and floating fins tend to suffer from the heat. You'll find that the rubber in some places will have cracked or become thin. And the next time you put them on, they might tear or not even fit correctly.
It's not to say that they'll be unusable right away, but eventually, they're going to tear on you.
Check your fins when you return to the pool and see what sort of condition they're in. Depending on how you stored them, you might find that the fin blade has bent or folded while you were away from the pool.
Certain fins, such as these from Arena, come in a heavier material and are less likely to suffer from prolonged heat.
Paddle Straps
Some swimmers go through paddle straps like crazy because they're constantly stored in their gear bags. Others, such as myself, also have the added heat to contend with. 
I go through so many paddle straps due to the heat!
Throughout the year, you should check the straps on your paddles to ensure they're not starting to tear. Paddle straps typically hold up well through all the training we put them through, but they can snap.
And while sometimes it's a simple fix, such as adjusting the strap, it's not always that easy. 
Related articles:
If you need a replacement strap for your paddles, check if your coach has any tubing that you can use. Some coaches keep replacements on hand for events such as that.
If they don't, then make sure you look into getting some new straps for your paddles. Just remember that straps can vary by paddle type. Some have very specific tubing. Always double-check that you're getting the right kind 🙂
Snorkel
Have you picked out a trend yet?
Heat and the elements aren't kind to our swim equipment. Even your snorkel can suffer in the heat if left out too long. While the breathing tube of the snorkel might be okay, be sure to look over the mouthpiece. 
Check to make sure it's not melted or deformed. And it wouldn't hurt to give it a good scrubbing down before you use it again.
Lastly, check the piece that presses against your forehead. While the mouthpiece probably made it through the months in the heat, the forehead piece might not have.
Due to it's thinner rubber/plastic material, the heat can make it tacky. And if you're really lucky, it'll leave residue all over the place the next time you try to use it. Lucky you!
Swimsuit
Finally, be sure to check your swimsuits. Even if you brought them home with you!
It's not uncommon to grab an old suit after several months and realize the elastic on it is ruined. That crunching crinkling sound just about breaks your heart.
More Content for You: How to Make Your Swimsuit Last Longer
And while it might hold up for a practice or two, it probably won't last much longer than that.
Swimmers should always keep a backup suit or two. Doublecheck all the suits that you have before you return to the pool. Not just to ensure they're not deteriorating, but also that they still fit.
You can't return to the pool if you don't have a swimsuit!
In Closing
Many of us have been anxiously awaiting the day we can return to the pool. To feel the water embrace us and to start working hard again.
But we also need to realize that it's been several months since we probably last used our equipment. And all the gear that stayed behind is in some need of love and attention.
At best, look into getting new goggles and a cap before you head back to the pool for practice. 
Once there, look over all the gear and equipment that you left at the pool. Identify which items will need to be replaced or repaired. Be ready for some pieces of equipment to break after you start training. 
But most importantly, enjoy the return to the pool. Gear breaks but that shouldn't stop you from training.
As always, to happy swimming!
Chevron
---
Bonus Content:
How to Return to the Pool After a Long Break: Returning to the pool after a long break can be a challenge for swimmers. Mentally preparing yourself can help ease your transition back into the water.
Swimming After COVID-19 (And How it Might Look): For swimmers, returning to the pool and swimming after COVID-19 will probably look different than what we're used to.
Best Swim Gear for Swimmers — coming soon
---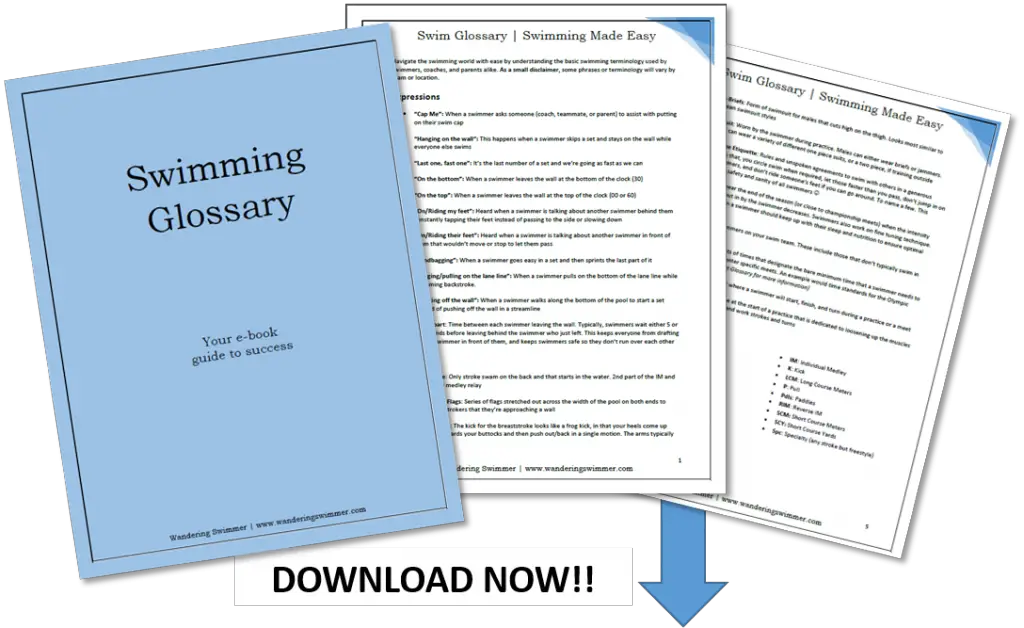 Want to Improve at the Pool?
Join swimmers and swim parents to receive my free newsletter and receive a free Swimming Glossary e-book as a thanks!
Every month you'll receive tips and coaching to help you find success at the pool.