During this pandemic, so many coaches looked at their team and wondered how they can bring their swimmers back. And wonder how they can train during COVID. 
The short answer is 'carefully'. But even with governing bodies releasing COVID swimming and facility guidelines, it's not always an easy answer.
The pandemic has changed numerous things in our lives that we've had to adjust to. And swimming will be one of those things. Some things won't be easy and they'll require some getting used to.
Related article: Swimming After COVID-19 (And How it Might Look)
But they're all possible and they're for the safety of everyone. We don't know what the future will hold for swim teams, let alone the sport itself. But we can focus on staying healthy and taking steps to keep others healthy. 
While these tips will by no means completely keep you from getting COVID, taking some extra precautions can help lessen the risk. Both in the pool and away from it.
Disclaimer: These are only my opinions, thoughts, and observations contained in this post. They are provided only for informational purposes and shouldn't be used or considered as medical advice. I'm not a doctor or medical practitioner. I encourage you to speak with your doctor, health care provider, or coach before returning to the water or training.
Disclosure: This post may contain affiliate links, meaning I earn a small commission at no cost to you if you purchase something through one of my links. As an Amazon Associate, I earn from qualifying purchases. Please check out my disclosure page for more information.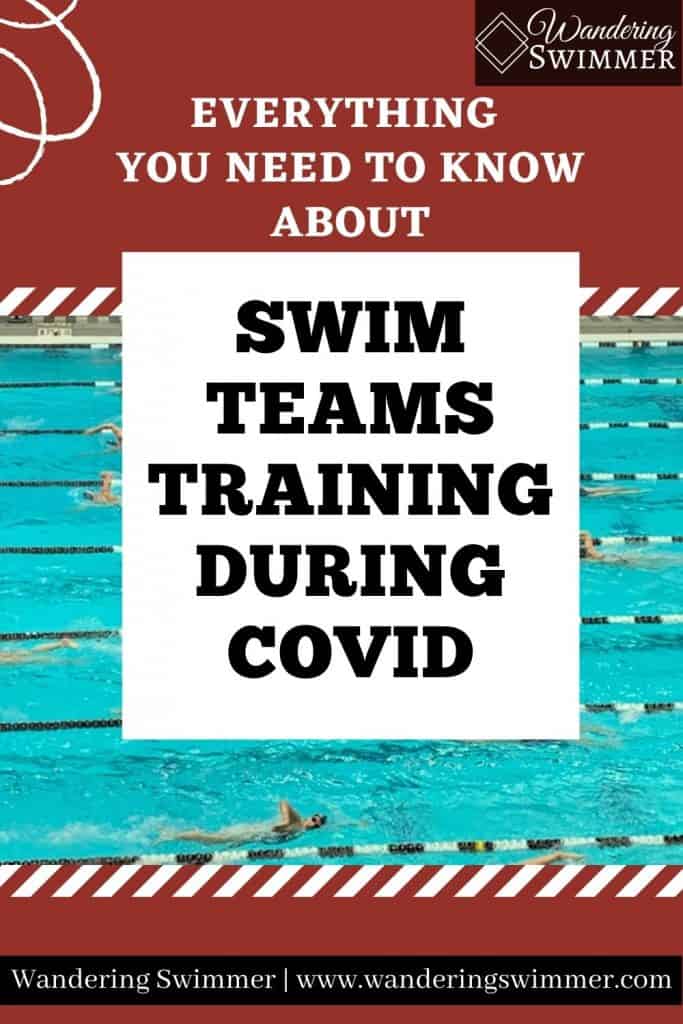 Follow Guidance From Public Health Officials
The guidelines set by the CDC and USA Swimming urge individuals to maintain a minimum of 6 feet for social distancing. This includes not just within the pool and dryland areas but also on the deck and outside the facility.
Both organizations also urge individuals to:
Continue washing their hands
Sneezing/coughing into the crook of the elbow
Quarantining yourself if you display symptoms
Going into quarantine if you have been in contact with someone who tested positive for COVID/showed symptoms
A tip specific to swimmers: Remember to wash your hands just before you get into the pool. Especially if you're coming straight from dryland.
Most swimmers, including myself, will touch their faces as they put on goggles and caps. Washing your hands directly before putting on your goggles can help reduce the chance of infection when you touch your face.
Mask Up!
This should go without saying. But teams should ensure that swimmers wear their masks before and after training.
The only time someone shouldn't wear a mask is when they're in the water. And potentially in dryland.
After you finish practice, you should put your mask back on as soon as you can. Especially before you start talking. Dry off your face and hair, and put your mask on for your safety and your teammates.
Related article: Should I Quit Swimming Because of COVID?
Even if you're not worried about getting COVID, please wear a mask in respect for others around you. While you might not feel concerned about COVID, someone else might. 
Dryland Training During COVID
Swim teams can train during COVID if they watch the number of swimmers in one place. This is especially true in the dryland room, where it's easy to bunch together. 
Coaches should ensure that they're spraying and wiping down the pieces of equipment in between sessions. And swimmers should also spray down the equipment that they use once they finish with a weight. 
Having hand sanitizer available throughout the room is an additional way to help reduce any COVID spread. Use some before going to the next station for extra protection.
For those concerned with catching COVID from the dryland room, see if you can work out with your mask on. Just be cautious that you're not suffocating yourself in the process. And stay away from those who aren't wearing one. If you can, do some exercises outside.
Lastly, bring a separate bag to store your dryland clothes in after use. This will help keep them from touching your towels and other items in your bag. You can also turn them inside out to prevent this.
Can't do dryland with your team? Check out these tips to do dryland at home!
Related articles:
Limit Locker Room Use
This isn't exactly a popular suggestion, we know. But it might be a necessary one if teams want to train during COVID. Most teams and facilities are encouraging swimmers to arrive with their suits on and leave without changing.
By limiting the number of swimmers in the locker room, a team can help reduce the spread of COVID amongst themselves. 
Is it a bit of a pain? Yes. Especially in the winter when you want to change out of your cold suit and take a hot shower. 
But it's worth being a little uncomfortable if it means your team can still swim. When most teams haven't even been able to come back at full capacity, we'll take what we can get!
That said, change into your suit before you come to practice and have an extra towel to drive home in. Use a shammy or microfiber towel to help you dry off most of the water. This can save your towel for the drive home.
Related article: 5 Reasons Swimmers Should Own a Shammy
If it's winter, make sure you wear a parka over your suit or wear some warm clothes.
And if you have to use the restroom or locker room during practice, make sure you wear your mask. Coaches or staff should spray down locker rooms between sessions. 
Fill up Your Water Bottle at Home
Not every pool has access to its water fountains. Case in point, ours have been covered to help prevent the spread of COVID.
For this reason, we have to fill up our water bottles before going to practice. And hope that we won't drink it all during the workout! 
And while this might sound tedious, it's a simple step that can make a big difference. Especially for those who feel anxious about coming back to train during COVID. 
Filling up your water bottle at home can help prevent any cross-contamination and help mitigate some risk. You can decrease your risk further if you use a water bottle that doesn't have the mouthpiece exposed.
Related article: Reusable Water Bottles and COVID
Be sure to clean out your water bottle frequently in-between uses. Not sure how to wash your water bottle? The CDC offers guidance when it comes to washing dishes and bottles.
Stores and online retailers sell specialized brushes to help clean the inside of a water bottle, along with the straw. We recommend OXO Good Grips Water Bottle Cleaning Set to clean every bit of your reusable water bottle 🙂
As of this posting, we couldn't find anything from the CDC about using water/drinking fountains for those who do have access to them. However, it wouldn't hurt to avoid them altogether by simply filling up your bottle at home. 
Limit Talking on Deck (When not Wearing Masks)
When on deck, swimmers should try to limit talking if they're not wearing their masks. Especially if they're relatively close to each other. 
It's a hard change for most of us. Before and after practice is the best time to talk during practice. It offers a chance for us to catch up with each other and laugh after practice.
More Content for You: How to Return to the Pool After a Long Break
With the pandemic going on though, it's not exactly an option anymore. And while it's frustrating to rush out after practice to avoid contact, it's, unfortunately, the best option.
Limiting exposure and contact helps ensure that the team as a whole stays healthy. Or as healthy as one can be right now. If too many swimmers come down with COVID, it could shut down a team for a while.
Don't Overcrowd the Lanes
Everyone has a different tolerance level when it comes to COVID. And that includes how comfortable they feel about crowded pool lanes.
USA Swimming has provided some illustrative guidelines regarding how to stay socially distant in the pool. It's up to swimmers and coaches to ensure that teammates follow team guidelines as best they can.
More Content for You: What to Look for in a Swim Team?
If possible, limit swimmers to no more than 5 per 25 yard/meter lane. This helps maintain 6 feet of social distance between each swimmer. If you're in a 50-meter pool, you can have more swimmers in a lane.
It's not always possible to do this for every team though. 
Especially if a team or training group has a large number of swimmers. To combat this, teams might have to extend the number of practices offered in the day to ensure all swimmers can train that day.
The most important aspect of having several swimmers in each lane is that you don't crowd together. Coaches and swimmers alike have to make sure that swimmers keep their distance from each other. 
The days of crowding up behind each other on the wall and in the lane have passed. At least for now. 🙂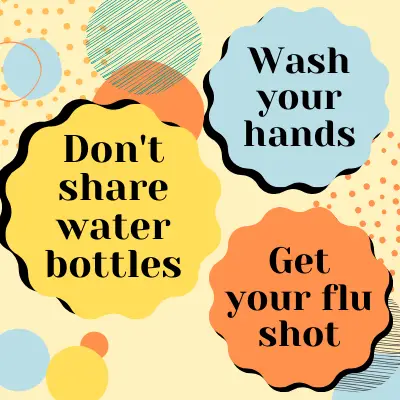 Limit Talking in the Pool
According to the CDC, the coronavirus is a respiratory virus. It is found in saliva and mucus and is contracted when you come in contact with contaminated droplets. These are spread when individuals with COVID sneeze, cough, talk, etc. 
Because of this, while in the pool, swimmers should try to limit how much they're talking to teammates. Especially if the lane is crowded. 
This also means they should avoid social kick, sadly 🙁
While it doesn't mean you can't ever talk, it does mean that you probably shouldn't be shouting across the pool. Or talking directly next to another swimmer.
More Content for You: What do Swimmers do at Swim Practice?
Show grace with teammates who struggle with this or any other COVID related guidelines. Remind them to stay six feet apart and let them know if they're too close. 
At the same time, show understanding for those who express concern about COVID. You might not have the same anxiety about the virus as someone else, but you should still respect their requests.
As always, to happy and safe swimming!
Chevron
---
Bonus Content:
Swimming After COVID-19 (And How it Might Look): For swimmers and coaches alike, when it comes time to return to the pool, swimming after COVID-19 will probably look different than what we're used to.
Should I Quit Swimming Because of COVID-19: If you're debating leaving the sport but still aren't 100% sure, here are four things to consider before you decide to quit swimming because of COVID-19.
---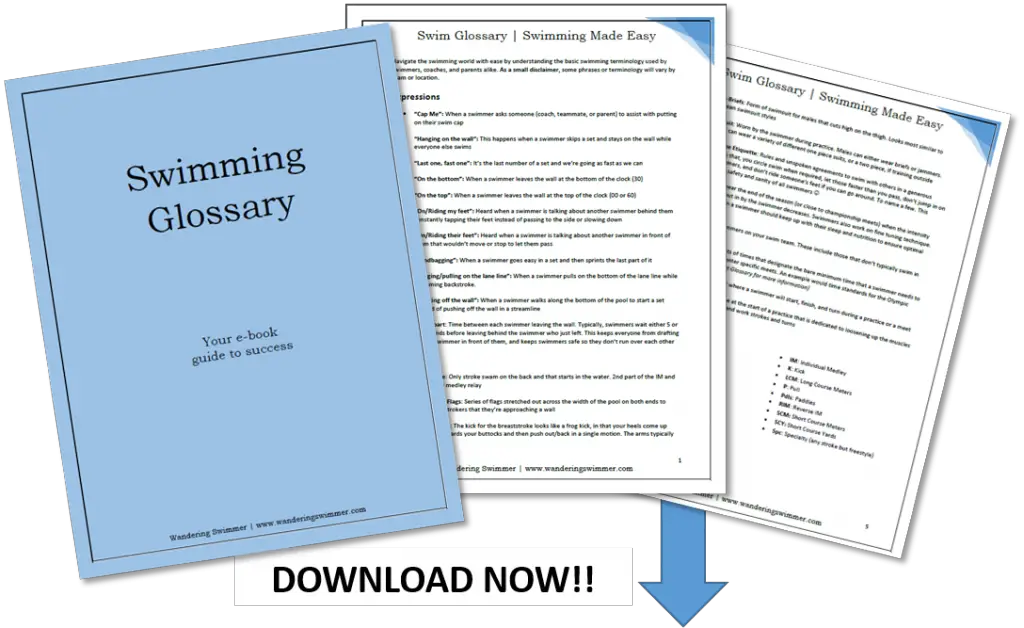 Want to Improve at the Pool?
Join swimmers and swim parents to receive my free newsletter and receive a free Swimming Glossary e-book as a thanks!
Every month you'll receive tips and coaching to help you find success at the pool.