The appeal of swimming at home is half the reason many people opt for a backyard pool. Only to find that the pool is too small to do more than three strokes. Bummer 🙁 But not all is lost! Swimmer's know the secret around this and it's through a swim bungee.
Related article: How to Workout in a Small Backyard Pool
Most competitive swimmers do some type of resistance work with swim bungees.
But they're not just for competitive swimmers. Anyone can use them as a means to turn their small pool into a training pool. No pumps or engines. Just you, a cable, and a belt. 
I recently tried a swim bungee (or swim tether) by YYST as a means to get in some water work during COVID-19. It turned my friend's small pool into exactly what I needed to get some 'laps' in.
Related articles:
Not sure if it's what you need? Keep on reading to get my full breakdown on the YYST Swim Bungee and see if it'll work for you!
Disclosure: This post may contain affiliate links, meaning I earn a small commission at no cost to you if you purchase something through one of my links. As an Amazon Associate, I earn from qualifying purchases. Please check out my disclosure page for more information.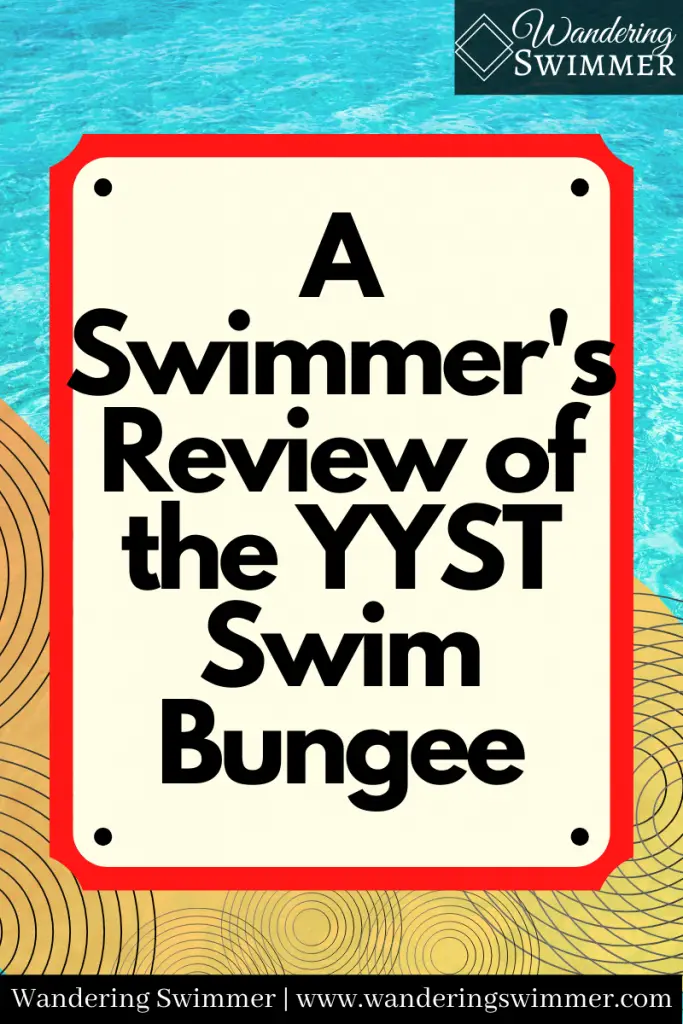 What is a Swim Bungee (or Swim Tether)?
Glad you asked! 
A swim bungee is a bungee or stretchy cable that comes in different resistances. It's attached to a belt that goes around the waist. And the opposite end loops around a stable, stationary object. Such as a tree, a swim ladder, and in most cases, a starting block. 
Swim bungees work resistance training for competitive swimmers. The swimmer will swim out as far as they can against the bungee cord and continue to swim against the resistance for a set amount of time. 
It sounds easy, but it's a fantastic workout that'll get your heart rate up. Because while swimming laps is easy, swimming against a bungee is difficult. Mainly because you're pulled back against the cord and your hips tend to sink some. 
Can I Use a Swim Bungee if I'm Not a Competitive Swimmer?
Absolutely!! 
If you're wanting to get in some exercise, a swim bungee, especially the YYST Swim Tether is a great tool to use. Regardless of being a competitive swimmer or not. 
There are other bungee cords that competitive swimmers tend to use more than this brand. Mainly because of the length and resistance that comes with these bands compared to others. 
However, they're much more expensive and the length of the band can be a negative feature for most small backyard pools.
The cost of the YYST Bungee compared to other swim bungees makes it perfect for any level swimmer. 
Review of the YYST Swim Bungee
Best Swim Bungee for Swimming at Home
At 2.0 meters (or about 6.5 feet), the YYST Swim Bungee is just the right size for a personal pool. Due to its size, it can fit a pool easily without any modification.
Swimmers of any skill level can use a swim bungee to fit their needs.
Tether/Bungee Cord
At 2.0 meters (or about 6.5 feet), the YYST Swim Bungee is just the right size for a personal pool. Due to its size, it can fit a pool easily without any modification. Or, a rope can be added if a bit more length is needed.
For me, I needed to add just a bit of rope because my stationary anchor was a tree trunk that was further away from the pool. I used a tie-down strap that I already had, eliminating any additional cost.
The tether itself is not just one cable, but two! I didn't notice that at first when I purchased the bungee online. 
They're thinner than you would expect but size can be deceiving. I tugged on them like you would a resistance band and they had pretty good resistance.
The real test, of course, is in the water. When looking at various swim tethers, you want a bungee cord that can keep you in place while you swim. But you also want to be able to swim against it for an even better workout.
I'm happy to say that the YYST Swim Bungee delivered on both of these!
I could swim at an easy pace and stay in place without needing to stretch out the cord past it's 'relaxed' length. But if I wanted a harder workout or was sprinting, I could work against the resistance.
Resistance
The YYST Swim Bungee offers two different types of resistance bands. A yellow one, which has less resistance. And a black bungee cord, which has a bit more resistance.
For those swimmers who plan to get some training in, I would recommend the black bungee cord. It's strong enough to hold up against some sprinting.
YYST 2.0M Pool Swim Training Leash Swim Training Belt Swim Resistance Tether
Alternatively, the yellow bungee cord from YYST has a bit less resistance and would be better suited for newer swimmers. Or, those wanting to swim for leisure vs training.
You should note that whichever option you purchase, you only get one tether. The YYST Swim Bungee doesn't come with both options.
Padded Neoprene Belt
The belt comes with neoprene padding for extra comfort and fits just over the belt itself. As someone who has used bungee cords both with and without the padded belt, I did appreciate having that bit of padding 🙂
You can adjust the belt for a fit that best suits you. Keep it up at your natural waist if you like. Or, down around your hips instead. The belt connects with a buckle vs a strap for a more secure fit.
The padded neoprene belt fit just around my hips without falling off, even when the bungee is stretched to its max length. I will note that I had to tighten the belt to it's the smallest size to best fit me.
Some reviews I read claimed that it was too small for them, even after all the way extended. If you're concerned about the fit of the belt, I would double-check the belt sizes against your measurements.
One other thing to note. While the belt didn't leave any bruises on my hips, my skin was red from where the belt pulled against them.
This came more from having pressure/resistance against my hips for almost an hour at a time. Not because the belt irritated my skin. The redness faded about 5-10 minutes after my workout.
Anchor Loops
Each end of the tether attaches to a loop through a set of D-rings. This lessens the chance of the tether separating from the loops, which can happen with other models of bungee cords.
The larger of the two loops is to secure the tether to a sturdy pole or anchored ladder. You can also use a tree or fence as a stable structure. 
To attach the YYST Swim Bungee to a ladder or pole, you'll want to place the larger loop against your secured structure. Thread the smaller loop (the one that's used for the belt) through the larger loop.
Pull it completely through until the loop is snug around the pole. And that's it!
Best Swim Bungee for Swimming at Home
The YYST Swim Bungee comes in two different levels of resistance: black and yellow.
The black bungee will offer more resistance, while the yellow bungee has a lower level of resistance.
If you already assembled the swim bungee and put the belt on the smaller loop, that's okay! You can either take the belt off and attach the tether. Or, you can keep the belt on and thread it through the larger loop.
The anchor loop is large enough that you can thread the belt through it without any issue. 🙂
For me, since I had to add a tie-down strap for distance, I just looped that through the anchor loop. Then finished attaching it to the tree.
Assembly
The YYST Swim Bungee came unassembled, but it's extremely easy to put them together. Slip the smaller of the two loops through the belt and that's it! The loop should fit on the outside of the neoprene so it can move easier. 
Cost
While prices can always change, I purchased the YYST Swim Bungee for around $30 on Amazon. Compared to other swim bungees/tethers, it runs about $10-15 more than some brands.
However, due to the material of the tether itself, the ease and padding of the belt, and stronger anchor loops, I felt the additional cost was worth it. The D-rings that the tether attaches to should last longer than other models.
I'll also note that the YYST was much cheaper compared to the StretchCordz, which can run around $70-80. 
The YYST Swim Bungee is also significantly cheaper and easier to use than the Original Swim Tether. Products from Swim Tether can run anywhere from $50-250 based on the model you want. 
Learning Curve
There is a learning curve if you're used to swimming laps in a pool compared to swimming with a resistance band. It's one of the reasons I don't recommend it for learning to swim but rather for exercise.
Some things to expect are:
Harder: It's much harder to swim against the resistance of the band than swimming without resistance. It makes sense when you read it, but in practice, it takes your body/mind a while to understand. 
Sinking hips/legs: Because you're constantly being pulled back by the bungee, your hips and legs tend to sink a bit more. For some, you might find that you're barely kicking or using your kick to help you balance
One thing I also found was that I made things increasingly difficult for myself by trying to stretch out the bungee to its full length. This came more from my training as a competitive swimmer, where we're expected to do this for a short period.
In the case of swimming in place, you should swim until you feel the first pull of resistance. Once there, hold that resistance and you'll find yourself swimming much easier. And for much longer!
Of course, if you plan to get some sprint work in or increase the difficulty of your practice, then add a bit more resistance! 
Training
It is possible to swim laps and train with a swim bungee. It's just a bit different than what you might be used to!
If you're wanting to track the yards or meters that you swam, you can best do this through two means:
Wear a device that tracks your time and distance for you
Count your strokes
Personally, I ended up counting my strokes because I already knew my stroke count and it was easier for me. It also helped me keep track of where I was instead of stopping all the time to check my progress.
It might not be 100% accurate, but it gave me a pretty close estimate. And I could easily count how many yards/meters I swam at each 'practice'. Not ideal, but you can make it work!
YYST Swim Bungee Overview
Do I like the YYST Swim Bungee?
I do! It does what I expected it to do and it's held up well so far after nearly a dozen practices. It's simple to use, even for those who have never used a swim bungee before. And for the price, I think it's a good deal.
The only caution I would give is that as it is different from regular lap swimming there can be some frustration at first. It will take a few times to get used to the resistance and finding the best resistance that works for you.
With that in mind, be patient and take the time to figure out what works best. Don't give up right away. It can take a bit! 
But once you figure it out and learn what works, I think you'll enjoy it, too!
Whether you've been wanting to start swimming at home or are looking to start, the YYST Swim Bungee offers you the chance to do just that! And at a far more affordable cost than building a large pool or making modifications to an existing one. 
Easy and cost-effective. What's not to like about that!
If you've been on the fence about swimming at home, I hope you give the YYST Swim Bungee a chance. 🙂
As always, to happy swimming!
Chevron
---
Bonus Content:
A Swimmer's Review of the DivaCup: As a swimmer, menstrual cups offer an array of benefits. The most important being that you can train and compete in them with ease.
Best Gifts for Swimmers in 2020: Shopping for a swimmer this year? Let yourself be inspired by these 10 gift ideas. They're perfect for any occasion, even a quick 'thinking of you' gift.
---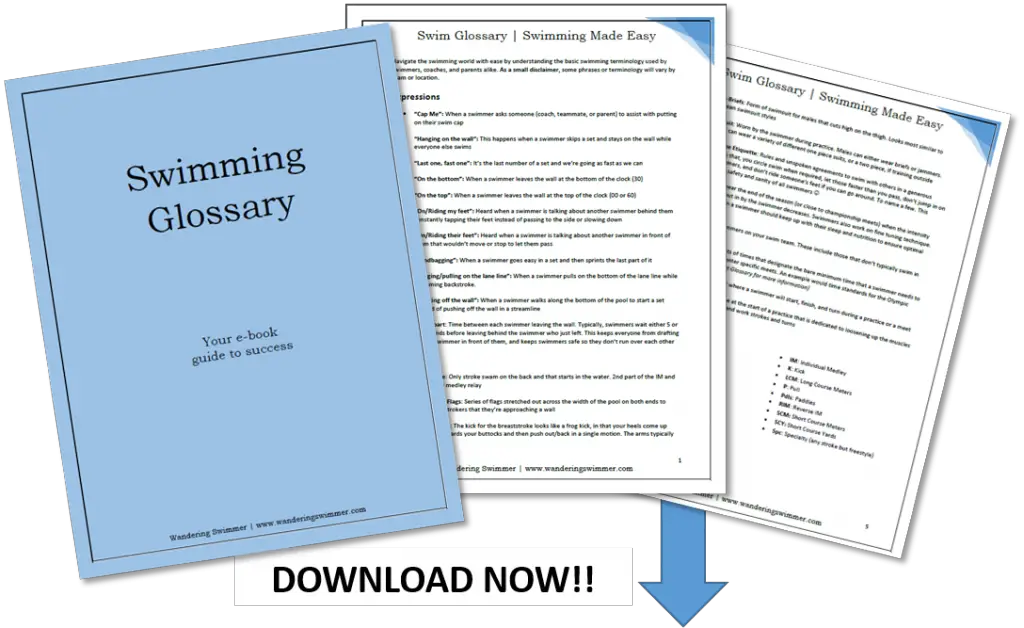 Want to Improve at the Pool?
Join swimmers and swim parents to receive my free newsletter and receive a free Swimming Glossary e-book as a thanks!
Every month you'll receive tips and coaching to help you find success at the pool.