Shopping for a swimmer this year? 2020 has been a challenging year so far and chances are this year might be difficult to get the best gifts for your swimmer.
The 2020 year has been anything but kind and it might be hard to think about gift ideas during a global pandemic. But some are looking back to the familiar events that occur annually. 
Birthdays, holidays, anniversaries, and special events give us something to look forward to. Even during difficult times. 
If you're looking for the perfect gift for a swimmer, let yourself be inspired by these 10 gift ideas. They're perfect for any occasion, even a quick 'thinking of you' gift.
Disclosure: This post may contain affiliate links, meaning I earn a small commission at no cost to you if you purchase something through one of my links. As an Amazon Associate, I earn from qualifying purchases. Please check out my disclosure page for more information.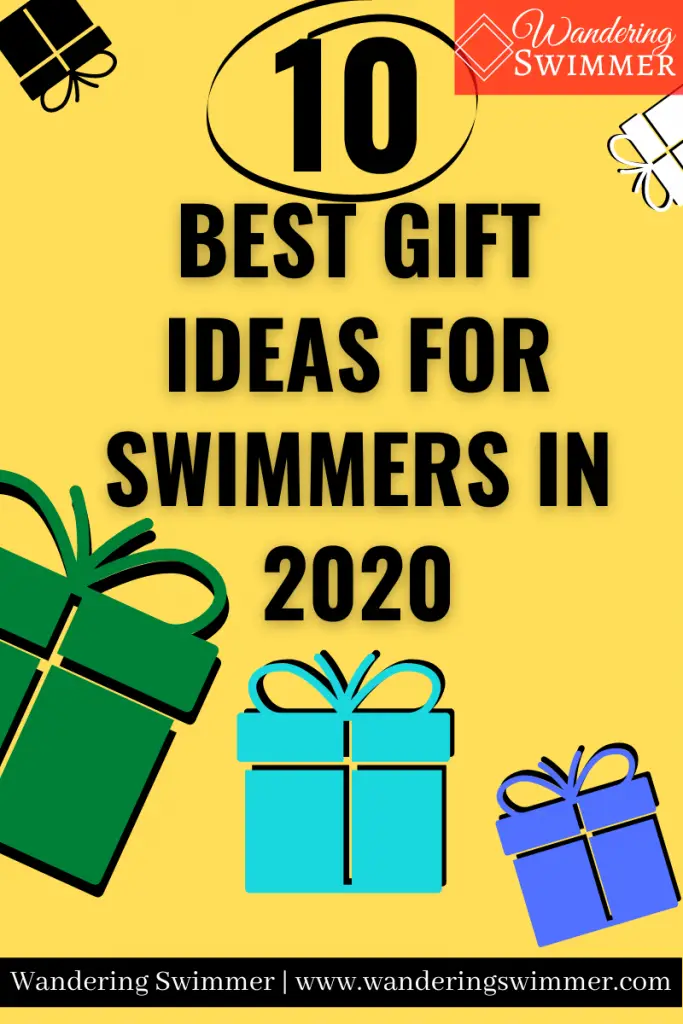 Best Gifts for Competitive Swimmers
Set of Free Weights/Stretch Cords
Doing dryland at home isn't usually a challenge. It's easy to do bodyweight exercises in the living room or outside. Most swimmers got creative with various dryland workouts during the last few months!
But for those swimmers that want more, a set of free weights might be at the top of every swimmer's wish list this year. 
Free weights and kettlebells offer a bit more challenge to dryland workouts. And can take workouts to a new level.
Related articles:
Does your swimmer already have weights? Look at bands from StretchCordz (handle version or paddle version). These are designed specifically for swimmers and can have them working their stroke while even out of the water.
Lastly, check out core sliders for an easy but extremely effective tool for working not just the core, but the whole body.
YYST Swim Bungee
Nothing replaces actual pool time. And with some public and team pools closed to swimmers, you have to get creative.
Have a backyard pool? Turn it into a training facility with a swim bungee! 
Specific bungees, such as the YYST Swim Bungee work well for all levels of swimmers. Plus, it's easy to use and requires no additional installation. 
You can read my review on the product here: A Swimmer's Review of the YYST Swim Bungee
Backyard Pool
Not every swimmer has access to a backyard pool. One option that most swimmers probably had on their wish list this year was a personal pool.
Pools such as Endless Pools and Michael Phelps Signature Swim Spas allow the comfort of swimming at home in small spaces.
For those looking for a cheaper option that's not as permanent, try the Fitmax iPool. Its small size means it fits in smaller spaces and can also be taken down during the winter months. Note that the Fitmax iPool doesn't come with a harness or harness set up.
New to Swimming Gifts
Gear Set
The best gift for those new to swimming is a gear set. Gear sets come with a set of essential items that a swimmer needs to get started swimming. Each gear set varies in the gear provided and is usually aimed towards specific age.
Some great options are
Microfiber Towel
Swimmers go through towels like crazy if you're not careful. One way to help extend the longevity of a swimmer's towel (and save space in a bag) is to use a microfiber towel or shammy. 
These super absorbent towels dry swimmers off better than your regular towels and dry faster, too!
Related article: 5 Reasons to Own a Shammy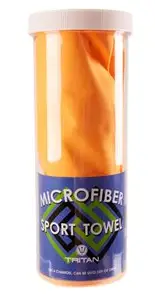 Microfiber towels dry swimmers off faster, take up less space than regular towels, and dry faster than towels, too. They make for a great gift for swimmers of all levels.
Open Water/Triathlon
Neoprene Swim Cap
The best gift for swimmers who train open water or for triathlon's is the gift of safety.
More swimmers have turned to open water swimming with the closing of their lap pools. And while open water offers a great alternative to lap swimming, swimmers need to consider some additional safety measures.
A neoprene swim cap will help keep a swimmer's head warm in cold water. They're made from the same material as a wet suit, so they can run a bit snug. But being able to extend the swim season might be worth it.
Additionally, some will come in bright colors, which help boaters, surfers, and other swimmers spot them easier. If a cap only comes in a dark color, consider looking for a bright latex cap to fit over the neoprene one.
BONUS: Check out neoprene thermal socks and gloves for added warmth to other extremities!
Open Water Swim Buoy
In other terms of safety, all open water swimmers or triathletes should train with a swim buoy. 
An open water buoy comes in several different bright colors to allow other people to spot swimmers. A belt attaches around the waist and a small, inflatable buoy trails happily behind with minimal drag.
As a bonus, most swim buoys offer some storage for phones, keys, and gel packs. 
Fun Extras
2021 Olympic Gear
Delayed but not forgotten! Some designs have come out this year after the 2020 Olympic Games have been delayed until 2021. The motto of 'we'll be ready' echoes throughout the pool.
USA Swimming has a new line for the 2021 Olympics with all proceeds going to support the athletes on the U.S. National Team.
Other sites also offer 2021 Olympic apparel, such as this manga-inspired breaststroker from Teepublic. Or these T-Shirts from Redbubble with the country flags and initials transcribed over the lettering. 
Want something other than apparel? The Tokyo 2020 Offical Online Shop offers a wide variety of items. Note that the prices are in Japanese Yen.
Gift Card
When all else fails, gift cards are always an option. It might seem lazy, but every swimmer has their preferred brand and style for their gear.
Save yourself and your swimmer some trouble and time by gifting them with the freedom to make their selection. This way, they get exactly what they need on the first try and you can give yourself a pat on the back! 🙂
Generosity
Lastly, not every gift has to be tangible. Instead, consider giving the gift of generosity.
Whether that's donating to a swimming foundation or charity of your swimmer's choice. Or, helping a family or teammate on your team.
Swimming Foundations
Some swimming foundations to consider are: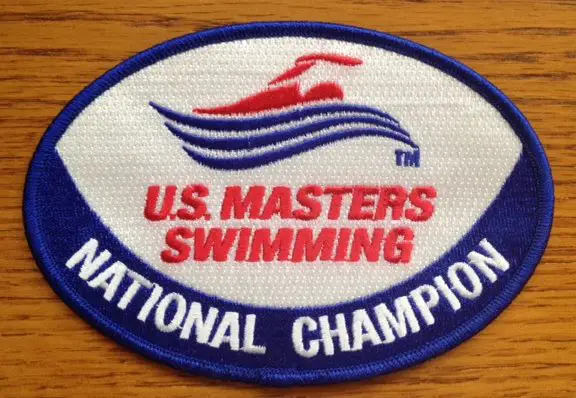 A few other swimming related foundations to consider also are the National Drowning Prevention Alliance and Swim Strong Foundation.
Internal Philanthropy
If you'd rather donate to a teammate or a family on your team, consider paying for a month of dues if you know a teammate is in need. Or see if there's another way that you can help them. Perhaps offer rideshare services or a gift card that they can use.
In Closing
These gifts for swimmers are only meant to be fun suggestions. If there's nothing on this list that you think your swimmer would like, that's okay! 
You know your swimmer best. And in the end, it's best to go with what you know about them. When in doubt, ask them! Their answers might surprise or inspire you.
As always, to happy swimming!
Chevron
---
Bonus Gift Content:
8 Awesome Gift Ideas for Swim Coaches: If you're wanting to say thanks to your swim coach this year, consider getting them an awesome gift to show your appreciation. Not sure where to get started? Here are 8 awesome gift ideas for swim coaches to get you started!
9 Amazing Gift Ideas for Swim Parents: Swim parents are one of the unsung heroes in the sport of swimming. And they deserve some wonderful gifts throughout the year as thanks for sticking with us! 
---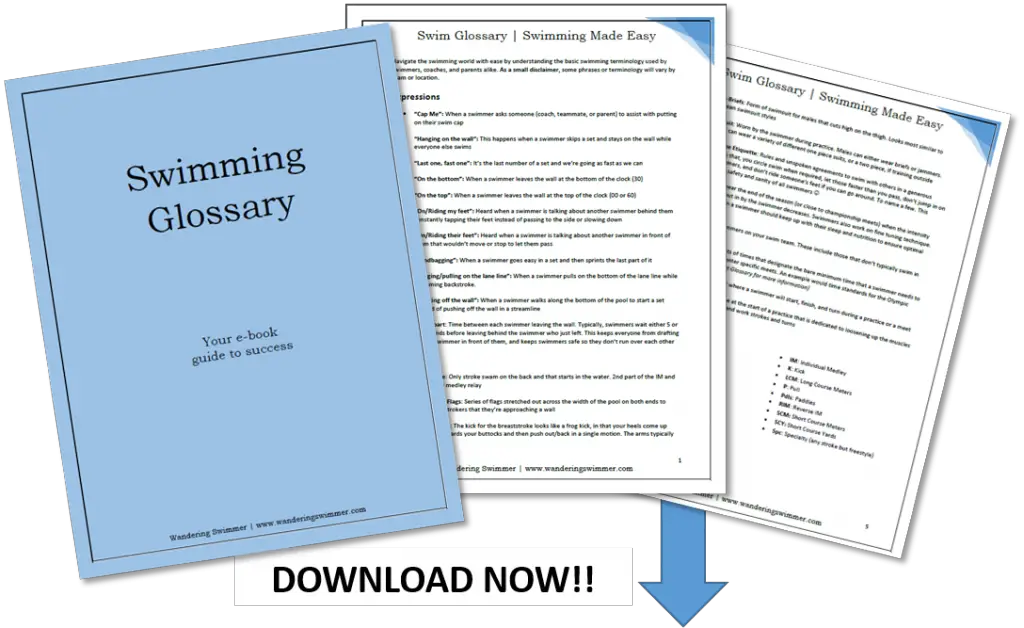 Want to Improve at the Pool?
Join swimmers and swim parents to receive my free newsletter and receive a free Swimming Glossary e-book as a thanks!
Every month you'll receive tips and coaching to help you find success at the pool.