Swim coaches give hours of their time to their job and to their swimmers. Yet it's often easy to forget to thank them for all that they do. If you're wanting to say thanks to your swim coach this year, consider getting them an awesome gift to show your appreciation. 
After all, without our swim coaches, most of us wouldn't be where we're at today. Swim coaches do more than just write workouts for us. They offer guidance and support while helping build confidence and independence. 
It's not an easy job! And they deserve some incredible gifts throughout the year as thanks for sticking with us! 
Not sure where to get started? Here are 8 awesome gift ideas for swim coaches to get you started!
Disclosure: This post may contain affiliate links, meaning I earn a small commission at no cost to you if you purchase something through one of my links. As an Amazon Associate, I earn from qualifying purchases. Please check out my disclosure page for more information.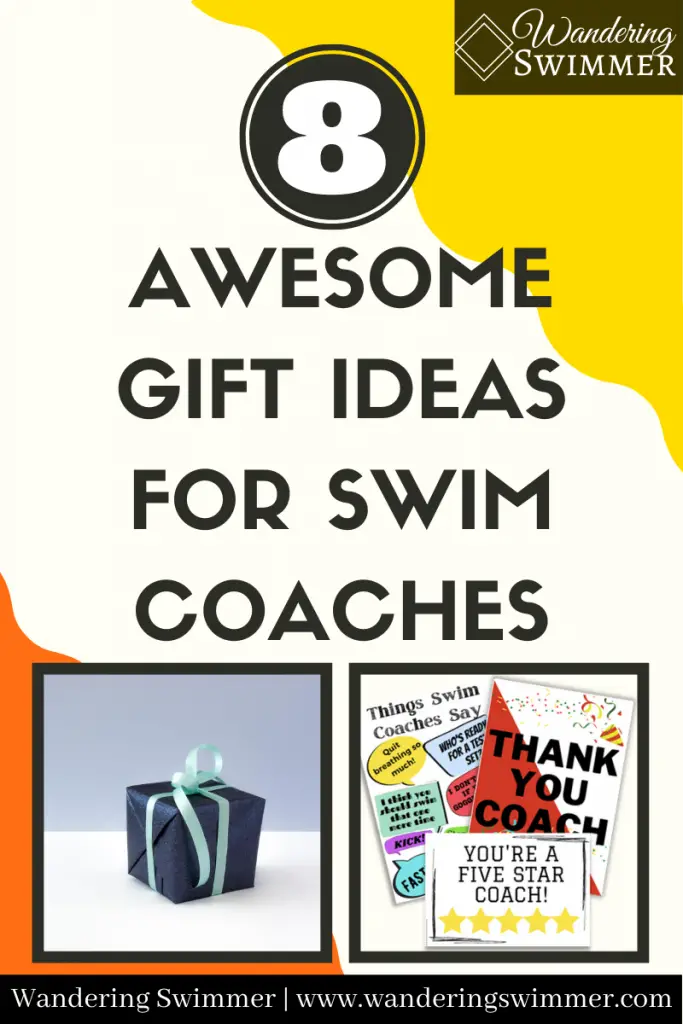 Thank You Card
It's probably never said enough to coaches, but a simple 'thank you' goes a long way. 
Swim coaches dedicate hours of their time to their swimmers and team. Between spending time on deck coaching, spending even longer hours at a swim meet, and talking with parents, it's a lot of hours worked.
Add in the fact that they need to write workouts and keep up-to-date with the ever-changing world of swimming in between all those hours at the pool. 
Phew! 
While a verbal 'thank you' is always appreciated (and we should learn to say it more often), a physical 'thank you' card is a great way to show your gratitude. 
Check out some of these thank you cards that are specific for swim coaches (and swim parents!). Write your own note and let your coach(es) know how much you appreciate their time and knowledge.
Find more swim coach related cards at H2OSociety!
A New Stopwatch
You seldom see your coach without one. Stopwatches are a necessity for any coach when it comes to sprints, pace work, interval training, and anything training related. To include dryland!
Most coaches have more than one while on deck. And they might have another in the bag. 
Even if your swim coach already has a stopwatch or two, it doesn't hurt to have another on hand as a backup. Check to see which brand/model they prefer to give them the best gift possible.
Arena Team 30 Black Backpack
The Arena Team 30 Backpack offers an alternative to the typical swim bags that coaches carry around with them. Coaches usually have an over the shoulder type bag that carries all their essentials, from stopwatches, time standards, workouts, dry-erase markers, and more. 
They tend to work well, but they're not the best for the body. They put stress and pressure on just one shoulder. Ergonomically, over the shoulder bags aren't good for the body. 
Instead, get your coach a backpack that won't hurt their shoulders. The Arena Team Backpack is a smaller version of a swim bag, which makes it perfect for a coach to carry around all that they need. 
It has a side pouch to put coffee mugs for long meets. And comes with comfortable straps and padding. If you want, you can also look at customizing the bag with your team logo or name. 
Add in something extra by tossing in a phone charger and cable or a wireless charger so they never run out of battery time!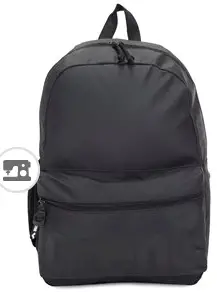 This backpack from Arena is ideal for coaches due to its small size (compared to swim bags) and it's ergonomic design.
It also comes with an option to personalize as you see fit so your coach will never their bag.
Dry Erase Markers
If your swim coach writes out the sets on a dry erase board, chances are, they go through markers pretty quickly. Between numerous practices a week and swimmers wanting to draw on the boards, they dry up fast.
Consider getting your coach a gift of dry erase markers to make practices a bit easier. To read sets that is! Make sure you pick colors that are easy to read with foggy goggles. Black dry erase markers tend to work the best in this. Whereas reds and greens can be a bit more difficult to read.
Gift Card
Gift cards might seem like the lazy way out of gift-giving, but they're popular for a reason. Not only are they great in a pinch, but they also help ensure that your swim coach can get exactly what they want.
Not sure the best gift card to get your swim coach? Try these suggestions for cards that they'll use:
Gas gift card: Pick one up at your nearest gas station that you know they use. Swim coaches wrack up the gas expenses with not just driving to and from practices, but also meets!
Coffee gift card: Coaches seem to streamline coffee and a gift card to their favorite coffee shop will be much appreciated. Coaches are up early for morning practice and don't get home until late. Coffee can go a long way
Swim gift card: Your coach might not swim anymore, but they still have to purchase equipment for the team. Even a little bit can go a long way to getting new fins or lane lines!
Coupon Book
You might play with fire with this gift, but coupon books can be a fun gift for your swim coach to enjoy at practice. 
Coupon books let swim coaches pick when they want to cash in their gift and it's a gift that keeps on giving. These are great last-minute gift ideas for those in a rush!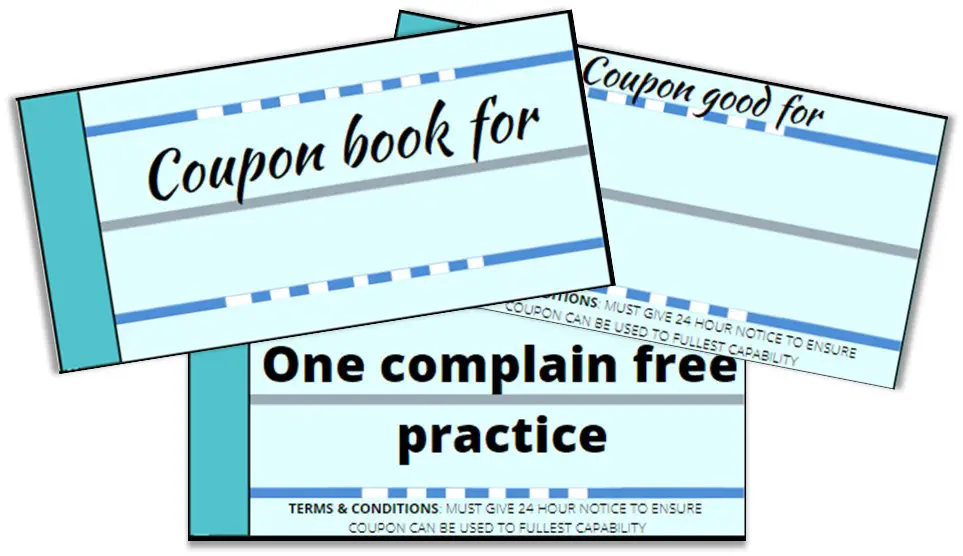 Get your own pool designed coupon book for swim coaches at H2OSociety. It's an instant download, which means no waiting for shipping (or paying for shipping costs). And, it's editable, meaning you can personalize the book write your gift ideas.
Ornament
Ornaments aren't just for trees. Flat, ceramic ornaments can hang from the window, a doorknob, or sit propped up on a desk. 
Get your coach an awesome gift of an ornament specific to swim coaches. Some offer personalization services to add names to make it all the more special. 
Food
Nothing says thank you like food. Especially to a swimmer! Coaches spend long hours on deck at both practices and swim meets. 
Surprise your coach with something delicious at a swim meet (especially when the hospitality food isn't the best). Or, give them a food gift basket with all their favorites! 
Make sure you check with your coach to ensure they don't have any food allergies or they don't like a specific treat.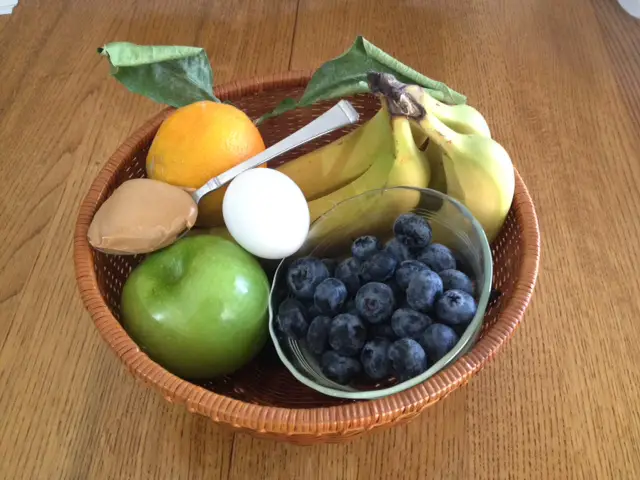 In Closing
These gift ideas for swim coaches are only meant to be fun suggestions. It's okay if nothing sticks out to you that you think your swim coach might like. 
In the end, go with what you know about them. Whether funny, thoughtful, or considerate, it's sure to be appreciated. And you might find that getting something non-swimming related is the best route to go for your swim coach.
When in doubt, ask! The answers might surprise or inspire you.
As always, to happy swimming!
Chevron
---
Bonus Gift Content:
9 Amazing Gift Ideas for Swim Parents: Swim parents are one of the unsung heroes in the sport of swimming. And they deserve some wonderful gifts throughout the year as thanks for sticking with us! 
Best Gifts for Swimmers in 2020: Shopping for gifts for swimmers this year? Find inspiration with our 10 gift ideas for swimmers. They're perfect for any occasion!
---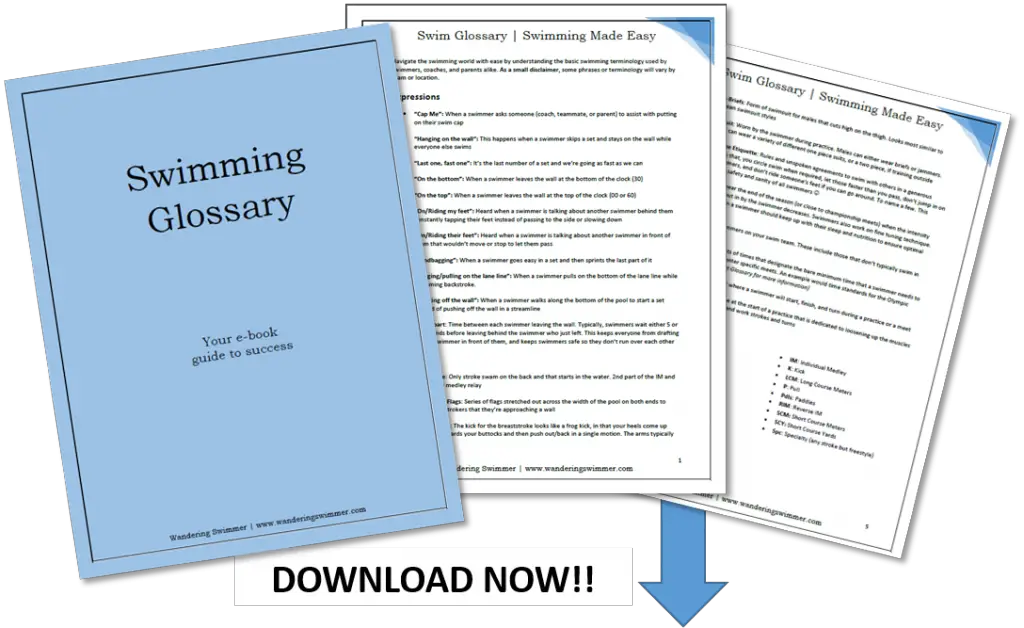 Want to Improve at the Pool?
Join swimmers and swim parents to receive my free newsletter and receive a free Swimming Glossary e-book as a thanks!
Every month you'll receive tips and coaching to help you find success at the pool.