Whether you're away from the pool because you're traveling or the pool is closed, you can still workout. Doing dryland workouts away from the pool is a great way to keep in shape during these times.
Any swimmer knows that skipping workouts over an extended period makes it more difficult to get back into shape. And you just feel awful back in the water.
Related article: What is Dryland in Swimming?
To help combat that and keep yourself moving, try to add some daily dryland workouts into your day. You can do these at home easily. And if you have some weights, you can incorporate them, too!
Not sure where or how to start? No worries! Check out these tips and suggestions below, and you'll be on your way to starting your own dryland workout in no time.
DISCLAIMER: I don't claim to be a trainer, a coach, or a medical provider. These workouts and suggestions are only provided for informational purposes. Only those individuals who can safely complete these workouts should attempt them.
Check with your coach and parents before beginning. Always consult with your health care provider before starting any new workout regimen. If you can't safely complete an exercise or workout, modify it so it best fits your capabilities.
Disclosure: This post may contain affiliate links, meaning I earn a small commission at no cost to you if you purchase something through one of my links. As an Amazon Associate, I earn from qualifying purchases. Please check out my disclosure page for more information.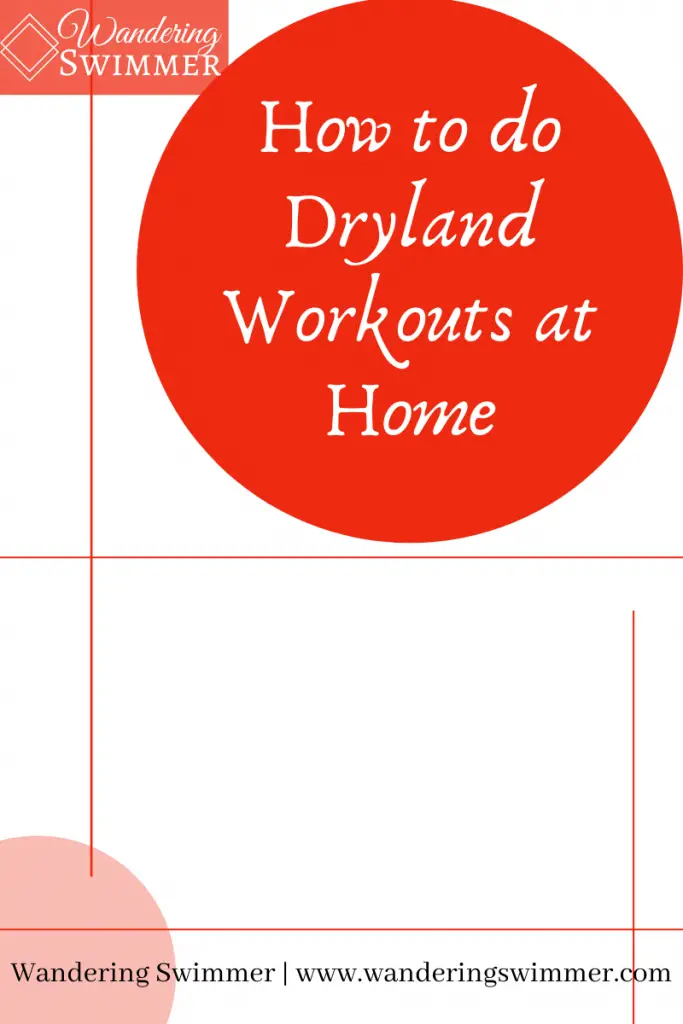 Warm up and cool down
Much like when you're swimming, you should always start your dryland workout with some form of warm-up. Stretch to loosen up your muscles and do some light exercises with stretching bands to get the blood pumping. 
Try some jumping jacks, trunk twists, and rotations to help wake up your body before you get going.
Related article: Best Dryland Equipment for Swimmers at Home
Alternatively, build in time to cool down your body after you work out. Do some yoga, stretching, or roll out. Stretch with some bands again. Go for a walk if you can.
Warming up and cooling down properly can help prevent injury, even out of the water.
Body Weight
Most of us don't have a home gym available and ready to use for days we can't make it to the pool. And that's okay! The best weight available is your body weight. Plus, it's free! 😉
You can do simple body weight exercises such as:
Push ups
Planks
Squats 
Lunges
Wall sits
Of course, these are just a few examples that you can do without weight. The best part about doing dryland workouts at home or while traveling is getting creative. You can make even something as simple as a push up into a more complex workout.
Related article: Dryland Workouts Without Weights
Look at adding a decline to certain exercises, such as a decline push up or plank. Keep your feet propped up on a sturdy chair or bench and try your next set of push ups. You'll be surprised at how much of a difference it makes!
Doing this changes things up from your normal routine and hopefully adds some challenges to your dryland workouts!
Make your own weights
For those who don't have 'professional' weights at home, you can always supplement your own.
One of the easiest is to fill an empty milk jug with water (or sand, dirt, or rocks) and use it as weight. This works great for squats, lunges, or overhead tricep extension. 
More Content for You: How to Train for Swim Team Tryouts
Is it a lot of weight? For some, maybe not. At a little more than 8 pounds (for water), it's more than enough though to help keep your muscles moving some weight.
If you want to find more weighted material to use, check your home for a small, sturdy box. Or a small to medium plastic storage bin. Then, fill it with books, paper, and other weighted material.
Corny, cheap, and ridiculous? Yes! 😀 But it works.
Although the box or bin might seem cumbersome, it holds more weight than your milk jug. Use it for some ab work, such as:
Sit ups with the box on your chest
Flutter kicks while holding the box up 
Bench press on the floor
Wall sit with the box in your lap
Dips on a chair with the box in your lap
Again, you can get creative! Think about what you do in your weight room for dryland and see what you can't mimic. At this point, doing something is better than sitting idle. 😉
Super setting sets
Try saying that three times fast! 
To make your dryland exercises a bit more intense and challenging, try to super set some. In that, you take two similar exercises and once you finish one, start the other right away.
Lunges with squats
Push ups with planks
Squat jumps with wall sits
While all of your sets shouldn't super set with another, it doesn't hurt to have one or two in your exercise routine.
Again, do what you feel most comfortable with. The goal of dryland at home isn't to hurt yourself. Rather, to keep your muscles toned and in shape for when you get back to the pool.
Cardio
Swimmers like cardio…in the water. It's why we're swimmers! If you're like me though, you probably don't like running. We swim for a reason!
But you can get your cardio through other means outside of the pool aside from running.
If you have a bike, take it for a spin. Either stationary or out around the neighborhood. If you don't have one, try to incorporate some of the following:
Mountain climbers (the more the better!)
Shuttle runs 
Running in place with high knees
Burpees
Squat jumps 
You'll be surprised at how much they get your heartrate up!
Core work
No good swimmer passes up core work. It's the basic building block of the sport. Without a good core, you're not going to get very far.
Core work varies across dryland programs and I encourage you to start with what you do on your team. Crunches, planks, side planks, flutter kicks, and superman are all good starting exercises for your core.
More Content for You: How to do Holiday Training While Traveling
If you can, try super-setting a few of your core exercises, too. Or even try a ladder variation in your dryland workout.
Or, put yourself to a timer. 30 seconds on and 30 seconds off. Then start to decrease your rest as the week progresses. 
With (social distance) friends
Some of us can train by ourselves without a problem. It's part of the challenge to see how far we can push ourselves.
For others though, you train better when you have your friends and teammates around. During times of travel or social distancing, however, it's not always the easiest.
More Content for You: A Swimmer's Review of the YYST Swim Bungee
Don't let that discourage you though! Get creative and you can get a workout group going in no time. Whether that's through phone features such as FaceTime or other apps such as Zoom. You can still find a way to keep connected and workout together.
We're all in this together! 
In Closing
Trying to keep in shape or keep up with swimming away from the pool might be a challenge. But with some creativity and a bit of work, you can still get in a quality workout. 
Keep yourself on a set schedule as though you still had practice. Make yourself go to 'practice' at the same time each day. But switch up your workouts. Do legs one day and arms the next. 
Make sure you're warming up and cooling down properly at each practice. And of course, keep up with your hydration during the day! 
The light at the end of the tunnel might seem far away still. We're all anxious and ready to get back to the pool. I don't know about everyone else, but I miss that chlorine smell and the burn of a good workout!
But at least putting in some time with dryland helps keep us active. It keeps us connected to the sport we love and in a way, keeps us connected together.
As always, to happy (and healthy!) swimming.
Chevron
---
Bonus Content:
Best Dryland Equipment for Swimmers at Home: Having some pieces of dryland equipment can help enhance your workouts at home. Here are 6 of the best pieces of dryland equipment for workouts at home.
Surviving Quarantine When Not Swimming: Find yourself struggling because you can't swim? Try these 6 suggestions to help you survive quarantine when not swimming.
---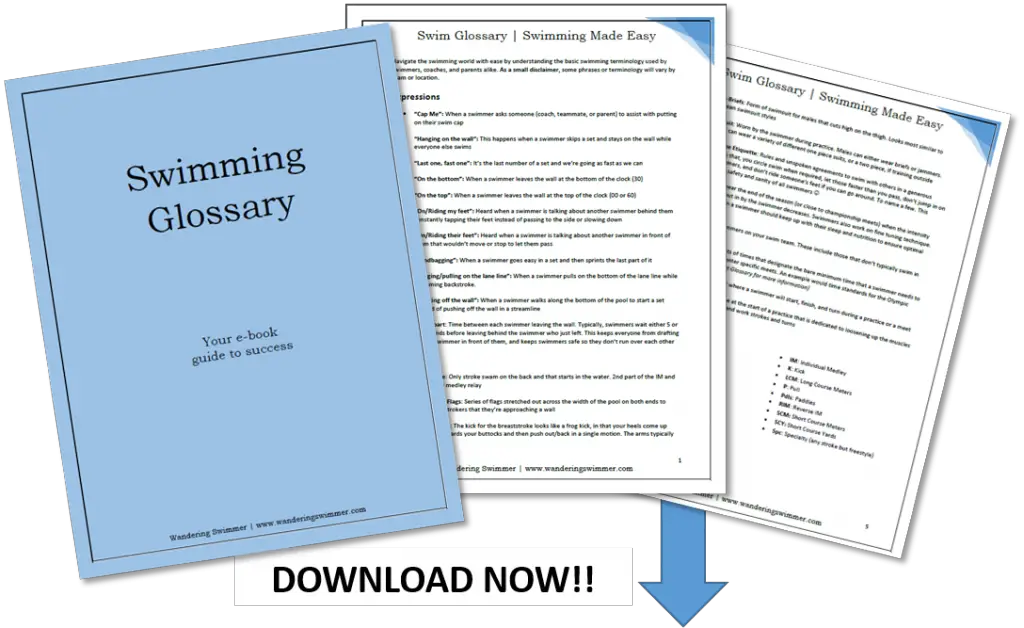 Want to Improve at the Pool?
Join swimmers and swim parents to receive my free newsletter and receive a free Swimming Glossary e-book as a thanks!
Every month you'll receive tips and coaching to help you find success at the pool.