Knowing how to read a heat sheet is one of the more important but confusing parts of a swim meet. But what is a heat sheet and why is it important?
And more than that, how do you read a heat sheet?
Related article: What is a Swim Meet?
After all, they don't exactly come with a 'how-to' guide. At least not yet 😉
Disclosure: This post may contain affiliate links, meaning we earn a small commission at no cost to you if you purchase something through one of our links. As an Amazon Associate, we earn from qualifying purchases. Please check out our disclosure page for more information.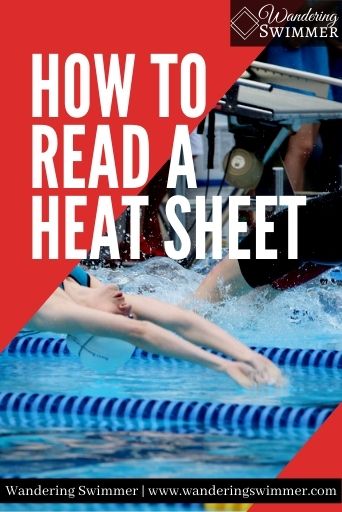 What is a Heat Sheet?
Before you can read a heat sheet, you need to know what one is!
A heat sheet is a packet of paper that lists out the order of events, and includes the heat and lane assignments for each swimmer. They can be as thin as two pages or as thick as 30, depending on the size of the competition.
Related Post: Swim Meet Terminology
Swimmers, coaches, and parents alike use the heat sheet to help orientate themselves during the meet.
Why is a heat sheet important?
Aside from telling you when and where you'll swim, heat sheets also gives you a tentative timeline.
When read correctly, you can estimate the time between events. This helps with determining when to warm up before a race, change into a race suit, or even eat. 
Related article: Top 11 Questions about Swim Meets
This all seems minor in nature. Until you factor in that most meets can last at least 4 hours, if not more. At that point, knowing when you'll swim and when you need to eat or warm up is crucial for you.
So how do you read a heat sheet and gather all this information?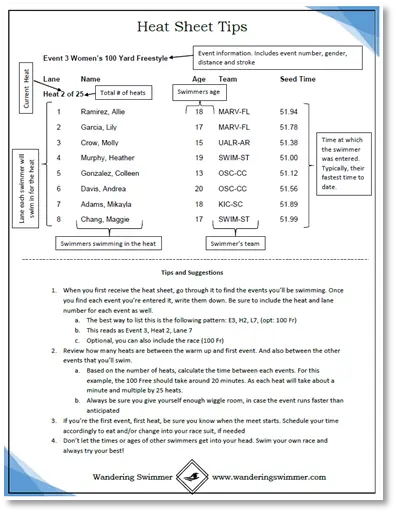 How to Read a Heat Sheet
To read a heat sheet, we've provided the following example to break down and read. We'll also use the 100 Freestyle as an example throughout the rest of this post 🙂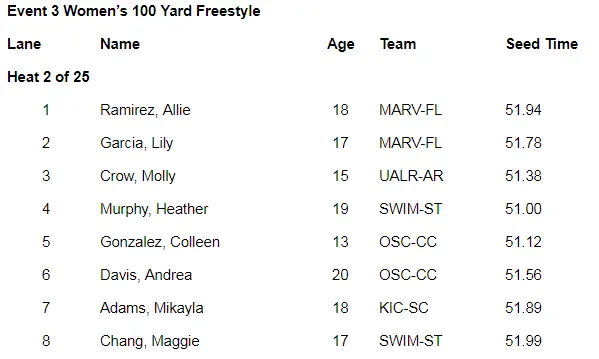 Phew, seems like a lot, right? At first, it might look overwhelming and like a new language. But we promise that it's not that hard. 
We'll start from the top and work our way down. It'll have you reading a heat sheet in no time! 🙂 
Event information
Let's start with the very first line of: Event 3 Women's 100 Yard Freestyle. This brief snippet provides you with four quick pieces of information. They are as follows (from left to right):
Event number (Event 3)
Gender (Women's)
Distance (100 Yard) 
Stroke (Freestyle)
The electronic scoreboard at the pool may list the distance and stroke, but some may only list the event and heat number. For meets with this type of scoreboard, the heat sheet becomes an even more useful tool.
In reading this example, you can see that we'll cover the third event, which is the Women's 100 Yard Freestyle. 
Heading Information
Below the event information is some heading information. These words, as shown below, provide the names to each column on the heat sheet, which we'll cover shortly.
| | | | | |
| --- | --- | --- | --- | --- |
| Heat 2 of 25 | | | | |
| Lane | Name | Age | Team | Seed Time |
Heat
Just after the event information is a line that reads 'Heat 2 of 25'. This piece of text tells you how many heats there are in that event. For the Women's 100 Yard Freestyle, there are 25 total heats. 
Because this line reads Heat 2 of 25, you're looking at the second heat of the event. If it read heat 13 of 25, it would be the 13th heat of the event. And so on 🙂 
Lane
Remember the column information we briefly mentioned? Now is when it comes into play. As a reminder, there are 5 columns with the following information: lane, name, age, team, and seed time.
We'll start breaking these down with the first column of 'lane'.
A list of eight names follows just below Heat 2 of 25, along with the numbers 1 through 8.
These numbers denote which lane a swimmer will swim in. Note that the lane assigned to a swimmer is only for that event and heat. Lanes typically change throughout the meet.
Name
Following the first column of 'lane' is the second column of 'name'. 
This list shows which swimmers will race in the second heat of the Women's 100 Yard Freestyle. It will also show what lane they'll race in. So a name that's to the right of number 6 will swim in lane six.
Simple!
Age
Heat sheets list the age of each swimmer, based on how old they are at the time of the meet. For some meets, age will matter. Such as a meet where swimmers of the same age group compete against each other.
At other meets, age is just listed as a means of reference and only times matter.
Team
Another piece of information that heat sheets provide is a team name. These show up in the form of an abbreviation, followed by two letters. The last two letters following the team name represents the region where her LSC (Local Swim Committee) is located.
Such as: OSC-CC. The CC would stand for Central California. 
For those that swim high school, the team name will represent your high school team name.
Seed time
A seed time is the fastest time a swimmer (or relay team) has swum previously in an event. Seed time determines heat and lane assignments and provide a good bar for goal setting. 
In that, you always want to try to beat your seed time. Typically, going faster than your seed time means you've dropped time. And that's always a win!
Putting it together
Now you know how to read a heat sheet! Let's put it together to see how well you followed along 😉
In this example, we'll select the swimmer 'Adams, Mikayla' and break down her details. 
| | | | | |
| --- | --- | --- | --- | --- |
| 7 | Adams, Mikayla  | 18 | KIC-SC | 51.89 |
From left to right for Heat 2 of the Women's 100 Yard Freestyle:
Mikayla will swim in Lane 7
She's currently 18 years old at the time of the meet
She swims for the team KIC-SC 
Her Seed Time is a 51.89
Easy, right? 🙂
Now, how do you use a heat sheet?
How to use a heat sheet
Event information
Some swimmers take this information from the heat sheet and write it down on their arm or leg so they don't forget. In the above example, Mikayla would write the following on her arm: E3 H2 L7
This will read as Event 3, Heat 2, Lane 7. 
For Colleen, she would read the heat sheet as Event 3, Heat 2, Lane 5 or E3 H2 L5
If you're swimming more than one event, you would do the same thing for each event that you're swimming. 
Note that your lane and heat number can vary by the event you're swimming. In one race you could be in Heat 6, Lane 2, and another race you could be in Heat 13, Lane 8. 
It's not at all uncommon to see swimmers walking around with an inked grid of information on their arm or leg. Such as the above grid.
This is simply their way of remembering what they're swimming and when. If you find that it helps you to write it down on your leg or arm, then do so! 
There's no shame in the written reminder. And it's better than missing your event or swimming in the wrong heat.
Timeline 
Because you'll typically swim a few events over the span of several hours, you can use a heat sheet for planning purposes.
You can do this by looking at how many heats are in each event.
For our 100 Freestyle, the event had 25 heats. By looking at the time each swimmer goes, you can estimate that the 100 Freestyle will take around 25 minutes. 
More Content for You: How to Have a Better Swim Meet
Some heat sheets will provide a timeline, but more local ones might not. If they don't, you can use the number of heats in each event to determine when you'll swim next.
This is important because it tells you the following:
Knowing when to warm up
Determining how long you have to cool down
When you should put on your race suit
Figuring out will be the best time to eat between events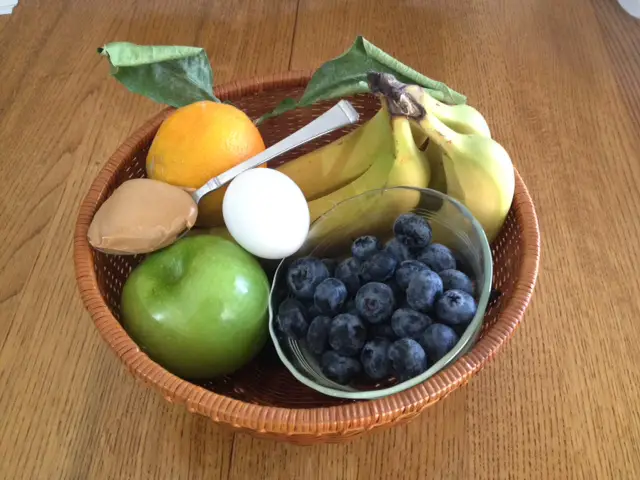 Obviously, the heat sheet can't physically tell you these things. Even with a timeline, a swim meet can go faster or slower than predicted. 
Instead, you'll have to use your best judgement based upon your understanding. And base your time accordingly.
Meet Mobile
An alternative to a paper copy of a heat sheet is to use the Meet Mobile app. This app gives you (typically) live and up-to-date results throughout the meet.
To use it, you'll search for the meet name in the search bar and then look up your name. Once populated, Meet Mobile will display what heat and lane you're in.
More Content for You: 15 Ways to Extend the Life of Your Tech Suit
We will leave this as a disclaimer. Not all meets use Meet Mobile and the app can't give you an estimated timeline. Because of this, we recommend still using a heat sheet. At least as a backup. 
Meet Mobile, though, is great for following results. Especially in a prelim/final meet, where only the top number of swimmers advance to finals. 
Whichever you decide to use though is up to you 🙂 Pick the one that works best for you!
In Closing
Once you understand how to read and use a heat sheet, it'll be your best friend at a meet! When used correctly, it'll help you navigate a meet with ease. Both in where you need to be and when you need to be there.
Even though it's small, understanding your heat sheet can help set you up for success at your first swim meet. 
Still not 100% ready to tackle the heat sheet by yourself at the next swim meet? Don't forget to download my free Heat Sheet Tips below! Save it to your phone or print it out for your next meet 🙂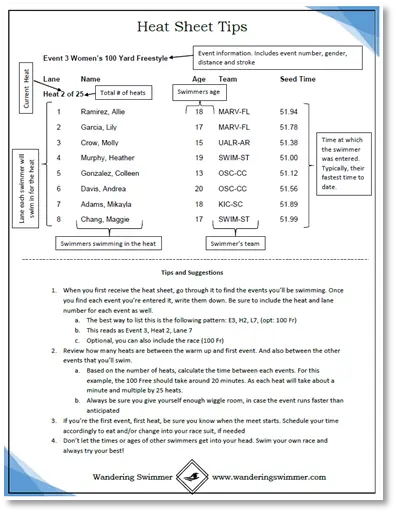 And as always, to happy swimming!
-Chevron
---
Bonus Swim Meet Content:
How to Stay Warm at Swim Meets: Not staying warm at swim meets can lead to bad times and races. Try some of these options to help you stay warm at swim meets and race faster.
What to Bring to a Swim Meet: Not sure what to bring to a swim meet? Here's a list of essential items to pack in your swim bag for your next swim meet.
---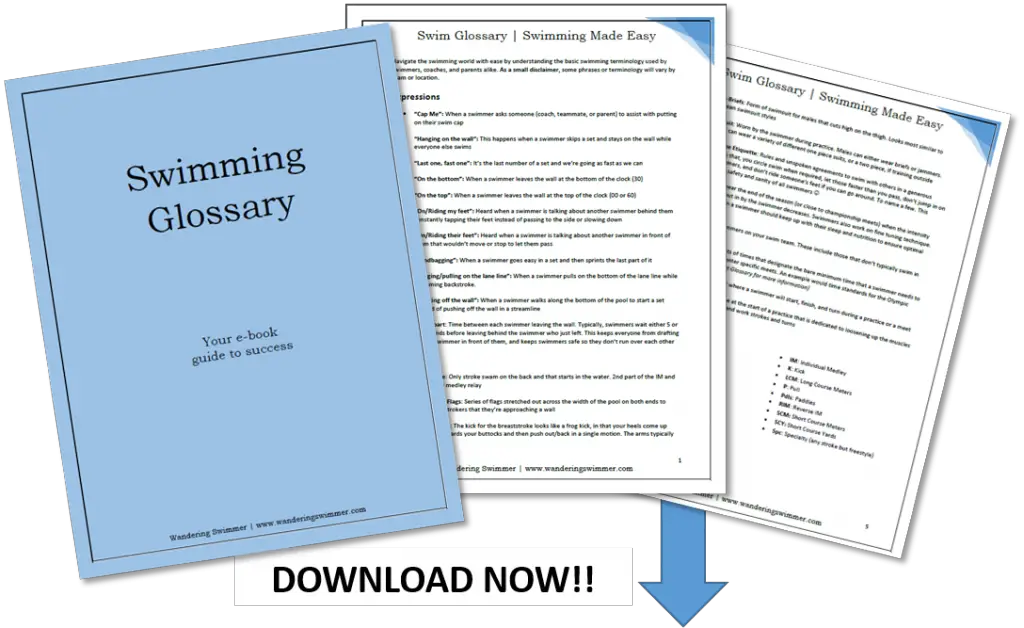 Want to Improve at the Pool?
Join swimmers and swim parents to receive my free newsletter and receive a free Swimming Glossary e-book as a thanks!
Every month you'll receive tips and coaching to help you find success at the pool.