How to Pack For a Swim Meet
Knowing what to bring to a swim meet is half the battle when it comes to competition time.
Whether you're new or seasoned to the sport, getting your bag ready the night before a swim meet should become a habit. The good news is that packing for a swim meet is similar to getting your bag ready for practice.
You just have to remember a few extra items. 🙂
It will take a few times to know what you need and don't need. However, once you know what to bring to a swim meet, you'll feel more confident on meet day.
Disclosure: This post may contain affiliate links, meaning we earn a small commission at no cost to you if you purchase something through one of our links. As an Amazon Associate, we earn from qualifying purchases. Please check out our disclosure page for more information.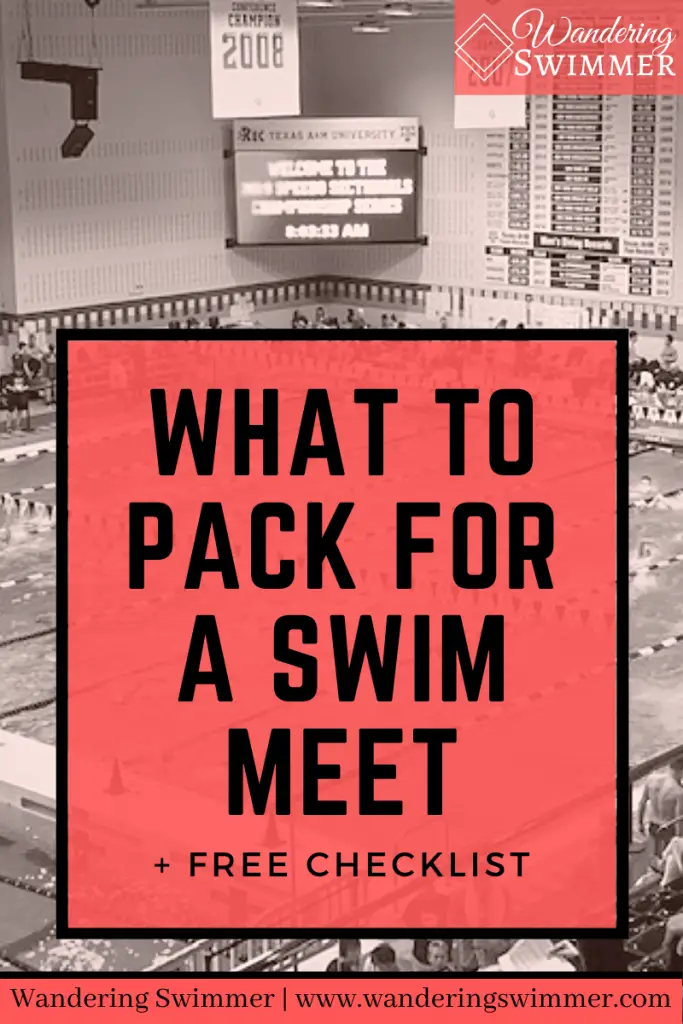 Suits
Regular suits
It should go without saying, but you'll need a swimsuit at a swim meet. 🙂 
Not only will you need a practice suit, you should also have a spare one in your bag. If your swim meet is only one day, then two suits should suffice. If you're at a longer meet, or a prelim/final meet, having two extra suits on hand is a good idea.
Related article: What to Pack for an Overnight Swim Meet
Always keep an extra suit handy. You never know when you'll need it. Because if it can happen, it will.
Suits rip or tear. And sometimes, they're too tight or loose for competition. It's better to have the extra suit and never need it, then not having an extra and needing it.
Tech/Race suits
Your tech suit should be one of the first things you pack for a swim meet. 
The second thing? Your extra or back up tech suits.
Tech suits don't last long and can rip incredibly easy if you're not careful. For this reason, it doesn't hurt to bring a second tech suit with you when you go to change. Just in case 😉
Related Article: 15 Ways to Extend the Life of Your Tech Suit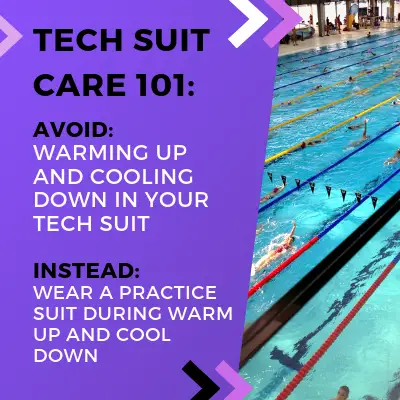 Swim cap (and backup cap)
Make sure your racing swim cap is tucked away in your bag. And for that matter, double check that you have a spare, too.
Are you sensing a trend here? 😉
Just like swimsuits, caps can rip just as easily. The older the cap, the more likely it is to rip. 
Don't believe us? Check out the 4×200 freestyle relay at the 2016 Rio Olympics when Michael Phelps' cap split just before his race. It happens to elite swimmers and it can happen to you, too.
Save yourself the panic and frustration, and keep a spare cap on hand.
Related Article: Your Quick Guide to Swim Caps
Goggles (and backup goggles)
Unless you swim without goggles, pack your goggles in your bag. 
Make sure the goggles you pack are meet appropriate. In that they won't fall off during a start or leak during a race. Always do a test start with your goggles if you're not sure. Or, if they're a new set of goggles
And yes, bring spare goggles, too. In fact, you should always keep a few extra goggles on hand. Not just for a swim meet, but also practice.
Goggle pieces
While on the subject of goggles, you should also have spare goggle parts. This can come in the form of extra goggle straps and nose pieces. 
Keep your goggles and their extra pieces in a place that's easy to grab in your bag. And always know where you keep them. Digging through your bag just before a race to find your spare goggles isn't ideal.
Towel(s)
When it comes to knowing what to bring to a swim meet, a towel is a key item. 
How many towels to bring though depends on each swimmer. Personally, we suggesting bringing at least two towels, in addition to a shammy and a microfiber towel. Although it's not uncommon to see swimmers who only bring one towel.
Related Article: 5 Reasons to Own a Shammy
If you're not sure how many towels to bring, that's okay! Bring a few extra and simply leave them in the car. This way, you have extras on hand if you need them. Or leave them with your parents if they came with you.
Warm Apparel
Just because it's not winter doesn't mean you can't get cold. Some swimmers, such as myself, get cold easily. Even in the middle of the summer! 
Regardless of the time of year, you should bring something warm to wear. Why?
You race better when your body is warm. And you can't stay warm if you're shivering in a wet suit and damp towel. Trust me, I'm an expert on this subject. 
Related articles:
For some swimmers, staying warm is as simple as a light jacket and shoes. Others, myself included, need a heavy parka (such as the Arena Team Line Parka), shoes, and a hat if it's winter. Everyone handles cold differently and you should take your own needs into consideration.
Whether that comes in the form of your team warm-ups or just a pair of pants. 
Much like extra towels, bring extra clothes if you're not sure! Again, you can leave them in the car until you need them. It's better to have something extra on hand than not at all. 🙂
Undergarments
You'll laugh, but you would be surprised how many swimmers forget undergarments. 
If you leave the house with your suit already on, double-check that you have the necessary undergarments packed away. 🙂
Shoes
In our opinion, shoes are essential items to bring to a swim meet. Both sandals and tennis shoes.
Sandals are great before and after the meet for when you need to walk around deck or go to the locker rooms. Aside from that, you should consider wearing tennis shoes during the meet.
It has the same benefit of sandals, in that you're not walking barefoot on the ground. But has the additional benefit of keeping your feet warm. This is especially true in the winter. If you're more comfortable with warm boots, then wear those instead!
Snacks
You should always bring some snacks with you to a swim meet.
Even if the meet isn't scheduled to run long, it's important to eat something while you wait. And let's be honest, the concession stand doesn't always have the healthiest options for swimmers. Plus they can be expensive!
Related article: Healthy Snacks to eat at Swim Meets
Not sure what to pack? Fruits, such as bananas, grapes, or oranges are good snack foods to bring. You can also pack some cooked pasta, crackers, or small protein bars. We like tortilla's with peanut butter, which is a good balance of carbs and protein.
Try to avoid snacks that are high in sugar, such as candy. They might seem like they'll give you an energy kick but it's not the right type of energy your body needs.
Water bottle
Remember to bring your water bottle to a swim meet. It's easy to forget that you sweat while you compete and you're warming up. And if you don't hydrate during your meet, you probably won't perform very well.
Related article: How to Have a Better Swim Meet
As a recommendation, we suggest that you bring a reusable water bottle. They're less likely to be forgotten and used by someone else compared to plastic water bottles. But whichever type of bottle you plan to use, be sure to actually drink from it! Don't forget any drink powder if you typically mix that into your drink as well.
And much like bring snacks, be sure you're not drinking anything overloaded with sugar. 
Phone/Headphones
If you plan to use Meet Mobile or keep in touch with family, remember to pack your phone. For that matter, make sure it's charged before you leave for the meet as well. 
Related article: How to Read a Heat Sheet
Having your phone with you at a swim meet also makes it easier to track down parents if you're not sitting with them. Or send them heat/lane assignments for your events.
Ensure you've packed your headphones as well if you plan to listen to music while you wait. 
Hygiene Products
For those that menstruate, you should always keep your preferred hygiene products in your bag. Even if you know you won't be on your period or starting during a meet, it's a good idea to keep some extra tampons on hand.
If not for yourself, then for another swimmer. Because it never fails that someone will need one when they least expect it.
Related article: Swimming on Your Period FAQ
A trick I've learned is to always keep a tampon in the mesh bag that my tech suit stays in. This way, I always have a product with me while I'm in the locker room.
Whether I need it or someone else does.
Glasses, extra contacts, solution, etc.
Wear contacts when you swim? Packing extra contacts should be on your 'what to bring to a swim meet' list. You should also include backup glasses, just in case.
Because you never know when you'll lose a contact. 
The best way to do this is to keep a new set of contacts in their original package. Store your glasses in a glass case, and put a contact case in with your glasses. 
This way, everything is packed nice and neat, and in one spot.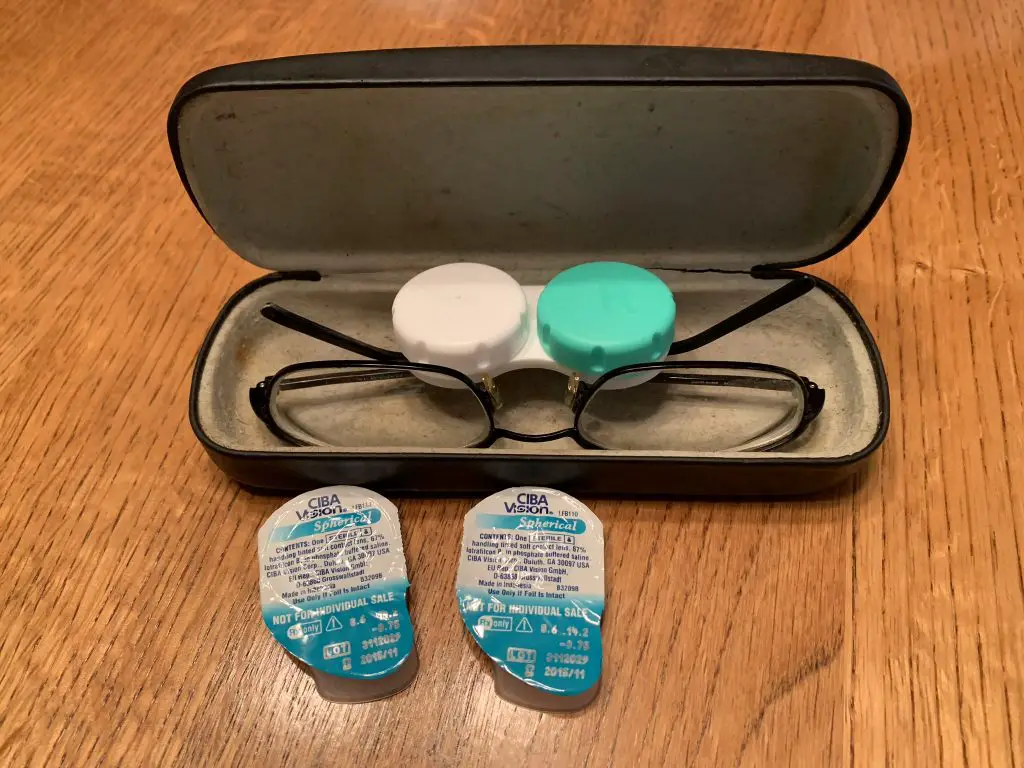 Chapstick
It probably sounds incredibly strange to suggest packing some Chapstick. But your lips can get pretty chapped during the length of a swim meet.
Some of this is due to weather. Other times, it's due to nerves and the chlorine drying them out. Regardless, you might find that after a long swim meet, your lips are in dire need of some moisture. Stashing a little stick of Chapstick is a great way to help keep them from growing dry and cracked.
 In Closing
Getting ready for a swim meet doesn't have to be chaotic. If you know what to bring to a swim meet, you've already fought half the battle. 
After you know what to bring to a swim meet, take the time the night before to pack everything that you can. This way, come morning, you're not scrambling around. Or feeling panicked. 
You can help keep yourself organized with our free PDF Swim Meet Checklist. Just download below and print out for your use! Use it as many times as you need to help keep your meet days organized.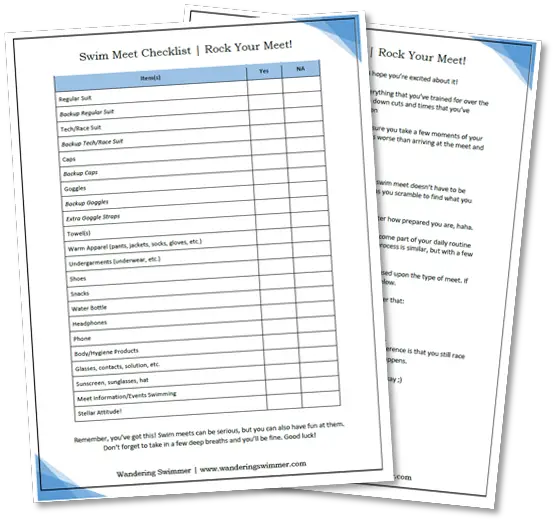 Even if you do end up forgetting something, know that you can usually purchase what you need at the meet. Or ask to borrow something from a teammate. 
And before you head out the door to your swim meet, remember to breathe and smile. You've got this! 
As always, to happy swimming
– Chevron 
---
Bonus Content:
How to Save Money at Away Swim Meets: While away swim meets are fun and offer a great experience, they can also be expensive. Here are five tips to help you save money at overnight swim meets.
Swim Meet Etiquette: Swim meets have several unspoken rules for proper swim meet etiquette. Here are 10 tips to ensure your next meet goes smoothly.
---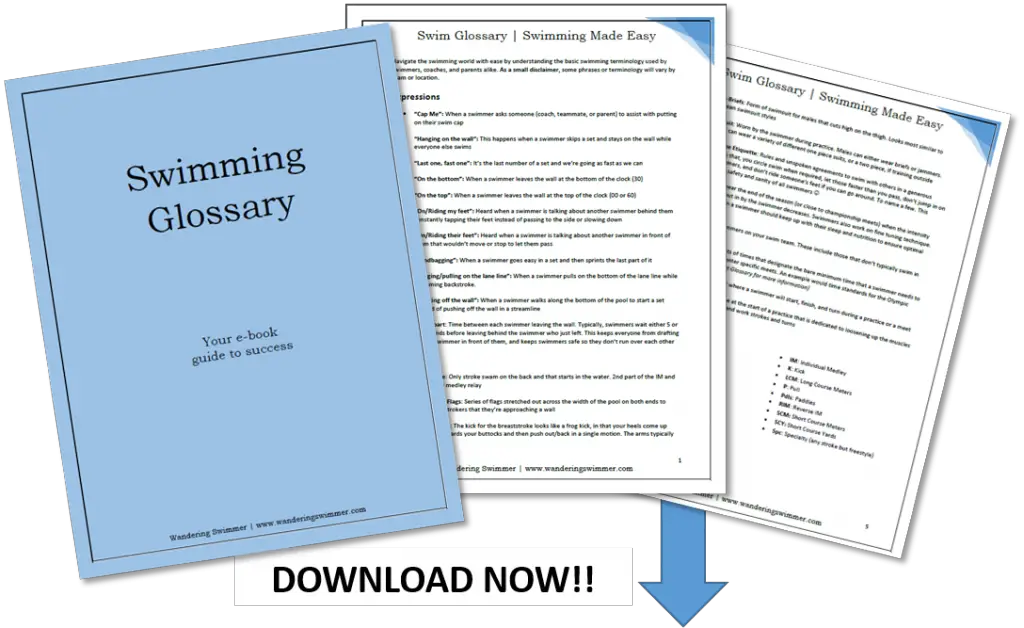 Want to Improve at the Pool?
Join swimmers and swim parents to receive my free newsletter and receive a free Swimming Glossary e-book as a thanks!
Every month you'll receive tips and coaching to help you find success at the pool.
About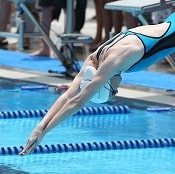 Chevron is a current competitive swimmer with almost 20 years of experience in the pool. And although she fell into the sport by accident in her high school years, she still trains daily and competes throughout the year. She's committed to providing guidance to all levels of swimmers and believes that everyone should know how to swim.