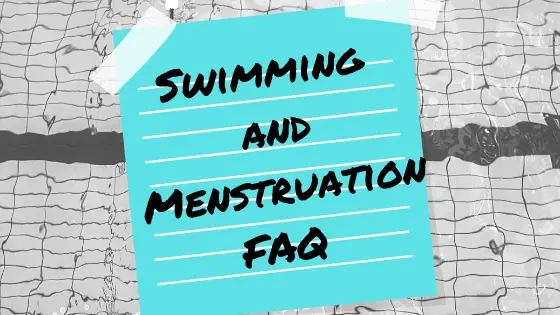 It's normal to feel anxious or uneasy about swimming for the first time on your period. And I get it! Trust me when I say that I've been there. But I've also gone through so many months of swimming on my period since my first one.
As a swimmer, I get asked all the time about swimming while on your period. Can you swim during that time of the month? (Yes, absolutely!) Will everyone know that I'm on my period? (No. Not unless you announce it to everyone)
I won't claim that I'm an expert. There's always something for me to learn. And by no means am I a medical provider.
While the below questions and answers are no substitute for true medical advice and speaking with your doctor, this may help answer some of your questions. From one menstruating swimmer to another.
Disclaimer: These are only my opinions, thoughts, and observations contained in this post. They are provided only for informational purposes and shouldn't be used or considered as medical advice. I'm not a doctor or medical practitioner. I encourage you to speak with your doctor or health care provider if you have questions regarding swimming on your period.
Disclosure: This post may contain affiliate links, meaning I earn a small commission at no cost to you if you purchase something through one of my links. As an Amazon Associate, I earn from qualifying purchases. Please check out my disclosure page for more information.
Swimming on Your Period FAQ
1. Can I Swim While on My Period?
Yes. 100% you can absolutely swim while on your period. It might seem gross and some people might say it's unsanitary, but it's not. 
The chemicals in the pool will handle any leaks that might occur. And let's be honest. More people pee in the pool than menstruate in the pool. 
Not only can you swim while on your period, but you should swim while on your period. Any form of exercise really is great for you during that time of the month.
The only thing I will note is that if you've recently had any type of vaginal or uterus type surgery recently, you should definitely consult with your doctor first. 
2. Can I Swim Competitively While on My Period?
You can! Thousands of athletes, including swimmers, not just train while on their periods, but they also compete on them too. 
For some, they won't experience much pain aside from regular cramps. Along with the annoyance of needing to change a tampon throughout the meet. For others, their cramps will be worse directly after a race.
Related article: Swimming on your Period (And Why You Should)
It all varies by each swimmer and is hard to say what you might experience. However, being on your period shouldn't stop you from swimming competitively.
3. What are the Best Products to Use?
A menstrual cup or tampons are the best products to use when swimming on your period. 
Both are safe to use while swimming for either leisure or sport. When used and inserted correctly, both will stay in your body until you remove them.
And I'll be honest. Both have pros and cons that you need to weigh when deciding which product will work best for you.
My personal pick though is a menstrual cup over a tampon. Mainly because they're safer than tampons and you can wear them longer. However, pick whichever one you're most comfortable with 🙂
Related article: A Swimmer's Review of the Diva Cup
Best Menstrual Cup for Swimming on your Period
The DivaCup comes in three different sizes to accommodate for various flows. It's soft but still firm enough that there's no worry about leaks.
Menstrual cups are safe to use in and out of the water, and are a safer alternative to tampons.
4. Can I Swim on my Period with a Pad or Panty Liner?
Hard pass. Don't do it to yourself (and others).
A pad absorbs menstruation fluids, not quite unlike a diaper. If you attempt to swim with a pad, it'll absorb the water within moments. You'll be left wearing a product that not only won't help you absorb blood, but will also leave you exceptionally uncomfortable.
It's also pretty noticeable when you wear one with a swimsuit. And you run the risk of actually losing your pad in the pool. 
The adhesive on the pad will wash away in the water and no one wants to see a pad floating through the water.
5. Do I Need to Use a Product When Swimming?
You don't need one, but you should still use one. While it's true that water can slow the flow of your period, it doesn't necessarily stop it. 
While the chemicals in the pool will help with any leaked blood, some people might feel less comfortable during a heavy flow.
Related article: A Swimmer's Review of the Diva Cup
Yes, people can and do swim without using any products. However, once you get out of the water (and you're vertical again), gravity will welcome your period with open arms. 
If you're finishing up your period and not bleeding heavily, go for it. 
Best Tampon for Swimming on your Period
Tampons are safe to use in and out of the water. Just remember to follow the suggested guidelines to avoid TSS.
Playtex Sport Tampons are designed to move easier with the body for comfort and a leak free period.
6. What If I Start My Period While Swimming?
Don't panic. It's okay if this happens. You're not the first person it's happened to and you won't be the last, promise 🙂 
If you find that you do start your period while swimming, try to get to the restroom or locker room as soon as you can. Before you leave the pool, mentally locate where your product is so you don't potentially bleed on the floor.
Don't have a product with you? Ask one of your teammates or friends. Chances are someone has one that you can use.
Once you can leave the water, head to the bathroom to take care of yourself. You might bleed a bit, depending on how heavy your flow is. If you do, just let the coach or lifeguard know so they can clean it up.
Remember that it's okay if you start your period at the pool or in the water. It happens. It's nothing to be ashamed of. And you'll be okay.
7. Does Swimming Help with Cramps?
It might!
Every swimmer who has cramps from menstruation experiences different types of cramps. Some have very little cramps while others experience painful cramps that last for days. 
Related article: Swimming on your Period (And Why You Should)
That said, doctors do encourage exercise to help deal with the side effects of periods. Such as cramps. Exercise increases the endorphins in your body, which can help offset the pain that comes from cramps.
Just know that it might not work completely for you or it might work! Everyone is different and what works for one person might not work for the other.
8. Is it Embarrassing to Swim on my Period?
It shouldn't be. While it's a personal choice over what you feel comfortable and embarrassed about, know that it's not embarrassing to swim on your period. 
No one knows that you're on your period (unless you've left a tampon string showing) and honestly, most don't care to know. 
That said, how you feel is completely up to you.
If you feel embarrassed about swimming on your period then you're entitled to feel that way! Just know that being on your period (and swimming during it) is completely normal, natural, and by no means gross. 🙂
In Closing
Being on your period is completely normal. And swimming on your period is also normal. Don't let any concerns or unknowns keep you from doing what you enjoy. If that means enjoying a trip to the beach or hitting up the pool, then do it!
If you do have some other concerns or questions, please speak with your doctor. They're best qualified and trained to answer these types of questions.
Don't let your period hold you back from enjoying your life to the fullest! 
As always, to happy swimming!
Chevron
---
Bonus Content:
Swimming on Your Period (And Why You Should): Whether you're a competitive or leisure swimmer, it's perfectly fine and normal to swim during your period.
A Swimmer's Review of the DivaCup: As a swimmer, menstrual cups offer an array of benefits. The most important being that you can train and compete in them with ease.
---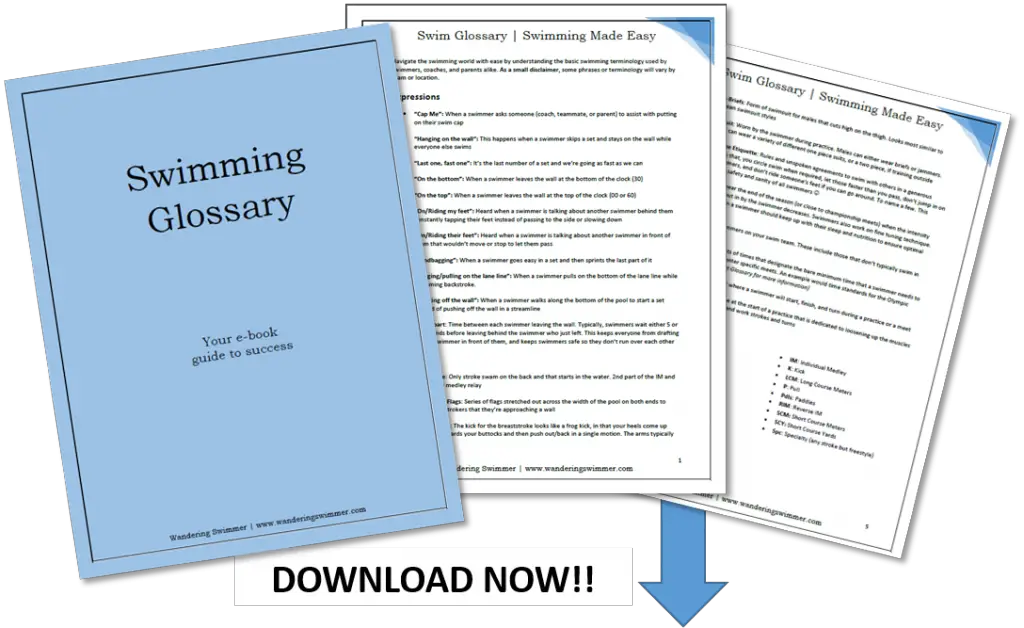 Want to Improve at the Pool?
Join swimmers and swim parents to receive my free newsletter and receive a free Swimming Glossary e-book as a thanks!
Every month you'll receive tips and coaching to help you find success at the pool.