All too often, swimmers find themselves shivering about on deck at meets and then swim poorly. While it's not wholly to blame for bad meets, not staying warm at swim meets can lead to bad times and races.
The best way to counter this is to, obviously, find a way to stay warm. 
But it's not always easy. Certain body types retain heat easier than others. And for those that get cold fast and stay cold, it's a challenge even with layers.
More Content for You: Best Swim Meet Advice
There's no one secret remedy to staying warm at swim meets. However, there are options to try that can help you stave off the cold and have you feeling comfortable.
And hopefully, lead to a better swim meet!
Disclosure: This post may contain affiliate links, meaning I earn a small commission at no cost to you if you purchase something through one of my links. As an Amazon Associate, I earn from qualifying purchases. Please check out my disclosure page for more information.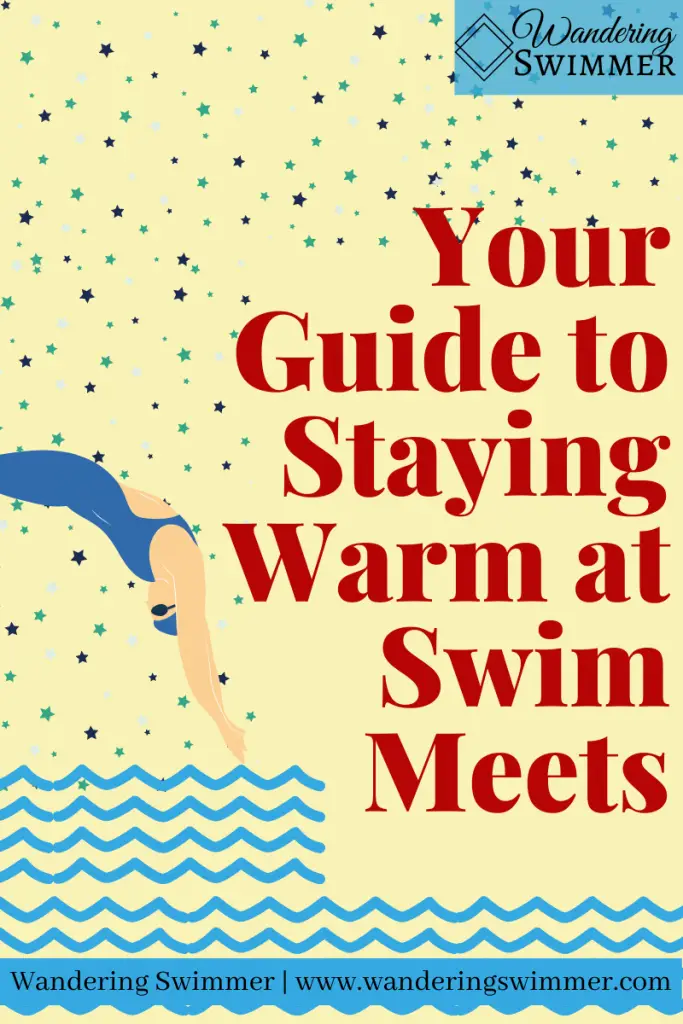 Change out of Your Suit When Possible
One of the best and easiest ways to stay warm at a swim meet is to change out of your wet swimsuit whenever possible. It may seem like a hassle, but the benefit of staying warm and swimming faster outweighs the few extra minutes.
Planning on wearing a tech suit at the meet? If you're not the first event, change into another practice suit. Or even better, get dressed again. 
If you are the first event, then put on your race suit if you don't have a long wait.
For those meets that you don't plan on wearing a tech suit, you can still change suits. Instead of a tech suit, you can change into another practice suit right after warm up.
More Content for You: 15 Ways to Extend the Life of Your Tech Suit
Yes, it sounds simple, but it's highly effective. With the damp suit away from your skin, you'll find that you stay warmer easier. And when you feel warm, your body stays relaxed and comfortable. 
Invest in a Good Parka
For those swimmers who have difficulties staying warm at swim meets, a good parka makes all the difference. I know this from experience as I always freeze at meets and my parka has helped me so much.
Related article: 8 Best Swim Parkas for Swimmers
While they are puffy, cumbersome, and can be a bit expensive, they do their job well. In that, they keep you toasty warm. 
Personally, I use Arena's Team Line Parka. It's been the best at keeping me toasty warm and I take it to every swim meet. I took it to the 2019 Summer US Masters Nationals and was so grateful to have it for morning and evening races.
Related article: A Swimmer's Review of Arena's Team Line Parka
However, I've heard many good things about the Sporti Comfort Fleece-Lined Parka. As it's not as puffy as the Arena Team Line Parka, it can fit in a swim bag just a bit easier. As an added bonus, it's cheaper, too!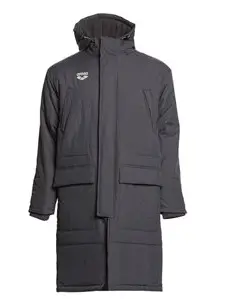 A good parka should have a fleece lining, to include the pockets. It should also have a hood and a waterproof outside lining. 
Most parkas will go down to at least your knees to help keep your legs warm. And when sizing your parka, look for a size that will cover your hands, if possible. All of this will help give you a bit more warmth.
Related article: Best Warm Clothes for a Swim Meet
I also recommend that you size up when looking at parkas. This gives you a chance to really wrap up in the parka. And it means you can grow into it over the years to come 🙂
If you're not sure if a parka is a good investment for you, ask to borrow one from a teammate. Or, look online for a used one that's cheaper. 
Bring Extra Clothes and/or Towels
Wet towels or damp clothes do little in helping you stay warm. If you find yourself always shivering at meets because of damp clothes, bring extras.
Yes, it's a pain to pack them all in your bag or carry them around. But when you're warm, you might find that it's worth the bulging bag.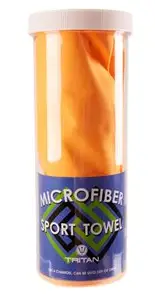 Using a microfiber or shammy towel helps keep your towels and clothes dry a bit longer. As an added bonus, they both run thin, making for easy packing.
Related post: 5 Reasons to Own a Shammy
As a reminder, if you change out of your damp suit, your clothes and towels will last longer 🙂
Wear Shoes and/or Socks
Try to keep your feet dry and warm at swim meets. This will help aid in staying warm, even though it seems so small.
Wearing warm (and dry) socks will keep your feet warm while you wait between events. For more warmth, put on shoes or fleece lined boots if shoes aren't enough.
You typically lose body heat through your feet. As swimmers, you keep your feet exposed to cold concrete and tile more than you think!
Keep them warm and you might find yourself surprised at how much they help. 
Put on Gloves
Hands, much like feet, need to stay warm, too. And much like your feet, you lose heat through your hands, too. For most people, their toes and fingers turn cold first before the rest of their body.
If you find yourself dealing with cold fingers, try wearing gloves. They might look out of place on the deck, but when it comes to staying warm, they do the trick. 
For those that don't like gloves, pockets offer an alternative. However, they might not keep them as warm as gloves would.
Go Outside (if possible)
While this won't work too well when it's freezing outside, it can work in the warmer months. 
You'll find the best results when the sun is out and you can sit in a patch of sun. This allows your body to warm gradually. And you'll get some vitamin D at the same time! 
More Content for You: Top 11 Questions About Swim Meets
Going outside also gives your lungs a break from all the chlorinated air. Instead, you can take a moment to breathe in some fresh air and hopefully enjoy quieter surroundings.
Lastly, sitting outside for a bit can help you dry some of those damp clothes or towels. 
Just make sure you don't stay outside for too long. You then run the risk of either missing your event or feeling drained from the sun.
Go inside (if possible)
For those at an outdoor meet in the cooler months, you might have to do the opposite. 
Seek shelter in the locker room if possible. You'll find that this simple action will help aid you in staying warm at swim meets. 
More Content for You: How to Prepare for a Swim Meet
Find a corner where you can stay out of the way of other swimmers and bundle up. Whether that's in your parka, warm clothes, or a towel. Even if you look silly doing so, you'll find that staying warm trumps what other swimmers might think.
Take a warm shower
As a last ditch effort to staying warm at swim meets, try jumping into a hot shower. 
It's not exactly ideal, but a hot shower can guarantee to warm up your core. It'll keep you warm down to your bones for a while. At least until your next race.
Just remember that warm water does drain the body of energy. So try to only use this option as a last resort.
And only do this if you can ensure that the water is warm. A cool or luke-warm shower won't do anything for you. It just makes your cold suit stick to you more. You would be better off drying off as best as you can and layering with clothes and towels instead.
In Closing
Staying warm at a swim meet isn't impossible. It simply takes a bit more work on your end. 
Everyone's body is different and what works for one swimmer might not work for you. If something doesn't work at first, stay patient! Keep trying out new suggestions and tweak them to work best for you.
And if you find that you're always cold, know that you're not alone. Many swimmers struggle with this, so don't let yourself get discouraged! 
Find what works best for you and make it your own. 🙂
As always, to happy (and warm) swimming.
– Chevron
---
Bonus Content:
How to Read a Heat Sheet: Knowing how to read a heat sheet is one of the more important but confusing parts of a swim meet. But what is a heat sheet and how do you read one?
What to Bring to a Swim Meet: Not sure what to bring to a swim meet meet? Here's a list of essential items to pack in your swim bag for your next swim meet.
---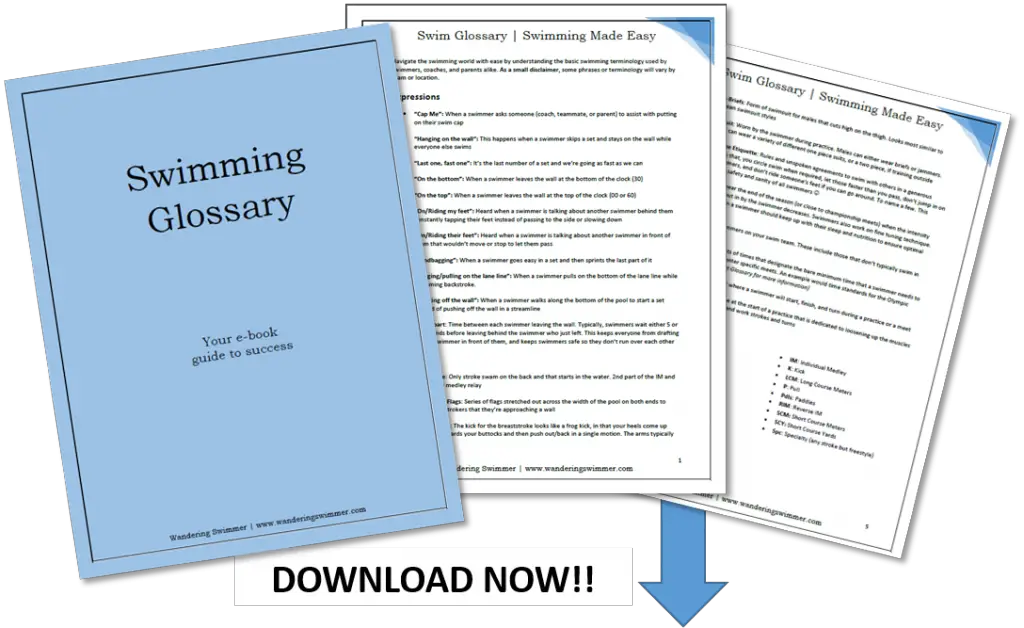 Want to Improve at the Pool?
Join swimmers and swim parents to receive my free newsletter and receive a free Swimming Glossary e-book as a thanks!
Every month you'll receive tips and coaching to help you find success at the pool.
About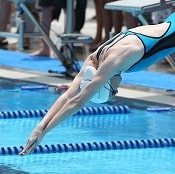 Chevron is a current competitive swimmer with almost 20 years of experience in the pool. And although she fell into the sport by accident in her high school years, she still trains daily and competes throughout the year. She's committed to providing guidance to all levels of swimmers and believes that everyone should know how to swim.