The 2019 Masters Summer Nationals saw an extraordinary number of swimmers making their way to Mission Viejo, California. For five days, swimmers from ages 18 up to 98 competed under the California sun to set best times and records.  
2019 marked my second year swimming at a USMS Summer Nationals. And despite my previous experience, I found that experience doesn't mean you can't learn something new! 🙂
Here's my recap for the 2019 U.S. Masters Summer Nationals.
Disclosure: This post may contain affiliate links, meaning I earn a small commission at no cost to you if you purchase something through one of my links. As an Amazon Associate, I earn from qualifying purchases. Please check out my disclosure page for more information.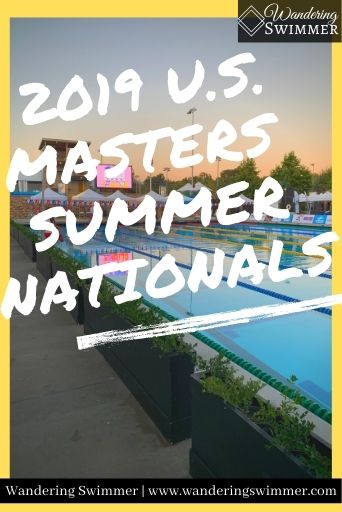 Outdoor Swimming
The Marguerite Aquatic Center is an outdoor venue, which boasts three recently renovated pools. Like most of the pools in California, the pools used salt water. And much like the rest of the pools in California, all three pools were outside.
Swimming outside isn't for everyone and for those not accustomed to it, there's an adjustment period.
Because it's not just the sun in your eyes or the sun's reflection on the water.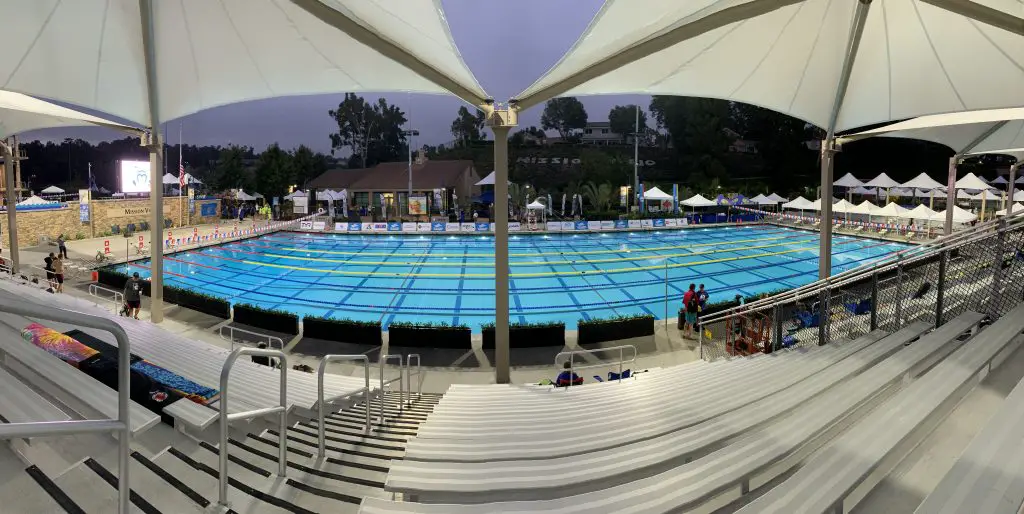 It's also the heat of the day as the Earth warms, fresh air, and the sun on your skin. Hydration, sunscreen, proper goggles, and nutrition play a vital role in outdoor swimming.
Personally, I enjoy swimming outside. Having the chance to breathe fresh air and feel the sun (or rain!) on my skin makes practice enjoyable. 
For those unaccustomed to outdoor swimming, it's a bit of a challenge adjusting to the change. Outdoor swimming reminds you to have a set of goggles best suited for the sun, in addition to an ample amount of sunscreen.
USMS Nationals this year did well with providing plenty of hydration stations around the pool areas. Next to sunscreen, staying hydrated when swimming outdoors is critical to performing at your best.
Inspiring
Masters Swimming is inspiring. Whether that's at practice or at a meet. I think that's the one thing that doesn't change. 
No matter how many Masters meets you attend, it's still so incredibly inspiring to watch. 
You can't help but stand up and cheer when the 80+ age groups are in the water. Or when a retired – or current – Olympian takes to the pool. 
But it's not just inspiring to see veteran swimmers racing in the water. It's just as inspiring, if not more, to see first time swimmers racing. There's something special and so encouraging to watch them.
To see the joy of finishing a race and dropping time. It's a simple reminder of what it's like to enjoy the sport. To chase the thrill and joy of a job well done.
And throughout it all, Master meets have an underlying theme to me.
Never stop trying.
Friendship
Some say that swimming is a lonely sport. 
You're surrounded by people, but the water isolates you from them at the same time. It leaves you alone with nothing but your thoughts, and the sound of your breathing and the water rushing over you.
While I agree that the water can isolate you, I also believe that it connects us more than it separates us. 
Those who say swimming is a lonely sport have never swam with friends or teammates. To have those that care about you most and vice versa swimming alongside you. 
They're more than just teammates. They turn into your brothers and sisters. Because they know the same struggles you face. Whether it's the early mornings, juggling family, or even an aging body.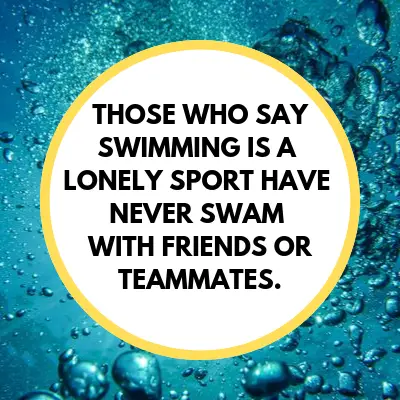 And yes, even your competition can turn into a friend. 
Swim the same event or distance long enough and you'll find familiar faces around you. And I think it's human nature that we desire to know those people. The ones that we face every year and slowly learn more about through each race. Through each meet.
It's one thing I learned this year at the 2019 USMS Summer Nationals. The group of swimmers I met the previous year remembered me, just as much as I remembered them. We'd pass in the locker room with a smile and catch up behind the blocks.
Though we walk different paths in life, we still share the same love of the sport. And in that, it draws us closer to each other despite the differences.
Masters Summer Nationals Line Up
Swim enough annual meets and you know the order of events nearly by heart. They're the same every year at Sectionals as they are for Masters Worlds.
Yet one thing I've slowly come to learn is that U.S. Masters Nationals likes to change things up!
My last three summer nationals all followed a different order of events each year. It's maddening in some ways. Because one year can give you a fantastic line up for your events. And then the next year it's awful.
But in a way, I also enjoy it. Why?
It allows for change. And change is good because it keeps the mind active. It forces you as a swimmer to figure out what line up works best for you. How you're going to approach your day when it comes to warm up and cool down. When and what to eat throughout the day.
Sometimes we get lucky and it's an easy line up. Other times, it's a bit more of a challenge.
That's what keeps things interesting. If things stayed the same all the time, we wouldn't have a sense of challenge. And then you run the risk of running into a rut.
For me, my week started easy and then grew more difficult. Not what I would've liked, but I enjoyed the challenge that it brought. It also made the finish that much sweeter at the end of the race!
In Closing
It's always an honor to swim at Masters meets. 
No two meets are ever the same. Pools change. Events, weather, and the people around you change, too. But what does stay the same is the love of the sport and the desire to grow.
This year's Masters Summer Nationals presented a mix of new and familiar. New pools, new events, and new challenges. But at the same time, the familiar friendship between swimmers remained the same.
It's these things that always leaves me excited for the next meet. Knowing that there's something new out there for me to learn or experience. To make new friends and catch up with the old.
To continue chasing the clock and loving my sport all the more.
As always, happy swimming!
– Chevron
---
Bonus Masters Content:
How to Join Masters Swimming: Joining a Masters swim team is quick and easy, and the benefits are endless. Whether you're a new or old swimmer, joining Masters Swimming might be the fit for you.
14 Reasons Why You Should Join Masters Swimming: Masters Swimming offers a variety of different benefits to adult swimmers. Here are 14 reasons why you should join Masters Swimming.
---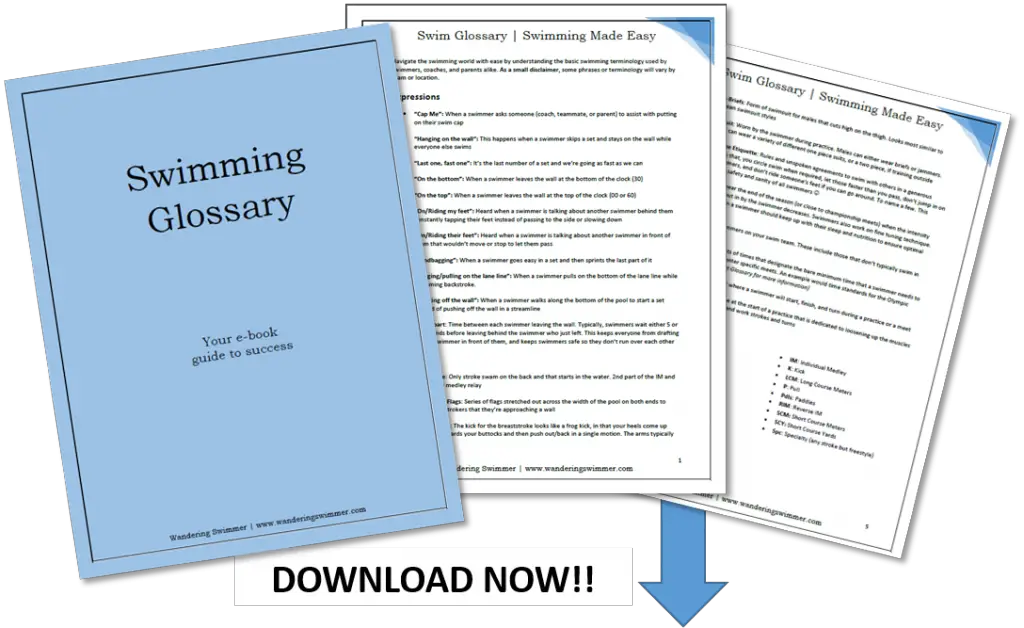 Want to Improve at the Pool?
Join swimmers and swim parents to receive my free newsletter and receive a free Swimming Glossary e-book as a thanks!
Every month you'll receive tips and coaching to help you find success at the pool.