2017 Masters Worlds
In 2017, Budapest, Hungary hosted the 17th FINA World Masters Championships (or Masters Worlds) from August 7 – 20th. Giving Masters Swimmers worldwide a chance to compete internationally.
And I found myself fortunate enough to compete at Masters Worlds and partake in my first ever international competition!
Here are some things that I learned from my first FINA Swimming World Masters Championships.
Related article: Best Swim Meet Advice
Disclosure: This post may contain affiliate links, meaning we earn a small commission at no cost to you if you purchase something through one of our links. As an Amazon Associate, we earn from qualifying purchases. Please check out our disclosure page for more information.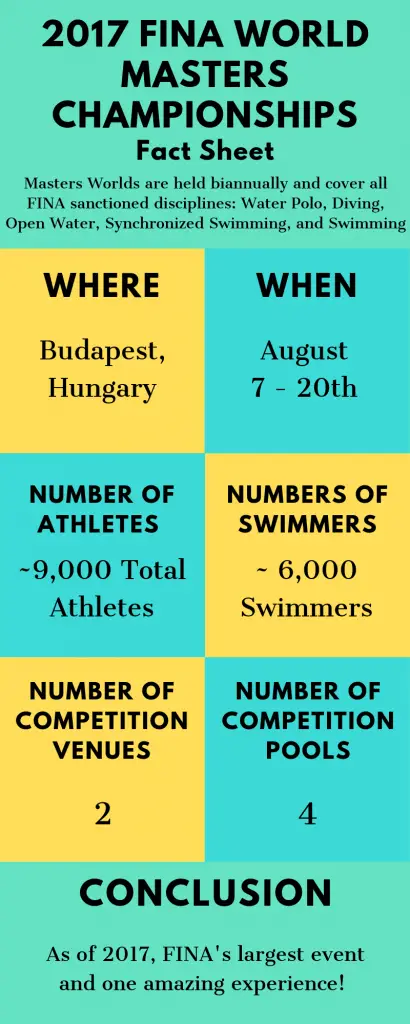 Preparing for Swimming World Masters
Arrive Early
I would highly encourage anyone traveling through multiple time zones to plan accordingly. My roommate (Mims) and I planned a day buffer between my first event and the day we arrived.
In total, it gave us a day and a half to beat any jet lag.
Oh, we of too much faith 🙂
At best, I'm more inclined to say that 2-3 days before my first event would've been best. While this can differ per swimmer, consider the following when making travel plans:
How long will you have to travel?
How many time zones will you cross?
Are you familiar with the area?
What do you need upon arrival? (Food, registration, warmup, etc.)
How well does your body handle travel and jet lag?
Again, this differs by swimmer, but do your best to do what works best for you.
If your time and budget allow for it, take the extra time to arrive a day or two early. The more time you have to adjust to the time change, the better. Plus, it gives you time to familiarize yourself with the area.
Registration
Another reason to arrive early is to complete your registration process.
All Masters athletes need to pick up their credentials prior to accessing the venues. In fact, you can't access the venues without these credentials! Be sure to bring your passport with you, as you'll need them to collect your credentials.
For those who get anxious and jittery before meets, do yourself the favor of picking your credentials up before your first day of competition.
Workout/Stretch
One final note in regards to arriving early.
If you arrive early before your first event, plan time to put in a workout each day! This offers several benefits:
Gets you used to the different venues, to include the pool and layout of the facility
Loosens up your muscles
Keeps up your strength and feel of the water
Stretches out any knots and tightness you acquired during travel
Make space in your suitcase or carry on to bring some sort of stretch bands, foam roller, or massage stick. These can help work out any tight muscles or knots from your time traveling.
Venues
Because so many swimmers registered for Masters Worlds, one pool wasn't enough. Instead, the age groups were divided into four groups and we rotated through two competition venues.
The indoor Duna Arena and the outdoor Alfred Hajos National Swimming Stadium. Each venue hosted two competition pools, for a total of four competition pools.
That's right. There were so many athletes that we swam in not one or two, but four different pools! Most swimmers had a chance to race in each pool at least once.  
Duna Arena
Pictures can't do it justice to just how breathtaking it is when you first walk out onto the deck. You have to take a second to take it all in.
It's the smell of the pool and the noise of the water lapping against the gutters. More than that, it was the sense of pride I felt when I stood just behind the blocks, knowing that I would race there shortly.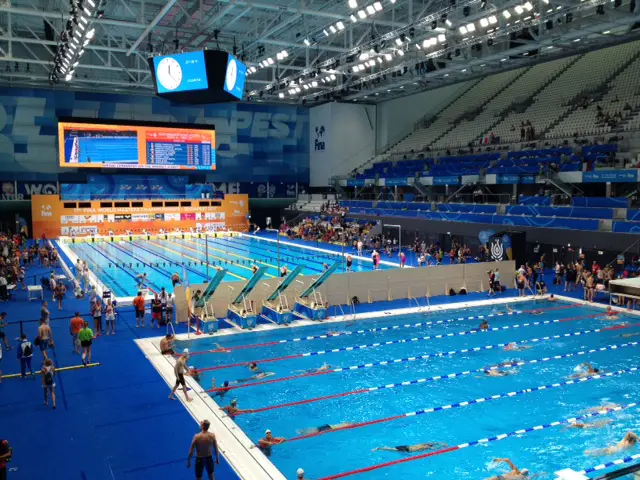 I imagine it's the same feeling that swimmers feel at their first Trials meet, or at the Olympics. Even better, I know that it's the way newer swimmers feel at their first meet, big or small. We've all accomplished something amazing to get where we're at now, and at that time, it was Masters Worlds for me.
Alfred Hajos National Swimming Stadium
The Hajos pools were all outdoors, located on Margaret Island. While the Duna Arena was large and overwhelming, the Hajos Complex was opposite. Trees and grassy areas surrounded the Complex.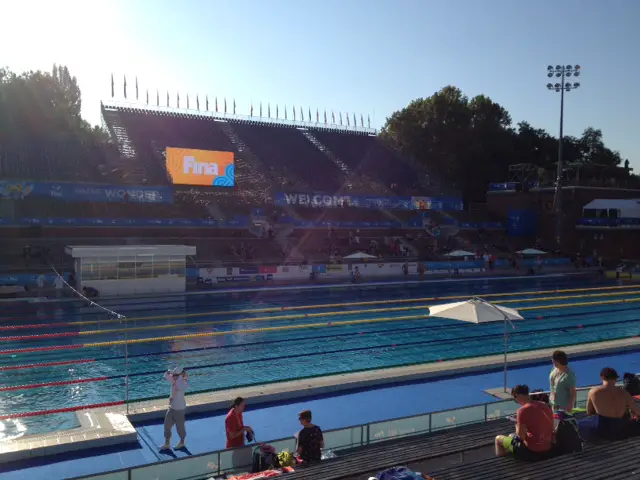 It brought (to me, at least), a sense of calm and somewhat easier pace of life. It's layout was simplistic and easy to navigate compared to the maze that was the Duna Arena.
Personally, I liked the open skies above me with only the treeline cutting through the sky!
FINA Procedures
I do want to take a moment to talk about the various FINA procedures that we all experienced. Because I was in for a shock the first time they happened!
Credentials
Your credentials are so very important. Not just to get you into the venues, but also to race! Part of the FINA procedures in place is that someone verifies your credentials information with the heat sheet, along with your own face.
Don't have your credentials with you when you go to the ready room? Be prepared to run back for them.
Again, I cannot stress the importance of this. Credentials also got you to the warm up/cool down pool, too. I never went anywhere without them, to include the bathroom!
Athlete Ready Room
Each venue had a ready room with several rows of chairs for each heat. You're expected to be in the ready room at least 4-6 heats prior to your race.
This gives the volunteers a chance to review your credentials numerous times. Remember how important those credentials are?
The volunteers check your credentials to ensure you're in the right place and you are who you say you are. All of this gets checked once more just before you leave the room to race.
FINA Approved Racing Suits
This was definitely a first for me! But part of the FINA procedures is to check that you're wearing a legal, FINA approved racing suit.
How? Does the below image look a bit familiar to you? 😉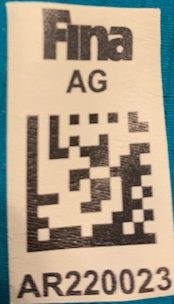 On the back of each approved FINA technical suit is a little white and black sticker. These stickers represent FINA approved suits. Everyone's suit had to have this sticker when the volunteers checked the suits in the ready room.
Related article: 15 Ways to Extend the Life of Your Tech Suit
You can find dozens of FINA-approved technical racing suits online at swim shops. SwimOutlet offers a wide variety of tech suits for males and females.
Competition
You can tell yourself that it's just another meet. but at the same time, you know it's not. The vast variety of languages and different styles of swimming etiquette only reinforces that reminder. But at the same time, it made it all that more exciting!
Everyone is there for the same reason. To swim fast and do their best. And it only buoys you to do the same. 🙂
Because after the first race, everything settles into place. Or at least it did for me. Yes, I was in a new country and swimming my first international meet. But racing? That's the same across all countries and nationalities.
First Race
The first day of racing, everything really sinks in for you!  
I found myself lucky that my first race was at the main pool in the Duna Arena. Because leaving the ready room for the first time is like nothing I've ever experienced.
More than ever, it really hits that, you're here and you're going to do something amazing! You're going to show the world and yourself what you can do. And yes, that thought is terrifying, but also so powerful.
You know what else is amazing?
Seeing your country's flag next to your name on the scoreboard. For me, that was the best and most surreal part of my first race.
And it only gets better as the meet goes on!
Placing
The top 6 places in each age group receive medals at Masters Worlds. And when you medal, they make a big deal about it 🙂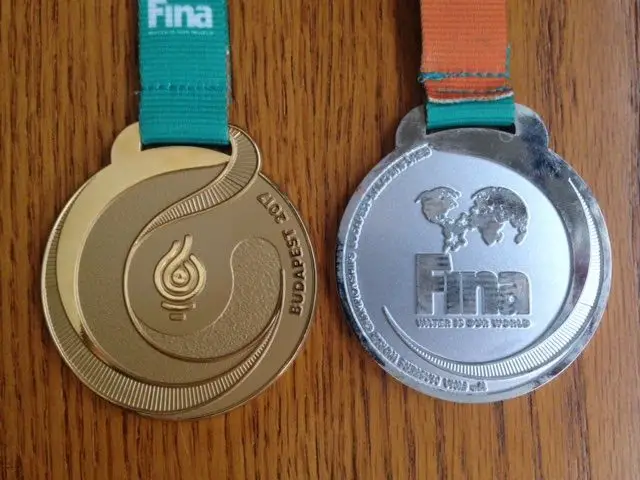 Each venue had a dedicated area for presenting and receiving medals. The medal ceremonies happened during the meet itself instead of all at once near the end.
Watching an 80 or 90 year old though go up to accept a medal is nothing short of inspiring!
Friendships
I think my favorite thing about any type of competition are the people you meet and the friends you make.
The ones that cheer for you while you're racing and share your excitement of winning, even though you just met them that morning.
Those connections that we make during meets are what I enjoy most about the sport itself.
It doesn't matter what age we are. We're all still swimmers and that alone connects us despite our differences.
In Closing
While I found success and failure in Budapest, I don't regret for one second my decision to go.
I was able to show myself that I could race at an international level. And that while it could feel terrifying the first go around, it really was just another meet.
I'm proud of myself and everyone else that went to Budapest and raced as hard as they did.
If you ever have the opportunity to compete at the next FINA World Masters Championships, I hope you take it! You'll learn so much about yourself that you never knew and have a great time along the way. Dare to try something new and see how far you can go! 🙂
And as always, to happy swimming!
– Chevron
---
Bonus Masters Content:
2019 Masters Summer Nationals: Recap for the 2019 U.S. Masters Summer Nationals at Mission Viejo, California. Five days of swimming, fun in the sun, and chasing the clock.
---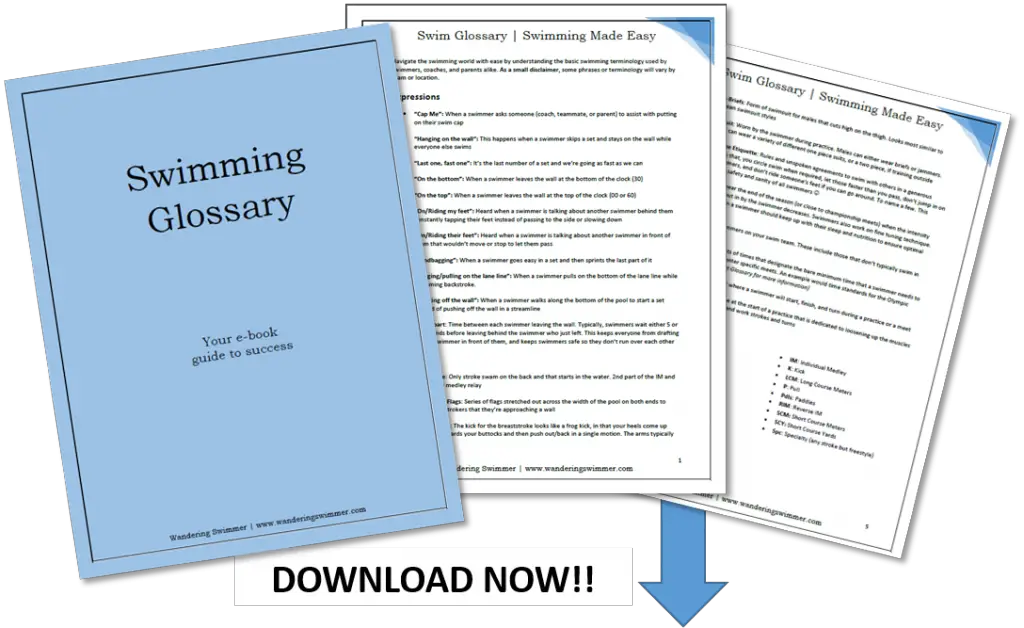 Want to Improve at the Pool?
Join swimmers and swim parents to receive my free newsletter and receive a free Swimming Glossary e-book as a thanks!
Every month you'll receive tips and coaching to help you find success at the pool.