Thinking about starting swimming, but haven't taken that final plunge because you feel that you're too old?
Well, think again!
Here's 14 reasons why you should rethink that and join the thousands of other swimmers with Masters Swimming. Because if we've said it once, we'll say it again: You can start swimming at any age!! 😀
Related article: 10 Myths About Swim Teams
Disclosure: This post may contain affiliate links, meaning we earn a small commission at no cost to you if you purchase something through one of our links. As an Amazon Associate, we earn from qualifying purchases. Please check out our disclosure page for more information.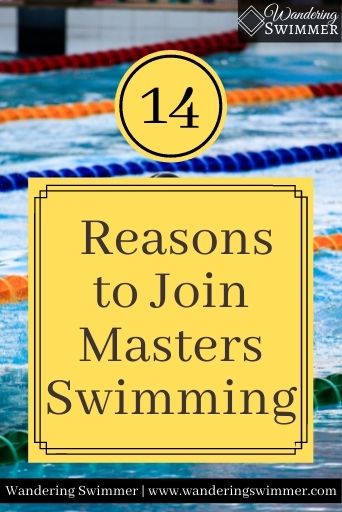 What is Masters Swimming?
In short, Masters Swimming is an organization based upon the principle of creating a swimming program for adults. Masters programs encourage adults to swim and better their lifestyles through activity.
Now, we know what you're thinking. "I'm no 'Master'. I'm just starting out! Why would I ever want to join?"
Because, despite what the name implies, you don't have to be a 'Master' at swimming in order to join.
So why join Masters Swimming?
1. It's for adults
First and foremost, it's for adults.
Masters Swimming has a minimum age requirement of 18 years or older. However, we will note that for all international meets, you must be 25 years or older to participate.
Related article: 2017 FINA Swimming World Masters Championships
This means that you practice with and race against adults. Having a support group around you that's closer to your age can make all the difference in your swimming journey.
Because your peers understand the different struggles you encounter at work. Or at home with your kids, your spouse, or family. Chances are, you won't find that same understanding with a team of kids or teenagers.
Having that connection outside of the office or home life comes as a balm to many. It gives way to new friends. Additionally, the life experience surrounding you can come as a great opportunity.
You never know when you'll need a teammate's expertise on something!
2. You can join Masters Swimming at any age
Obviously, you have to meet the minimum age requirements. But after that? You have no limit to how old you can be to join. I met an individual at the 2018 Masters Pan American Games who started swimming at the age of 60.
Masters Swimming doesn't say when you can stop or that you shouldn't start. Remember, their basic belief is to encourage adults to swim. Because of this, Masters Swimming has age groups that stretch from age 18-24 all the way up to 95-100+
Yes, you read that right! 100 years of age!
I've had the absolute pleasure of watching a 95-year-old swim competitively in numerous races. Not only did she finish the race, she also broke a world record!
So yes, you can join Masters Swimming at any age!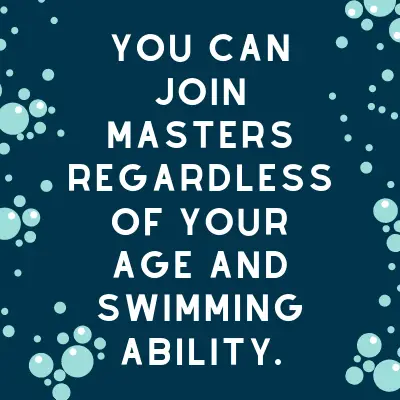 3. Most adults can't swim
A large percentage of adults (at least within the US), can't swim.
The best benefit with US Masters Swimming? You can learn to swim through them! Learning to swim is a lifelong and lifesaving lesson that you shouldn't avoid.
Related article: Your Complete Guide to Swim Lessons for Adults
US Masters Swimming offers training and education to instructors to help with this. Through these courses, individuals become licensed Adult-Learn-to-Swim instructors. Their whole purpose? To teach you how to swim as an adult!
If you're willing to give it a try (and I hope you do!), you can search for certified instructors online here.
4. The health benefits
Research proves time and time again the benefits of swimming. As we age, it becomes that much more important to keep a healthy, active lifestyle.
Swimming, especially Masters Swimming, hits all the right spots for this.
And it's not just about losing weight! While yes, swimming offers a great way to lose weight, it also provides dozens of other benefits for your health. Such as:
Full body workout
Low impact on joints
Active lifestyle
Excellent cardio workout
One of the things that continues to amaze me at Masters meets for Masters Swimming is the well-being of the older swimmers.  
Because you'll find 90-year-old swimmers competing. Not just competing, but doing so without needing oxygen. Or needing a wheelchair to get around.
Personally, their dedication inspires me!
5. Great for coming back out of retirement
Masters Swimming offers a great place for those new to swimming to start out. However, it also offers a means for some swimmers to come out of retirement.
I would know, I'm one of them!
I found Masters Swimming a few years after retiring from the sport. And it felt like such a natural transition back into swimming. Because I wasn't alone in attempting to come back from retirement.
And it felt amazing!
When you start training again, it's hard. Especially if you're by yourself. Masters Swimming helps provide a setting for you to succeed in coming back.
6. Support groups
When I'm around other Master swimmers, I get nothing but encouragement for what I'm doing.
It's a steady support that buoys me. It makes me train harder and makes me want to do more. Nothing helps you more than the support and encouragement of those around you.
Because everyone there is either going through the same struggles and experiences as you, or have already gone through them.  
7. You swim for yourself
I'm a huge believer in swimming for yourself. It makes a world of difference. One that you don't realize until you experience it for yourself.
With Masters, every swimmer wants to be there. Whether 'there' is at a competition or at practice. Or both!
Hands down, swimming for myself is my favorite part of Masters Swimming
Because for the first time in my swimming career, I'm swimming for myself. I'm not swimming for my coaches and I'm not swimming for my parents.
More Content for You: 10 Reasons to Start Competitive Swimming
Everything that I do comes straight from my drive to stay active. And from trying to better my times as much as I can.
No one else makes me do it. And there's something very freeing about that.
I'm responsible for my choices, and my training and events are my own. I owe nothing to anyone. It truly puts a new perspective on the sport.
8. Older swimmers train differently
Still on the fence? Here's something to think about for a moment.
Older swimmers train differently.
This leads me to the other reason why Masters Swimming appeals to me so much. Along with thousands of others Masters swimmers!
Why?
For an older swimmer (one just starting out or coming back), putting in hundreds of laps doesn't mean much. Not compared to what good technique can bring instead as the body ages.
Typically, a 45-year-old probably can't lift or train as hard as a 17-year-old. It's simply a fact of life.
It's why Masters Swimming can offer the same outlet, but with those closer to your training style. Ones that understand when your knees and shoulders pop all the time! 🙂
9. Cost
One of the perks that comes with Masters Swimming is a lower registration fee. While you will still have to pay for annual registration, the cost usually runs a bit cheaper than a nationally governed organization.
Related article: Budget Swimming: Cost Saving Tips for You
Some swim meet fees also tend to run a bit cheaper as well.
In terms of dues, however, this will vary by your team. On average though, most Masters teams have lower monthly dues than your year round club teams.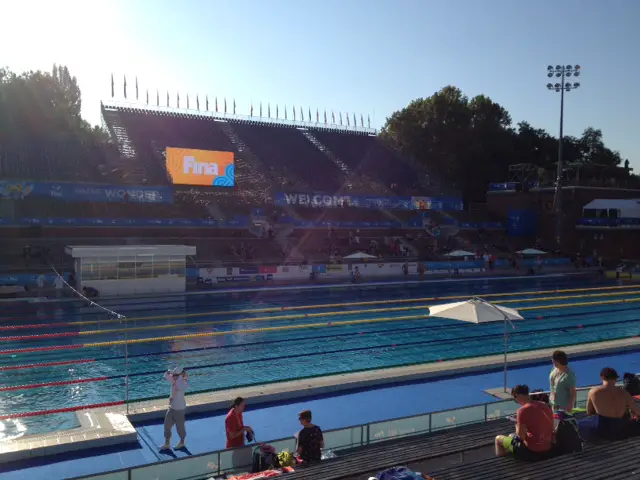 10. You can swim competitively
With Masters Swimming, you can swim for any number of reasons. Some join to keep swimming competitively, such as myself!
More than that, Masters Swimming offers a structured setting with similar individuals to help you get the most out of your practice. You have access to coaches on deck, along with online workouts to help you shave those few seconds from your race.
For those who compete in triathlons, Masters Swimming is also a great place to hone in on the swimming leg of your race.
11. Or, you can swim for leisure
Not everyone joins Masters Swimming to swim for competition. And that's fine, too 🙂 Others join simply to stay in shape or get in shape.
The benefit of joining a team, especially one with Masters Swimming is again, the structured practices.
You're less likely to skip if you have teammates waiting to see you at practice 🙂
You also have that support group to keep you on track. Nothing says encouragement like a swimming or workout buddy. They offer much more motivation that swimming alone. Plus, it offers someone to keep pace.
Or, someone to complain to after a long, rough day at work, haha.
12. You can dual register
What does this mean?
It means that you can register to swim with Masters Swimming and your National Governing Body.
For example, I belong to both USA Swimming and US Masters Swimming.
It allows me a bit more flexibility when it comes to selecting my meets and events. Mostly because USA Swimming has more meets for me to attend compared to Master meets.
13. Inspirational
Masters Swimming is inspirational!
I can say that hands down, nothing is more inspiring than watching the 70+ year old swimmers race.
Seriously. Just watching them practice alone humbles you. Watching someone twice your age do the same thing really puts it into perspective.
It makes you want to keep going. Because if they can do, so can you!
I truly love that about Masters. To me, they're the real champions. And they always encourage me.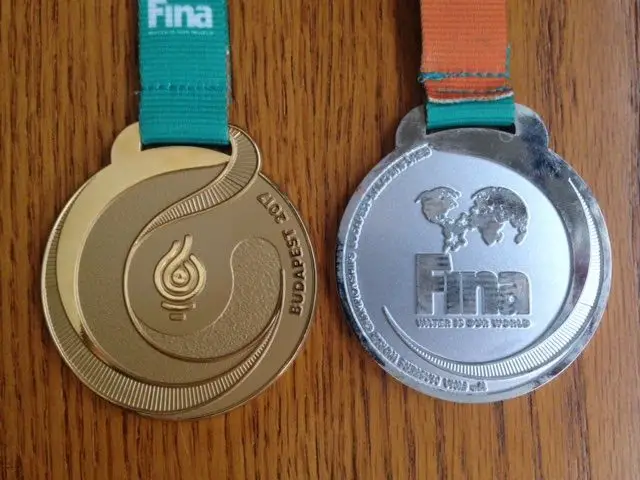 14. Easy to join
So, you ready to join yet? 😀
If so, I offer you the final reason as to why you should join Masters Swimming. It's super easy!
Just head on over to your online Masters Swimming site (if you're in the US, click here!) and begin the process. You'll have to create an account and pay for your membership upfront. But after that, you can start searching for teams near you.
Find the one that works best for you and jump on in!
Related article: How to Join Masters Swimming
In Closing
Joining anything new can offer both exhilaration and trepidation to many people. With Masters Swimming, it doesn't have to be. You automatically have a team filled with individuals much like yourself, who all want the same thing.
To better themselves through swimming. Whether that's staying active, training for triathlons, staying/getting into shape, or racing competitively.
The choice to join is always up to you. Remember, you swim for yourself. No matter what reason you decide to swim. Pick what works best for you, your family, and your lifestyle, and keep going.
Because no matter which path you take, the first step belongs to you 🙂
Still not sure where to go or have more questions? Check out some of these other posts to get you started!
As always, happy swimming
-Chevron
---
Bonus Content:
How to Join a Swim Team: With so many different teams and swim programs out there, how do you know which one to join? And how do you join a swim team?
2019 Masters Summer Nationals: Recap for the 2019 U.S. Masters Summer Nationals at Mission Viejo, California. Five days of swimming, fun in the sun, and chasing the clock.
---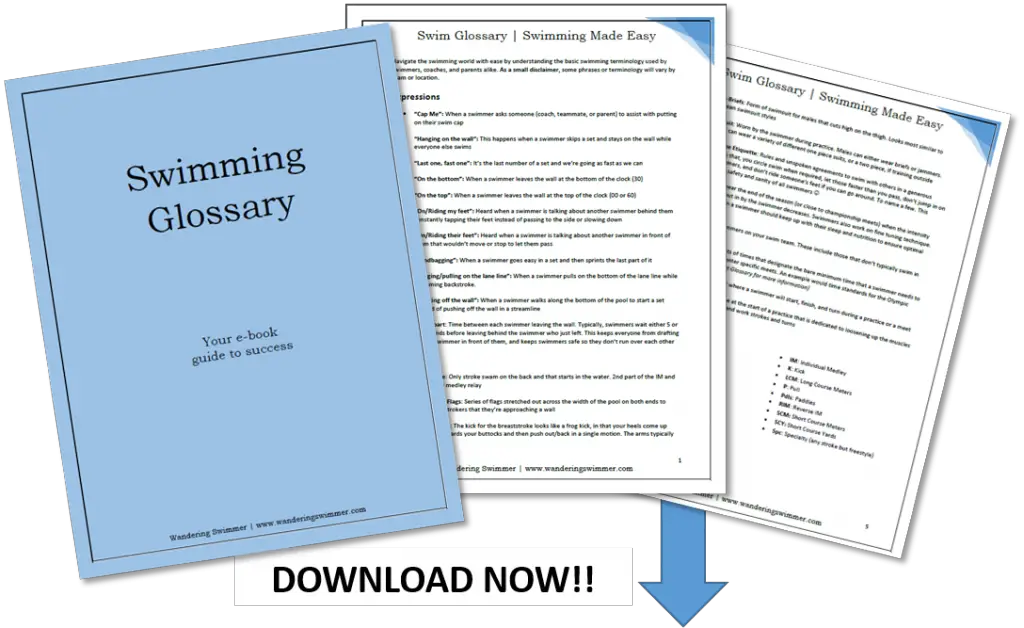 Want to Improve at the Pool?
Join swimmers and swim parents to receive my free newsletter and receive a free Swimming Glossary e-book as a thanks!
Every month you'll receive tips and coaching to help you find success at the pool.