You've finally decided to take the plunge and take swim lessons. Let us be the first to say congratulations! Learning how to swim, even as an adult, is incredibly important.
After all, knowing how to swim can be a life-saving benefit!
And while learning to swim or taking swim lessons may seem like it's only for kids, it can be for adults, too. There's no age limit to when you can or can't take swim lessons. 
Keep reading to see our complete guide to swim lessons for adults. Filled with suggestions, tips, and advice to help set you up for success.
Disclosure: This post may contain affiliate links, meaning I earn a small commission at no cost to you if you purchase something through one of my links. As an Amazon Associate, I earn from qualifying purchases. Please check out my disclosure page for more information.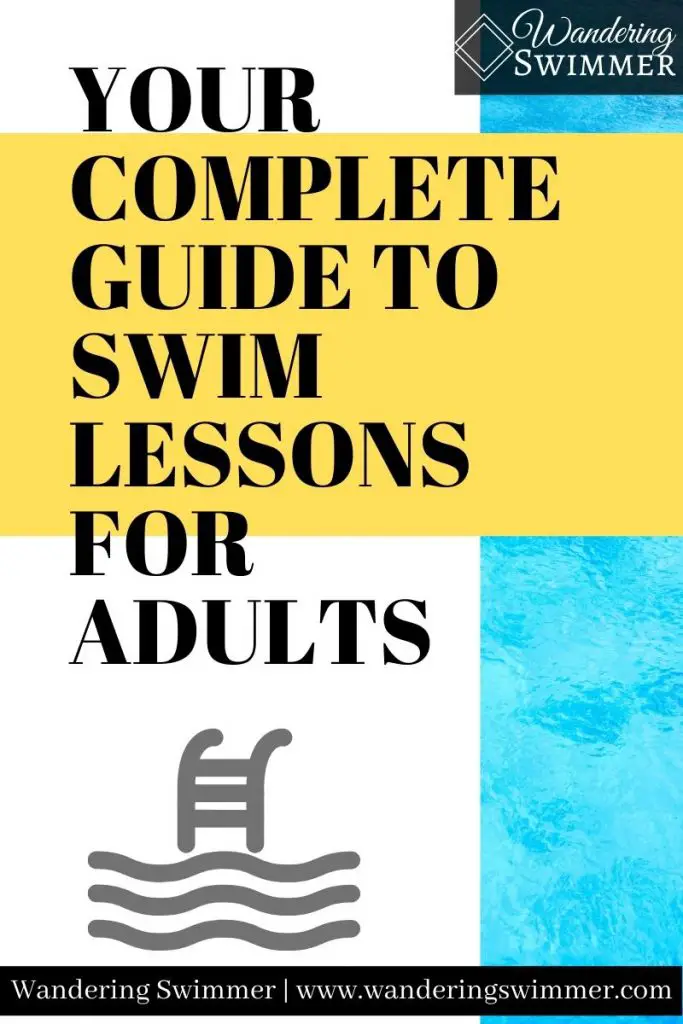 Why Should I Take Swim Lessons as an Adult?
Still on the fence about taking swim lessons as an adult?
Consider this. Knowing how to swim can be the difference between life and death. Drowning remains one of the leading causes of death around the world.
Take a moment to look at the numbers for deaths related to drowning (Source):
Top 5 causes of death for people aged 1-14 years old
In the US alone, 80% of drowning victims are male
Children ages 1-4 have the highest drowning rate
The number for minorities is 5.5 times higher than that of Caucasians of the same age
While these numbers focus more on kids and teens, adults can and do drown. Knowing how to swim can help prevent drowning related incidents.
One other benefit? Knowing how to swim provides extra safety for your child(ren). You can't help your child in the water if you don't know how to swim. 
How Do I Find Swim Lessons for Adults?
A quick search online for 'swim lessons for adults near me' will bring up hundreds of results. From physical locations to various sites that offer adult swim lesson programs. It's a great starting point to begin your research.
However, if the number of options overwhelms you, consider these searches to help narrow the field.
Masters Swimming
Masters Swimming is specific for adults and within the US, certain individuals are certified to teach adults to swim.
In terms of programs and instructors, we typically recommend that adults start with a Masters' program or instructor. If only because these instructors are trained specifically to work with adults.
Find a local Masters team near you and see if they offer lessons!
Related articles:
YMCA
If you have a YMCA near you, check to see if they offer swim lessons for adults. Most programs do offer some form of learn-to-swim classes for adults and can range from private to a small group.
Remember that you might have to be a member of the YMCA if you want to take lessons there. Some locations will let you take lessons at an additional cost if you're not a member. But some may require you to join first.
Swim Schools/Programs
Most swim schools largely cater to lessons for kids. However, there has been a growing trend for these schools to offer classes for adults. They're typically scheduled outside of the normal lesson hours for kids, so it's much more calm and quiet during the lesson.
It also gives you more privacy than what you would have in a regular pool at, say, the gym. 
You also have an added benefit of warm water! 
Related article: How to Choose the Best Swim School
Local Gym
Some gyms that house pools onsite do offer swim lessons for adults. If you're already a member of the gym, ask if there are any options to take classes. 
If you're not a member at a gym where swim classes are held, keep in mind that you'll probably have to join. 
Swim Lesson/Program Tips
Check Schedules
With all swim classes, be sure to check that the offered schedule will work for you. It doesn't do you any good to sign up for lessons if you can't make the majority of the classes. 
Learning to swim takes time and repetition. If you can't make most of the classes, you won't get much out of the program. And I'll be honest, it'll be a waste of your time and money. Make sure you can commit to all or nearly all of the lessons beforehand if you want to see results.
Look at Cost
It's easy for me to stand here and say that everyone should take swim lessons and learn to swim. But lessons cost money and not everyone can afford them.
Personally, I think they should make swim lessons mandatory in school for kids like in most other countries. But that's a debate for another time 😉
In all seriousness, ask about the price upfront. And be prepared for some sticker shock. Especially if you're taking a private lesson. 
See if the program allows for different payment options instead of paying for everything upfront. This might make it easier on your budget by paying for it in smaller chunks.
Be Honest and Upfront
Know what you want to accomplish and convey that to the program you're joining. Everyone starts at different levels in swimming and has different goals. 
If you withhold information about your swimming abilities or don't express any fears that you may have, you'll be in for a rough lesson. You also run the risk of the program moving you to a different level or class.
Being honest with the program and instructors is always the best option. If you're scared of the water or had a bad experience as a child, let them know. They can't help you if they don't know your level of comfort. 
Ask Questions
Always ask questions. And never feel that you're asking too many. 
Ask about the instructors in charge of the class and how the lessons are structured. Don't feel afraid to ask to see the facility or watch a lesson.
The worst they can do is say no. And the more questions you can get answered, the more comfortable you'll be on your first day of lessons. 
Not sure what to ask or look for? Check out this post to get an idea!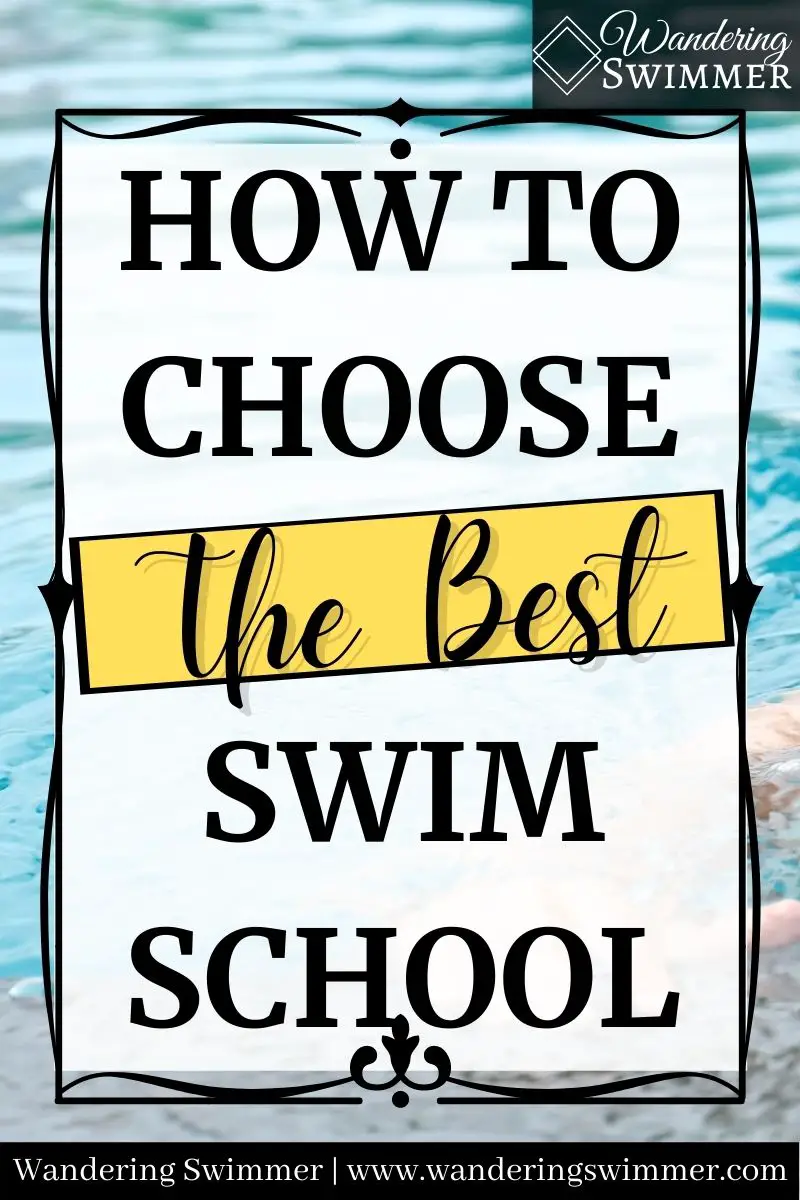 How to Find a Swim Instructor for Adults
If a swim program isn't an option or available for you, consider looking at a private swim instructor instead. These individuals usually operate away from swim schools or gyms but can offer more flexibility to meet your schedule. 
Much like the various swim programs available, not every swim instructor is the same. And when looking for an instructor that can teach swim lessons for adults, you have a few other considerations to look at.
Some basic things to look for in an instructor are:
Qualifications: Do they have an active CPR certificate? Are they certified to teach adults or do they have several years of experience?
Location: Some instructors will teach at local pools, such as a community pool, or a gym/YMCA. Others can teach at their pool or even yours if you have one. Determine where they hold lessons and if the location will work for you.
Frequency/Schedule: Learning to swim takes repetition. You can't learn how to swim in just 1-2 classes. It will take several classes before you can do so. That's just the honest truth. Make sure that your instructor has a dedicated learning plan that you can follow and that you'll meet at least once a week.
Price: Again, check the price that the instructor is charging. And determine how you'll pay them. 
As an adult learning to swim, we also recommend looking for a swim instructor with the following qualities:
Worked with adults who have a fear of the water: Coaxing a scared child into the water is hard. It's also hard to do so for adults who have a fear of the water. And having an instructor who knows how to work with individuals who are scared of the water can make a huge difference during the lesson.
They've worked with adults who are beginners in swimming: Some instructors are better at working with adults who can already swim or have some swimming experience. But they might not excel with beginner adults. Let your instructor know what your experience is so they can either help you or point you to an instructor who can better work with you.
Want more suggestions on what to look for in a swim instructor? Head over to this post. It covers specific qualities to look for in an instructor and can give you a better idea of what to look for.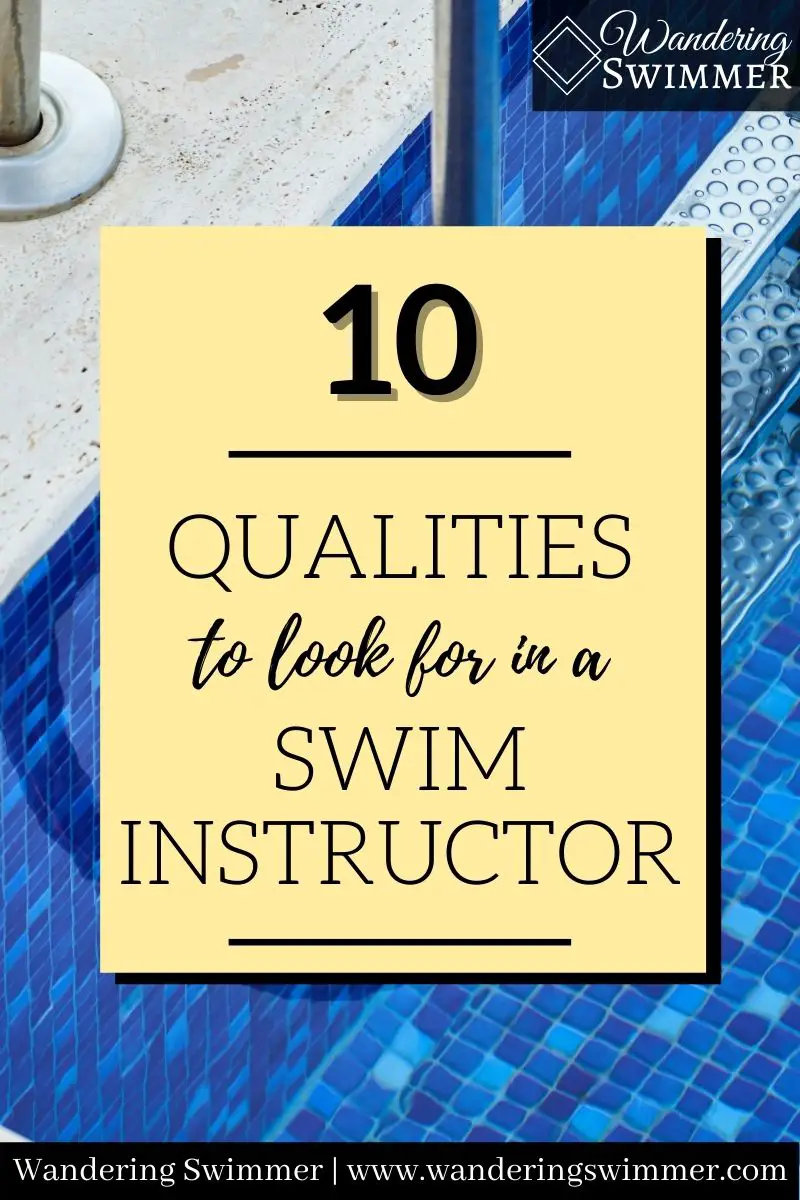 AquaMobile
Can't find an instructor or concerned about finding the right one? Try looking into AquaMobile.
AquaMobile Swim School is the largest provider of at-home private swim lessons. They offer swim lessons for adults and children, based on the qualifications of the instructor. 
The best part? It's pretty easy to find your instructor!
When you go online to AquaMobile, you can enter in the type of lessons you're looking for along with your location. AquaMobile will pull up the various swim instructors in your area that match your request.
You have the option to review the various profiles of the swim instructors and then book a session with them. 
While the AquaMobile site says that the instructors can come to your pool, I believe the instructors can also meet you at a public pool. Such as a community pool or a natatorium. Be sure to ask the instructor what options they offer!
You can check out their prices here. 
What to Wear to Swim Lessons
Swimsuit
Obviously, you'll need to wear a swimsuit for your lessons 🙂 But the type of suit you get does make a difference. Both in terms of comfort and making your lesson go a little bit smoother.
Check that the fit isn't overly tight or loose. Remember that the suit will loosen slightly when you get in the water. So if it already feels pretty loose when you try it on, you might want to go down a size.
Women can wear a one-piece, a tankini, or a two-piece swimsuit for swim lessons. We would recommend something with a more closed back and front, if only so you can move around easier.
Men can wear swim trunks, jammers, or even swim briefs if they like. Try not to let the swim trunks run too long so that it interferes with your kick. Your trunks should stop just above your knees.
Before your first day of swim lessons, we encourage you to try on your suits. Even better? Try them on and get in the water if you can. This will let you feel comfortable in your suit before your lesson starts. 
Not comfortable with wearing just a swimsuit? Consider the option of a rash guard!
Rash guard or Swim Shirt 
Rash guards and swim shirts are a better alternative to wearing a t-shirt in the water. They fit tighter to the body so it doesn't billow out in the water and make it difficult to swim. And they can be worn by males or females.
They're worn just like a regular t-shirt and come in long and short sleeves. A short sleeve design does offer more freedom of movement, which is important in swim lessons. 
If you plan to wear a rashguard, just remember to wear your swimsuit underneath the shirt!
Cap
If you have long hair, we seriously recommend a swim cap. This will keep your hair out of your face and help protect it from the chlorine. And the sun, if you're swimming outside!
You can wear a cap even if you have short hair, as it'll still offer protection from the chlorine.
Lycra swim caps are a softer, more stretchy option compared to silicone or latex caps. Because of this, they can be more comfortable for some people to wear. However, they will not keep your hair dry.
 If you're wanting to keep your hair dry, we recommend a silicone or latex cap. Just know that even these caps won't keep your hair 100% dry, but it will help some.
Related articles: Your Swim Cap Guide and 6 Reasons Why You Should Wear a Swim Cap
Goggles
It never hurts to have a set of goggles on hand. Chlorine does burn the eyes after a while and not everyone likes getting water in their eyes. 
If you already have a fear of the water, we would recommend using goggles. It may help you put your face in the water if you don't have to worry about the water in your eyes. 
When considering goggles for your swim lesson, try looking at the kind that only covers your eyes, compared to your eyes and nose. While the latter is great for snorkeling, they're not the best for swim lessons.
Earplugs
As an optional item to wear to your swim lessons, some adults need to wear earplugs. 
Water in the ear can be uncomfortable for some people. And if not careful, can cause swimmer's ear.
Related article: Can I Get Swimmer's Ear from Swim Lessons?
Earplugs specific to swimming can help prevent swimmer's ear and water from getting in the ear. We will put an asterisk here that earplugs come with varied success. Some swimmers swear by them and never have issues. While others find that water still gets past the earplug.
Before ordering expensive, custom-made earplugs consider the following three types of earplugs. You might find one that works best for you!
Moldable: These look a little like wax, but they're actually made of a silicone material. It's applied directly to the outer ear and is molded to form a comfortable and waterproof seal. 
Flanged: Flanged earplugs look like traditional earplugs you'd use outside of swimming. They have flared ridges at the top, which help prevent water from entering the ear. And a small grip to help with inserting and removing.
Ergonomic: Designed very similar to the flanged earplugs, but they have a tighter fit. They sit more snugly in the ear and they are designed specifically for each ear for a better fit.
One final tip. Earplugs work best when you put a swim cap or ear wrap over them. Otherwise, they'll just slide right out 🙂
Items to Bring/Pack
You can bring as much or as little as you want to your swim lesson. There's no set guide or rule as to what you should bring. There are, however, some things that you should bring if you'd like your lessons to run smoothly. 
And a few extras that can help provide some additional comfort.
Things you Should Bring
Some items you should consider bringing with you are:
Clothes to change into
Bag to carry all your belongings
Positive attitude!
Any required paperwork
Optional Items to Bring
While these items are optional, you might find that it's good to have them on hand. And if you don't pack them for your first lesson and realize you need them for your next lesson, make sure you pack them for the next one.
These will vary by person. So don't feel stressed or worried if you see something on this list that you know you won't use. 
Sandals/shoes for around the pool
Snack for after lessons!
What to Expect
Swim lessons can make anyone nervous. For kids and adults alike. And that's okay. It's perfectly okay to feel some sense of anxiety about your lessons. 
If you're feeling anxious about your first adult swim lesson, ask the program or instructor what you can expect. Not just for your first day but the lessons as a whole. This can help give you a better idea of what you can expect and also what you'll hope to achieve.
First Swim Lesson
At your first swim lesson, you can expect your instructor to go over some rules and guidelines. They should tell you what their goals are for you and lay them out in a way that you understand. 
If you have any questions, be sure to ask. 
Most instructors will have you try out a variety of different skills to see where you're at in the water. They might want to see how comfortable you are in the water to what your kick and stroke looks like.
This will give you and your instructor a starting point and something to work towards as your lessons progress. It's also a great way to see yourself improve and note how far you've come!
Overall Expectations 
Ultimately, the goal of swim lessons is to teach you how to swim! 
However, learning to swim doesn't happen overnight. It also doesn't happen over a few short weeks. It takes time and dedication. 
One thing to note is that you'll have good days where you pick up new skills with ease. But you'll also have bad days. Those days where you can't seem to grasp a new concept or you can't push yourself to the next level.
It's important to know that it's okay to have bad days. Everyone gets them, even professional and competitive swimmers. The key though is sticking with it and practicing what you've learned.
Don't let yourself give up because you've had a few lessons where nothing seems to go right. Instead, let your instructor know when you're struggling so you both can work towards a solution. 
Another tip. Celebrate your victories! No matter how small they might seem. If you have a fear of water and you got into the pool for the first time, celebrate it! That's an accomplishment. Learned a new stroke or made it down to the end of the pool? Let the world know! 
Having small goals set as you work towards the overall goal of learning how to swim makes the process more manageable. You have to take your lessons in small bites. Otherwise, you'll find yourself overwhelmed.
So celebrate the little milestones and victories. Because you're that much closer to your ultimate goal!
-Chevron
---
Bonus Content:
Make Learning to Swim Your New Years Resolution: Want a New Year's resolution that you can keep? Here are 5 reasons you should make learning to swim your New Year's resolution this year.
Best Swim Suits for Swim Lessons: When you start swim lessons, one of your hardest choices is picking the best swimsuit to wear. Here are some things to consider to find the right one.
---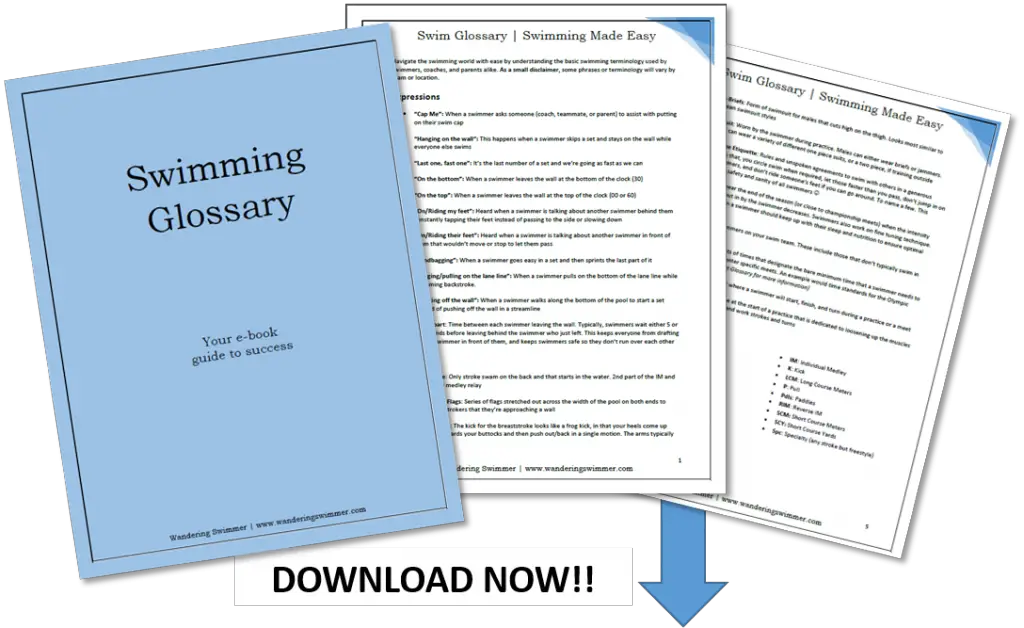 Want to Improve at the Pool?
Join swimmers and swim parents to receive my free newsletter and receive a free Swimming Glossary e-book as a thanks!
Every month you'll receive tips and coaching to help you find success at the pool.