When it comes time to start swim lessons, one of your hardest choices is picking the best swimsuit to wear. Whether that's for yourself or your child!
Between all the various styles, brands, and materials, which suit is right for you? And how do you know which one is the best one for swim lessons?
If you're shopping around for a swimsuit, here are some things to consider.
Disclosure: This post may contain affiliate links, meaning I earn a small commission at no cost to you if you purchase something through one of my links. As an Amazon Associate, I earn from qualifying purchases. Please check out my disclosure page for more information.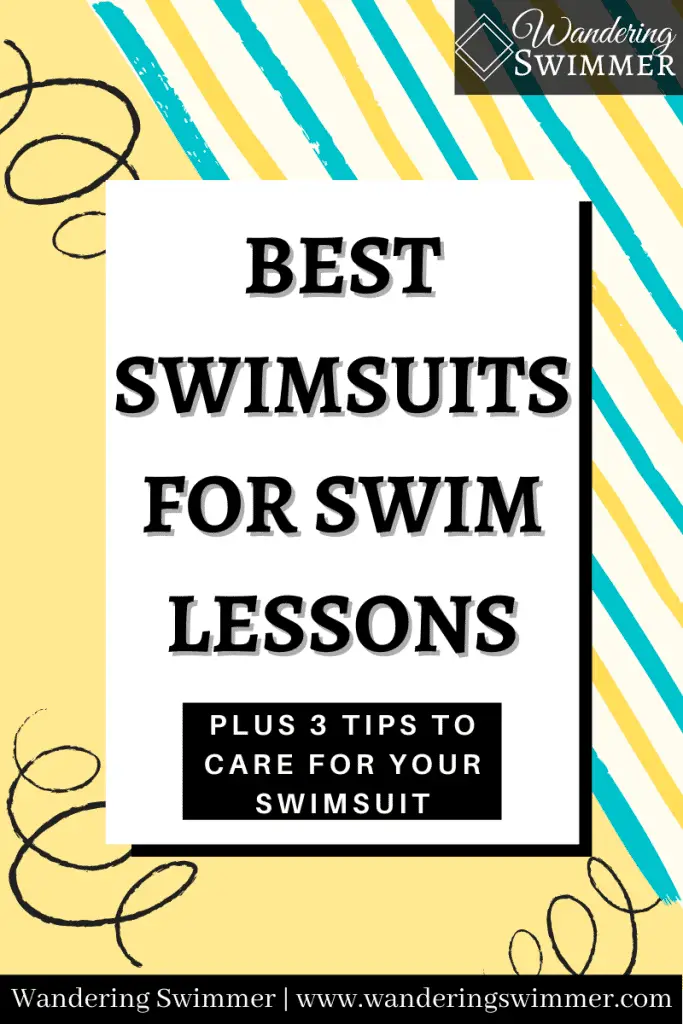 Best Swimsuits for Swim Lessons
How to Choose a Swimsuit
Before we start, there are a few things to consider when you're looking for a swimsuit. Looking for these qualities in a suit will help you pick the best swimsuit for your child or yourself.
Fit
Most importantly, you want your swimsuit to fit! 
A swimsuit that's too loose has a chance to slide off and it gathers tons of water when you swim. Baggy suits also take time away from swimming as you have to always pull it back into place.
On the other hand, a suit that's too tight is uncomfortable. It'll dig into the shoulders and around the legs. 
Finding the perfect fit can be a challenge. But a good rule of thumb is to try on the suit if you can first. Check the fit and see if you can wiggle a few fingers underneath the strap. If you can't, it's probably too tight. 
Wearing trunks or swim bottoms? Fasten the suit around your child's waist and give it a few tugs. If it slides down easily, you might want a smaller suit. Bottoms can and do move around in the water, so there will be some movement, but not so much that they'll pull right off 🙂
When buying suits for kids, it's important to remember that children grow fast. While it's tempting to buy larger suits for them to grow into, know that the suit might not last that long. And it'll only cause more issues when they're in the water.
Material
Swimsuits come in several different materials. And not all material is made equally. 
Swim brands, such as Speedo, Arena, and FINIS make suits with a specific fabric designed to be more chlorine resistant. If you plan to expose the suit to chlorine on a daily basis, this might be a good option.
These suits tend to cost a bit more, but because they last longer, it's usually a good investment. Just know that suits with this material can run a bit tighter, so check the sizing. 
Style
When picking a swimsuit, pick a style that you're comfortable with. Both for your child and yourself!
Know that there's no 'correct' style suit for swim lessons. If you're more comfortable with a rash guard or swim shirt than a suit, that's okay!
And at the same time, it's okay if you're comfortable in a one-piece suit, too. 
Look at different suit styles and try on a variety, if you can. Some people are more partial to thin straps compared to wider ones. Just as some like swim trunks over jammers. 
If you're buying a suit for your child, make sure to get their input.
They need to be happy and comfortable in whatever they're wearing. And if they're not comfortable with the style or cut of the suit they're wearing, they won't like swim lessons.
Swimsuits for Swimming Lessons
Best Swimsuits for Toddlers and Kids
When it comes to swimsuits for toddlers and young kids, you'll want to pick something that fits comfortably and is easy to put on/take off. Anything that's overly complicated might turn into a frustrating ordeal for all. 
You can also consider a one-piece swimsuit with sleeves for more coverage. Just remember that once the suit gets wet, it'll be a bit difficult to wiggle out of the suit. Some brands have little swim shorts for more modesty, along with tankini sets.
Related articles:
If your child is still using diapers, be sure that you look for a suit that will work well with a swim diaper. This swimsuit from Speedo has a snap bottom to hopefully make diaper changing easier. And be sure to keep an extra swim diaper on hand!
Some good options to consider are
Swimsuits for Teens and Adults
Choosing a swimsuit for teens and kids is pretty much the same. Something comfortable to wear and fits correctly. 
One thing to consider would be any support needed in the suit for developing bodies. Suits that aren't designed for competition level training typically aren't tight enough to offer support for busty individuals. 
Be sure to look at the cuts for your various types of suits. For females, some suits cut up higher on the hips while others might offer more bottom coverage. 
Related articles:
The cut of the back of the suit can play a big factor in comfort, too. Some swimsuits have a more open back and others have a smaller cutout. This is a personal taste and I know from my own experience that I prefer the more open back style for swimming.
The cut of the suit won't impact your lessons, as it's only for your own comfort. Just ensure that your swimsuit fits and you'll be good! 
Some good options to consider are:
BONUS: Swimsuit Care Tips
To keep your swimsuit lasting long and fitting right, be sure to take care of it! It only takes a few minutes to run through a swimsuit care routine. But you'll be happy that you did!
Rinse out your Swimsuits
Make sure you rinse out your swimsuit with nonchlorinated water after every use. Preferably in cold water. 
But don't throw your suits in the washer! The detergents can help break down the suit material quicker. And there's a chance that any detergent can end up back in the pool.
Related article: How to Make Your Swimsuit Last Longer
If you want to use some type of cleaning solution, use one that's designed for suit use. Summer Solutions and Solmar Suit Saver are two options to consider.
To use: Fill up the sink with some clean water and add the cleaning solution. Let your suit soak in the water before rinsing well. It's that easy!
Want to skip the suit cleaner? No worries! Just rinse your suit off in the shower or in the sink, instead. 
Run the suit underneath the water so it's thoroughly rinsed. Be sure to get the straps, too.
As a personal preference, I don't recommend showering in your swimsuit either if you want to increase its longevity. The hot water isn't the best for it. And it might not rinse well if it's still on your body. 
Drying Swimsuits
Just like swimsuits don't belong in the washer, they don't belong in the dryer either 🙂
I know, it's tempting to dry them out quickly and get them ready for next time. But it does more harm than good for the material. It can turn the elastic brittle and you'll need a new swimsuit that much quicker.
Instead, gently squeeze out any excess water after you've rinsed out the suit. Don't wring it out, but squeeze instead. Or, you can wrap it in a towel/microfiber towel to soak out some of the excess water.
Once done, spread out your swimsuit out flat to air dry. I like to set my suits on a towel or on a drying rack to help them dry out. Drying racks are also great for hanging up your towels to dry on a sunny day!
For locations that have swimsuit dryers, it's completely up to you if you want to use them. Just remember that these dryers only spin out the excess water. It doesn't dry them completely.
Storing your Swimsuits
Don't leave wet suits in a swim bag for a long time. Even at swim meets, you should try to let them air dry out. Balling up a wet suit in your bag and letting it sit is the best way to grow mold. And make your suit stink!
Always store dry suits away from direct sunlight. Such as in a closet or a drawer. This will help extend their use just a bit longer 🙂 And it keeps them out of the way so they don't run the risk of getting snagged.
As always, to happy swimming!
-Chevron
---
Bonus Content:
A Quick Guide to Swim Lessons: Learning to swim is an important skill to have. But trying to find out where to start and what questions to ask can be confusing. We've compiled a brief summary to help you get started.
When Should My Child Start Swim Lessons?: Swim lessons are a necessity for anyone. But what is the 'right age' for your child to start swim lessons? And what should parents know about them?
---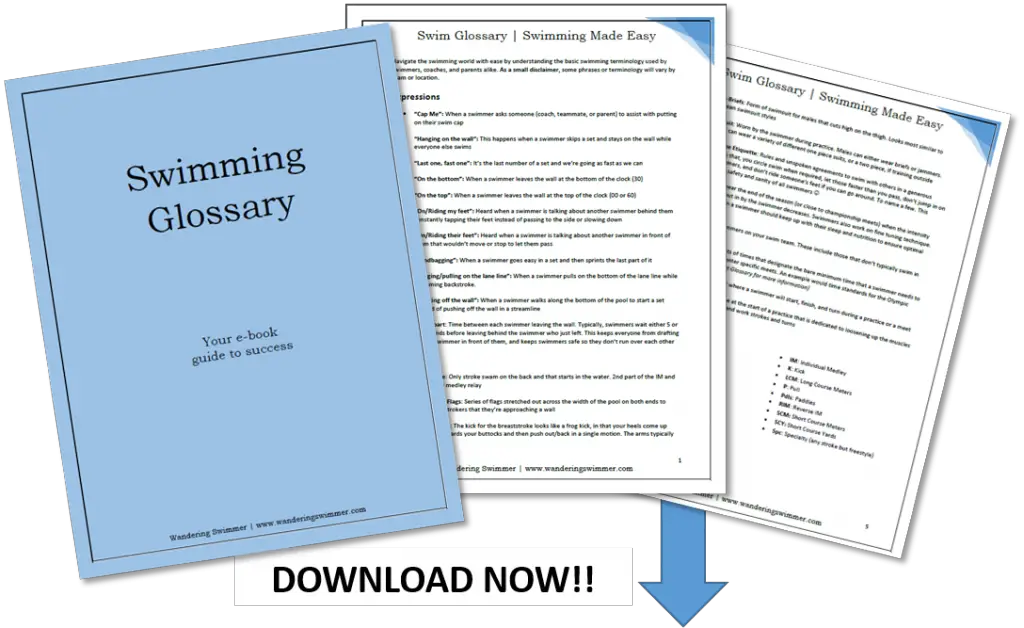 Want to Improve at the Pool?
Join swimmers and swim parents to receive my free newsletter and receive a free Swimming Glossary e-book as a thanks!
Every month you'll receive tips and coaching to help you find success at the pool.
---
About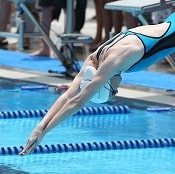 Chevron is a current competitive swimmer with almost 20 years of experience in the pool. And although she fell into the sport by accident in her high school years, she still trains daily and competes throughout the year. She's committed to providing guidance to all levels of swimmers and believes that everyone should know how to swim.