It's time for your child's first swim lesson. You've already packed a bag to take with you and you already know what they'll wear. But what are the best things you should take to your child's first swim lesson?
More Content for You: How to Pick the Right Swim Goggles
More importantly, what should you bring for yourself while your child is taking their swim lesson?
Disclosure: This post may contain affiliate links, meaning I earn a small commission at no cost to you if you purchase something through one of my links. As an Amazon Associate, I earn from qualifying purchases. Please check out my disclosure page for more information.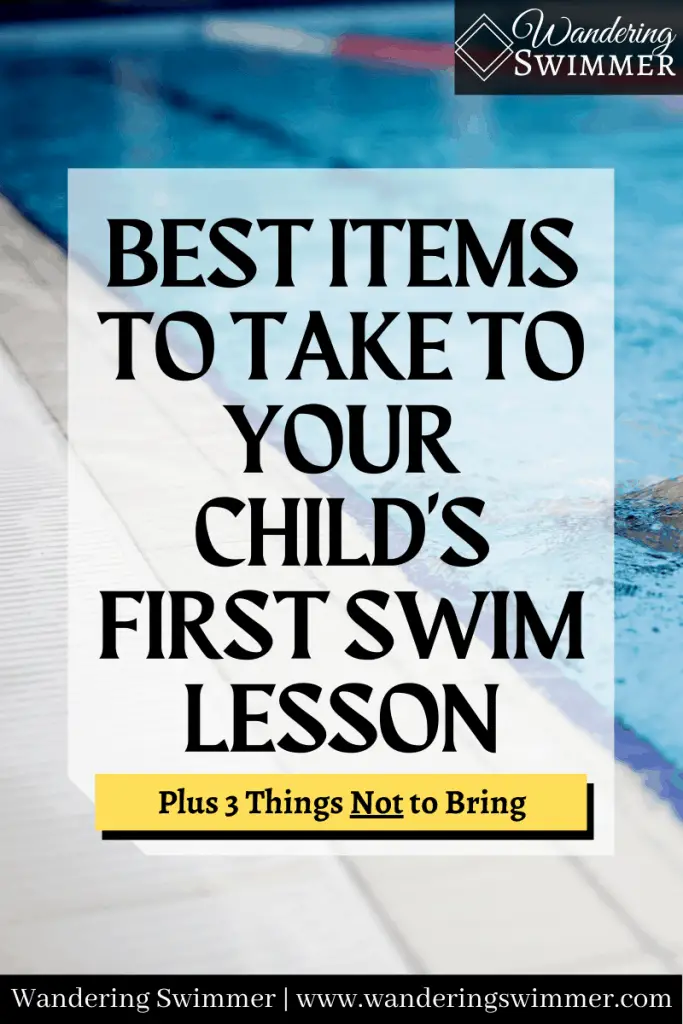 What to Take for Your Child's First Swim Lesson
Chair (or Comfortable Cushion)
Depending on where your child is taking swim lessons, you might want to bring something to sit on. Whether that's a chair or a soft cushion. Some swim schools provide chairs in the observation room, but they might not be all that comfortable.
If this is the case, you might want to consider something softer to sit on. Lessons may only last for 30 minutes or so, but they might feel longer when sitting on a hard chair.
For private lessons, there might not be a place to sit depending on where the lessons are held. If they're at a local pool, seating might be limited. Or, if they're at an instructor's backyard, they may not have seating available.
Call ahead or be sure to look around the pool area before your child's first lesson. See if you'll need to bring your own chair or something to sit on.
Swim bag
Make sure you bring your child's swim bag! Packing it the night before or the morning of doesn't do you any good if you forget it 🙂
Try keeping it near the door or with the other belongings that you'll take. Such as keys, purse, or wallet. This might help reduce the chance of forgetting the bag in your rush to leave the house.
Another option is to keep it in the car if you can. 
Just make sure that your swim bag is packed before heading out! Check that you have everything you need, such as:
Change of clothes
Snack(s)
Related articles:
Even if you do forget something at home, most swim schools have a store where you can purchase items.
Snack
Think about bringing a snack with you. One for you and one for your child! 
Swimming is a workout, no matter how old you are! And a 30 minute or so lesson will work up an appetite for your child. Be sure to take a snack with you for your child's first swim lesson. 
They might not be hungry when they're done, but if they are, at least you'll be prepared! 
And it's a good idea to bring something for yourself, too.
Lessons can be early or late in the day. They can also be close to lunchtime. Having something small for yourself is always a good idea in case you happened to miss eating before you left.
Cell Phone (+ Phone Charger)
First swim lessons are exciting and you'll want to make sure you get enough pictures and videos to remember the day. Or any day after!
That said, don't forget to take your cell phone with you. And check that it has enough memory/storage space to take all those videos. I'd also recommend that you take your phone charger just in case your phone doesn't last the whole lesson.
More Content for You: 4 Ways to Prevent Swimmer's Ear
One thing I will caution is to check with the swim school to see if they have any policy against filming lessons. Some schools will request that you don't record or take pictures during lessons for two reasons:
Protection for other children 
Proprietary lessons specific to the school
If it's not an issue, then feel free to take some videos and pictures!
Another good reason to bring your phone to swim lessons is to provide some entertainment during the class. You might not be able to take pictures of everything and during the downtimes, you can keep busy on your phone.
Catch up on some emails, shows, or even some reading. 
And if you don't want to use your phone, you can always bring something else 🙂
Paperwork
Check to see if you have any paperwork that needs to be submitted to the swim school on your first day of swim lessons.
Related article: How to Choose the Best Swim School
This could be any payments for lessons, waiver or liability forms, or terms of condition. 
Try to ask the school before the start of the lesson to see if there's anything you might owe. Before you review and understand all documents and payments before signing anything. And always ask for clarification if you don't understand something. 
Positive Attitude & Encouragement 
First swim lessons are hard. And they can be stressful for both you and your child. Your child might face some fear of the water on their first day and that's okay!
Related article: When Should My Child Start Swim Lessons?
To help prepare for swim lessons, try to expose your child to various water settings. Whether that's a pool or even a bath. See if you can't encourage them to put their face in the water and blow bubbles.
It's much easier to get over the fear of water at home in a familiar setting than in a new place.
It also helps if you remember to stay positive and encouraging. Talk up how excited you are for lessons and how much fun they'll be. And let your child know on their first day that it's okay to be scared. Remind them that you won't be too far away.
Some schools will allow parents to walk their child(ren) out to their first swim lesson and help them get into the water. Stay encouraging during this process as it might be their first time in the water when you're not there.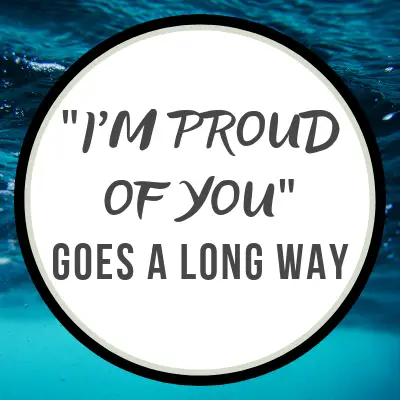 After lessons, show some excitement and be sure to give lots of praise for all that they've done. It's tempting to take on the attitude of 'just toss them in the water', but you have to remember that every child learns at their own pace.
Instead, showing support and giving encouragement can go a lot further than trying to push.
Swim Lesson Journal
When it comes time for swim lessons, pictures and videos are great ways to capture memories. But using a journal for swim lessons is another great way to remember your child's progression through each lesson.
Swim lesson journals can help record memories. From various milestones to the journey through each swim lesson, each memory is precious.
Using a journal for swim lessons benefits both you and your child, as a journal can be a way to keep yourself organized with checklists. Swim lessons can be chaotic and having a checklist or daily reminder for lessons can help make them run smoother.
Related article: 6 Reasons To Use A Journal For Swim Lessons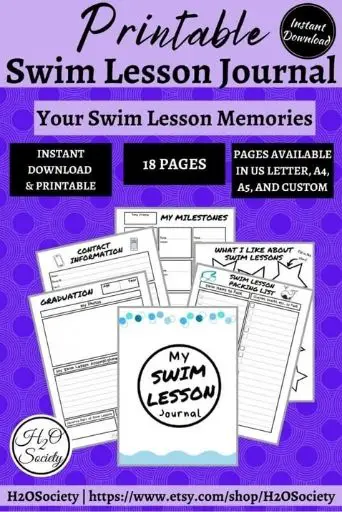 These journals are also a way to show your child firsthand how much progress they've made is with a journal for swim lessons. For some children, having physical and documented proof of their accomplishments can be an encouragement.
We recommend H2O Society's swim lesson journal. It's a thorough journal that helps you document the start of swim lessons all the way through the very last lesson.
You can find a full list of pages provided and more information on the listing. And you can also browse more swimming related items at their store 🙂
BONUS: What Not to Bring for First Swim Lessons
You might be surprised, but you don't need every swim equipment available at the store. It's tempting though! All the new things that your child can use 😀
However, some swim equipment is better for fun and play than actual lessons.
Water Wings/Floaties
When you're at a pool, lake, or ocean, please make sure your child has appropriate water safety gear. These are incredibly important and life-saving devices that you should have for them. Even after they can swim!
But there's no need to bring water wings or other floaties with you to your child's first swim lesson. 
These devices will only get in the way and won't aid in your child learning to swim. Instead, trust that your instructor will keep them safe. 
Water Shoes
Water shoes are great for the beach and the lake. But they're not the best when your child is at swim lessons.
One reason is that it's an added weight to your child's feet that won't help them learn to swim. It'll make it much more difficult for them to kick and float. 
They can also be dangerous to other swimmers and the instructor. 
It's more common than you think for a child to accidentally kick an instructor when they're learning to swim. And if they're wearing shoes, it will hurt that much more. Especially if they accidentally kick another swimmer.
Your child can wear sandals or water shoes at the pool. But once it's time to get in the water, they'll need to take them off. 
Negative Attitude
Have a bad/negative attitude about lessons? Your child will pick up on it easier than you think. 
Don't start their first swim lesson by setting expectations for them. Let them have fun on their first day and see how they did. Some kids will need a little more time to warm up to the water. While others will take to it with ease.
Related article: How to Prepare Your Child for Their First Swim Lesson
If you have two kids in lessons, don't compare them to each other. Especially if they're not at the same level. Instead, see if one child wants help from the other. If they don't, then don't force it.
In swim lessons, everyone has to learn at their own speed. Stay patient, encouraging, and understanding.
As always, to happy swimming!
Chevron
---
Bonus Content:
10 Qualities to Look for in a Swim Instructor: It can be overwhelming to pick the best swim teacher. Here are the 10 best qualities and traits to help you find your next swim instructor.
What Should Your Child Wear for Swim Lessons?: Do you know what your child should wear for swim lessons? Be ready on your first day with these options to wear for swim classes.
---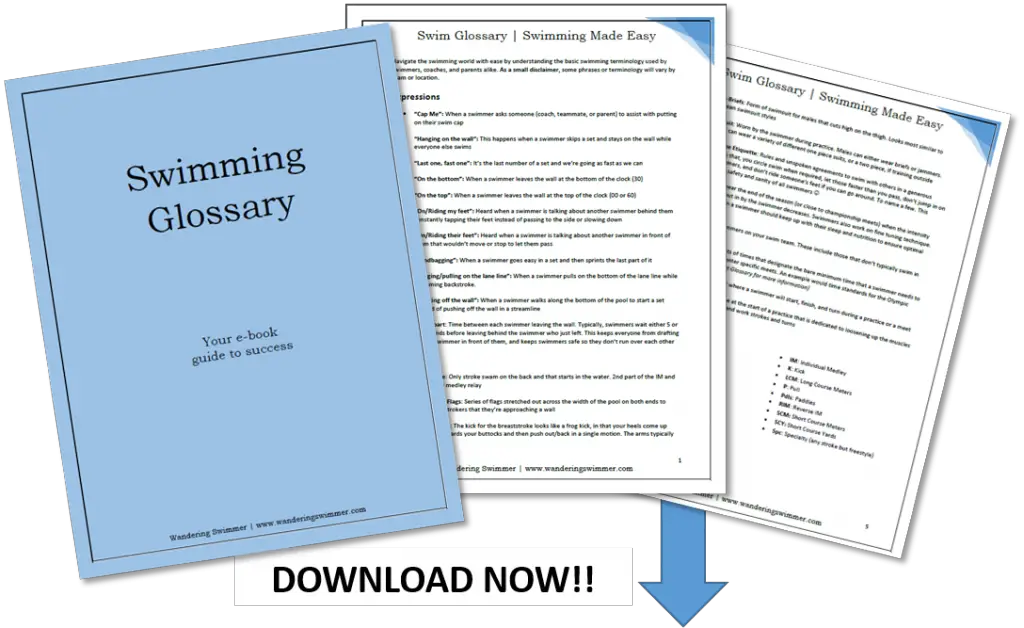 Want to Improve at the Pool?
Join swimmers and swim parents to receive my free newsletter and receive a free Swimming Glossary e-book as a thanks!
Every month you'll receive tips and coaching to help you find success at the pool.