What To Look For in a Swim School
No two swim schools are the same. Even with a company that has different locations, you'll find some levels of difference at each location
More Content for You: Best Swimsuits for Swim Lessons
What to look for varies by what you're wanting and needing for your child, too. Keep that in mind when you begin to do your research on the best swim schools. That said, it might seem daunting to find the best swim school or program. 
When picking the best swim school for your child, you should keep the following things in mind.
Disclosure: This post may contain affiliate links, meaning I earn a small commission at no cost to you if you purchase something through one of my links. As an Amazon Associate, I earn from qualifying purchases. Please check out my disclosure page for more information.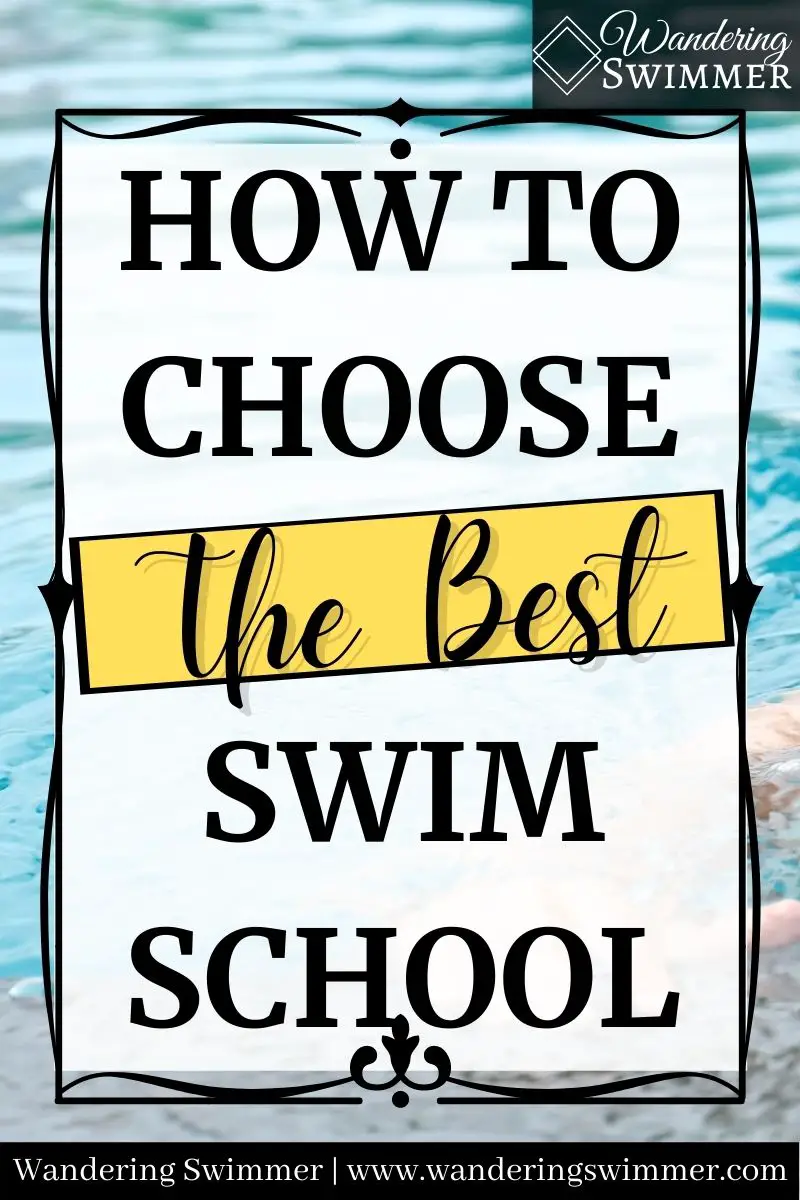 What Makes a Good Swim School
1. Safety
First and foremost, you want a safe swim school.
This includes not just water safety, but around the pool as well. Make sure the pool deck isn't overly slippery or that it has loose tiles.
How do the children get to the pool and their lessons? Where I taught lessons, the school had one person dedicated to lining up the kids before the start of each lesson and walking them out to their instructors.
While it seems simple, most parents know that having a bunch of kids in one area is like herding cats! 🙂 Even simple processes such as this help ensure your child's safety.
Lastly, check that everyone is CPR and/or lifeguard certified. At a minimum, every staff that's in the water or on deck should have CPR training and certification. From there, a few should be lifeguard certified, too.
COVID and Swim Lessons
Check with the swim school to determine what measures they're taking for COVID. Ask how frequently they're wiping down high-touch areas and what the guidelines are for watching lessons.
While this can vary by swim school, most schools are having their instructors in the water wear face shields in lieu of masks. Staff not in the water should be wearing masks.
Additionally, class sizes should be small. No more than 4 kids, if they weren't doing so already.
Again, safety measures for COVID will vary by each swim school. At a minimum though, they should be following the CDC guidelines of face masks/shields, socially distancing, and disinfecting surfaces.
2. Qualified Instructors
The school typically has its own brand of learning that every instructor must go through. They usually have to complete training before getting their first class. If you ever see two instructors to one class, chances are, one of them is training.
If you want to know about the school's training program, ask! Most program directors can let you know the training that each instructor takes.
Related article: 10 Qualities to Look for in a Swim Instructor
One thing I tell parents to look for in instructors is that they're watching every child. They never turn their backs to any of the kids in the class. And they actively engage all kids, without paying too much attention to one or not enough to another.
3. Small Groups (Student to Instructor ratio)
I'm a fan of group lessons no larger than 3 or 4 kids to 1 instructor. 
This can vary by age, as the younger a child is, it's better to have the 3-4 in a group so they don't tire out so easily. In more advanced classes though, I found that smaller groups worked better because they could do more.
It's not a set in stone ratio and can vary, but the best swim schools have a small student to instructor ratio per class.
4. Teaches Water Safety to Kids
Learning to swim is important.
But a good swim program not only teaches kids how to swim. They also teach the importance of water safety to them.
Swim lessons don't make children drown-proof. The CDC reported that the United States averages 3,536 deaths annually due to drowning. Some of which could've been prevented with proper water safety.
Related article: When Should my Child Start Swim Lessons?
This includes learning to ask before entering the pool and how to jump into the water correctly. Spoiler alert, it's out instead of straight down 🙂 The program should also teach how to find an exit and crawl along the edge to said exit. 
In younger children, they should know how to roll over and float on their back when they're tired.
5. Peer/online Reviews
The best advice you will find comes from online and peer reviews. Ask other parents what they like and don't like about the swim school. Find out which program they recommend and why they think it's the best one.
Take these and online reviews with a grain of salt. 
Not everyone leaves a swim program happy. Whether they had a justified reason or not. That location might not offer what one family wanted but offers you what your family needs.
6. Allows You to Watch Classes
Most swim schools have an observation area for parents to watch their kids swim. 
When you look at the various schools, ask if you can watch a class or two. This will give you an idea of how the school structures their classes and what to expect. 
More Content for You: What Your Child Should Wear for Swim Lessons
If a program doesn't allow you to watch a class, ask for a reason why. They might give a good explanation, but if they can't give one, it's a red flag in my opinion.
7. Good Facilities
This covers several features, but it's best to group them all under one 🙂
First, a good facility is clean. This means the pool, the pool deck, and the surrounding areas, the changing rooms and bathrooms, and the front is clean. And not just are they clean, they're cleaned frequently throughout the day.
Next, how large is the facility? Does the pool deck have enough space for everyone to move around safely? What about the pool itself? Are lessons on top of each other or do swimmers have space to move?
Most important to your child is the temperature. If it's too cold, no one is happy. This goes for both air and pool temperature. 
8. Lesson Length
Keeping a child focused isn't always easy! 
In terms of swim lessons, most swim schools keep them around 30 minutes. With time to ease into the lesson, have fun, and then show off to the parents. 
Most swim schools run over the span of 8 weeks (give or take), with a lesson each day. This can vary by program, as I've seen other swim schools have lessons daily for 2-3 weeks.
We all learn best through repetition. Having these numerous lessons ensures greater success for your child.
Check to see what type of lesson schedule the school offers, along with the length of each lessons. Be sure to consider when some of the lessons fall, as they could overlap holiday weekends.
9. Structured Swimming Plan for each Level
Does the swim school offer progression for their students? 
In that, does everyone learn the same thing and that's it? Or, can your child progress up a set ladder as they grow their skill?
Your best schools have swim programs set in place to help each student grow. One class might start with basics, such as kicking and rolling over. After a child masters that skill, they can go to a new class.
I like the swim programs that offer fun names with each class. Such as minnows, guppies, goldfish, and sharks as students progress.
It helps children strive for the next level and great schools provide that feedback after each season.
10. Fun!
Swim lessons are fun! You want a program that has laughter and a fun environment. If it's too strict, your child probably won't flourish.
More Content for You: Why You Should Use a Journal for Swim Lessons
Yes, you want your child to learn and be focused. But they should have fun at the same time! A good instructor will make your child laugh and engage them. Just as a good program builds in time for fun.
In Closing
When deciding on the best swim school for your child, remember that one size doesn't fit all. And that what works best for you might not work for someone else.
Don't be afraid to ask questions and trust your instincts! If something doesn't seem right, then move onto another school. You're the one paying the school. 
Not sure what questions to ask? Don't forget to download my free PDF worksheet that lists questions to ask and items to consider as you do your research.
If you have any questions that weren't discussed here, feel free to contact me and I'll do my best to assist you!
As always, to happy swimming!
-Chevron
---
Bonus Content:
What do You Need to Pack for Swim Lessons?: Swim lessons can be stressful. Both for you and your child. Ease some of the anxiety by making sure you know what to pack for swim lessons
How to Prepare Your Child for Their First Swim Lesson: Swim lessons can be exciting and scary for kids and parents alike. Learn how you can help your child prepare for their first swim lesson.
---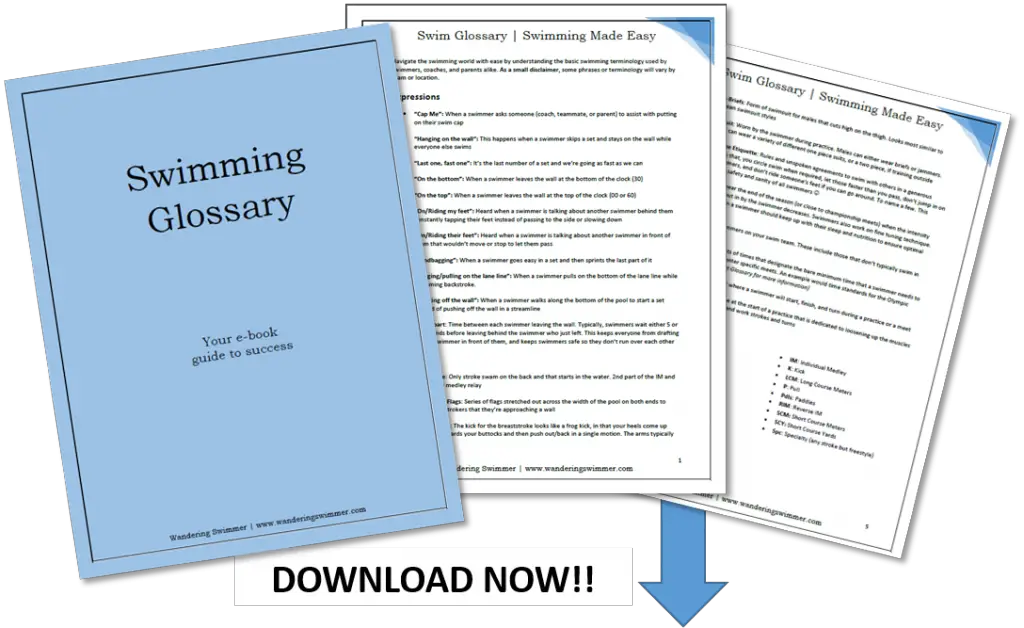 Want to Improve at the Pool?
Join swimmers and swim parents to receive my free newsletter and receive a free Swimming Glossary e-book as a thanks!
Every month you'll receive tips and coaching to help you find success at the pool.