Many parents ask me 'what age should my child start swim lessons?' Or even, 'when should my child start swimming?'
It's a great question that every parent needs to consider with each of their kids. However, it's also a question that doesn't have a straight answer.
Yes, the younger the better. Not just so they can develop into the sport early if they so choose.
But more for their own safety.
The CDC reported that the United States averages 3,536 deaths annually due to drowning. 1 in 5 of those who die from drowning are children 14 and under. 
But what age is the 'right age' for your child to begin swimming lessons? When should they start and what should you as a parent know?
DISCLAIMER: I am not a doctor or a counselor. Every child develops differently and you need to consider your child's abilities before putting them into lessons. This guide is meant only to inform and act as a broad guideline. It's not law and shouldn't be interpreted as such. If you want your child to start swim lessons, please consult your doctor first.
Disclosure: This post may contain affiliate links, meaning I earn a small commission at no cost to you if you purchase something through one of my links. As an Amazon Associate, I earn from qualifying purchases. Please check out my disclosure page for more information.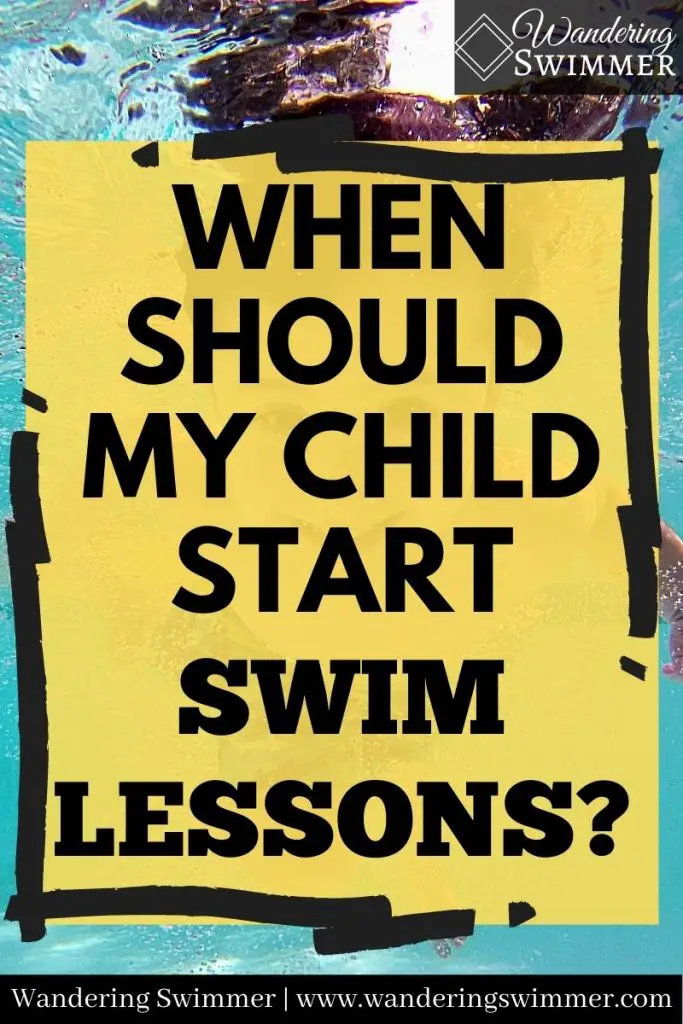 When to Start Swimming Lessons
While age plays a large factor, it's not the only thing to consider when looking to start swim lessons. Your child should also be ready to swim, which does happen at different times for each child.
Consider some of the following to know when your child is ready to swim:
Environment: Is there a pool or other body of water nearby that's easily accessible? If your child is exposed to a pool, lake, or beach frequently, you might want to consider lessons for safety purposes
Fear of Water: Some kids like to play in the water and others don't. Those kids that like the water tend to pick up swim lessons much easier than those that don't. Forcing a scared child to take lessons isn't always the best option.
Coordination: To make the most out of swim lessons, your child needs to have some basic coordination, such as kicking and moving their arms.
For ages 1-4 
Ideally, the sooner the better.
In March 2019, the American Academy of Pediatrics (AAP) updated their recommendations for water safety. They stated in a new article that children over the age of 1 should learn to swim. 
It should be noted though, at this age, most swim programs only offer a parent/child class. These classes help introduce a larger body of water to infants with the comfort of their parents nearby. 
Teaching classes this way helps ease any fear of water or concerns that a child might have. As lessons progress and a child gets older, the parent may watch from the side of the pool to help build confidence and independence.
They're also key to help build water safety habits, such as not entering the pool without permission or having an adult nearby. These classes can also help ease any fear of the water. 
For ages 5 and up
Again, this varies with each child and their abilities. Please consult your child's health care provider before starting swimming lessons.
By this age, most children can start formal swim lessons. These lessons will focus on kicking, breathing, and arm movement.
They'll also continue to learn more safety habits. Such as how to climb out of a pool, jump into the water safely, and 'monkey crawl' along the wall to shallow water. 
Related article: Best Items to Take to Your Child's First Swim Lesson
As they get older, your child will start to learn the basic strokes. Usually starting with lifting their head up to breathe and then graduating to breathing to the side.
If your child hasn't learned basic water safety by age 4, now is the time to start teaching them!
It's important to have honest and frank conversations with them about water safety. Things such as not entering the water by themselves.
Though simple in theory, never think that your child already knows this. Or, that they'll be a 'natural' in the water. Even Olympic swimmers started with lessons!
Your child (or you) can start lessons at any age
What if your child is older? In their teens maybe?
What about you?
The good news is that anyone can still take swim lessons! Whether that's you or your child. There's no age limit to learning how to swim. Even as an adult, you should take lessons if you can't swim. 
More Content for You: Make Learning to Swim Your New Year's Resolution
Swim programs and natatoriums offer private lessons for older children, teens, and adults. It's a great way to get over your fear of the water in a calm setting with someone who can help you.
US Masters Swimming offers specific adult learn to swim classes at designated clubs. If you've ever wanted to learn how to swim, this is your year!
Related articles:
What Parents Should Know About Swim Lessons
As a parent, you should know that swimming lessons don't make your child drown-proof.
Do they help prevent cases of drowning? Of course. But it doesn't 100% guarantee that they're impervious from drowning.
Families should always use caution at the pool or other bodies of water. Everyone should use a buddy system when going into the water, wear life jackets, and look before they jump in.
Water safety is just as important as knowing how to swim.
What to Look for in a Swim School
When it comes time to look for a swim school or program for your child, don't assume that all schools are the same. You need to do some research before selecting the program that works best for your needs.
Related articles:
Read reviews online and talk to other families. If you know parents who put their child(ren) through lessons, ask them who they recommend. They probably have plenty of feedback about the program or person that worked best for them.
Remember that you're paying for these lessons and you expect a certain outcome. You want a swim school that can provide that for you
Some key things to look for at a swim school are:
Qualified instructors
Have additional watch staff on deck
Small groups (4 or less)
Teach safety to kids
Want to know more about what to look for in a swim program? Check out my other post 'How to Choose The Best Swim School' for more detailed information!
Difference between swim lessons and swim team
Yes, there is a difference between them!
I know many parents try to skip lessons and put their child on a swim team instead. This is dangerous, as swim teams aren't designed in the same way lessons are.
In a brief nutshell.
Swim lessons 
Give your child the basics they need for water safety
Your child will be in a smaller group (1-4 kids) 
The instructor's sole focus is their single group
Everyone is on/about the same level
Swim Team
A swim team builds upon the principles your child learned in lessons 
In turn, they hone those skills to make them faster/better swimmers
Lanes are crowded with at least 2-4+ kids to a lane 
Coaches can't solely focus on one swimmer the whole practice
Not every swimmer is at the same level 
Breaking it out this way shows why swimming lessons are the best option instead of a team. Your child will get the best, personal attention they need to gain confidence in the water.
Now, that's not to say that your child can't join a swim team after they've taken swim lessons and can swim safely.
Related articles:
In Closing
Despite guidelines by the AAP and other parents, you'll find that there's no one right answer. There is no 'right age' to learn how to swim or when to start swimming. I wish I could give you that magical answer, but it depends on so many factors. 
Always consult with your child's doctor to confirm that they're ready and safe to begin swim lessons. They're the professionals when it comes to your child's health and safety. 
I'm only here as a guide. My information is by no means a substitute for what your doctor recommends. 🙂
As always to happy (and safe!) swimming!
Chevron
---
Bonus Content:
How to Choose the Best Swim School: What to look for in a swim school varies based on your needs. Here are 10 items to consider when picking the best swim school
What Your Child Should Wear for Swim Lessons: Do you know what your child should wear for swim lessons? Be ready on your first day with these options to wear for swim classes.
---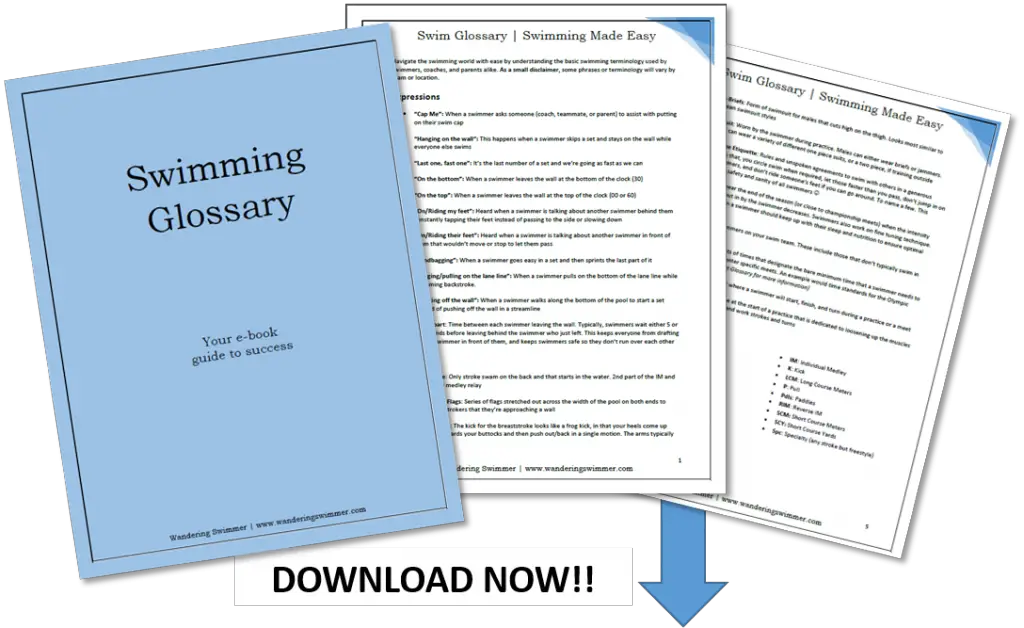 Want to Improve at the Pool?
Join swimmers and swim parents to receive my free newsletter and receive a free Swimming Glossary e-book as a thanks!
Every month you'll receive tips and coaching to help you find success at the pool.