When it comes time to make your New Year's resolutions, most people resolve to eat better or get into shape. This year, we have a different resolution for you to consider. Learning to swim!
And for the sake of clarification, we don't mean learning to swim competitively. Rather, learning how to swim so you can safely be around the water without fear of drowning.
More Content for You: When Should My Child Start Swimming?
Still not convinced? Reduced fear of drowning wasn't enough? Here are 5 reasons you should make learning to swim your New Year's resolution this year.
Disclosure: This post may contain affiliate links, meaning I earn a small commission if you purchase something through one of my links. Please check out my disclosure page for more information.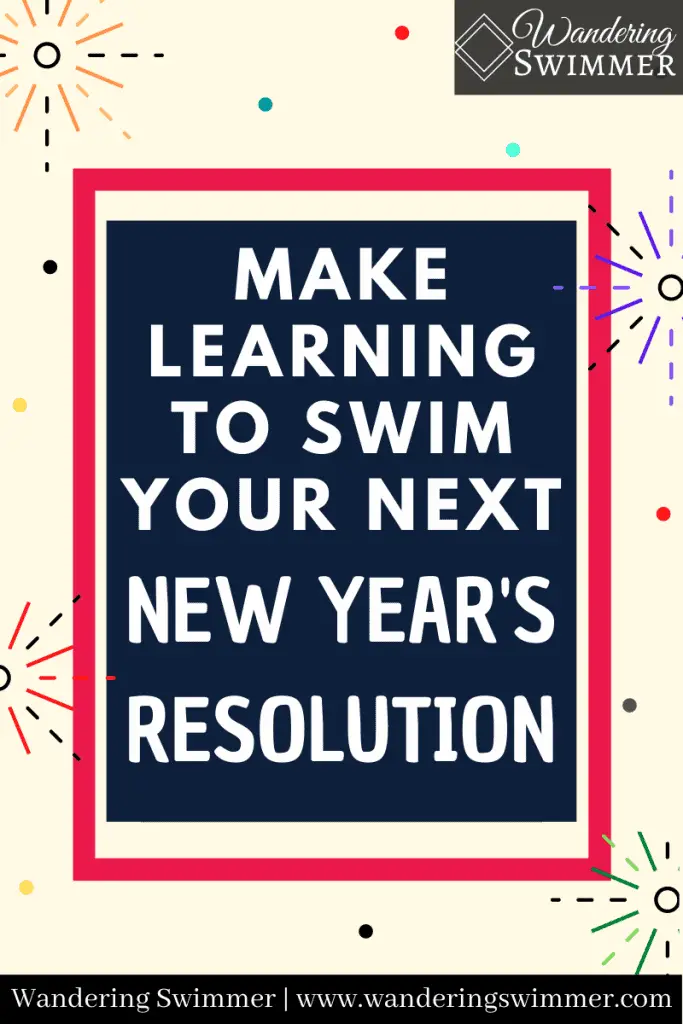 1. Safety
Swimming is a life-saving benefit. And I think this reason alone should make learning to swim one of your New Year's resolutions. 
Whether you want to learn to swim for fun or competition, it's a benefit that can help keep you safe.
Take a moment to look at the numbers for deaths related to drowning (Source):
Top 5 causes of death for people aged 1-14 years old
In the US alone, 80% of drowning victims are male
Children ages 1-4 have the highest drowning rate
The number for minorities is 5.5 times higher than that of Caucasians of the same age
Every year the news reports on deaths related to drowning. And it's hard to hear about the drownings. Especially as it's something that potentially could've been prevented.
Regardless of your age (and we'll get more into that later!), you should learn how to swim. Drowning doesn't discriminate by age. 
Out of all the reasons to learn to swim, this is by far the most important. If you haven't settled on a New Year's resolution yet, strive to make this your new one!
2. Healthy
The health benefits of swimming are nearly endless. Research shows us time and time again that swimming is good for the body.
And it's just one reason why learning to swim is a good New Year's resolution.
As we grow older, we should take the time to keep our bodies active. One of the benefits of swimming is that it's a low-impact workout, making it great for older individuals. It's also beneficial for people going through physical therapy.
More Content for You: How to Pick the Right Swim Goggles
If you've been wanting to exercise but don't like the idea of running or walking, try swimming instead! 
Swimming builds up your cardio and lung endurance. All the while providing a full-body workout that helps tone the muscles. Holding your breath while swimming makes the workout even more challenging and better for you.
3. Ageless
I know what you're thinking. The life-saving benefit and health reasons are all a great reason to start learning how to swim. But at my age, I can't learn to swim.
And I'm happy to say that you'd be wrong! 
Swimming is ageless, in that anyone can learn to swim at any age.
Some would argue that it's easier to learn to swim at an older age! In part because:
You're old enough to understand the instructor better
You can express yourself and your concerns better than a child can
You tend to pick up the concept a bit easier 
For adults, consider working with a Masters' team for lessons.
Masters Swimming is specific for adults and within the US, certain individuals are certified to teach adults to swim. It's never too late to learn how to swim and if you know someone who wants to learn, I highly encourage you to help them along!
Related articles:
For those 18 and younger, you can still pick up swim lessons! Check with local pools and learn-to-swim programs to see what options they offer. Most offer a variety of classes based on age and swim ability. 
4. Easy (To Get Started)
If your New Year's resolution is learning to swim, it's easy to get started. Meaning you have no excuse to avoid marking this off as completed this year 🙂
Getting started is as simple as searching online or around your area for learn-to-swim programs. I will mention that some swim schools have set calendars for when each session starts and ends. 
Lessons themselves can vary based on once per week for several months. Or daily over 2-3 weeks. Again, this varies by swim school and program. But be sure to look at the different schedules to pick the one that works best for you.
Related articles:
Picking a school and a schedule is probably the most difficult part. But only because there are so many choices! From there, it's all up to the instructor to help you learn how to swim. 
Remember to be honest with them about your goals and your current swim level. This will best help you get what you're looking for. 
We will caution that learning to swim isn't an easy walk in the park. It does take some work on your end.
Even with the instructor there to help, you won't automatically learn how to swim. Be patient with yourself and remember that it can take a while.
5. Fun
Swimming is fun! Most of us enjoy spending time in the water. Whether it's at the pool, a water park, or the ocean/lake, it's fun to spend time with friends and family near the water.
And once you know how to swim and you feel more comfortable in and around the water, the experience is ten times better 🙂
Related article: How to Prepare Your Child for Their First Swim Lessons
Learning to swim can also be fun in its own right. As an adult or a child, something is exhilarating about overcoming fear and learning something new. 
In Closing
Making your New Year's resolutions can sometimes be challenging. You don't know where to start or if you'll be able to keep them. The good news with this resolution is that you have a support structure around you. 
Whether it's the instructor at your swim school or any classmates that you're with, they're all there to learn alongside you. And encourage you along the way.
So if you've always wanted to learn how to swim, make it your resolution to do so this year. You won't regret it!
As always, to happy swimming!
Chevron
---
Bonus Content:
A Quick Guide to Swim Lessons: Learning to swim is an important skill to have. But trying to find out where to start and what questions to ask can be confusing. To help take some of the confusion out of the process, we've compiled a brief summary to help you get started. 
Your Ultimate Guide to Swim Lessons for Adults: Taking swim lessons may seem like it's for kids but it can be for adults, too. Learning how to swim, even as an adult, is incredibly important.
---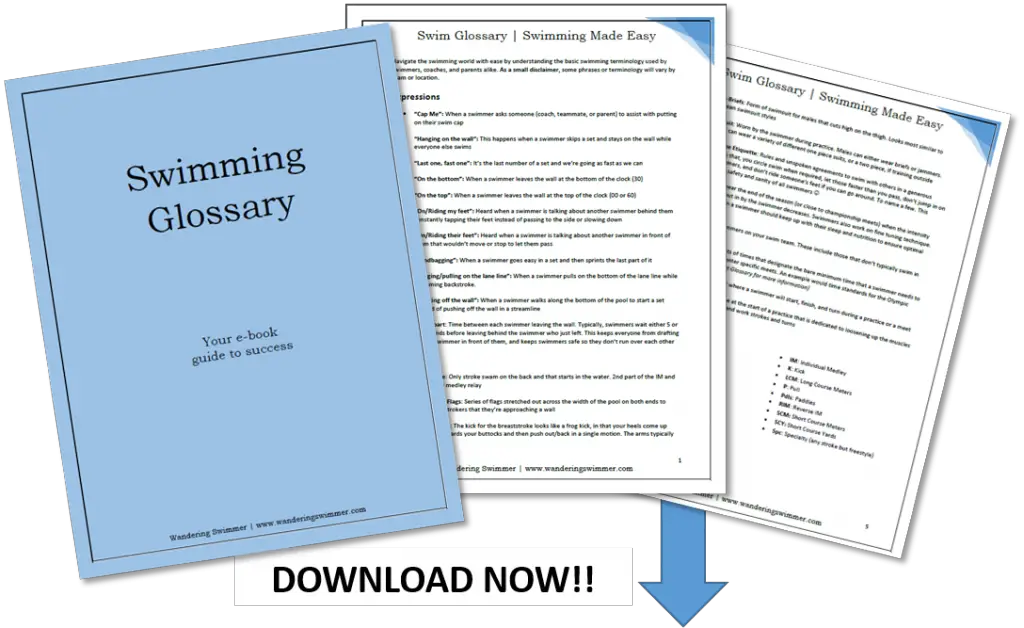 Want to Improve at the Pool?
Join swimmers and swim parents to receive my free newsletter and receive a free Swimming Glossary e-book as a thanks!
Every month you'll receive tips and coaching to help you find success at the pool.