As you prepare for your first swim lesson, take a moment to consider what your child should wear. 
This can vary by child and by swim school, but it doesn't hurt to have a few items on hand, just in case. The good news is that it's not difficult to pack for swim lessons. At a minimum, you know that you'll need a swimsuit!
More Content for You: 6 Reasons to Use a Swim Lesson Journal
But what is the right kind of suit and can your child wear something else instead? And what other options should your child wear for swim lessons?
Disclosure: This post may contain affiliate links, meaning I earn a small commission at no cost to you if you purchase something through one of my links. As an Amazon Associate, I earn from qualifying purchases. Please check out my disclosure page for more information.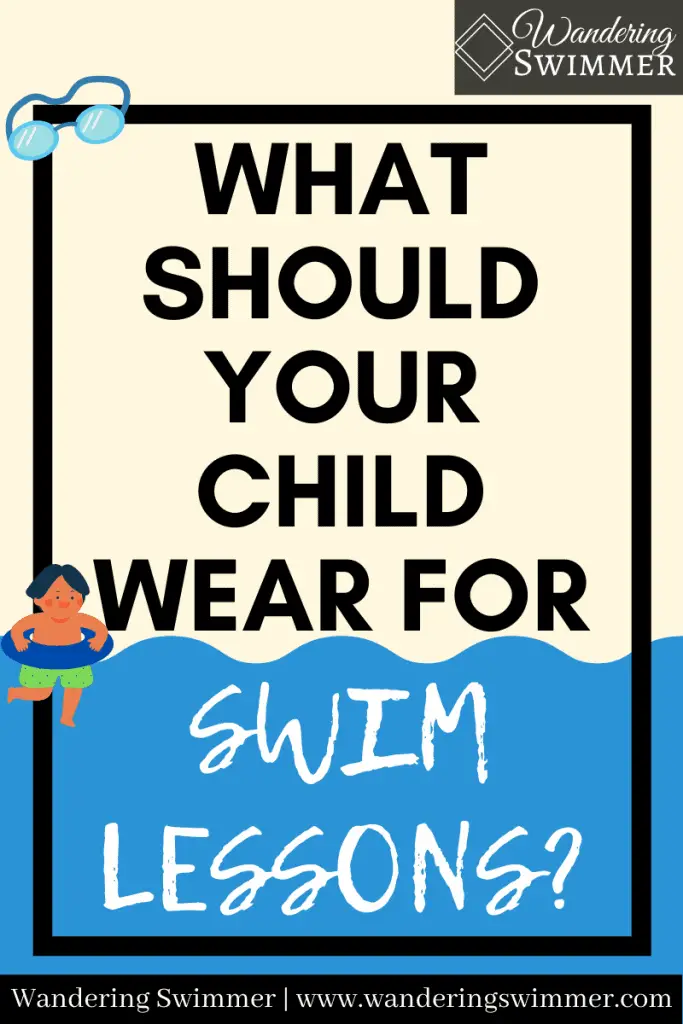 Swimsuit
The most important thing your child should wear for their swim lessons is a swimsuit!
And it should be a swimsuit that fits them well. You don't want a swimsuit that has the chance of slipping off during lessons. Make sure their suit is fitted against their body.
Check that the straps aren't sliding off their shoulders. And that the bottoms aren't so loose that they'll come off with a simple tug. If your child's suit does any of these, look at the next size down.
Related article: Best Swimsuits for Swim Lessons
Their swimsuit should be something they're comfortable wearing for at least 30 minutes in the water. And perhaps a bit longer if they'll wear it to and from lessons. 
Girls can wear a one-piece, a tankini, or a two-piece swimsuit for swim lessons.
Boys can wear swim trunks or even swim briefs or jammers if they like. Try not to let the swim trunks run too long so that it interferes with their kick. Their trunks should stop just above their knees.
If your child feels more comfortable in the water with a shirt, consider the option of a swim shirt or a rash guard.
These are better to wear compared to t-shirts for both safety and sanitary purposes. It's also much easier for your child to move about in the water without a baggy shirt on. 
Keep reading for more information on rashguards!
Time-saving tip:
If possible, try to arrive at their lessons with their suit already on. 
Swim schools typically have bathrooms that your child can use to change into and out of their suit. However, if you're running late to lessons, you don't want to spend the few minutes it takes to get them changed.
Rash Guards and Swim Shirts
As mentioned above, not every child feels comfortable wearing just a swimsuit. Or you might not feel comfortable with your child wearing just a swimsuit. 
Related article: Answering Your Questions About Rash Guards
And I'll say this: that's 100% okay! If a school or instructor tells you otherwise, find another place to take swim lessons.
You and your child's comfort is important and should be taken into consideration.
And one option to consider is rash guards or swim shirts. 
Rash guards and swim shirts can be worn by males or females, and come in different styles, fabrics, and thickness based on their use. While they're typically used in the ocean for surfing and other ocean sports, you can wear them in the pool.
To include swimming laps or for swim lessons!
They differ from wearing a t-shirt in the water for 3 reasons:
They fit tight to the body to reduce drag and increase range of motion
The fabric is designed for the water so it won't build up bacteria 
They offer the additional benefit of providing sun protection (for outdoor swim lessons)
Rash guards are worn just like a regular t-shirt and come in long and short sleeves. A short sleeve design does offer more freedom of movement, which is important in swim lessons. 
As an additional option, your child can wear a swimsuit underneath the rash guard.
Just remember to rinse out the rash guard after every lesson to help extend the life of it. Just like you would for a swimsuit 🙂 
Goggles
While they're not exactly a needed item for swim lessons, I highly recommend packing goggles for your child's lessons.
Chlorine does irritate the eyes and your child will put their face in the water at swim lessons. As they advance through different classes, they'll spend more time swimming with their face in the water.
It's good to get them comfortable with wearing goggles at their basic level of lessons. Especially if you want to continue lessons as they get older.
Related articles:
Goggles offer a bonus of being able to see the diving toys, too! Most lessons start with having kids put their faces in the water to find toys. It's ten times easier to see these toys with goggles than without.
And, it keeps the water from getting in their eyes. 
Some kids are okay with water in their eyes and others aren't. It doesn't hurt to get a set of kid's goggles and keep them on hand. Just in case they decide they want to wear them for swim lessons. 
Hair Tie and Clips
As a swim instructor, I kept hair clips pinned to the straps of my suit for kids with long hair. True story! I also lost a set or two by the end of the day.
If your child has long hair, it's good to make sure it's pulled and pinned back before lessons. Wet hair tends to get in your face. And a child spends half their time trying to push their hair out of their face.
Hence hair clips pinned to instructors suits!
As you prepare for your swim lessons, take a moment to pack some clips and/or hair ties. They'll help keep hair out of the face (and out of the pool) so your child can focus easier. 
You can make it fun, too! Some swimmers would come in with cute braid styles to keep the hair out of their face.  And they always enjoyed getting compliments on the various hair clips or ties that they wore.
Cap
Don't want to mess with hair ties and clips? Consider the option of wearing a cap for swim lessons instead. A swim cap will keep hair completely out of your child's face. And it keeps their hair protected from the chlorine.
Related article: Your Quick Guide to Swim Caps
Know that not every child likes to wear a swim cap because they can be tight. A better option instead of a traditional swim cap would be a lycra cap. It's not as tight and the mesh material allows the fabric to breathe on the head.
Just know that lycra caps are made from fabric and will not keep your child's hair dry. 
One downside of a swim cap is that it can make hearing a bit more difficult in the pool. A cap can come down and cover your child's ears. It won't stop them from hearing completely, but it can make things sound muffled.
Earplugs
Not every child likes getting water in their ears. It can either cause them pain or make them uncomfortable. 
Related article: Can I Get Swimmer's Ear from Swim Lessons?
If your child doesn't like water in their ears when they swim, consider having them wear earplugs during swim lessons. Please know that not just any earplug will work for this. There are three styles of earplugs specific to swimming that you should consider.
Moldable: These look a little like wax, but they're actually made of a silicone material. It's applied directly to the outer ear and is molded to form a comfortable and waterproof seal. 
Flanged: Flanged earplugs look like traditional earplugs you'd use outside of swimming. They have flared ridges at the top, which help prevent water from entering the ear. And a small grip to help with inserting and removing.
Ergonomic: Designed very similar to the flanged earplugs, but they have a tighter fit. They sit more snugly in the ear and they designed specifically for each ear for a better fit.
While earplugs can help keep water out of the ear, they're not always 100% waterproof. And earplugs fit some people better than others. Consider pairing earplugs with a cap that covers your child's ears to hold them in better.
Or, consider the option of an ear wrap. This is designed to wrap around the head and help keep earplugs in while you swim. It also helps keep ears warm; in and out of the water!
Ear wraps work best when you put a swim cap over them. Otherwise, they'll just slide right off 🙂
No matter which options your child chooses to wear, just make sure your child doesn't leave them behind at the pool. Or on the pool deck. It's not fair to the instructor to pick them up after your child leaves.
Sunscreen
Have lessons outside? Make sure your child wears sunscreen for their swim lessons.
It's best to put sunscreen on at least 15 minutes or so before getting in the water. This will help the skin absorb the lotion and better prevent sunburn.
Putting it on just before getting into the water means that it'll wash off as soon as your child gets in the water.
If you'd rather avoid the sunscreen for your child, consider the option of a rash guard or swim shirt to help protect your child's skin.
In Closing
Most of this list is optional and more for the benefit of your child. If you don't want to sink a lot of money into lessons beyond your basic swimsuit, that's okay! Stick with what you think you'll need and go from there.
It's completely up to you and what your child feels comfortable with. 
As always, to happy swimming!
Chevron
---
Bonus Content:
How to Choose the Best Swim School: What to look for in a swim school varies based on your needs. Here are 10 items to consider when picking the best swim school.
10 Qualities to Look for in a Swim Instructor: It can be overwhelming to try to pick the best swim instructor. Here are the best qualities and traits to help you find your next swim instructor.
---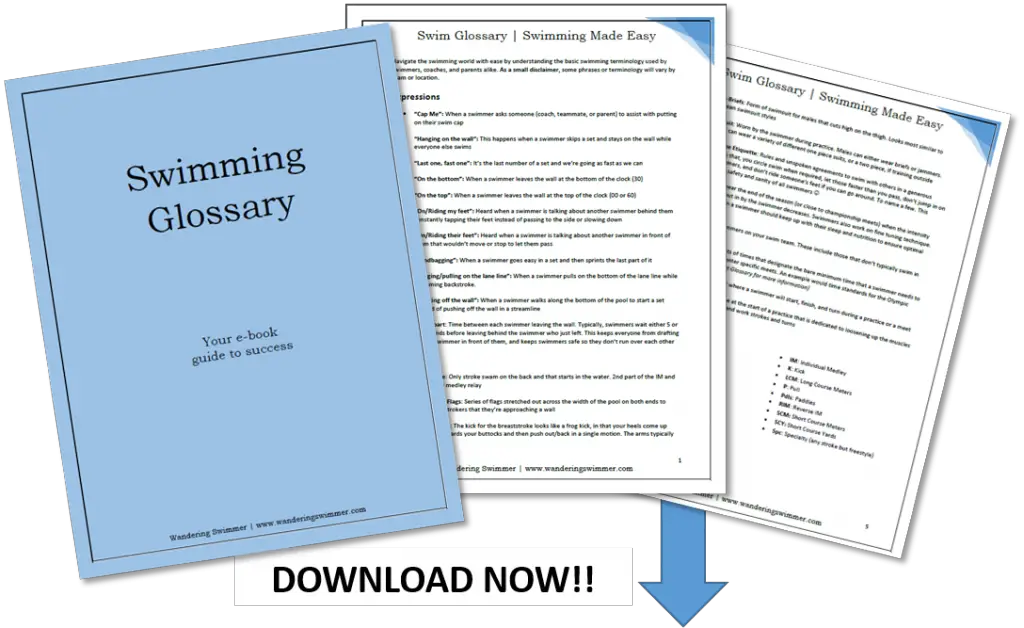 Want to Improve at the Pool?
Join swimmers and swim parents to receive my free newsletter and receive a free Swimming Glossary e-book as a thanks!
Every month you'll receive tips and coaching to help you find success at the pool.