When it comes time for swim lessons, pictures and videos are great ways to capture memories. But using a journal for swim lessons is another great way to remember your child's progression through each lesson.
Swim lesson journals also provide a way to capture memories in a way that photos and videos don't. By adding your and your child's notes to the journal thus will ensure you don't forget what happened. Pictures are worth a thousand words but time can erase those words.
H2O Society's swim lesson journal can help you keep those memories safe. And provide you with a few extra options to keep you organized and in contact with other families.
Here are 6 reasons why you should use a journal for swim lessons.
Disclosure: This post may contain affiliate links, meaning we earn a small commission at no cost to you if you purchase something through one of our links. As an Amazon Associate, we earn from qualifying purchases. Please check out our disclosure page for more information.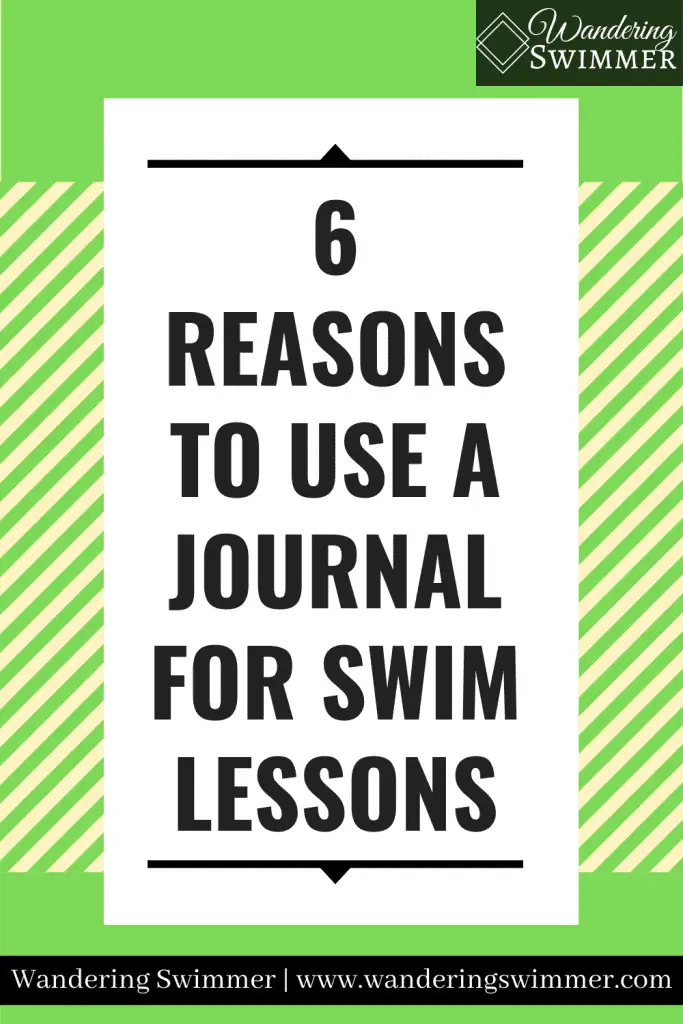 Track Progress
Sometimes in swimming, it's hard to see the progress you make. And it's the same for swim lessons. It's easy for kids to compare themselves and their abilities to their friends in swim class. 
And let's admit it, even as adults we do it with those around us!
But because of this, it's also easy for your child to feel discouraged if they don't perceive that they're making progress. 
One of the best ways to help prevent this and show your child firsthand how much progress they've made is with a journal for swim lessons. 
H2O Society's swim lesson journal has several different pages that help your child track their progress. From two different milestone pages and lesson round-ups, your child can document their progress in various ways.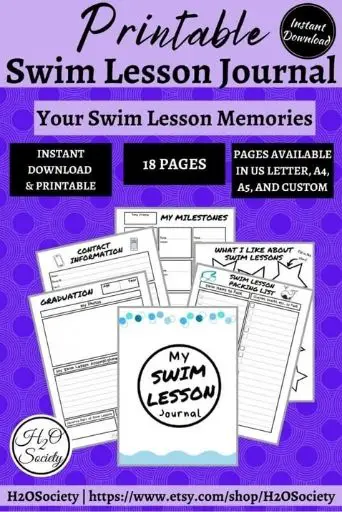 The journal also has dedicated pages to cover the first and last day of swim lessons. To really show your swimmer how far they've come!
Related article: Best Items to Take to Your Child's First Swim Practice
For some children, having physical and documented proof of their accomplishments can be an encouragement. And it's what they need to keep building that confidence.
Memories of Lessons
Swim lessons go fast. And more often than not, your child doesn't remember much about their lessons. Especially the fun times. 
By using a swim lesson journal, your child can write and document their memories of each swim lesson. It gives them something to look back on and also see how far they've come. And it's a way to keep them engaged.
After each lesson, encourage them to write down everything they liked and disliked. Their victories and what they should keep working on. Do this while  it's still fresh in their minds. And it gives them something to look forward to after lessons. 
It's also a way to see how they've grown and how their interests have changed with each year. What your child liked to do one year might change by the next class. And it offers a good way to look back and reflect. 
For both you and your child.
A Way for You to be Involved 
It's easy to sit on the sidelines during a swim lesson and take pictures. But using a journal for swim lessons is a way for you to be involved with your child's swim lessons. 
If they're too young to write in their own journal, you can record the memories for them. Or you can help them fill out the pages with things you noticed while you watched them. Not only does this involve you, but it's also a gentle reassuring to your child that you're watching.
Related article: What Do You Need to Pack for Swim Lessons?
You can also take the time to write your own messages and notes to your child. Little messages of praise that let them know how brave you thought they were. Or how proud you are of them for something they accomplished.
Lastly, it's a means for you to help with their swimming outside of lessons. If you go to the pool outside of lessons and your child wants to work on what they've learned, you have a point of reference. 
You can also put in notes and suggestions from the swim instructor. This can help both you and your child practice outside of swim lessons.
Organization
Getting ready for swim lessons can be chaotic. There's always something to remember and if you don't have time to pack beforehand, you're more likely to forget something.
And while swim schools usually have a store where you can purchase forgotten items, some kids prefer their own belongings. 
More Content for You: Can I Get Swimmer's Ear from Swim Lessons?
One benefit that a swim lesson journal brings is a built-in packing list. When you're running short on time, having a checklist is a great way to make sure you bring everything. 
H2O Society provides a dedicated packing list in their journal for swim lessons to help ensure you don't forget anything. There's also a packing list included on the page 'today's swim lesson' as an alternative option.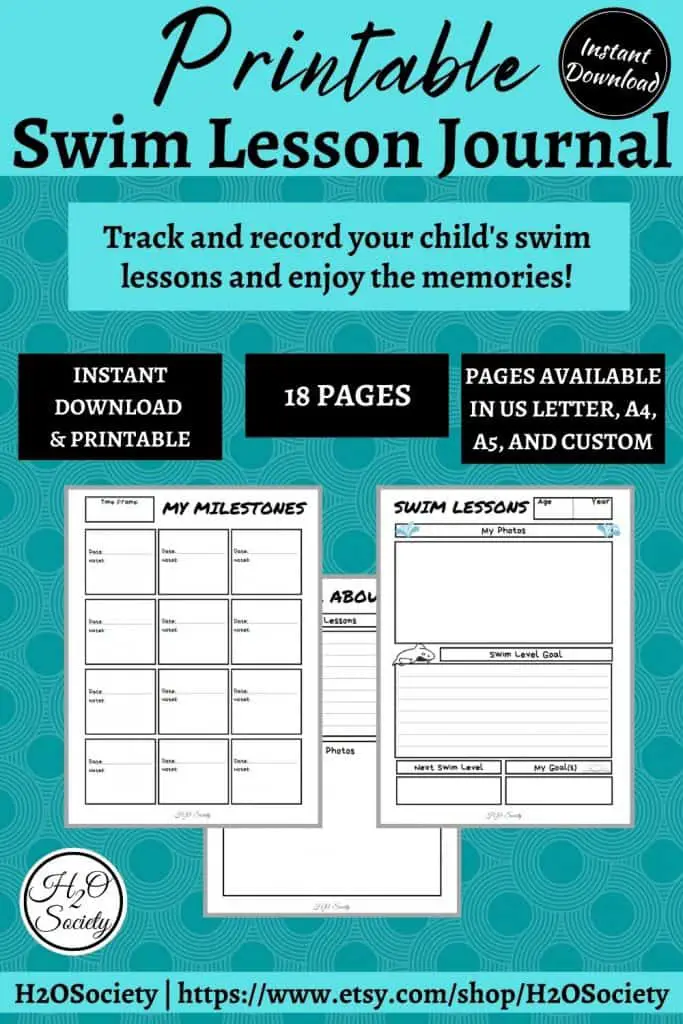 Set Goals
Writing out goals can help your child focus on what they need to work on during swim lessons. The goal could be as simple or silly as they like. It's important to remember that this is their goal for themselves. Not your goal for them 🙂
At the start of each lesson or the start of a new session, ask your child what they want to accomplish. Or ask the instructor what your child needs to do to advance to the next level.
While your child might not hit every goal they set for themselves, it can still help them to see how close they came to it. And as they get older, they can look back to see how far they've come.
Related article: How to Prepare Your Child for Their First Swim Lesson
Encourage them to keep reaching for their goal on the days that they feel discouraged. And if the goal is something you know isn't feasible yet, let them know that they can always adjust it.
Having your child set goals for themselves can help get them in the habit of setting goals as they get older. Again, these don't need to be serious goals. Rather, let them be fun. Such as going down the slide by themselves. Or grabbing two toys at once instead of one!
Graduation Gift
Eventually, swim lessons will end for your child. Whether they advanced through all the levels the school has to offer or you feel they don't need lessons anymore. 
When that time comes, a swim lesson journal makes the perfect graduation gift. One that documents the very start of their swim lesson journey all the way up to the end of it. With the various pictures and notes that have been added throughout each class and the year, it's a great memory keepsake.
One that your child will enjoy flipping through as they recall all the various memories. 
And if your child advances from swim lessons and onto a swim team? We recommend that you hold onto the journal. And instead, gift it to them when they finish their swimming career. 
While it'll give them a good laugh as they reflect on their childhood, it's also an amazing way for them to see how far they've come. From the days when they felt scared to put their face in the water to being able to join a swim team. 
Fun
Using a journal for swim lessons is fun! Kids get a chance to explain what they liked and disliked about their lesson for the day. And they get to write it in their personal journal. 
It's a way to help associate fun with swim lessons. Especially if your child likes to talk about what they learned during lessons. 
Encourage them to write what they want in their journal right after lessons. A swim lesson journal can make it exciting and fun to where your child can't wait to write what all they learned and did.
Related article: When Should My Child Start Learning to Swim?
Your child can also involve other kids from their swim class by having them sign autograph pages at graduation. Let them fill it out with notes to each other and their favorite memories. This way, when your child looks back at their journal, they have stories from their friends.
You can also get in on the fun by putting in your own notes for your child to read later. Or even keeping the journal a surprise until they finish lessons. 
H2O Society's Swim Lesson Journal
While you can always make your own journal for swim lessons, we do recommend H2O Society's journal. It's a thorough journal that helps you document the start of swim lessons all the way through the very last lesson.
And in between, they've created contact pages and notes for parents, and sections to add pictures.
What do you get? 
You get 18 pages, which includes a cover page and a divider to separate each new level/class your child progresses to. 
The planner is a digital download, which means you can print out the pages you want and as many as you want. So that as your child progresses through lessons, you don't have to keep purchasing new journals/pages. You can just print out what you need.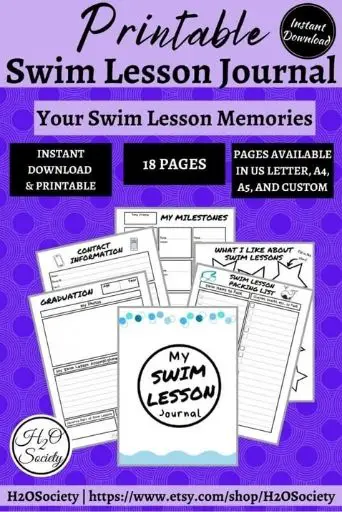 It can also be customized (within reason, of course). So if there's a custom page you'd like to add or your child's name to the cover page, it's easy to do so.
You can find a full list of pages provided and more information on the listing. And you can also browse more swimming related items at their store 🙂
As always, to happy swimming!
-Chevron
---
Bonus Content:
A Quick Guide to Swim Lessons: Learning to swim is an important skill. But finding a starting point can be hard. To help you get started, we've compiled a quick guide to swim lessons.