Swim lessons can be stressful. Both for you and your child. Especially if it's the first time your child is taking lessons. One way to help ease some of the anxiety and stress of the first day is by making sure you know what to pack for swim lessons.
Disclosure: This post may contain affiliate links, meaning I earn a small commission at no cost to you if you purchase something through one of my links. As an Amazon Associate, I earn from qualifying purchases. Please check out my disclosure page for more information.
Essential Items to Pack for Swim Lessons
Swimsuit
Don't forget a swimsuit! This goes for your swimsuit if you signed up for baby and parent classes. 
It seems like a silly thing to remind people of, but it's actually incredibly easy to forget. If only because it's not a typical item you deal with daily. 
That said, my recommendation is to change into your swimsuit before you leave so you never forget it! 
If that's not an option for you or your child doesn't want to change until they get to the pool, that's okay! Just make sure it's in your bag before you go and all will be well 🙂
As an aside, you should also make sure your child's swimsuit fits them before your first swim lesson. Make sure the fit is snug, but not too tight or loose that it could fall off. 
Related article:
Towel(s)
Make sure you pack a towel or two for your child's swim lesson. 
The number of towels you need to bring is really a personal preference. If it's cold outside and your child isn't changing, it's best to grab a second towel for the drive home. Just as you might want a second towel for after their shower.
At a minimum, make sure you have one towel for them to dry off. And don't forget one for yourself if you're getting in the water, too!
Any towel will work for swim lessons. Just some things to consider:
Related article: 5 Reasons to Own a Shammy
Clothes
It's always a good idea to pack some clothes for your child to change into after swim lessons. And don't forget yourself if you're joining the lesson!
Even if your child likes to leave in their swimsuit, it's nice to have a set of clothes on hand. For the 'just in case' moments that happen to pop up.
Don't forget to pack any undergarments that your child wears!
Swim Bag
With everything that you need to bring, it's good to have a designated swim bag used specifically for swim lessons. This can be used to hold everything you need from towels to clothes and everything in between!
Related article: Best Items to Take to Your Child's First Swim Lesson
I would recommend an actual swim bag from swim retailers such as Speedo, Arena, or TYR. They make bags specifically for swimmers, which means they're large enough to hold everything you need for lessons.
As a bonus, they have specific pockets to help hold extras such as goggles, caps, and toiletries. This can help you stay organized and make you feel that you've got it together!
Make sure you pack a plastic bag or two for anything wet. This will help keep everything dry that needs to stay dry. 
If you don't want to use a plastic bag, look for a swim bag that has a removable 'dirt bag'. This bag is designed to keep wet and dirty items away from dry/clean items.
Lastly, if your child decides to stick with swimming, they have a bag they can use at practice 🙂
Optional Items to Pack for Swim Lessons 
Cap
Swim caps aren't always necessary at swim lessons. However, they do provide some benefits for those kids with long hair such as:
Protecting your child's hair from the chlorine 
Keeping hair out of their face when they swim
Keeps hair out of the pool
Help hold in earplugs
Caps can run tight which might make them uncomfortable for younger kids. An alternative to the traditional swim cap would be a lycra cap. It's not as tight and the mesh material allows the fabric to breathe on the head.
Related article: Your Quick Guide to Swim Caps
Just know that lycra caps are made from fabric and will not keep your child's hair dry. 
Another alternative to swim caps is hair ties and clips. These will keep their hair pulled back and pinned away from your child's face when they swim.
Goggles
It doesn't hurt to pack a set of kid's goggles and keep them on hand. Just in case they decide they want to wear them. It's not uncommon for a child to say no to goggles, only to want them halfway through the lesson.
Related articles:
Chlorine does irritate the eyes after a while and some kids are more sensitive to it than others. And I'll be honest. These are swim lessons. And that means putting their face in the water.
Goggles offer a bonus of being able to see the diving toys, too! Most lessons start with having kids put their faces in the water to find toys. It's ten times easier to see these toys with goggles than without.
Ear Drops
Disclaimer: I'm not a doctor or health care provider. Check with your child's health care provider to see if ear drops are the best option for your child. They shouldn't be used if you have ear tubes, ruptured eardrums, or other ear issues.
Swimmer's ear (otitis externa) is caused by water that stays in the outer ear canal and allows bacteria to grow. 
To help prevent swimmer's ear, pack some ear drops. And don't just pack them, use them! Once lessons are over and your child has showered/changed, put in a few ear drops. Rub behind the ear (near the base) to help disperse the drops better.
Related article: Can I Get Swimmer's Ear from Swim Lessons?
You can buy drops that are specifically for drying out ears after swimming. Or, you can make your own mixture.
Earplugs
Not every child likes to get water in their ear and you typically won't know until you're at the pool. 
Because of this, I recommend that you pack a small set of earplugs. This means you'll have them on hand just in case. 
Earplugs also offer another way to help prevent swimmer's ear!
Please know that not just any earplug will work for this. There are earplugs specific to swimming that help keep water out of the ear.
Related article: What Your Child Should Wear for Swim Lessons
Toiletries
Some swim schools have a locker room or a place for your child to rinse off. If you plan to have your child shower and change after swim lessons, remember to pack all the toiletries that your child might need.
Shampoo
Conditioner
Soap/body wash
Lotion
Detangler hair spray
Hairbrush
I also recommend a separate bag or carrying case for your various toiletries so they're not scattered about in your bag. This makes it easy to find and carry over to the shower, especially for small hands.
Swim Lesson Journal
When it comes time for swim lessons, pictures and videos are great ways to capture memories. But packing a journal for swim lessons is another great way to remember your child's progression through each lesson.
Swim lesson journals can help record various milestones and the journey through each swim lesson.
Using a journal for swim lessons benefits both you and your child, as a journal can be a way to keep yourself organized with checklists. Swim lessons can be chaotic and having a checklist or daily reminder for lessons can help make them run smoother.
Related article: 6 Reasons To Use A Journal For Swim Lessons
These journals are also a way to show your child firsthand how much progress they've made is with a journal for swim lessons. For some children, having physical and documented proof of their accomplishments can be an encouragement.
We recommend H2O Society's swim lesson journal. It's a thorough journal that helps you document the start of swim lessons all the way through the very last lesson.
You can find a full list of pages provided and more information on the listing. And you can also browse more swimming related items at their store 🙂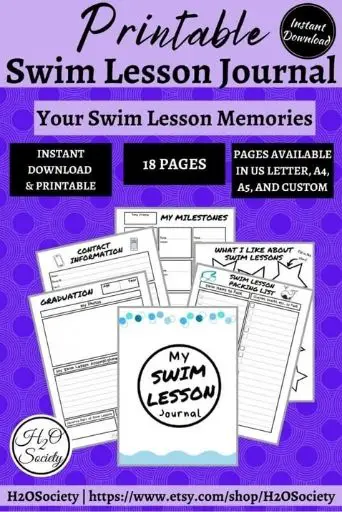 Bonus: Three Time-Saving Tips:
Swim Class Checklist
Having a checklist for what to pack for swim class is great to make sure you don't forget anything. Write down everything that you need and don't check it off until the item is in your bag.
One suggestion for your checklist is to take it with you to swim lessons. This way, if there's something you realize you need while you're at the pool, you can write it down. And it'll be there the next time you start to pack!
H2O Society's Swim Lesson Journal provides a dedicated packing list in their journal for swim lessons to help ensure you don't forget anything. There's also a packing list included on the page 'today's swim lesson' as an alternative option.
Pack for Swim Lessons the Night Before
This can prove a bit of a challenge for those who take swim lessons in the evening. But try to get into the habit of packing your swim bag before you go to bed. 
It seems like such a small step but when your child is crying the next day or you're running late, it's a blessing. All you have to do is grab your bag and you're ready to go! 
I'd also recommend a staging area so that most of the items are in one location. It's something that I do myself for swim practice. I keep my bag by the door with the rest of the items I'll need the next day. 
It helps, I promise!
Second Swimsuit
It's hard to pack for swim lessons if your child's swimsuit is still damp from their last lesson. And if you don't pack the night before or the morning of, you run the risk of forgetting it.
To help avoid this issue, have a second swimsuit that you can pack while the other swimsuit is still drying. This will help lessen the chance of you forgetting your child's suit. 
And it's always good to have a backup on hand 🙂
As always, to happy swimming!
Chevron
---
Bonus Content:
How to Choose the Best Swim School: What to look for in a swim school varies based on your needs. Here are 10 items to consider when picking the best swim school.
A Quick Guide to Swim Lessons: Learning to swim is an important skill to have. But trying to find out where to start and what questions to ask can be confusing. We've compiled a brief summary to help you get started.
---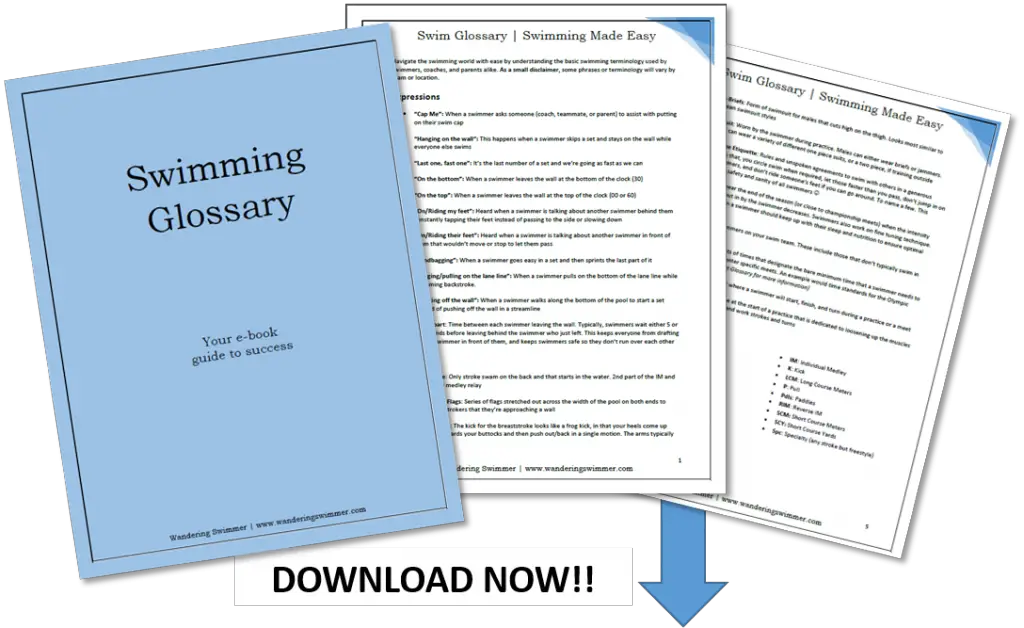 Want to Improve at the Pool?
Join swimmers and swim parents to receive my free newsletter and receive a free Swimming Glossary e-book as a thanks!
Every month you'll receive tips and coaching to help you find success at the pool.