While there's no right or wrong time to join a swim team, there are a few considerations to evaluate. Not every team is the same, which means that not every team might offer a good fit for you.
With so many different teams and swim programs out there, how do you know which one to join? And how do you join a swim team?
Disclosure: This post may contain affiliate links, meaning I earn a small commission at no cost to you if you purchase something through one of my links. As an Amazon Associate, I earn from qualifying purchases. Please check out my disclosure page for more information.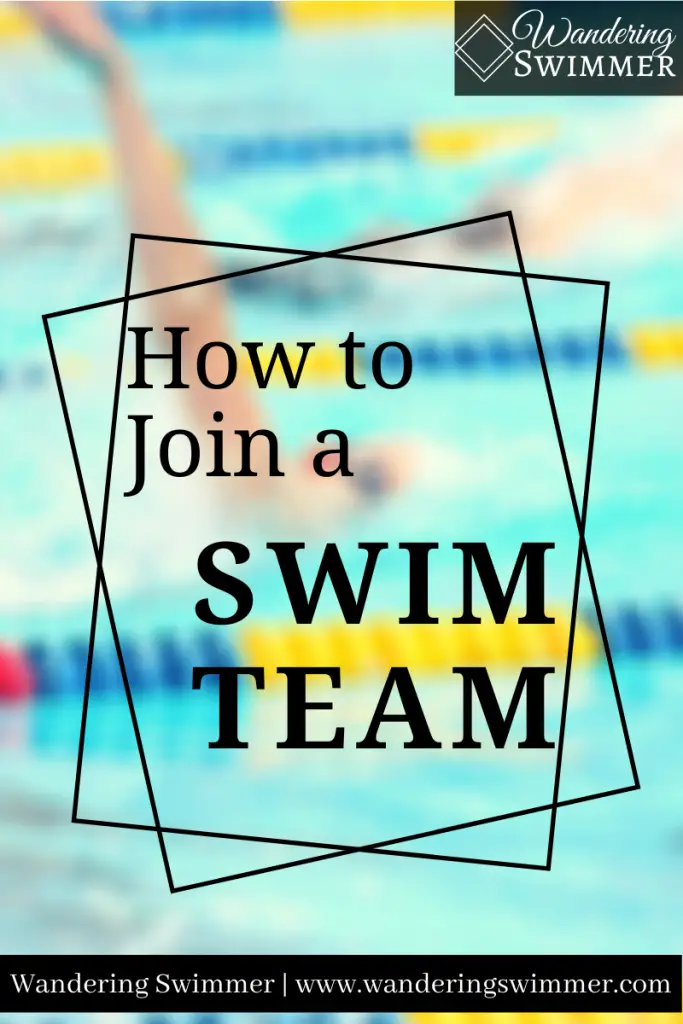 What is a swim team?
In short, a swim team is a group of swimmers who train and compete together. Each team might have a single coach or several based upon the size of the team. Similarly, most teams have different groups/levels that swimmers can advance to throughout their swimming career.
Related article: What is a Swim Team?
A swim team helps swimmers come together to encourage and push one other in the water. It builds close friendships and acts like a family to some. Creating a close knit group of individuals who can both cheer for each other or yell at each other :). 
What does a swim team do?
At its core, a swimmer trains on a team to better their stroke, technique, endurance, speed, and strength. All of these skills showcase at a swim meet, where teams come together as individuals to help their team win.
Swim teams can also volunteer throughout the year with local community projects.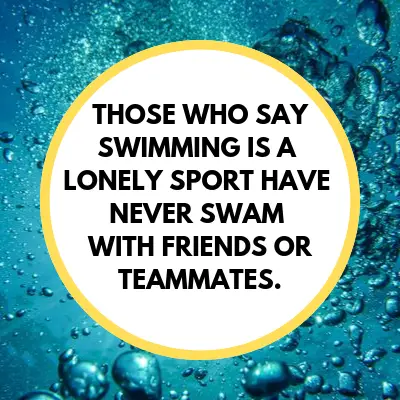 Who can join a swim team?
While this varies by each team, most swim teams require that incoming swimmers have a basic level of swimming skills. Such as knowing 1-2 strokes and can safely make it across the pool.
This is more for the safety of each swimmer as swim teams aren't a substitute for swimming lessons. Teams focus on building strokes and technique compared to learning how to swim. 
Related article: 5 Things to Know Before Joining a Swim Team
If you can't or don't know how to swim, it's probably best to connect with a swim school or program that can teach you how to swim first.
Some teams do offer in house swim lessons that feed directly into the team after certain skills are learned. See if any swim teams near you offer this as an option.
How to Join a Swim Team
Locate a team
The easiest way to locate a team near you is to search online.
Ideally, you'll want to find a swim team that's within an easy driving distance between home, school, and work to make any type of commute easy for everyone.
Each team will vary on what they offer. Some teams are directly affiliated with a national program, such as year-round club teams. While others are only locally based, like a high school or summer league team.
Based upon what you want out of a team and why you want to start swimming, should determine the program that will work best for you.
Things to look for online
Before you join a swim team, see if they have an online site, take a moment to search their website. Most teams will have the basic information listed online, such as contacts, practice practice information, registration and monthly dues, and a meet schedule.
You can also see if the team mentions anything about their swimming goals or swim philosophy. Do they only accept swimmers who want to train and compete? Or do they welcome those of any talent or skill ability?
Ensure that the practice schedule will work with your schedule. As swimmers advance through the different levels, the number of practices also increases. At the highest levels, swimmers train 1-2 times a day for 6 days a week. 
More Content for You: 10 Myths About Swim Teams
When you review each team's website, you might see some rankings or other notable achievements listed. While these are great accolades for swim teams, it doesn't mean that team is the best choice for you.
Don't let yourself get focused on just these. Some smaller teams might not have the ability to offer all of these options, but they could still have a great coach.
Visit the team
Once you locate a team, see if you can stop by for a visit.  I recommend calling ahead to get permission, as not all coaches will allow you on the property without notice.
Why should you visit a team first?
It gives you a chance to see the facility, meet with the coach, and watch the team. Burnout in swimming is a common occurrence. The right coach and team though can easily help prevent burnout.
Related article: What to Look for in a Swim Team
Watch how the team practices and interacts with one another. Do they seem encouraging, or do they act arrogant? Do they laugh at times or do they make snide comments?
Look to see how the coach interacts with the team. Do they joke around and have fun occasionally? Or do they come across as strict. Do the swimmers seem to enjoy themselves? As much as you can while working out at least, haha. 
Little things like this can tell you a lot about how the team operates. 
Because a swim team might look great on paper when you look to join. But if you clash with the coach on your first meeting or the team seems like a bad fit, then it's probably not the team for you. 
Joining a team that you don't like or fit well with is a waste of time for everyone, and a waste of money for you 🙁
If it seems like a place where you (or you child) can have fun but still get better, great! If not, try the next club.
When in doubt, be sure to speak with the parents on the team, too. They hear all the gossip (for better and for worse) and know the team.
Tryouts
Most teams require some type of tryouts before joining. Each team will have a different approach to this. Some schedule tryouts at the same time for a specific day each month. Others, you can schedule an appointment and tryout within a few days.
If you know that a team requires a tryout, make sure to train to meet the requirements. Making sure you have the needed equipment, such as a suit, cap, and goggles will help you train. You'll also need them when you try out.
To train for tryouts, make sure you swim whenever you can and as quickly as you can. Don't wait to start learning the basics of each swim stroke and practice them often. 
Related articles: 
After your tryout, the coach will notify you what group you'll swim in.
Each team has various different groups or levels based on a swimmers ability. As your swimming skills grow, your coach will move you up to the next group. An example would be: novice, intermediate, senior, and elite.
Questions to ask
Cost
Before joining a swim team, you need to consider not just the time commitment, but also the cost. Swimming can be expensive and a swim team costs money.
Again, this does vary by program. Summer league and high school swimming typically provides most of the equipment and costs usually run much lower. YMCA and club swimming though can run much more expensive.
Related articles:
Knowing how much a swim team costs before you join can save you financial stress in the future. While talking about money is never an easy topic, be sure to clarify with the coach about the cost.
Typically, each club swim team has an annual registration and monthly dues. You'll also need to pay for meet fees, equipment/gear, and travel costs associated with the team. 
Also consider the increased cost of food that a swimmer eats. Along with the cost of fuel when it comes to driving to practices and meets.
Practices
As mentioned above, you should know the practice schedule before you start. If you didn't see it online, ask the coach prior to joining. When you join a swim team, you're expected to make a majority of the practices.
Most year round teams have multiple practices to accommodate everyone. These practices can run concurrently if the facility allows it. Otherwise, you can expect practices to run in 1-2 hour blocks. 
Related article: First Day of Swim Practice (And What to Expect)
You can also expect to put in some dryland work on specific days.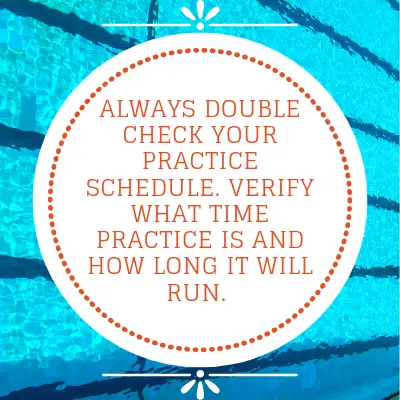 Most year round teams do train on holidays. Be sure to get clarity on practices for these days.. 
Some holidays have normal practices, or the coach might have a single practice that lasts longer than normal. This can depend on the group you train with. 
Based upon the team that you joined, you'll train only during certain periods of the year. Summer league teams only train during, you guessed it, the summer. Just as a high school team may only train from August through February before switching to water polo in the off season.
Year-round or club swimming trains throughout the entire year. This includes winter and summer break. If you plan to go on vacation during those times, I would highly suggest letting the coach know.
Related article: Swim Practice While Traveling
Meets
Before you join a swim team, you should also inquire about the meet schedule. 
More Content for You: What is a Swim Meet?
For club teams, you can expect to have a swim meet at least once a month. Most meets have designated cuts to enter the meet. Others will remain 'unclassified' in that anyone can swim.
Summer league and high school swimming will have meets more frequently due to the shorter season. However, you can easily expect a minimum of five meets throughout the season. 
Gear/Equipment:
Lastly, be sure to find out what gear/equipment you need to have. 
As a start, you will need the following:
Swimsuit: Make sure you pick a swimsuit that's built for training and not for leisure. Check out dedicated swim shops for the best suits for training, such as SwimOutlet.
Goggles: You'll want a good set of goggles to help keep chlorine from irritating your eyes. Speedo Vanquishers or Arena Tracks are good practice goggles. There are also prescription goggles available if you wear glasses.
Swim Cap: Some people will try to argue that you don't need a swim cap, especially if you're a guy, but personally, we believe they're a must. They not only keep hair from getting in your eyes, but they also keep hair out of the pool. It's disgusting to get hair in your mouth, yuck! You can either wear a latex or silicone cap, based on your preference.
Swimsuits, goggles, and caps are your basic staples to start swimming. But you can also look at getting the following items:
Swim Bag: To help you store everything so you're not trying to carry it all in your arms
Ear Drops: These help dry out your ears and restore the pH levels in them so you don't develop swimmers' ear. If you ask me, these are a necessity for every swimmer
Towel: Don't forget that you'll need a towel to dry off after practice! The best towels are Microfiber towels as they don't take up a lot of space and dry quickly between practices. You can also get a shammy towel, too!
Water Bottle: Staying hydrated at swim practice is a must. Don't forget your water bottle!
Clothes and tennis shoes for dryland
Most high school and summer league teams will provide the rest of the gear that you need. However, most clubs require that you provide your own equipment. They also request that you have a team suit and warm-up apparel for meets.
Related article: 7 Things Every Swimmer Should Have
A club team (based on your level) will require other gear such as a kickboard, pull buoy, fins, snorkel, paddles, and a gear bag.
You can find all of the above items online through SwimOutlet and also through Amazon.
Why do you need these extra items? 
Swim gear helps you work on a specific part of your technique while in the water. For example, fins help build up endurance and strength in your legs to kick stronger. Plus, the design of some fins assists in proper kick technique.
In Closing
While joining a swim team may seem daunting or scary, don't let that fear stop you. The hardest part is actually taking the first step!
Your coach will help you every step of the way and be there to support you. When you join a swim team, you find yourself surrounded with a group of people ready to help you along the way.
If you want to start swimming, I hope that you decide to join a team! While it can have it's ups and downs, it's still a great experience. And you can't go wrong with the health benefits that swimming offers.
Still not sure where to go or have more questions? Check out some of these other posts to get you started! 
As always, to happy swimming
-Chevron
---
Bonus Content:
5 Things to Know Before Joining a Swim Team: Joining a swim team comes with benefits and challenges. Avoid these five things that seem to catch most new swimmers off guard when they first join a swim team.
Swimming Terminology: Knowing some swimming terminology, or swim terms, will help you navigate the swimming world. Here are 25 common swimming terms to get you started.
---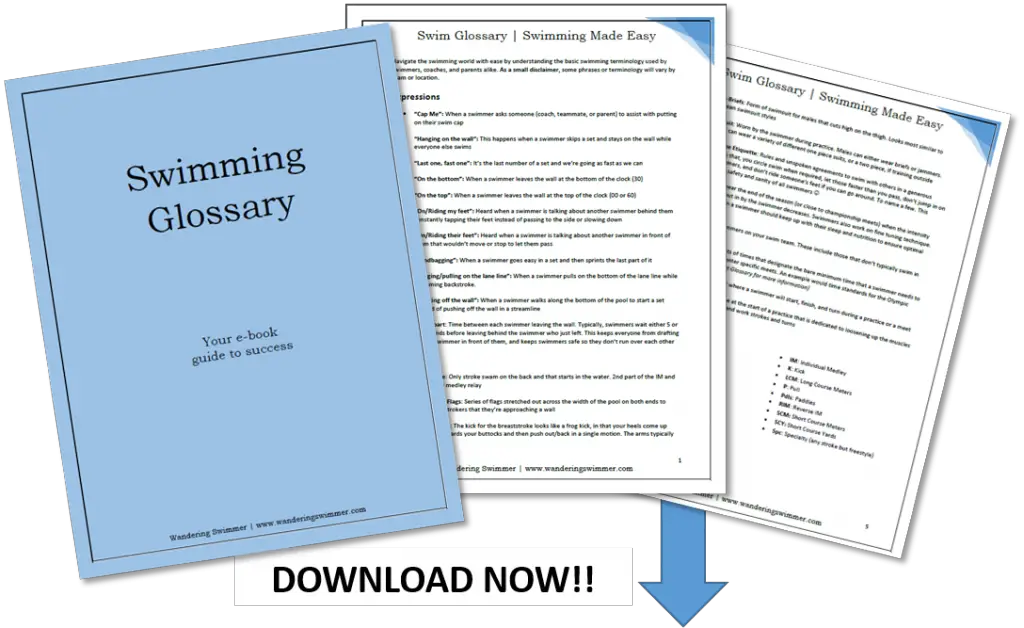 Want to Improve at the Pool?
Join swimmers and swim parents to receive my free newsletter and receive a free Swimming Glossary e-book as a thanks!
Every month you'll receive tips and coaching to help you find success at the pool.