When it comes time to look for a swim team, it isn't a one size fits all type of thing. In a way, it's very similar to looking for a new job or even a house/apartment. You have a list in mind, but finding one that checks all the boxes is like finding a needle in a haystack.
Related article: 5 Things to Know Before Joining a Swim Team
We say that because no one club swim team is perfect.
One might work exceptionally well for one swimmer, but it's a bad fit for another. 
It's trial and error, and it takes a bit of research on your part. Because choosing the right swim depends mainly on: what are you wanting?
So how do you narrow down your search and find the best swim team?
Disclosure: This post may contain affiliate links, meaning we earn a small commission at no cost to you if you purchase something through one of our links. As an Amazon Associate, we earn from qualifying purchases. Please check out our disclosure page for more information.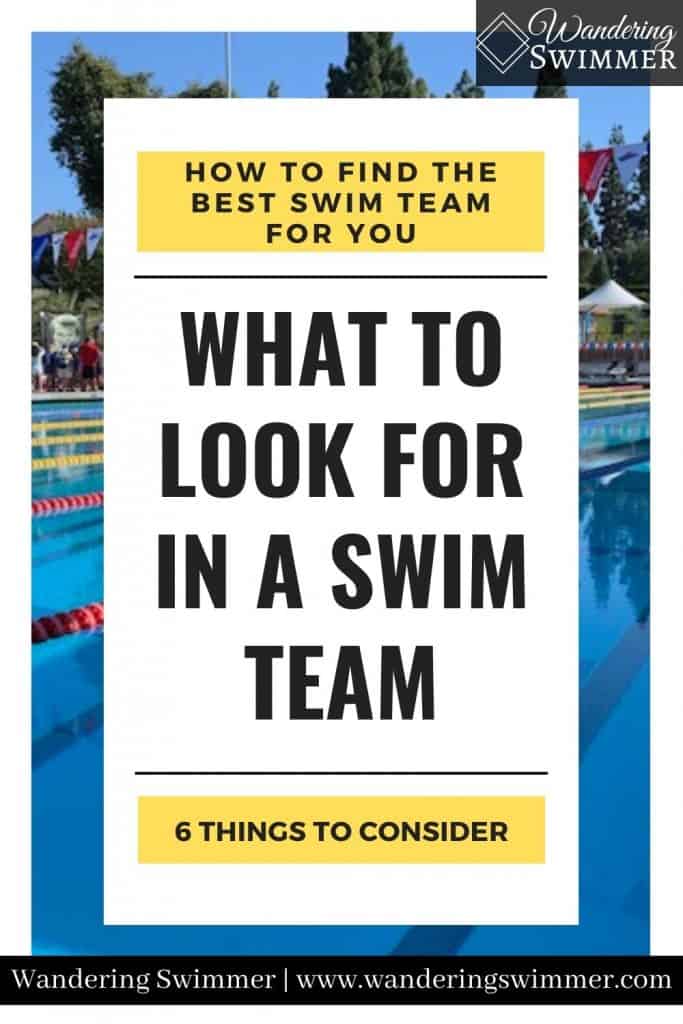 Does the swim team meet my current swim ability?
First, you need to assess your swimming ability before you start looking for a swim team. It does you no good to join a highly competitive team when you can't swim. 
Most high school or year-round swim teams require that swimmers have some level of swimming. And they typically require some form of swim team tryouts before you join. Keep this in mind when you look for a swim team.
Because of this, we recommend that you first look at swim schools or other learn-to-swim programs if you can't swim. Or connect with a swim instructor if you can swim some but need a bit more mastery. 
Related article: A Quick Guide to Swim Lessons
It also does you no good to join a swim team that won't develop your current swim abilities.
Being the fastest swimmer on the team feels great. But if the coach can't or doesn't have the means to develop you more, then you'll never grow. 
Look at times within the team to get an idea of the team's depth. Do they have a solid program to grow not just their elite swimmers, but also their developing swimmers? 
Do the swim teams near me meet my goals?
What are your plans and goals for swimming? Do you want to swim on the high school team and then in college? Are you aiming for the Olympics? Masters Worlds?
Related article: What is Masters Swimming? (coming soon)
The swim teams near you might look great on the outside, but if they don't match with your goals, it'll only lead to frustration. 
Facilities are one thing, but the training itself leads to success.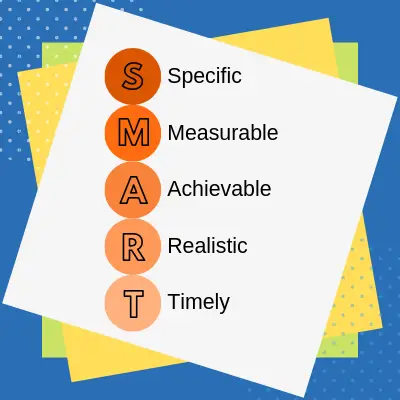 Does the coach offer challenging sets that push you? Or are they too intense that you end up discouraged?
Before you start looking at the teams around you, reflect first. Ask yourself what you want for your swimming. Determine what you're looking for and hoping to achieve. 
As a quick note. If you're looking for the best swim team for your child, you need to ask your child what their plans are swimming. Not what your hopes are.
Until technology finds a way that you can swim for your child in their place, you don't get to determine what goals your child sets for themselves.
Just a quick soapbox for you 🙂
What are the Commitments?
Swimming, much like any hobby or sport, takes time, commitment, and money. For those joining a high school team or year-round club swimming, it's a lifestyle change that the whole family has to make. 
From early morning, late afternoon, and Saturday practices to weekend-long away swim meets, year-round swimmers face the biggest commitment to swimming. Not just you as the swimmer but also your family. 
Your current swim ability and goals will help determine what level of commitment is needed. 
Is that commitment a few practices a week for about an hour each session? Or is practice every day for a minimum of an hour each practice?
Once you know the practice schedule, take a step back and look at your schedule and lifestyle. Ask yourself the following:
Can I make a majority of the practices based on your current commitments? 
Does my family have other events that will require some juggling to fit in with swimming?
Will the team require additional commitments, such as volunteer hours or fundraising?
Is this something I can commit to?
How many swim meets are there each year and how many are local vs away?
Keep in mind too, that with swimming comes an increased appetite, larger loads of laundry, and added commute times. 
Swim team commitments aren't just confined to the time you're at the physical pool. It also encompasses your home life, too. 
What are the Costs?
Cost is the biggest crux to any sport or hobby. And you should take the cost of any team into serious consideration when you look at your budget.
The best advice we can give at this stage is to please be honest with yourself and your finances. Swimming isn't a cheap sport, especially if you're not 100% invested in it. 
Related articles:
If your serious about the sport and you have set goals, get the facts from the coach. 
Be firm in your questions and expectations. You're going to pay a good amount each month in dues and equipment, so make sure you look for a swim team that meets the majority of the items on your list.
Let the coach know what your goals are and have them map out a training plan. You're paying them and much like any product, you want to know that what you're buying into is a worthwhile investment.
It sounds harsh and clinical, but we've seen money wasted by families who invest in the wrong team for years. It only leads to frustration for the family and burnout for the swimmer. 
Be sure to ask about additional fees for each team, such as equipment, gear, and travel expectations.
Does the team have travel trips or away meets?
Speaking of travel expectations. Most teams have some sort of annual schedule they like to follow. For both swim meets and practices.
Part of this schedule might include travel trips or away meets. Year-round club teams might train at a different location (such as altitude training) for either a day or a couple of days to better the swimmers.
Some teams also use this as a means to build team bonding and it can offer a fun outlet at the same time.
While fun and exciting, it does add a layer of what to expect. Traveling means cost and time that you'll have to factor into your budget and schedule. If it's expected that you attend these away functions, can you afford to go?
Ask about this upfront with the coach. Again, don't be afraid to ask. It's better to find out in the beginning than much later when you're already committed.
How is the Team Itself?
What are they like? How do the swimmers interact with each other and their coach? What are the practices like?
Related article: What is a Swim Team?
A team might have dozens of national-level swimmers, but if they all have poor or bad attitudes, you have to ask if they're worth it. Keep in mind that personalities and behaviors are contagious. 
While you won't get along with everyone, it's important that you feel comfortable around the majority of the team.
Coach(es)
You should also feel comfortable around the coach.
A coach that constantly puts down swimmers or humiliates others in front of the team might raise a red flag for you. For others, a coach that doesn't discipline or doesn't discipline equally could turn you away from a team, too.
Talk with other parents and swimmers on the team and get their opinions. 
Try to talk to a broad range of individuals. From those who are new to those who have been there for years. Take everything you hear with a grain of salt, too.
Practices
It's also important to evaluate the practices themselves. 
An easy practice for a swimmer who wants to advance to nationals isn't going to do anything for them. Just as swimming doubles for someone under the age of 12 is too intense.
Related article: What do Swimmers do at Swim Practice?
When speaking with the coach, you have to evaluate the effectiveness and intensity of the practices. Compare them to what you want and where you're currently at in your swimming development.
Don't let anyone try to push you into something they're not ready for.
In Closing
Picking the best team near you isn't always a fast and easy choice. You have to know what you want before you can look for a swim team first. Knowing this helps narrow down the list.
Don't be afraid to ask questions and trust your instincts when it comes to picking a team. If something doesn't seem right, then don't look to join that team. You're the one paying the dues and making that investment. 
No one else has that right to choose for you!
Best of luck to you when looking for a swim team. If you have any questions that weren't discussed here, feel free to contact us and we'll do our best to assist you!
As always, to happy swimming!
–Chevron
---
Bonus Content
10 Reasons to Start Competitive Swimming: Swimming provides more than just health benefits and lifesaving skills. Here are 10 benefits to swimming and why you should start competitive swimming.
Swim Team Tips (coming soon)
---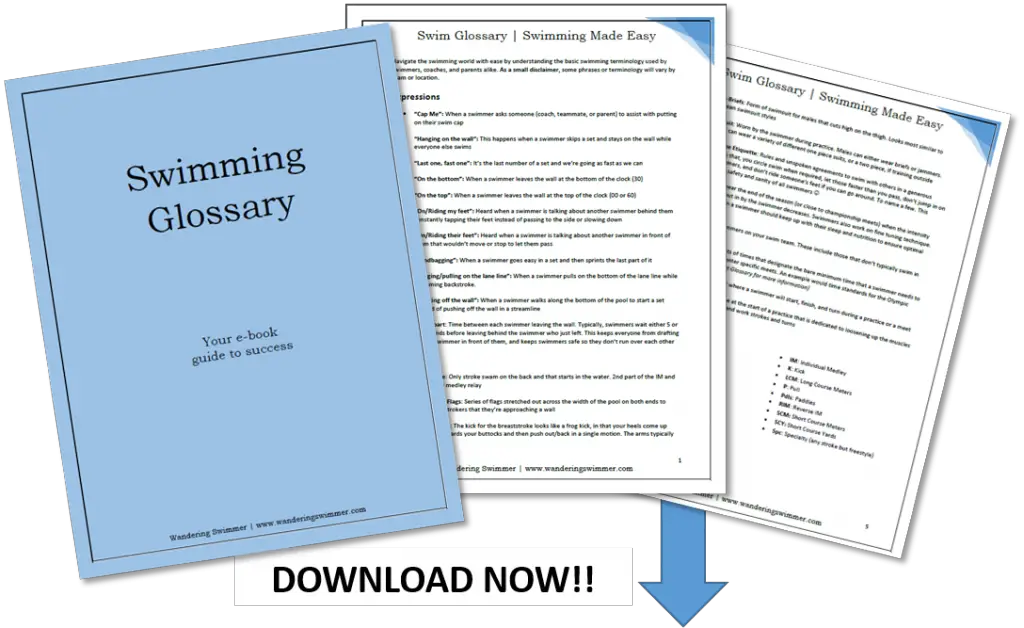 Want to Improve at the Pool?
Join swimmers and swim parents to receive my free newsletter and receive a free Swimming Glossary e-book as a thanks!
Every month you'll receive tips and coaching to help you find success at the pool.