As your first swim practice gets closer, you might feel anxious about what to expect. And that's okay!  Starting something new is nerve-wracking. The good news is that if you can take away some of the anxiety if you prepare for your first swim practice. 
And while it won't stop the anxiety, doing this can help calm your mind and take away some of the jitters. 
More Content for You: Swimming Secrets: What Really Happens at Swim Practice
Here are 9 ways to prepare for your first swim practice.
Disclosure: This post may contain affiliate links, meaning we earn a small commission at no cost to you if you purchase something through one of our links. As an Amazon Associate, we earn from qualifying purchases. Please check out our disclosure page for more information.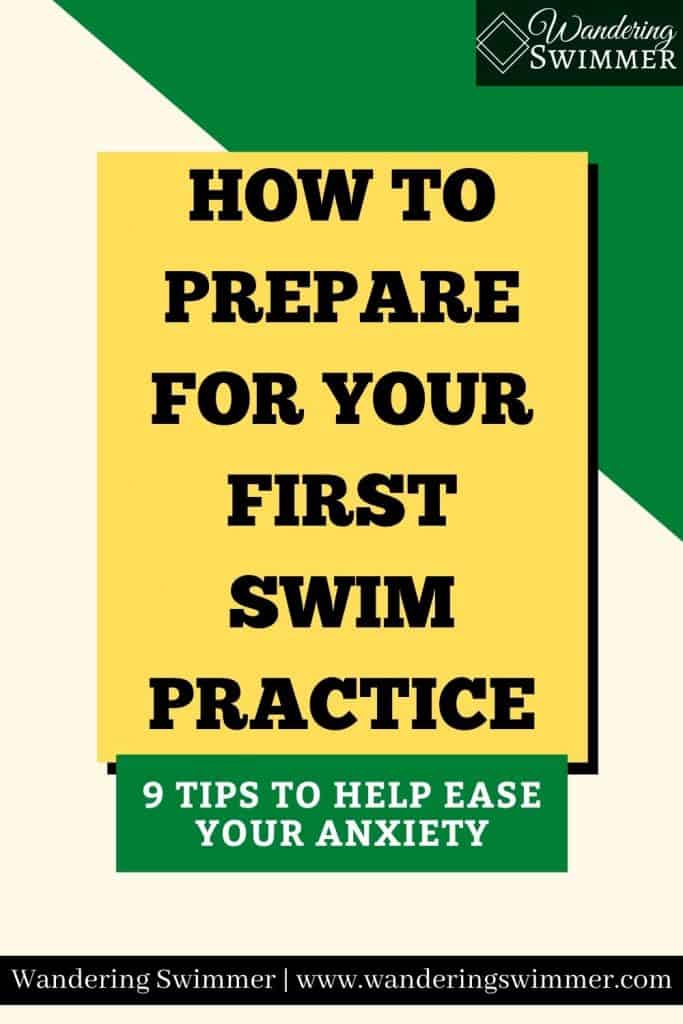 Get Your Necessary Swim Items
Caps and Goggles
If you already completed swim team tryouts, chances are, you have a cap and goggles. However, if you don't have these yet, we highly encourage you to get these items before your first swim practice.
These items will make it easier for you to swim during practice, as they'll keep hair and the water out of your eyes. 
Related articles: 
Make sure you have at least two sets of each. Just in case one breaks or rips, you always have a spare on hand. 
Towel(s)
You'll also want to ensure you have a towel for practice, too. Swim towels are known for turning moldy if they're not washed out every week and dried out well every day. So be sure to have a towel or two dedicated just for swim practices.
Towels such as a microfiber towel or shammy are an alternative to larger swim towels. Because of their small size, they take up far less space in swim bags and dry quicker.
Related article: 5 Reasons to Own a Shammy
Water Bottle
One common swim team myth is that swimmers don't need to hydrate when they practice. While swimmers are surrounded by water, they still sweat when they work out. And they should drink something to stay hydrated.
As you prepare for your first swim practice, you'll want to ensure you have a water bottle. A reusable water bottle is best because they're easier to drink from and they're personalized. Plastic water bottles are more likely to be forgotten or have someone else drink from them.
Swim Bag
Lastly, you'll want to have some type of swim bag to hold everything. 
From your cap to your towel, a swim bag keeps you from losing things. They're also a good place to store your clothes while you're swimming. Along with other personal belongings.
Invest in a Swimsuit
It should seem self-explanatory, but make sure you have a swimsuit before your first swim practice. We say this because it's not uncommon for individuals to show up at either tryouts or practice in a shirt and shorts, and expect to swim.
And while it's possible to swim in a shirt and shorts, it's not something we recommend. If only because these articles of clothing get heavy when you're in the pool. It also makes swimming incredibly difficult.
If you have to swim in a shirt, we encourage you to consider either a rash guard or a true swim shirt. Both are designed to fit tighter to the body than a shirt and allows a better range of motion.
Related article: Answering Your Questions About Rash Guards
It's best to have at least two swimsuits on hand. Swimsuits can and do rip/tear at practice. And having an extra on hand saves the hassle of trying to find one last minute. 
Try on Your Suit
It's easy to get a suit and think it'll fit. But suit sizes vary by brand and what fits you in one brand might not fit you in another brand. That said, try on your suit before your first practice. This will help you know if it fits correctly or not.
Don't wait until your first swim practice to see if it fits. If it's too big or small, you won't be able to swim until you get the correct suit.
More Content for You: 5 Things to Know Before Joining a Swim Team
And if at all possible, swim some in your suit! 
It never fails that a suit fits well on your body when it's dry. But once you get in the water, it loosens slightly or it fits weird. And then you're stuck wearing an uncomfortable suit for at least an hour.
Swim Gear/Equipment
Some teams, such as high school teams, provide most of the equipment for their swimmers.
Other teams, such as year-round club teams, ask that swimmers bring their own gear. Even within these teams, what's required varies by team. 
Related article: What Should You Bring to Your First Swim Practice?
Because of this, you should speak to your coach so you know what you need to bring. 
At best, you can expect to need the following equipment at swim practice:
We also encourage you to invest in some swimming ear drops to use after practice. Ear drops can help prevent swimmer's ear.
Related article: What is Swimmer's Ear?
Some swimmers also need earplugs if they're prone to frequent ear infections. Or, if they don't like getting water in their ears. If you think you'll need these, it's best to get them now instead of finding out later.
Brush up on Swim Terminology 
Swimming has dozens of new words that you'll likely hear once you join a swim team. Your teammates and coach can help you if you don't know some of the terms. But it's still helpful to have a small understanding of the various terms you might hear.
Need a starting place? Our article '30 Words to Get You by at Swim Practice' is a good place to begin. 🙂 We also suggest 'Advice for Swim Practice Etiquette' to help you understand pool etiquette.
Get in Some Laps
To prepare for your first swim practice, keep swimming! 
It's hard getting back into the water to train when you haven't been in the water for weeks or months. Even if it's just for an hour a day or a few hours a week, some water work is better than none. 
Related article: How To Return to the Pool After a Long Break
Doing this will also help keep your swimming skills sharp and help maintain your endurance. 
If you can't get in the water, try to work on some dryland exercises at home instead. Do some simple bodyweight exercises such as push-ups and squats. Core work is also a great way to stay in shape. 
You can do these dryland workouts at home. And most dryland workouts can be done without weights, too. 
Nutrition Before and After Practice
Even though you haven't had your first practice yet, you need to consider your nutrition. Both before and after practice. 
This varies by each swimmer, as not every swimmer can eat something before a morning workout. If you have morning workouts, you'll need to see what your stomach can handle during these workouts. 
Related articles: (coming soon)
What to Eat Before Swim Practice
Best Snacks to Eat After Swim Practice
We like a tortilla with peanut butter. And sometimes we'll slice up a banana or put in dark chocolate chips as an extra treat 🙂
You should also start looking for a snack that you can eat after practice. Preferably one that's low in sugar and high in protein.
Protein bars and drinks are good options to consider for recovery after practice. Check their labels to make sure the sugar content isn't too high. Or that sugar isn't the first ingredient listed. 
Our favorite recovery snacks are some homemade protein cookies and an Adkins high-protein bar that's easy to eat on the drive home.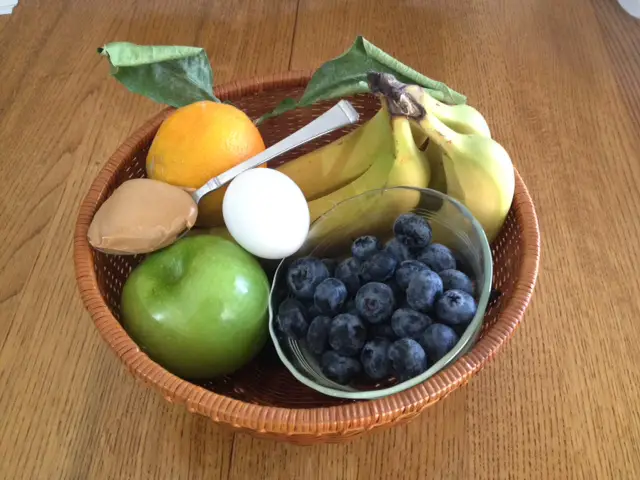 Know Your Schedule
Swim schedules can be hectic. Between morning and afternoon workouts, and dryland days, things can blur together. Practice times can also vary throughout the season. Pair that in with your school or work schedule, and it's hard to keep things straight.
As you prepare for your first swim practice, get yourself familiar with the swim schedule. And compare it to your daily schedule. This will help you find overlap and which days you might be late due to conflict. 
It's a simple step but it's a great way to prepare. And it takes away some of the unknown and the guesswork.
Plan to Show up Early
Do yourself a favor and show up to practice early. And not just for your first swim practice but for all of them!
Doing this helps set a positive tone for you and shows the coach that you're serious about practice. It also gives you time to speak with the coach about what to expect, where you can put your things, and talk with other swimmers.
More Content for You: How to Calm Down Before Swimming Tryouts
You should also stretch during this time. Stretching before practice will help prevent injuries. Some teams do this together and others will have their swimmers stretch on their own.
If you're going to be late for whatever reason, let the coach know ASAP. You don't want to make a bad first impression by showing up late.
Complete any Outstanding Paperwork
As a new swimmer, you might need to fill out some forms on or before your first day of swimming. For high school teams, this might be a physical and other signed forms. Whereas elite year-round swim teams might have liability and registration forms to complete.
Some teams won't let you swim until these are completed. Always check with the coach to know what types of forms you'll need on your first day. And see if they need to be turned in before the first practice.
As always, to happy swimming!
Chevron
---
Bonus Content: 
What New Swimmers Should Know About Practice: Headed to your first swim practice but not sure what to expect? Here are six things new swimmers should know about swim practice.
What Do Swimmers do at Swim Practice?: Swim practice is more than just swimming laps for swimmers. It's long hours training at the pool. Here are some things that swimmers do at swim practice.
---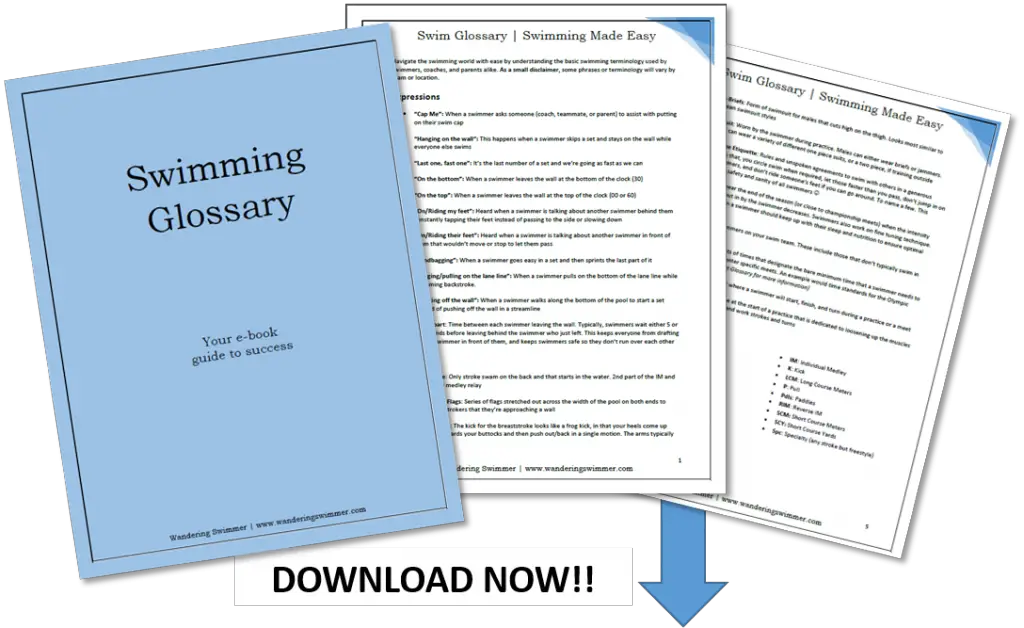 Want to Improve at the Pool?
Join swimmers and swim parents to receive my free newsletter and receive a free Swimming Glossary e-book as a thanks!
Every month you'll receive tips and coaching to help you find success at the pool.