Obviously, we're biased and our knee-jerk reaction is to say that 'yes, you should join your high school swim team.' But it's honestly not the correct answer for everyone and providing a blanketed answer would only hurt some people.
Just because we think you should join the swim team or you want to join one doesn't mean it's the right choice.
Related article: 5 Things to Know Before Joining a Swim Team
Swim teams aren't as easy as most individuals think. They're early morning and late nights. Not to mention weekend meets, cold water, and the smell of chlorine that gets everywhere.
It's not just splashing around and having fun, sadly.
If you're still considering joining your high school swim team after all that, great! We're glad we didn't scare you off 😉 
Before you sign up for the team though, here are some things to consider before joining.
Disclosure: This post may contain affiliate links, meaning we earn a small commission at no cost to you if you purchase something through one of our links. As an Amazon Associate, we earn from qualifying purchases. Please check out our disclosure page for more information.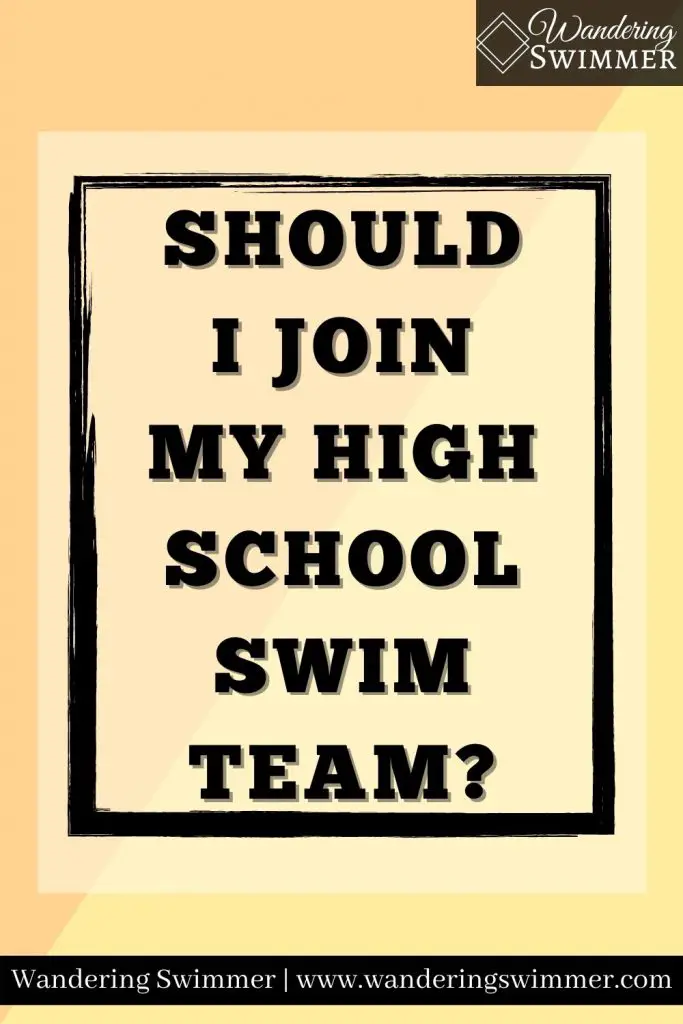 Things to Consider Before Joining 
Current Swimming Ability
Most high school swim teams require that swimmers complete tryouts before they can join a team. Tryouts typically happen before the swim season begins and helps sort swimmers into the junior varsity or varsity team.
And yes, tryouts can also determine who does and doesn't make the team.
Related articles:
Because of this, it's essential to know that the high school swim team is not a learn to swim class. It's a competitive team and the expectation is that students who want to try out know how to swim.
Or at least have basic swimming ability.
It's important to note that this does vary by each school. Some schools have highly competitive teams. Where others have teams that anyone can join regardless of their swim abilities. 
Talk to the coach if you're interested in joining to get a better understanding of what's expected at swim team tryouts. This can help you determine if your swimming abilities are up to par and if you could make the team. 
If you can't swim, chances are you won't get through tryouts. That doesn't mean that you can't take swim lessons and try again the next year though! 🙂
Related article: 10 Tips to Prepare for Swim Team Tryouts
Know how to swim already? Make sure you keep swimming to better your skills. Your swimming abilities will determine which level of team you'll make after tryouts. 
Why do you Want to Join the Swim Team?
If you can make the swim team, one thing you should also consider is why do you want to join your high school swim team? 
We'll preface this with the statement that everyone has their own reasons to join. And we're not here to pass judgment or say that you're joining for the wrong reason.
For transparency's sake, I'll admit that I joined my high school team because I thought it would be an easy PE credit. Plus, I liked to swim! It seemed like a good combination 🙂
And I was in for a massive shock my first week of practice. 
Swimming as a sport isn't easy. And if you find yourself joining for potentially the wrong reason (such as I did), you might find yourself miserable. You'll either struggle through the season or end up dropping the class.
We see many high school students quit swimming within the first few weeks. Simply because swimming isn't for everyone. Practices aren't easy and the commitment is a lot. 
Everyone joins a team for their own reasons. And that's okay! It's just important that you realize you're committing to the coach and your teammates. And that those people will count on you to train and compete.
Commitment
Swimming requires hours of commitment, even on a high school team. While year-round club swimming trains more often than a high school team, you can still put in long hours.
Most high school teams have a dedicated class period for swimming. This is either a morning or afternoon class period. Some teams though will take that training further and schedule a second workout in the day.
Again, this can be in the morning or afternoon, based upon when the actual class period is. Coaches might use this time for a second water workout or do a dryland session.
Related article: What is Dryland in Swimming?
High school swim teams also have swim meets during the week and weekends, based on their schedule. 
Consider what your current commitments are and what your schedule looks like before you join your high school swim team. If you can't make the majority of swim practices and meets, you might not pass the class. Or you might find yourself removed from the team.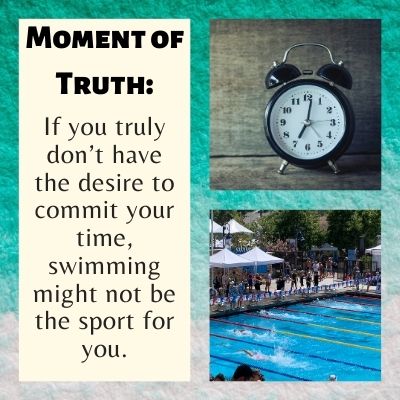 If you're not sure about the commitment requirements, speak with the coach. And someone else on the team, if you can. They'll be able to best explain what's expected in terms of attendance, meet participation, and more.
It is possible to have other before/after school commitments and still swim. Some swimmers participate in the band, tutor other students, are part of agriculture programs, and other sports but still swim.
Is it challenging? Of course! But excellent communication with all parties involved is key to making it work. 
What Are Your Goals? 
If you're new to swimming or swimming on a team, you might not have goals set for yourself just yet. And that's okay! You can create and set goals along the way. 
I can admit that when I first started, I didn't have any goals for myself. I just wanted to swim! 🙂
It's usually not until after your first swim meet or the first weeks of practice that you start to get an idea of what you want for yourself.
More Content for You: Swimming Secrets: What Really Happens at Swim Practice
By setting a goal, you can help give yourself motivation throughout the season. And it gives you something to work towards. It also helps you see how far you've come since you started swimming and it can help you plan for next season.
Others on your team might have more detailed goals for themselves. Such as a goal to win a championship meet, break a record, or swim in college. Just remember that everyone has their own goals. And what one swimmer has for their goal doesn't have to be yours.
Expense
In terms of expense, high school swimming has some cost associated with it.
While you typically don't have to pay monthly dues or provide equipment/gear, you do have to purchase some items. Such as swimsuits, caps, and goggles.
Related article: How Much Does a Swim Team Cost?
The school will usually provide one suit and a cap or two. But these should only be used during competition. And while the school provides some equipment, other items such as prescription goggles, ear drops, fin socks, and towels are things you'll need to provide.
Make sure you consider the various expenses before looking to join.
Why You Should Join High School Swimming
If you've already considered everything and are still on the fence, we do encourage you to consider joining. Or at least speaking to someone currently on the team.
While it can be hard work and can take time away from your schedule, it's not without its rewards. 
Related article: 6 Good Reasons You Should be on a Swim Team (coming soon)
Swimming on a swim team can help better your time management and is a great source of exercise. Being on a swim team is an ideal way to work on leadership and other interpersonal skills, too. All good items to list on a resume or college application!
You might also find that you enjoy high school swimming and want to continue in college. Or swim in Masters Swimming following graduation. 
Related article: 14 Reasons to Join Masters Swimming
Again, we'll admit that we're biased when it comes to joining a swim team. But we also honestly feel that doing so can open several other doors for you.
Best of luck in whatever you choose!
And as always, to happy swimming!
Chevron
---
Bonus Content: Coming soon!
Can I Keep Swimming After High School?
High School Swim Team Tips
---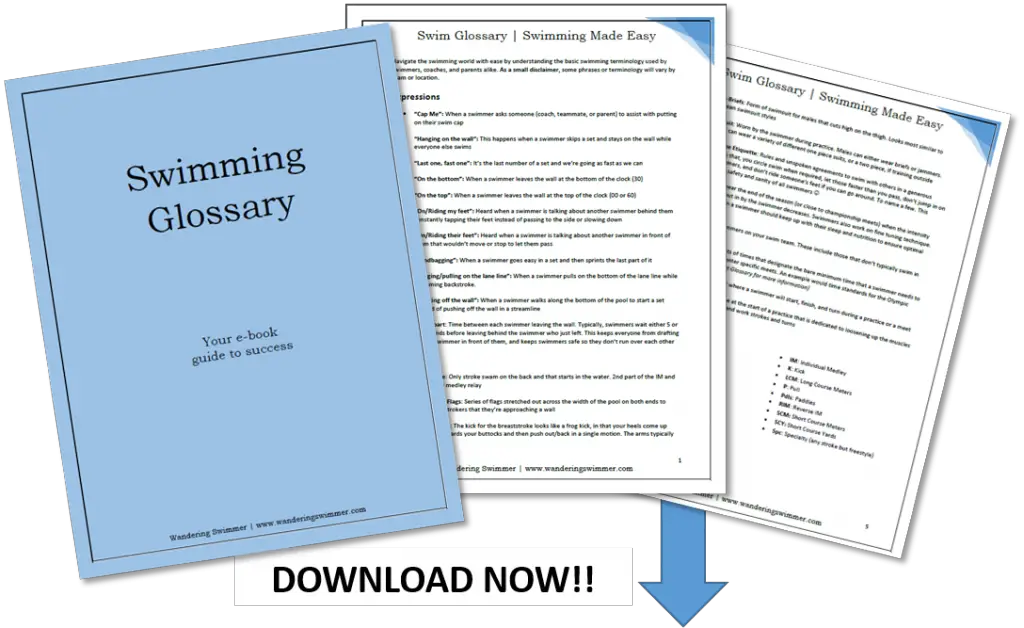 Want to Improve at the Pool?
Join swimmers and swim parents to receive my free newsletter and receive a free Swimming Glossary e-book as a thanks!
Every month you'll receive tips and coaching to help you find success at the pool.