New to a swim team? You might've heard about swim meets and why they're important. But you probably didn't realize that swim meets cost money to compete in. Some costs are easy to see. Others aren't as obvious but they all add up.
So are swim meets expensive?
Truthfully, the answers vary based upon your location, the type of meet, and the team you're swimming with. High school swim teams cost much less than year-round swim teams when it comes to swim meets.
Related articles:
This isn't an exact list, as the cost of a swim meet varies by person. But it can help you get an understanding of the various expenses associated with swim meets.
Disclosure: This post may contain affiliate links, meaning I earn a small commission at no cost to you if you purchase something through one of my links. As an Amazon Associate, I earn from qualifying purchases. Please check out my disclosure page for more information.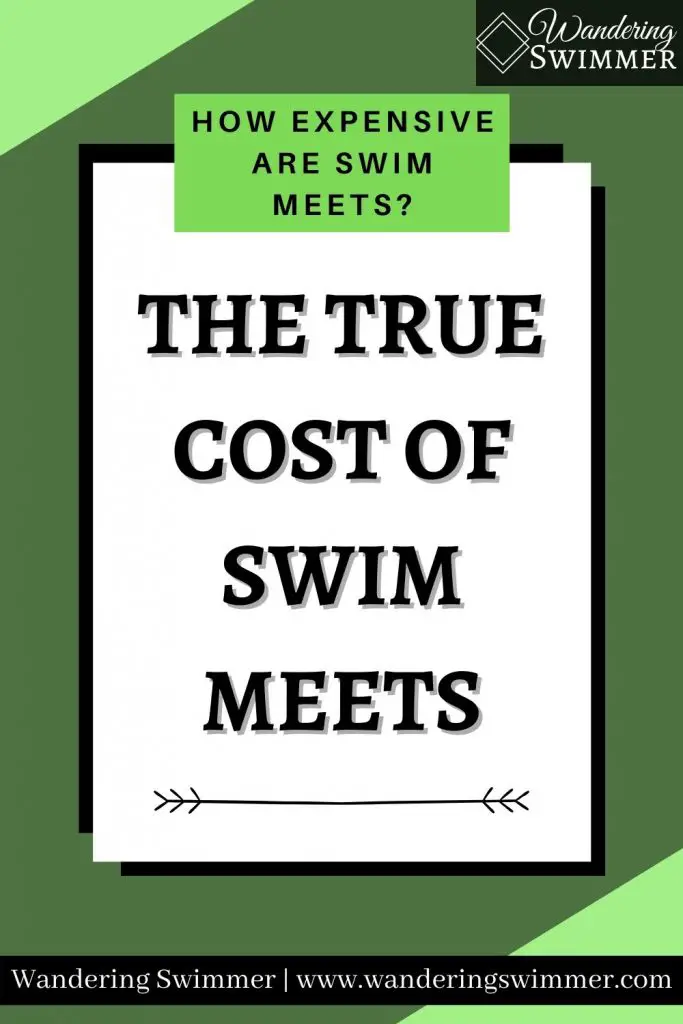 Entry Fees
Each swim meet has an expense known as 'entry fees'. These cover the cost of each event that a swimmer will compete in, including relay events. 
For those who only swim in high school, the school typically covers the cost of entry fees. As do most summer league teams. This can vary by the team and school, of course. 
Swimmers on a year-round club swim team, though, are expected to pay their own entry fees. This can come as a surprise (and an unwanted expense) to those swimmers who previously swam for summer league or high school.
The cost of entry fees varies based on the type of swim meet. For example, you can expect to pay less for meets that are more local and are timed finals. However, meets with prelims and finals will typically cost more.
Related article: Easy Swim Meet Terms for Success
And as a rule of thumb, the higher level the swim meet is, such as Nationals or Sectionals, the more you can expect to pay. Both in fees and other costs.
Swim meet fees can run from $4-7 an event at local meets. Whereas championship meets can cost up to $15 an event.
For one event, the entry fee might not seem terrible. 
But most swimmers swim more than one event at a swim meet. Even at a local meet, swimmers typically swim around 3-5 events a day, based on the daily allowance. 
At $7.00 per event over a two-day meet, the cost of a swim meet can add up quickly!
Tech Suits and Meet Apparel
Swim meets require specific suits and clothes, such as parkas and warm-ups. Along with tech suits, goggles, and caps.
These suits, goggles, and caps differ from practice gear in that they're designed for racing. They're more aerodynamic and sleek. And they can help give a swimmer an edge: mentally or physically.
And while most items aren't 100% necessary for swim meets, some might be mandatory for your team. Such as team warm-ups and parkas. These items can help your team show support for each other and also help you stay warm on deck.
We recommend using the Arena Team Line Parka for maximum warmth at meets and practice. Or Sporti's Comfort Parka for when you need a bit of warmth.
Related articles:
Want to avoid an expensive tech suit?
It is possible to race in your normal practice suit (and you should for more local, timed final swim meets). This can help reduce the cost of a swim meet. You should just ensure that your practice suit is tight enough to reduce some drag.
However, because tech suits are so 'elite' and special, most swimmers have at least one. But they're not exactly cheap. And they don't last very long, unfortunately. 
Related article: Extending the Life of Your Tech Suit
It's worth noting that USA Swimming recently passed a rule in September 2020 that swimmers 12 and under cannot wear certain tech suits. You can find legal and approved 12 and under tech suits at SwimOutlet, where they have a separate section for the approved suits.
If you're new to the sport and want a tech suit, we recommend looking at SwimOutlets men's and women's entry-level tech suits. These will be more affordable and still provide all the benefits of a tech suit.
Travel Costs
Not all swim meets are local. 
Again, this can vary by swimmer based upon the meets available to them. But at one point, you'll probably need to travel for competition. 
For high school swimmers, the school typically covers travel expenses. Such as transportation, lodging, and food. This is done through fundraisers, booster clubs, and donations. 
For year-round club swimming though, the costs of an away swim meet can be expensive. 
Related article: How to Save Money at Away Swim Meets
And truthfully, you don't think about it until it comes time to start making the reservations. Because let's stay honest. When you started swimming, did you ever think to budget for airline tickets?
We didn't!
From transportation, such as gas, car rental, airline tickets, or ride-sharing. To hotels and food expenses. It all adds up quickly, even for those shorter meets!
We travel frequently for swim meets. Some within the state, some nationally, and recently, some international! It takes a lot of planning and time to budget for these types of meets, but it doesn't have to difficult or expensive. 
Transportation
Transportation costs vary by swimmers and the type of meet you're going to. If you're swimming only local swim meets, you only have to worry about gas expenses. 
But if you're flying for a meet, then you have to factor in airline tickets. Plus the cost of a rental car or a rideshare program. 
Even local meets can become costly if you're driving back and forth for prelims and finals over a few days. And depending on the area in which you live, gas can be pretty expensive.
One way to help reduce some transportation costs for local meets is to carpool with teammates. You can split the cost of gas to help save some money.
Lodging Expenses
Based on the type and length of the meet, you might need to stay overnight at a hotel.
Some away swim meets only last two days only require one to two days in a hotel. Others can last almost a full week. And sometimes you need to factor in an extra day to adjust to time zone changes. 
Whether you need to stay for a night or a week, hotel costs can be expensive. And they are something most people don't budget for when they considered joining a team. 
Rooming together with a teammate or another family can help cut costs at long meets.
Food 
Let's admit it, swimmers eat a lot after practice and meets. And if you're traveling, you'll have to pay a bit more for that meal instead of eating at home. 
A hotel might provide breakfast, which can help with some expenses. But you'll have to cover the cost of lunch and dinner for each day of travel. This can come out to about $10-12 a meal per person. 
Don't forget to add in the cost of snacks and drinks. You'll need to eat throughout the meet itself and during the day between sessions. Not to mention, you might end up eating something during the drive, too. 
At the end of your trip, you might find that the cost of food might total the same amount as your hotel bill!
Time
It's hard to put a price on this. But we feel it's worth bringing up. 
Swim meets are typically an all-day affair. They can start early and end late. Most happen on the weekend. But you have some that start during the week.
As a parent, it means you might have to take time off for some meets. Or you have to give up your weekends to spend the day at a meet. It's time away from completing the to-do list you created and something you can't get back.
For swimmers, it's missed school days and weekends for competition. It's running the risk of missing a test or falling behind in class. And it's missing time spent with friends.  
Time is something we're often short on. And it's something we can't get back. As swimmers, we always feel as though we're chasing the clock. For some people, time is the most expensive part of a swim meet.
Miscellaneous Meet Fees 
There are a few miscellaneous costs associated with swim meets that didn't quite fit in with the earlier items. 
These can range from parking and admission fees to the meet, to heat sheets.
On average, a small percentage of meets have a parking garage fee associated with them. These typically come from championship meets held at colleges or somewhere downtown where public parking isn't available. 
Parking fees vary based on how long you're at the meet. On average though, you can expect about $8-20 a session.
Admission fees are typically for championship meets, too. A single session pass will cost about $15. If you're staying for the whole meet and making all the sessions, it's more cost-effective to buy a session pass.
And while you're purchasing your admission pass, you have the option of buying a heat sheet. 
Related article: How to Read a Heat Sheet
Heat sheets usually cost around $2-5. Or, you can download MeetMobile, which provides a digital version of a heat sheet with (usually) instant results. Meet Mobile has a monthly or yearly subscription that costs $1.99 monthly or $5.99 annually (as of this writing).
The Total Cost of Swim Meets 
So what is the true cost of swim meets?
This varies heavily on the type of swim team, swim meet, and location. But swim meets can cost anywhere from $50 to $1000 or more. 
Some meets will be cheaper if they're short, local, and timed finals. While others can be more expensive if they're several days, further away, and are prelims and finals. 
The cost of a swim meet also comes down to the type of suit and apparel you're looking to use. The more elite you go in terms of tech suit, racing goggles, and dome caps, the more expensive your meet will be.
We highly encourage you to speak with your coach if you're not sure about the overall expense. They're best suited to help you gauge how much swim meets cost and what you can expect to pay.
Despite the cost of any type of swim meet, these competitions are important and necessary for swimmers. It helps them see their progress, earn cuts, and showcase all their hard work in practice.
That said, be sure to take the time to thank whoever is paying for all the various expenses! H2O Society has swimming specific thank you cards for swim parents and coaches alike. 
And as always, happy swimming!
–Chevron
---
Bonus Content: (coming soon)
How to Prepare for a Swim Meet
The Rudest Things Swimmers can do at a Swim Meet
---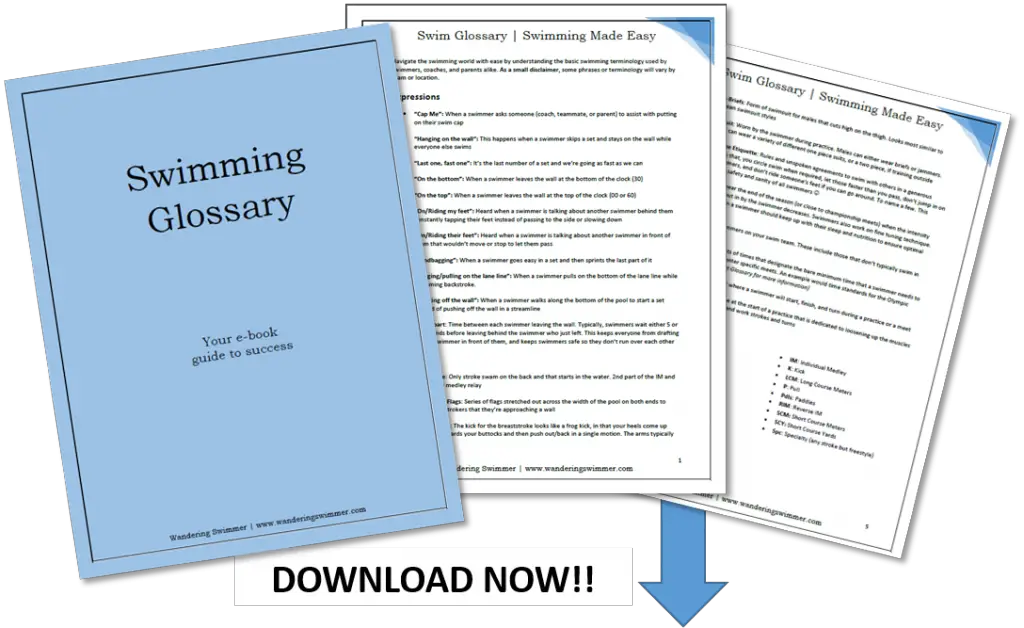 Want to Improve at the Pool?
Join swimmers and swim parents to receive my free newsletter and receive a free Swimming Glossary e-book as a thanks!
Every month you'll receive tips and coaching to help you find success at the pool.
About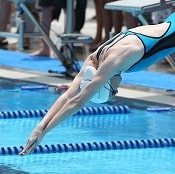 Chevron is a current competitive swimmer with almost 20 years of experience in the pool. And although she fell into the sport by accident in her high school years, she still trains daily and competes throughout the year. She's committed to providing guidance to all levels of swimmers and believes that everyone should know how to swim.