Staying warm during your next meet is one simple way to have a better swim meet. But staying warm is more than just drying off and wrapping up in a towel. Part of the trick is having the correct warm clothes for swim meets. 
What swimmers need to stay warm at swim meets varies by individual. Some, such as myself, need heavier clothes for swim meets. Even in the middle of the summer. Others need far less and can suffice with a simple jacket. 
Related articles:
We've put together a list of various clothes and apparel to help keep you warm at your next swim meet. 
Disclosure: This post may contain affiliate links, meaning we earn a small commission at no cost to you if you purchase something through one of our links. As an Amazon Associate, we earn from qualifying purchases. Please check out our disclosure page for more information.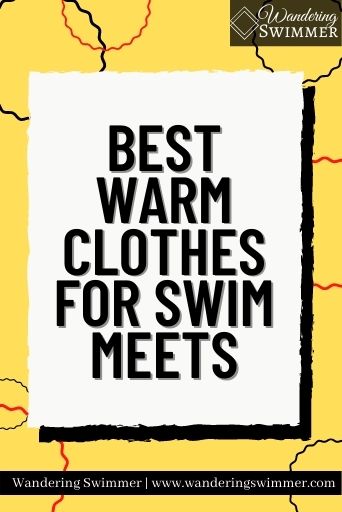 Parkas
For those who have trouble staying warm, parkas are some of the best warm clothes for swim meets that you can get. They're also great to use before and after practice, and even at home during cold days.
Parkas are usually lined with fleece for optimum warmth and have a water-resistant outer shell. We will caution that they're water-resistant, not waterproof. If they get too wet, water will eventually seep into the inner lining.
Related article: 8 Best Swim Parkas for Swimmers
Some parkas, in our experience, are warmer than others. You'll want to consider this when looking at your next parka. If you can, ask to try on a teammate's parka before purchasing your own.
This will help ensure not just the warmth that it provides, but also the fit.
Heavier Parkas
If you're looking for the warmest option, we recommend Arena's Team Line Parka. It's fleece-lined and feels like you're wearing a down comforter. 
Because of its design, this parka offers the maxim amount of warmth. For swimmers, coaches, and parents alike! It's perfect for cold pool decks or anyone who can't stay warm, no matter how many layers they wear.
For more information on this parka, be sure to check out our review on it: A Swimmer's Review of Arena's Team Line Parka.
Another good parka to consider is Speedo's Elite Parka. It's heavy/padded and has a thick inner lining to help keep you warm. It's a bit longer than Arena's Team Line Parka (based on how you like to wear it), which can help keep some swimmers warmer.
Lighter Parks
Want a lighter parka? 
One of the benefits of a lighter parka is that they're typically a bit easier to pack. As they're not as puffy as heavily padded parkas. But they are still warm clothes to use at swim meets.
Another benefit is that lighter parkas tend to run just a little cheaper than their heavier counterparts. 
Related article: The True Cost of Swim Meets
Sporti's Comfort Parka keeps you warm without being too warm. It's not a heavy as the Arena and Speedo parka mentioned above but still offers warmth for those cold mornings or evenings.
Speedo also offers two other lighter-weight options for parkas. Their Color Block Parka and Team Parka. Both have less puffiness compared to their Elite Parka. Which might appeal to some swimmers.
Warm-Ups
Most swim teams have some type of team warm-up that they use.
Warm-ups consist of a jacket and pant combination that swimmers – and coaches – can use at swim meets or even practice. You typically see that at meets the most though, as they're simple and affordable warm clothes for swim meets. 
Warm-ups come in various colors and pattern designs, which can usually be customized for each team. Some shops, such as SwimOutlet, can also add a swimmer's name to the front to help prevent mix-ups at meets.
Much like parkas, warm-ups can vary in type of material. From heavier fabric for more warmth to something lightweight such as a windbreaker.
Heavier Warm-Ups
For cold weather or cooler pool decks, heavier warm-ups are the best at keeping swimmers warm. 
We use Arena's Throttle warm-up pants and jackets. They're made from a thick polyester material that traps in the warmth. The jacket comes with a high collar, which keeps the neck and shoulders a bit warmer.
Two other options to consider are Speedo's Streamline and TYR Team warm-ups. 
Speedo Streamline warm-ups are 100% polyester fleece for more warmth. Zips up to the base of the throat, but it doesn't zip up to the neck
TYR Team jacket is 100% polyester but comes with a hood that zips up high on the neck.
Lighter Warm-Ups
A lighter warm-up can help keep off the chill during the summer or at warmer pools without overheating you. Especially if you're swimming outdoors and there's a bit of a breeze!
For meets like this, a lightweight jacket will usually suffice for most swimmers.
Arena provides this with their Prival warm-up set. It's made from ripstop material, which is similar to what's used on windbreakers. However, the inside has a mesh lining to keep the warm-ups light and airy.
Arena Prival Warm Up Navy/White
Sweats and Loungewear
Of course, if nothing else, you can always opt for some sweats. It's important to remember that in the case of sweats, bigger isn't always better. A larger hoodie might be great to snuggle in, but it can gap and let air in. 
If you plan to wear something larger to curl up in, make sure you wear an extra layer underneath. This will help keep the warm air trapped in and the cool air away from you. 
Related article: Best Swim Meet Advice
Some lighter-weight loungewear may be ideal for those who need some warmth, but not an excessive amount. For some swimmers, a long sleeve shirt and pants might be enough for this. Our favorite light-weight top is Speedo's Pull Over Hooded Tee. It's incredibly soft and comfortable.
Speedo Unisex-Adult T-Shirt Hoodie Pull Over
Socks (and/or Boots)
For some swimmers, keeping their feet warm can make the difference between feeling cold and warm. 
Swimmers who need to keep their feet warm should look into socks to wear at meets. And not just one pair will do. It's best to bring several depending on how long the meet is. Especially if you're putting on shoes before/after warm-up and in between races.
Dry socks perform much better at keeping you warm than wet ones! So you'll want to make sure that you change them out when they start feeling too damp.
In addition to socks, you'll want to find a good pair of swim meet shoes. We prefer regular tennis shoes. Ones that are easy to slide on and dry quickly. 
We do have teammates though who prefer shoes or boots with inner lining.
While these are great at keeping your feet warm, some boot styles aren't suited for the pool deck and water. Keep this in mind if you're considering some type of boot.
Gloves
Much like your toes get cold, so too can your fingers. While it might seem silly to wear gloves at a swim meet, you might find that it's the key to helping you stay warm.
Achiou Winter Knit Gloves are warm despite being thin. And as a bonus, they have a non-slip design to keep you from dropping things. Such as your phone 😉
Beanie
Lastly, get yourself a beanie! Beanies are a great way to keep your head warm and any water from dripping on you. Plus, you can get some fun ones to showcase your personality! Look for some with fun prints, slouchy, or with a pom at the top.
Beanies are simple, cheap, and easy to pack in a swim bag. Not to mention, you can wear them at practice and away from the pool, too.
As always, to happy swimming!
Chevron
---
Bonus Content:
Top 11 Questions About Swim Meets: Swim meets can bring about a variety of questions. Here's a brief overview of the top 11 frequently asked questions about swim meets.
15 Ways to Extend the Life of Your Tech Suit: It's no secret that tech suits are expensive. So how do you extend the life of your tech suit? Here are 15 tips to help care for your tech suit.
---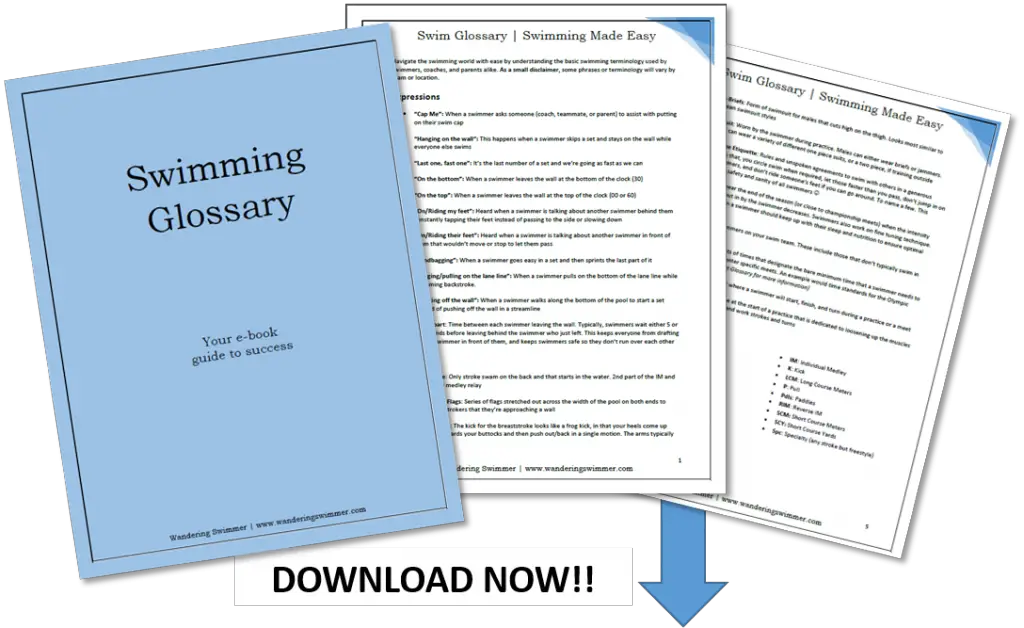 Want to Improve at the Pool?
Join swimmers and swim parents to receive my free newsletter and receive a free Swimming Glossary e-book as a thanks!
Every month you'll receive tips and coaching to help you find success at the pool.
---
---
About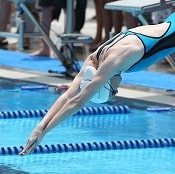 Chevron is a current competitive swimmer with almost 20 years of experience in the pool. And although she fell into the sport by accident in her high school years, she still trains daily and competes throughout the year. She's committed to providing guidance to all levels of swimmers and believes that everyone should know how to swim.