Staying warm at swim meets is a crucial factor to finding success at meets. You can't compete well if you're too cold. For those that have trouble staying warm at meets, parkas offer a great way to beat the cold. One such parka is Arena's Team Line Parka.
Parkas though aren't just for competitive swimmers. Anyone can use them as a means to stay warm in cold weather. On deck or away from it.
Related article: 8 Best Swim Parkas for Swimmers
I've been using Arena's Team Line Parka since 2018. And as someone who struggles to keep warm, especially at swim meets, it's been a lifesaver. 
Not sure if a parka is right for you? Keep reading to get my full breakdown on Arena's Team Line Parka (and parkas in general) to see if a parka will work for you!
Disclosure: This post may contain affiliate links, meaning we earn a small commission at no cost to you if you purchase something through one of our links. As an Amazon Associate, we earn from qualifying purchases. Please check out our disclosure page for more information.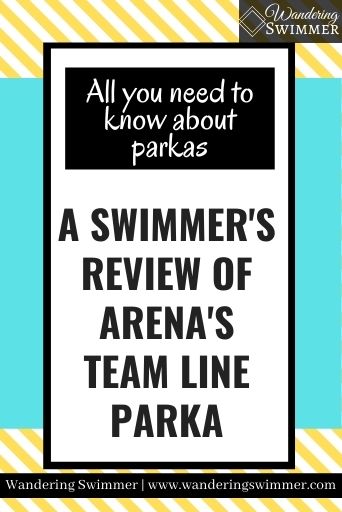 What is a Parka?
In swimming (and other water-related sports) a parka is a knee-length jacket with a hood. They're typically lined with a warm inner lining and have several pockets. Parkas come in several different sizes and weight options based on the swimmer's needs.
Parkas can be used as a means to stay warm at swim meets. But they can also be used before and after practice during the colder training months. Especially if the pool is outside or the locker room is separate from the pool.
Can I Use a Parka if I'm not a Competitive Swimmer?
Of course! 
Parkas can be used by anyone. Divers, open water swimmers, water polo players, and lap swimmers can all use parkas to help stay warm. Coaches can also use parkas up on deck during cold weather!
They're also great for lifeguards and swim instructors. Not to mention, they're perfect for kids right after swim lessons.
 If you'll be in the water in the cooler months, you can use a parka 🙂
Alternatively, parkas are also a great option for those who go to outdoor sporting events, such as football, soccer, or baseball. They can be used by parents and kids alike who need to stay warm while outside in cold weather.
Review of Arena's Team Line Parka
Material
Inside
Back when I swam in college (several undisclosed years ago), parkas were lined with a sherpa-like material. Warm, but they matted quickly and took ages to dry. Today, most parkas are lined with fleece
The Arena Team Line Parka is lined with polar fleece, which makes it both soft and insulating. To date, it hasn't balled up or turned matted despite the numerous uses. Both poolside and away.
When it comes to drying, the inside material dries relatively quickly and I've had no issue with using it during a prelim/final meet. 
However, I will make the disclaimer that I dry off well with a shammy and microfiber towel before I use it after a general warm-up. And I try not to sit on it directly with a wet suit. The only time I wear it fresh out of the pool is directly after warming up for a race. 
Related article: 5 Reasons Swimmers Should Own a Shammy
Outside
The outside of Arena's Team Line Parka is made of durable polyamide. It's water-resistant (not waterproof), meaning water droplets will bead off the material. However, too much exposure to water will make it waterlogged.
Because of this, you might not want to wear it while counting for someone. Or if you're expecting it to rain. 
I'll also note that it's next to impossible to sneak up on anyone when wearing this. It sounds a bit like a windbreaker when the fabric rubs together 😀
Additional Features of the Parka
Attached Hood
In addition to the soft, fleece lining, Arena's Team Line Parka comes with an attached hood. I will note that the hood doesn't come off, which for some, might be a downside. 
The inside of the hood is lined with the same polar fleece as the parka's interior. And the outside has the same polyamide. There are drawstrings on the hood to help keep it close to the head in windy and colder weather.
Several Pockets
One of my favorite features of Arena's Team Line Parka is the number of pockets. 
There are 5 pockets total. Four on the outside and an extra on the inside. The inside pocket is deep enough to hold a phone and has a small velcro patch to keep it closed. 
Two of the outside pockets are placed lower on the parka and are the perfect length for me to put my hands in. These are also large enough for a phone and other items, such as keys or a wallet.
The other two are more chest level and are lined with polar fleece. They're smaller and a bit uncomfortable to use at times. But they're great for when my hands are a bit cold.
Zipper and Button
To help keep you insulated as much as possible, the parka has a zipper and button flap to keep out the cold air. There are two zippers, which means it can be unzipped from the bottom. I tend to do this whenever I'm sitting down so it's not so tight.
The added flap over the zippers folds to snap down. It might seem like overkill, but I've found I actually like this feature. When there are times I don't want to zip the parka up, such as just before a race, I can opt to button it up instead. 
Arena Team Line Parka
Weight 
I say weight tentatively because it doesn't exactly weigh a lot. I'd guess two to three pounds (.9 – 1.4 kilos). 
But, the Arena Team Line Parka is bulky. I think this is really one of two downsides of the parka that I can list. And to be fair, most parkas are a bit bulky in some ways.
It's puffy and looks more like a down comforter masquerading as a parka. And if you've ever tried to fold or wrestle a down comforter into a drawer, you know it's not easy. 😀
That said, trying to pack a parka in your swim bag is next to impossible. I've never attempted it because I already know it won't fit. Instead, it's easier for me to carry it directly even though it's a bit of a pain.
It also takes up a lot of space in a suitcase if you're ever traveling with it.
When I have to fly with my Arena Team Line Parka, I line my suitcase with it first and then pack everything on top of it. I tried this in 2019 when I went to Mission Viejo, CA for the 2019 Masters LC Nationals meet. 
Pain to pack and carry around? Yes. Worth it? Absolutely. 
Size
Arena's Team Line Parka comes in sizes XXS to 3XL. It's advertised as Unisex, which really means it's sized for a man's body. Before purchase, I do recommend checking out reviews from others, as they typically provide some good feedback in terms of size.
One complaint I've heard is that due to the men's sizing, the parka fits a bit tighter in the hips for females. Keep that in mind if you're purchasing for yourself or a female.
My parka is a large size and it's just the right size for me. The sleeves go down mid-hand and the body of the parka reaches my knees. I also have enough space in my hips and love that I can wrap myself up in the parka. As a reference, I'm 5' 9" (179 cm) and have a slim build (125lbs/56 kilos).
If you're looking at a parka for your child, consider sizing up one or two sizes. This way, they can grow into it as they get older.
Comfort
A+ comfort all around. The polar fleece lining is incredibly soft and comfortable. Even when it's a bit damp from use, it still feels nice. 
Part of the comfort for me is that the parka fits me well. It's not too tight across my chest, shoulders, or hips. This adds to the comfort level for me. 
And again, the polar fleece lining is just so soft! 
Cleaning
Arena's Team Line Parka is machine washable. Although I admit that I haven't tried sticking it in the washer just yet.
Instead, I use a wet washcloth to wipe down the outside material. And then turn the parka inside out to do the same to the interior lining. 
When it comes to drying, I turn it inside out and lay it out flat. Typically outside in the sun if I can or on a drying rack. If I'm traveling and don't have that option, I'll drape it over a chair to help it dry better.
Personalize 
Some swim shops, such as SwimOutlet, offer personalization to parkas. You can have your name or your child's name embroidered on the front. Some teams will also embroider their names on the back, too. 
It's a nice option, as it makes the parka custom and easy to identify in a stack of others. The only downside comes if you plan to sell it if you outgrow your current size. 
In terms of color, the Arena Team Line Parka comes in three colors: asphalt, black, and navy.
Price 
The cost of the Arena Parka is one of the other negatives about this parka. 
It's a bit on the expensive side. Or at least what I consider expensive. And while it costs around the same as some of the Speedo and Nike parkas, other parkas are a bit cheaper.
Most swim stores, such as SwimOutlet carry Arena's Team Line Parka and other parkas. Amazon also carries them. Shop around to see if you can get a discount anywhere! 
And as a reminder, most of these stores hold sales near the end of the year or season. So be sure to check then! You might also consider looking for any summer sales, too.
Other Parka Options
Arena's Team Line Parka isn't the only parka that's out there. Several swim brands make parkas that you can consider as well. Most will have the same or very similar makeup to Arena's parka. 
A few different options to consider are:
Arena Team Line Parka Overview
Do I like my Arena Team Line Parka?
I do! And I recommend it to anyone who has trouble staying warm. At meets, practice, or even walking the dog in the morning. The additional padding and the internal fleece lining keep you insulated and toasty warm. 
Related article: The Best Warm Clothes for Swim Meets
However, I also believe that if you're the type who only needs a light set of warm-ups or sweats to stay warm, this parka isn't for you. Or any other parka. Instead, I recommend that you continue to stick with your warm-ups, as a parka might be a waste of money for you.
If you're somewhere in between freezing and staying warm at meets, I would suggest considering a parka that doesn't have the extra padding. Such as Sporti's Parka. You might find Arena's parka a touch too warm.
That said, ask around. See if your teammates or anyone you know has a parka that you can try out. This can help give you a feel for size, weight, and warmth. 
As always, happy swimming!
Chevron
---
Bonus Content:
14 Gifts Swimmers Will Actually Use: Looking for gifts that swimmers will actually use this year? Avoid the hassle of getting the wrong present with these 14 gift ideas.
A Swimmer's Review of the DivaCup: As a swimmer, menstrual cups such as the DivaCup offer an array of benefits. One important benefit being that you can train and compete in them with ease.
How to Pick the Right Goggles for You: When it comes time to pick the right swim goggles, you might feel overwhelmed. Consider these 4 things the next time you're looking at goggles.
---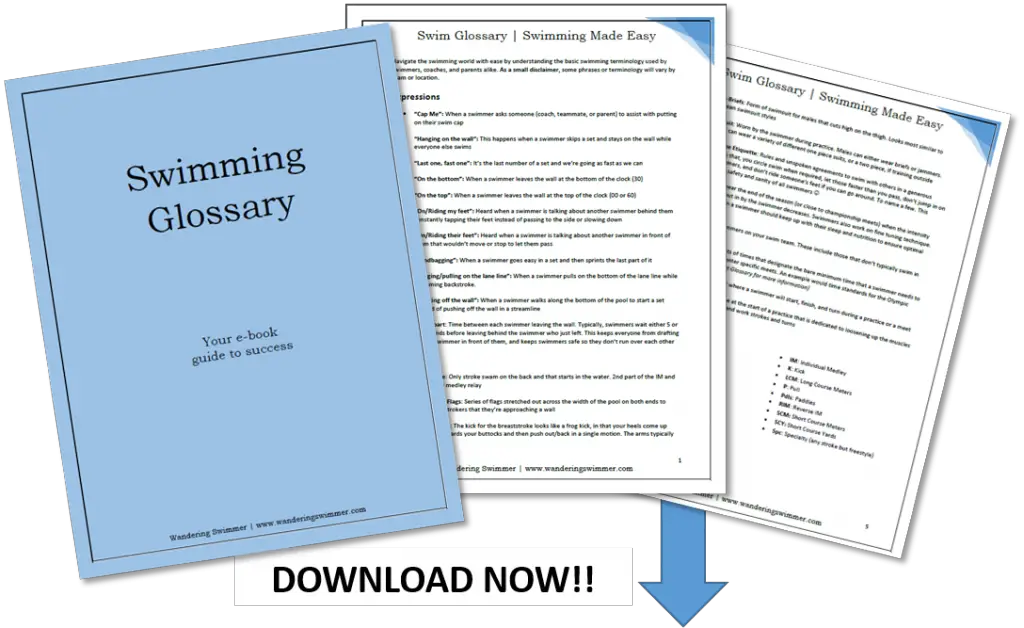 Want to Improve at the Pool?
Join swimmers and swim parents to receive my free newsletter and receive a free Swimming Glossary e-book as a thanks!
Every month you'll receive tips and coaching to help you find success at the pool.
---
About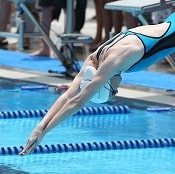 Chevron is a current competitive swimmer with almost 20 years of experience in the pool. And although she fell into the sport by accident in her high school years, she still trains daily and competes throughout the year. She's committed to providing guidance to all levels of swimmers and believes that everyone should know how to swim.