Looking for gifts that swimmers will actually use this year? The good news is that it's somewhat easy to shop for a swimmer. So long as you get the right brand 😉
Swimmers are a picky bunch when it comes to their gear and can be brand loyal to what works best for them. Avoid the hassle of getting the wrong gift with these 14 ideas for gifts that your swimmer will actually use. 
Want more gift guides or ideas for swimmers (along with coaches and parents)? 
Be sure to check out our other articles: 6 Last-Minute Gifts for Swimmers, Best Pride Gifts for LGBTQ+ Swimmers, 8 Awesome Gift Ideas for Swim Coaches, and, 9 Amazing Gift Ideas for Swim Parents
You can also get some ideas from this year's gift guide: Best Gifts for Swimmers in 2021.
Disclosure: This post may contain affiliate links, meaning I earn a small commission at no cost to you if you purchase something through one of my links. As an Amazon Associate, I earn from qualifying purchases. Please check out my disclosure page for more information.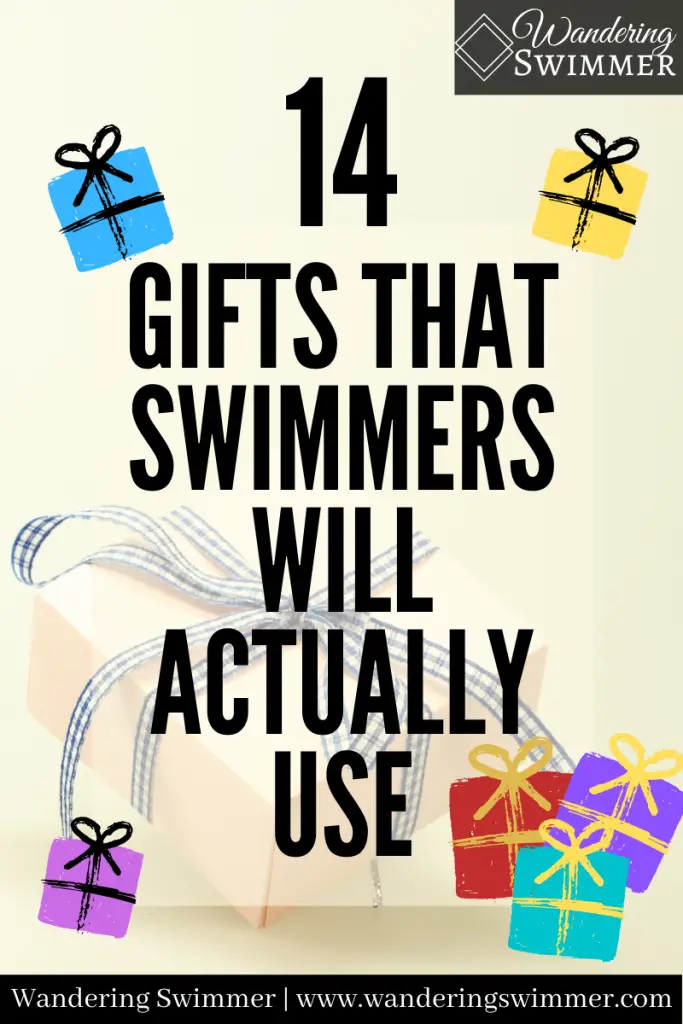 Competitive Swimmers
Fin Socks
Not every swimmer faces the challenge of getting blisters on their feet when they use fins. But some deal with them every time they put fins on their feet.
For those swimmers who are prone to blisters or sores when using fins, consider the gift of fin socks that will actually work. 
Related articles:
Socks are a temporary solution that will eventually stretch out over time and can cause more blisters when they start to rub. And other fin socks run too thin to offer any type of protection.
Instead, neoprene fins socks are the best option when it comes to saving feet from blisters brought on by fins.
Gear
Every swimmer goes through swim gear on a yearly if not monthly basis it seems like. Caps and goggles (plus goggle straps) are always in high demand. They might seem like an easy gift, but remember that swimmers like certain brands.
If you want to give a gift that swimmers will actually use, ask which brand they prefer. And while you're at it, ask which color they like, too. The red-tinted goggles might look cool, but they make an indoor pool exceptionally dark.
If you're not sure what type of gear your swimmer might need or appreciate, check to see if they need any of the following:
Suits
Much like gear, swimmers go through swimsuits like crazy. But not all suits are made the same and yes, sizes can change based on the style of suit.
Giving the gift of a suit is something every swimmer appreciates. Making sure it's the right suit will make your gift much more appreciated. 
Ask your swimmer which brand they prefer. Whether that's Speedo, Arena, Jolyn, Nike, TYR, or something else!
Along with the brand, ask about the style, size, and color. Sizes vary by brand and every swimmer has a certain style suit they prefer. Get as much detail about the suit that you can before buying it.
Even better, let your swimmer pick the exact suit they want and send you the link. You can't go wrong that way!
Open Water
Swim Buoy
Open water swimmers and triathletes use swim buoys every time they train. Or at least they should! 
In terms of safety, these swim buoys help boaters, lifeguards, and other people out in the water spot them when they're swimming. If you know someone swimming in a lake or the ocean and they don't have a swim buoy, get them one!
They might not want to use it right away, but in terms of safety, all open water swimmers or triathletes should train with a swim buoy.
As a bonus, most swim buoys offer some storage for phones, keys, and gel packs. 
Thermal Swim Gear
Swimming outside, even during the summer, can be cold if you're in a lake or ocean. Staying warm is important in open water swimming. Especially as people start to train more in the winter months.
For those individuals who do train in cold bodies of water or during the winter months, ask if they need any thermal swim gear. 
Yes, it sounds strange to think of swim gear as thermal, but it exists! Some good ideas to get started are:
If you're looking to give the gift of warmth to your open water swimmer, consider a wetsuit. Again, know that each swimmer has their preferred brand and wetsuits aren't a one size fits all!
Electronics
Fitness Trackers
Who says you can't have electronics in the pool while you swim? A good number of fitness trackers are now waterproof enough that you can take them in the pool with you. 
One gift that works best for counting laps and monitoring your heart rate is the Swimmo.
Swimmo currently comes in three different colors as of this writing. It does more than just count laps, it also considers your pace/speed, distance, and time in the water. All this information, in addition to your biometrics, syncs up to an app.
Related article: 8 Best Waterproof Fitness Trackers for Swimming
Other fitness apps can track your laps as you swim, such as the Garmin Forerunner 935 and the Fitbit Versa 2. Just keep in mind that each fitness tracker has different features that may or may not work best for you. 
I'll also note that fitness trackers aren't for every swimmer. Some individuals won't wear them in or away from the pool. As some fitness trackers can be expensive, make sure your swimmer will wear them first before giving one as a gift 🙂
Headphones
Swimming can be a lonely sport when you don't have anything to listen to for minutes at a time. Recently, companies have come out with waterproof headphones so swimmers can finally enjoy music while swimming. 
Related article: 7 Best Waterproof MP3 Players for Swimmers
Some options to consider are:
New Swimmers 
Learn to Swim 
For those individuals who are just starting to swim or want to swim, give the gift of swim lessons. Learning to swim is a life-saving activity not just for kids, but also for adults. 
Check with local pools and learn-to-swim programs to see what options they offer. Most offer a variety of classes based on age and swim ability. 
For adults, consider working with a Masters's team for lessons. Masters Swimming is specific for adults and within the US, certain individuals are certified to teach adults to swim. It's never too late to learn how to swim and if know someone who wants to learn, I highly encourage you to help them along!
Related articles:
Swim Lesson Journal
Individuals just learning to swim or starting out in swim lessons can track their progress with a swim lesson journal from H2OSociety. This journal allows swimmers to record their various memories at each lesson and what they learned that day/week.
There are also sections to track milestones, goals that they might have for the year, along with pages for parents to help stay organized.
Having a swim planner for new swimmers helps them see how far they've come during the year and gets them into the habit of making goals for themselves.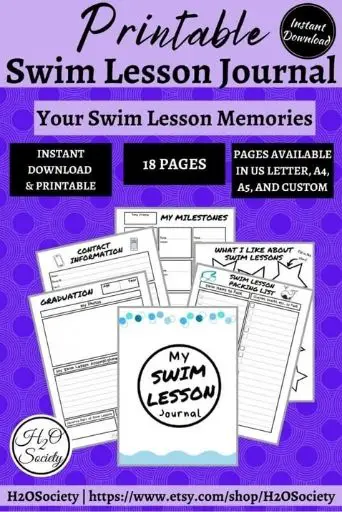 Masters Swimming
Gift of Time
Masters Swimmers balance work, family, and swim life. Finding time between work and family to hit the pool isn't always the easiest. For those wanting to train but can't due to childcare needs or even just house chores, consider the gift of time.
Offer your services as a babysitter or see if there's something else you can do to help your swimmer get more time at the pool. It's a gift that'll appreciate and will use for sure!
Extras
Coupon Book
Get your swimmer their very own swim coupon book! Designed to look like a pool, you can customize the gifts on each coupon to reflect something swimming related or something chore/personal related. 
Have some fun with it and get a few laughs in!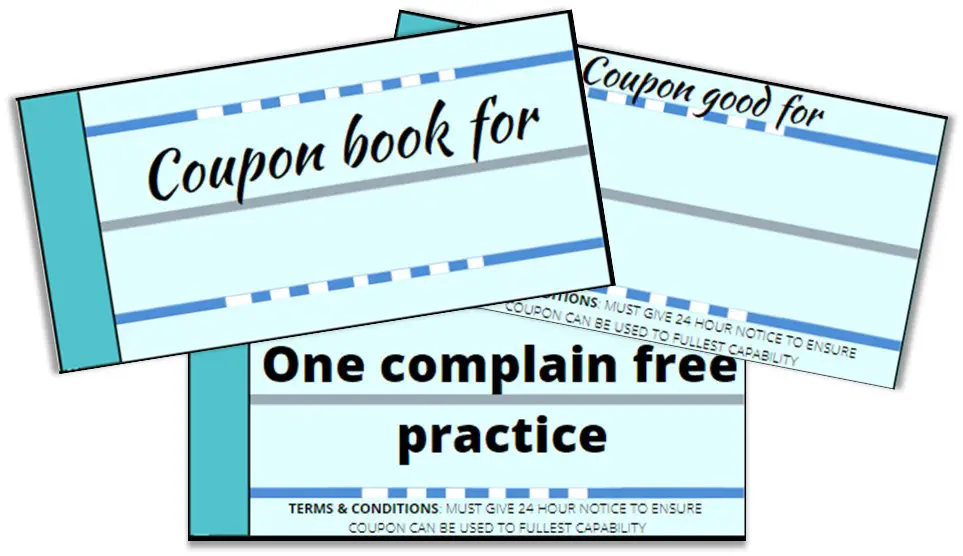 Ear Drops
Every swimmer (in my humble opinion) should have ear drops. Ear drops help prevent swimmer's ears, which in turn, keeps swimmers in the water longer. Use it after every practice, whether that's at a pool or in a lake. 
Related article: 7 Things Every Swimmer Should Have
Gift Cards
One gift swimmers will actually use? A gift card! 
Yes, it seems like a simple and cheap way out of gift-giving, but it's the best way to help your swimmer get what they want. Swimmers know what they need and what they like. Instead of asking a hundred questions or getting the wrong gift, let them pick it out themselves with their own gift card.
Swimming Themed Cards 
Most cards are geared towards the more mainstream sports and swimming seems to fall to the wayside. Surprise your swimmer with some swimming themed cards for various occasions. It can be a birthday, holiday, motivational, or even funny related. 
Check out some cards at H2OSociety! And maybe pick up some for your swim coach along the way 😉
Related article: 8 Awesome Gift Ideas for Swim Coaches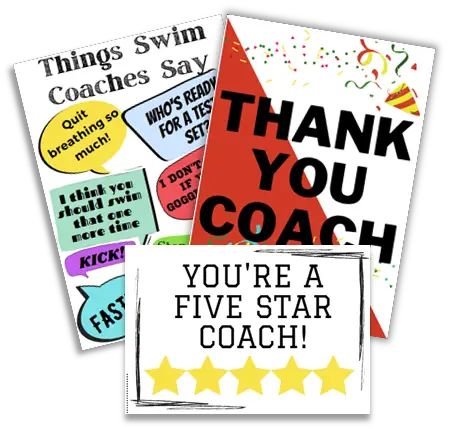 In Closing
Swimmers might not be the easiest bunch to shop for, but there are options! And remember that you know your swimmer best. Some swimmers would rather not get anything swimming related at all as a gift.
If you're ever in doubt about what to get your swimmer, don't be afraid to ask them. This ensures that they get what they want and you don't have to stress about finding a gift. 
As always, to happy swimming!
Chevron
---
Bonus Gift Content:
Best Gifts for Swimmers in 2020: Shopping for gifts for swimmers this year? Find inspiration with our 10 gift ideas for swimmers. They're perfect for any occasion!
6 Last-Minute Gifts for Swimmers: Need some last-minute gifts for a swimmer you know? Check out these 6 last-minute gifts that will help get you exactly what you need.
9 Amazing Gift Ideas for Swim Parents: Swim parents are one of the unsung heroes in the sport of swimming. And they deserve some wonderful gifts throughout the year as thanks for sticking with us! 
---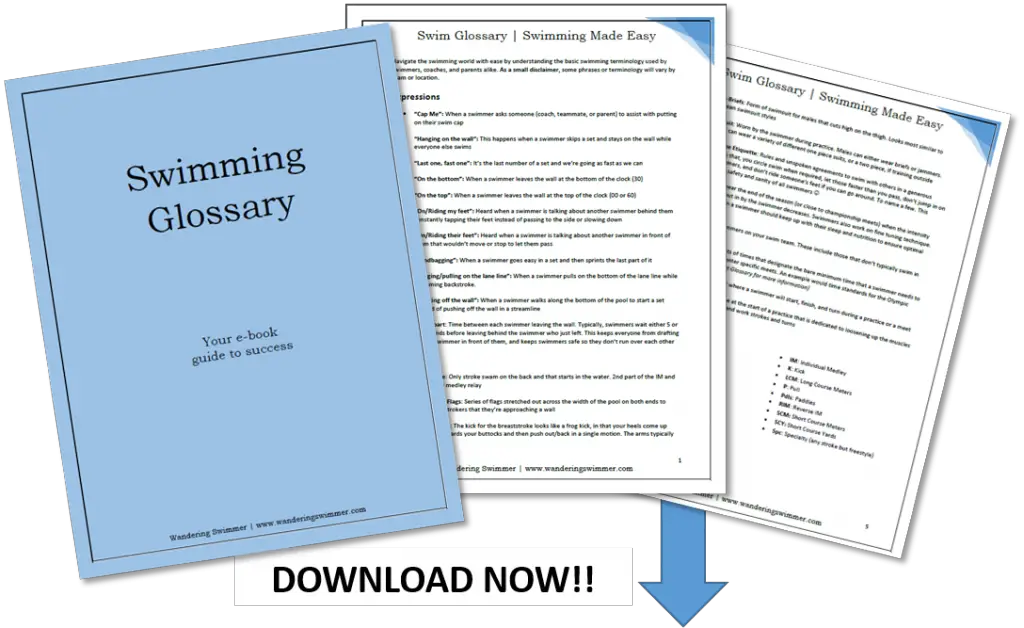 Want to Improve at the Pool?
Join swimmers and swim parents to receive my free newsletter and receive a free Swimming Glossary e-book as a thanks!
Every month you'll receive tips and coaching to help you find success at the pool.