June is Pride Month! And we've collected a variety of different pride gifts for swimmers to help show your pride or support for LGBTQ+ swimmers.
The best news? You don't have to wait until June to celebrate diversity and inclusion on your team or with your teammates. Strive to be supportive all year round. As swimmers, we're all family and we all should be there to support each other.
Whatever pride gift you're considering for a swimmer (or yourself!) please be mindful that not everyone is as out as others. For some, something more subtle and personal will mean more than something apparent.
Disclosure: This post may contain affiliate links, meaning we earn a small commission at no cost to you if you purchase something through one of our links. As an Amazon Associate, we earn from qualifying purchases. Please check out our disclosure page for more information.
UPDATED: June 4, 2021 to include new releases from Arena and Speedo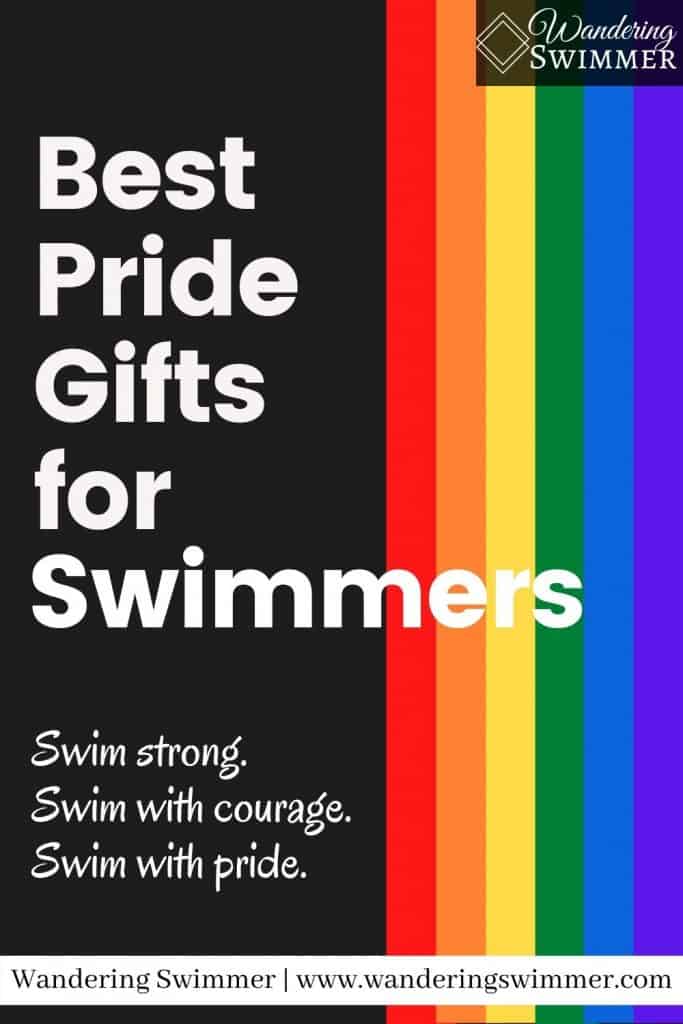 Apparel
As of this writing, Speedo is the only major swimming brand that has pride apparel. They have at least a dozen different shirts dedicated to their support of LGBTQ+ swimmers. Most of which have been added to their recently released Pride Collection.
From the many pride shirts offered, we've selected 1-2 from their long sleeve, t-shirt, and tank top options. But you can find their full Pride Collection at Amazon and on their site. We highly encourage you to take a look at the various options!
Long Sleeve Shirts
As part of their long sleeve/hoodie options, Speedo currently has two styles available. 
By far, our all-time favorite Pride shirt from Speedo is their unisex Pride Pull Over Hooded Tee. The fabric is extremely soft and features the rainbow flag in the design of lane lines with the words 'No Matter Which Lane You Swim' between them.
It's a simple but very inspiring message for swimmers and we highly recommend it.
This particular pullover is currently sold out on Speedo's site but is available in their store on Amazon. As a note, Amazon lists this shirt for women but it's supposed to be unisex.
Speedo Unisex-Adult T-Shirt Hoodie Pull Over Pride Rainbow Brights
Short Sleeve
To add to their apparel collection, Speedo has six different varieties of short sleeve
Our pick for short-sleeve tops is the Pride Unisex Tee in gray. The material is soft and nearly identical to the long sleeve pullover from Speedo. This tee features the rainbow flag with a silhouette of the Speedo name and logo.
We also like the Pride Unisex Tee Speedo Boom, which is a white shirt with the words 'Look Ahead' in all caps. The words take on the color of the rainbow flag. Simple but it still displays a strong and excellent message. 
Tank Tops
Speedo completes their collection with four tank tops. 
We'll comment that even though all of Speedo's tanks say they're unisex, they are more of a men's cut than a women's cut. 
Between the four tank tops, we like the Pride Unisex Tank the best. With its Speedo logo overlaid with rainbow colors and the flag, it's an uncomplicated design and show of support that still stands out. 
Our only negative against the tank itself is that black fabric isn't the most forgiving during the summer months 😉 We wish this option came with a different color selection, such as gray or white. 
But other than that, it's really an awesome tank that you can't beat!
Suits 
What is swimming without swimsuits? 🙂 Arena and Speedo both have suits available to celebrate pride and inclusivity within the sport. 
And as these suits can be worn by any aquatic fanatic, they're great not just for swimmers, but also divers, water polo players, and casual poolside lounging!
Between Arena and Speedo, Arena suits are more subtle in their designs and not as obvious that the design is Pride based. Whereas Speedo is more obvious and intentional in its design. 
We support both brands in their designs and acknowledge that everyone has their own level of comfortability. Having an option between something subtle and obvious is a personal choice. And for some, unfortunately, it's also a matter of safety.
If you're considering a pride gift for a swimmer you know (or even yourself) ensure you take into consideration their personal preference. 🙂
Women
Swimsuit styles and cuts vary by each swimmer. Because of this, we'll list our recommendation based more on the design and message available on the suit, and not the suit (fabric, cut, and style) itself.
Our top three favorites (again, in terms of design and not the suit itself) are:
Speedo One Piece PowerFlex Flyback: This suit comes in neon blue and plain black. Both of which are strong in their representation and support of LGBTQ+ swimmers. The blue suit has a rainbow-colored 'Speedo' across the front. While the black suit has the Speedo logo surrounded in rainbow colors. 
Arena Pride Light Drop Back – Maxlife: Available in black or white, this suit has an EKG readout in the rainbow flag colors with a heart in the middle.
Arena Pride Superfly Back: For a more subtle suit, this suit from Arena fits the bill. It comes in black or white with piping in the colors of the pride flag. It's very subtle and you wouldn't know it's supposed to be for pride.
Speedo One Back Graphic One Piece: We will note that this suit style comes in 4 different options. 3 of them are in white, while the fourth is in red. The design in particular that we picked was the version with the Speedo name/logo running up the side. We liked the simple design but appreciated the show of support. The only draw back to this version is that the fabric is white and it's slightly see through when you get out of the pool. 😳
Aside from these three mentioned suits, both Speedo and Arena offer a few other swimsuit options for swimmers. 
Men
Much like the female suits, we'll list our recommendation based more on the design and message available on the suit, and not the suit (fabric, cut, and style) itself.
Our top two picks are:
Arena and Speedo have additional pride suits available in different cuts and styles, but still, stay true to their message. 
Gear 
Next to swimsuits, gear is the next best way for swimmers to express themselves. Both Arena and Speedo have various pride related gear to help that expression. And in terms of gifts, you can rarely go wrong with gear!
By far, we like Arena's Pride Team 45 Backpack. It features a white background and is covered with pride colored hearts across the entire bag. It has a large main compartment that can fit training gear (Such as Arena's Pride Powerfin PRO fins ;)) and two smaller side pockets.
Related articles:
But we also like this piece of gear because you can use a swim bag for more than just hauling swim gear. It's also good for backpacking and other travel needs. Many uses and a great message!
Speedo has also released a pride swim bag of their own recently! Their Teamster 2.0 Rainbow Pride is covered in an abstract rainbow pattern that doesn't necessarily look like the pride flag, which makes it good those wanting something subtle.
Both Arena and Speedo have pride swim caps, too! Adding a bit more fun to your gear.
Speedo has different silicone caps which can match your cap with their Vanquisher goggles (Rainbow and Rainbow Brights) for more support. Whereas Arena has a bold, white silicone pride cap.
And as always, to happy, inclusive, and supportive swimming! Celebrate your pride not just in June but all year through! <3
–Chevron
---
Bonus Content:
14 Gifts Swimmers Will Actually Use: Looking for gifts that swimmers will actually use this year? Avoid the hassle of getting the wrong present with these 14 gift ideas.
6 Last Minute Gift Ideas for Swimmers: Need some last-minute gifts for a swimmer you know? Check out these 6 last-minute gifts that will help get you exactly what you need.
---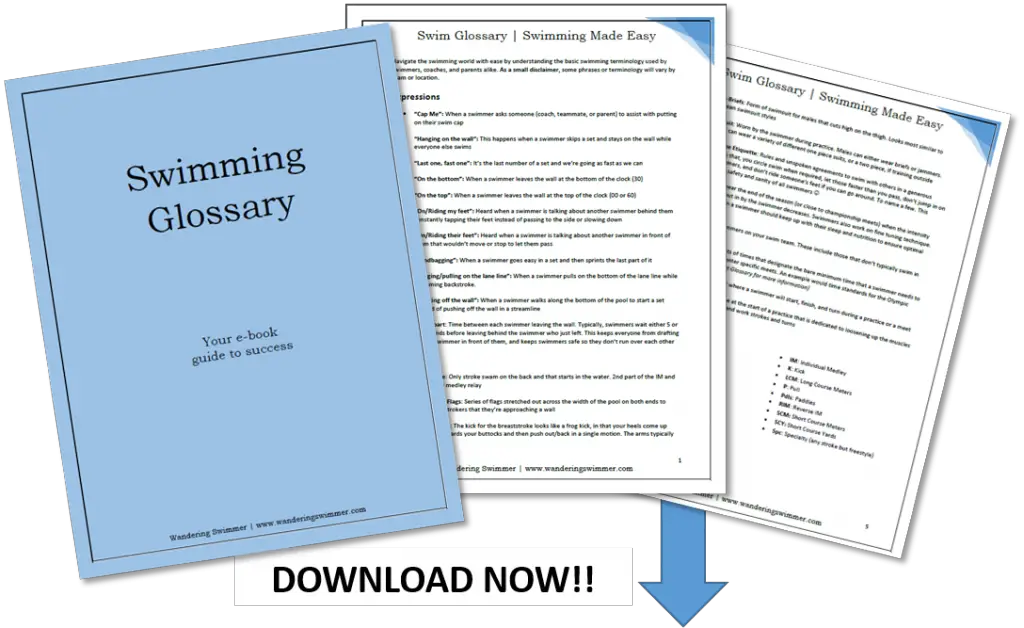 Want to Improve at the Pool?
Join swimmers and swim parents to receive my free newsletter and receive a free Swimming Glossary e-book as a thanks!
Every month you'll receive tips and coaching to help you find success at the pool.