For someone who has trouble staying warm, swim parkas are one of the best ways to keep warm before and after getting into the water. 
While I own an Arena Team Line Parka, my teammate graciously let me borrow her Adoretex Swim Parka for a while to see how it worked.
Related article: 8 Best Swim Parkas for Swimmers
Keep reading to get my full breakdown and thoughts on Adoretex's Swim Parka. And see if it's the swim parka for you!
Disclosure: This post may contain affiliate links, meaning we earn a small commission at no cost to you if you purchase something through one of our links. As an Amazon Associate, we earn from qualifying purchases. Please check out our disclosure page for more information.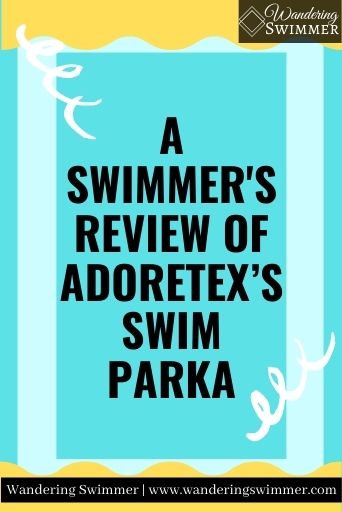 Material
Adoretex has two types of lining for their swim parkas. A fleece and faux fur lining. This review covers the fleece-lined parka. 
We do not recommend the faux fur lining parka for swimmers.
The faux fur lining gets matted down and retains water much longer than the fleece-lined parka. Meaning it's no warmer than a wet towel and it can get pretty gross after a while.
While parents and spectators may benefit from the faux fur-lined parka, swimmers themselves probably won't. 
Inside
The swim parka from Adoretex has an arctic fleece inner lining, making it warm and quick to dry. The fleece lining is also incredibly soft even after several years of use. And it hasn't pilled or balled up.
Fleece tends to dry faster, so it's ideal for swim meets and after a swim workout. I had no issue driving home in it after a workout and my seats stay dry.
I will note though that I dry off thoroughly with a shammy and/or microfiber towel before wrapping up in any type of parka. And when driving home from practice, I wrap a new, dry towel around me so it won't soak the fleece too much.
Related article: 5 Reasons Swimmers Should Own a Shammy
However, even when putting the parka on directly after getting out of the pool, the fleece dries quickly. Especially if I pat it dry shortly after it gets wet.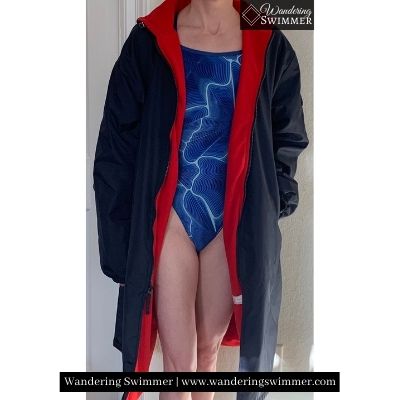 Outside
The outside of Adoretex's Swim Parka is made from water-resistant 100% Oxford Nylon. This outer shell is only water-resistant and not waterproof.
Water-resistant parkas can take some light splashing as the water droplets will bead off the material. And you can dry it off with a towel without it becoming soaked through. However, exposing it to too much water or for too long will allow the water to seep through.
Adoretex does make a waterproof swim parka but I haven't tested that one yet.
This parka does well poolside at meets or practice. It can handle some light splashing without issue. 
Lastly, the outer shell is a bit slippery. This is great for the water-resistant aspect of the material. But my swim bag did slide right off my arm a few times when I go to set it down after practice. 
More Content for You: 8 Best Swim Bags for Swimmers (And Water Enthusiasts)
Additional Features of the Parka
Attached Hood
Like most parkas, Adoretex's Swim Parka comes with an attached hood that has the same arctic fleece lining.
It features toggles on both sides so you can tighten the hood to preserve more warmth on those cold days.
The hood is large enough to cover your head completely. And I can wear a beanie underneath the hood when it's really cold out.
Zipped Pockets
This parka has 4 pockets total. Three outside and one inside. All but one pocket have a zipper closure and they're lined with fleece.
The inner pocket is a little funky, as its opening is sideways instead of having the opening on the top. In some ways, it feels like it was meant for a CD player. 
Related article: Swim Gear and Gift Guides
However, it has a zipper to close the pocket, helping to keep everything secure. Which is a win in my book. 
It is just large enough to hold a phone. And it has an opening to run headphones up through. It's 6 inches deep and 7 inches high.
The two main outside pockets are also fleece-lined, to help keep your hands warm. And they also feature zippers to close the opening. The zippers are a nice feature, as they keep everything secure.
The pockets are deep enough to cover your hands completely and also store your belongings. But they're not the deepest pockets I've seen on a parka. They're about 6.5 inches deep.
One negative I found is that the zippers press against your hands when they're in the pockets. They're not sharp or pinchy on my skin, but they can be a bit annoying.
To avoid this, it's best to tuck your hands more into the sleeves before putting them in the pockets. This way, the fabric of the parka hits the zipper and not your sleeve.
Lastly, there's a small pocket on the outside sleeve on the left arm that has a velcro patch to keep it closed. I'm not too sure what you would keep in it though and I didn't use it much.
Zipper
The zipper on the Adoretex Swim Parka is a YKK Zipper that zips up a heck of a lot easier than my Arena Teamline Swim Parka. 
Related article: A Swimmer's Review of Arena's Team Line Parka
YKK Zippers have larger 'teeth', which makes them more durable and easier to use. Which makes it nice to zip up your parka when it's cold outside! 
The zipper goes all the way up to the neckline to keep out any cold air or wind. This is a great feature, as some parkas, such as the ones from TYR, stop a little lower. 
One negative feature of this though was that the zipper teeth would rub against my neck if I just wrapped the parka around my body. This was avoided when I zipped it all the way up, as intended.
But when you're in a hurry or don't want to zip the parka all the way up, you might find that the zipper teeth will rub some.
Weight
I wouldn't call this parka heavy in the sense that it weighs a lot. But I did notice that it was maybe half a pound to a pound heavier than my Arena Team Line Parka.
Unlike the Arena Team Line Parka though, Adoretex's Swim Parka isn't exceptionally bulky. It's easier to carry around than my Arena parka and I could probably squeeze it into a larger swim bag. 
That said, all parkas are cumbersome due to their size and it's just easier to carry them than try to pack one.
It might be a pain to carry around or deal with but for those who need the extra warmth it provides, it's worth it.
Related article: A Swimmer's Review of Arena's Team 45 Swim Bag
Size
Adoretex's Swim Parka comes in at least a dozen sizes. From XS up to XXXL. And sizes range from youth to adult. 
Like most parkas, it's advertised as unisex. Which means it's sized for a man's body. Before purchase, I do recommend checking out reviews from others, as they typically provide some good feedback in terms of size.
The parka I used was an Adult XL. Which in some ways was a little too big and in other ways just right.
As a reference, I'm 5' 9" (179 cm) and have a slim build (125lbs/56 kilos).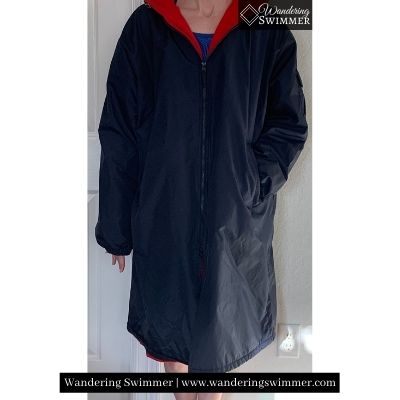 The sleeves of the Adult XL go down mid-hand and the body of the parka reaches past my knees. Whereas the opening of the parka started around midthigh. 
I felt that I had enough space for my hips and shoulders, which can be an issue for some swimmers. And I could do some arm rotations without feeling that I would rip the parka.
More Content for You: 6 Best Prescription Goggles for Swimming + FAQ
Compared to my Arena Team Line Parka, I could wrap more of the parka around my body. In some ways this is good (minus the zipper getting my skin). But it meant that when it came time to zip it up, the parka was too large to keep me as warm as it should.
For some though, having the extra space/fabric is a good thing. 
As it means you can layer easier. Such as wearing your team warm-ups or a hoodie underneath your parka. Whereas, if your parka fits you just right, you might have a hard time layering.
If you're looking at a parka for your child, I recommend considering sizing up one or two sizes. This way, they can grow into it as they get older.
Comfort
Except for the zipper digging into my skin at times, Adoretex's Swim Parka was comfortable. The fleece has maintained its softness after several years of use. And even when it becomes damp, it's still soft to the touch.
I still think the inner lining of my parka from Arena has softer fleece. But it is newer, so it's hard to say for sure.
Cleaning
This parka is machine washable in cold water and can be line dried. It should be washed separately from your other clothes, especially for the first time, as the color on the fleece may bleed. 
Because the outside is water-resistant, it's easy to clean up small patches of dirt and dust. You can take a damp washcloth and wipe it down.
More Content for You: The 7 Best Swim Shampoos to Remove Chlorine
When drying, make sure it's dried completely before storing it. As it is heavier, due to the outer shell, it may take some time to dry fully.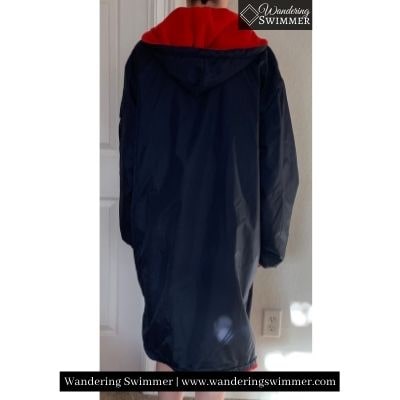 Personalize
You can't customize the Adoretex Swim Parka. This is a hit-or-miss feature with most people, as it's a nice feature to have but isn't a requirement.
Adoretex does offer a sewn-in name tag though for you to write your name inside the parka. It's not anything fancy, such as an embroidered name. But it'll point out who it belongs to and that's all that matters 🙂
In terms of color, you have several options to choose from. The outer shell and inner fleece lining come in different colors each. Such as a black outer shell with a red inner fleece lining. 
This added option allows you to pick the parka that best matches your favorite colors. Or the color combination that you like the most.
Price
This parka can run cheaper than other swim parkas, depending on the size you select. Larger sizes, unfortunately, do cost more than smaller sizes. Just as a youth size will cost less than adult sizes.
Parkas as a whole are more on the expensive side. This is why I recommend talking to swimmers to get their feedback on what works for them. 
More Content for You: 7 Best Waterproof MP3 Players for Swimming
If you can, ask to borrow or try on some if you know people who have swim parkas. This way, you can find the one that works for you. Along with the size that fits you best.
You can also take advantage of sales throughout the year to get your parka at a discount. Such as end-of-the-year sales. Or trying during the summer months, when parkas are less in demand.
Weighing the Pros and Cons
Pros
This is a great, well-built parka with a ton of things to like about it.
Again, it's well designed for watersports and activities. The fleece-lined pockets are deep enough to store caps, goggles, and a phone, while still keeping your hands warm. 
The hood helps add to the warmth. And with everything lined in fleece, it's toasty warm all the way around.
What We Like in Review
The warm fleece lining throughout the whole parka
YKK Zipper, with larger teeth for ease of use
Several pockets, both internal and external
Zippers on the pockets for a secure closure
The attached hood, also lined with fleece
Long fitting on the body, so the majority of the body is covered
Several size options
Based on the size you get, you can layer for additional warmth
Many different color combinations
Water-resistant outer shell
Quick-drying fleece
Cons
Despite the many positive things about this parka, I did find a few things that weren't overall positive. Take these with a grain of salt, as most of these are due to personal preference
But I did have a love-hate relationship with the zippers. This probably wouldn't be a problem if I kept it zipped most of the time I wore it, but I stay warmer when parkas can wrap around me 🙂 
What We Dislike in Review
Opening for the hands was a little wide on the sleeves
The zipper on the outside pocket can dig into the hands when using the pockets
Other Parka Options
There's no shortage of swim parka options. Nearly every swim brand plus others make their own swim parka. The overall designs are the same but you'll find some small differences that you may like more.
Some other options to consider are:
Sporti Comfort Swim Parka: This parka is very similar to Adoretex's Swim Parka. It's more streamlined and less bulky but still features a fully fleece-lined interior with a water-resistant outer shell. Sporti's parka does have vents in the front and back for air circulation. It comes in adult and youth sizes. And solid or striped options 
Speedo Team Parka: Also less bulky is the Team Parka from Speedo. It features a fleece lining and a water-resistant outer shell. The ties on the hood aren't toggles but rather regular ties. Another similar design from Speedo is their Color Block Parka.
TYR Alliance Podium Parka: TYR makes a male and female version of their swim parka, which is a nice change from the unisex option. As the female cut allows for extra space for the hips and chest on women. It cuts a bit higher on the knees but is still a less bulky option
Final Thoughts
The swim parka from Adoretex is a well-designed and warm parka for anyone who does water sports. And while it did its job at keeping me warm, I don't believe it's exactly the right parka for me.
However, that doesn't mean it won't be the right swim parka for you. Again, a lot of this comes down to preference. And what works for me may not work for you. 
I do recommend Adoretex's Swim Parka though because of its thoughtful and made-to-last design. 
It does its job of keeping you warm, which is the biggest factor, and has high-quality material.  It'll hold up over the years and keep you warm before and after getting into the water.
I also suggest that if you know anyone who has a swim parka, ask if you can borrow one. This way, you can see how it fits and what you like/don't like about it. It can save you some headaches later on! 🙂
As always, happy swimming!
Chevron
---
Bonus Content
How to Select the Best Fin Socks: Using fin socks is one of the best ways to keep your fins from giving you blisters. Here are the best fin socks to consider for your next workout.
The 7 Best Swim Paddles for Swimming: Swim paddles (or hand paddles) are a great training tool for swimmers. We've broken down 7 different paddles to help you find the best swim paddle for you!
---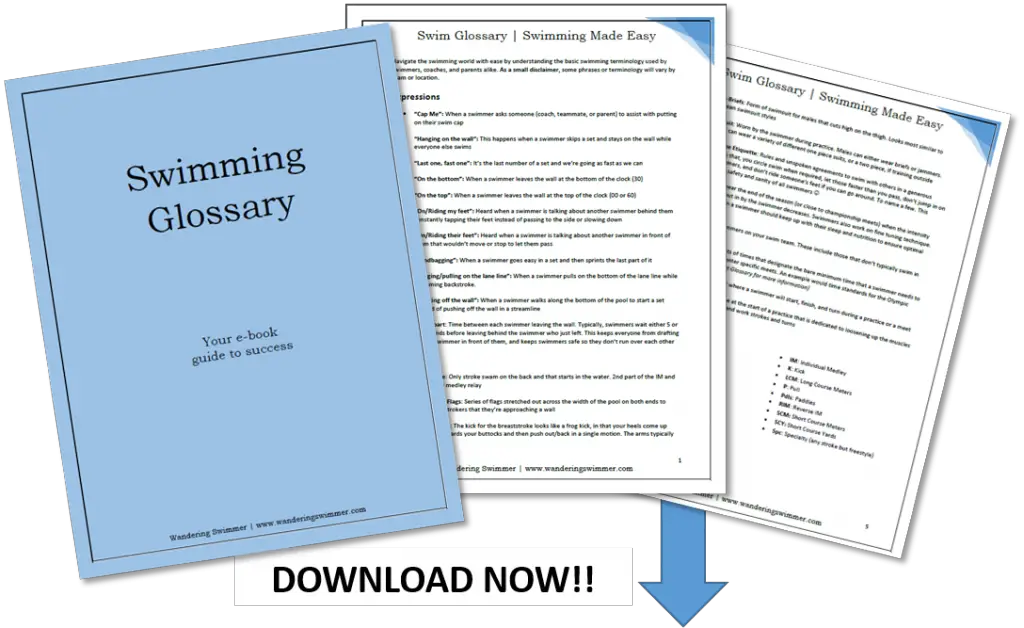 Want to Improve at the Pool?
Join swimmers and swim parents to receive my free newsletter and receive a free Swimming Glossary e-book as a thanks!
Every month you'll receive tips and coaching to help you find success at the pool.
---
About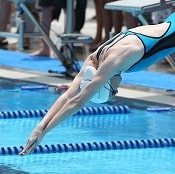 Chevron is a current competitive swimmer with almost 20 years of experience in the pool. And although she fell into the sport by accident in her high school years, she still trains daily and competes throughout the year. She's committed to providing guidance to all levels of swimmers and believes that everyone should know how to swim.