Need some last-minute gifts for a swimmer you know? Swimmers might seem like a difficult bunch to shop for but they're simple in their needs. Check out these 6 last-minute gifts that will help get you exactly what you need.
Disclosure: This post may contain affiliate links, meaning I earn a small commission at no cost to you if you purchase something through one of my links. As an Amazon Associate, I earn from qualifying purchases. Please check out my disclosure page for more information.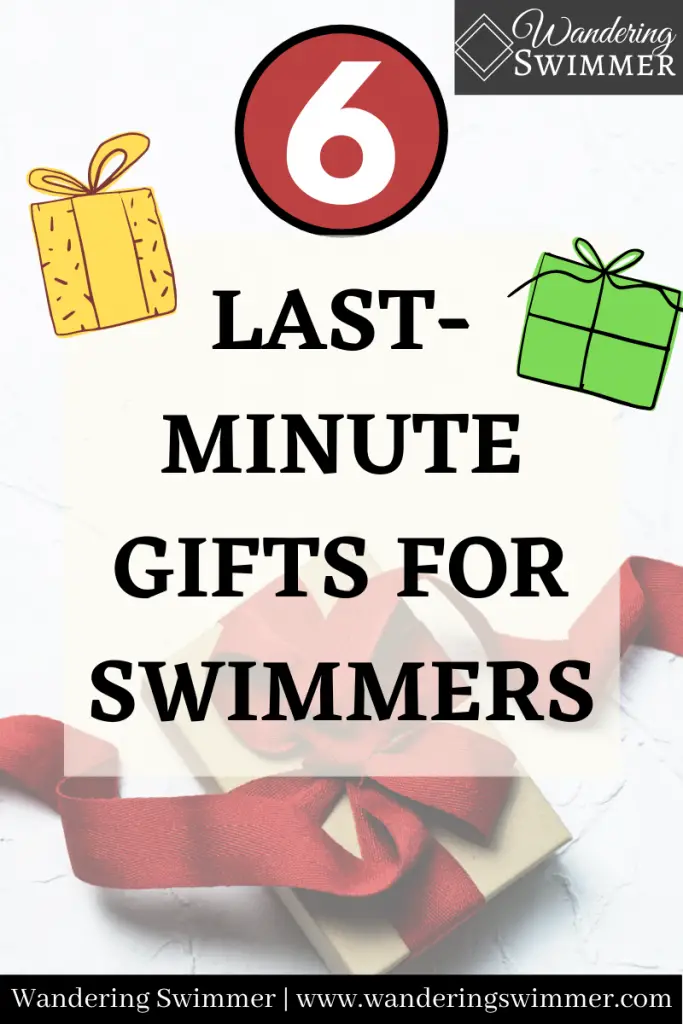 New Towel
Swimmers always seem to go through towels. They get worn out or lost. Or they start to smell after one too many uses. 
If your swimmer's towel is ready to toss in the towel, consider the gift of a new towel. 
Remember that beach towels might be great for the beach, but they're often too large for swim bags. Try a smaller size that doesn't take up as much space in a swim bag, especially if they'll use it at a swim meet where space is a premium. 
Microfiber Towel or Shammy
In the market for a new towel but want to change things up? Or does your swimmer want a towel that dries them off better?
Try a microfiber towel or a shammy!
These towels are much smaller than your average towel (I'm talking kitchen towel size). But they absorb water like no one's business and can be wrung out for multiple uses. An added bonus is that they dry quickly.
Perfect for in-between races at meets or even doubles for practice. 
Want more information about microfiber towels and shammies? Be sure to read 5 Reasons to Own a Shammy for more information!
Microfiber towels dry swimmers off faster, take up less space than regular towels, and dry faster than towels, too. They make for a great gift for swimmers of all levels.
DragSox or Power Bags
DragSox and Power Bags are resistance-based equipment designed to increase endurance and strength. They're similar to drag suits that are worn over regular suits and when used correctly, can add to practices.
Power Bags can be used in many different ways, from wearing them around the ankles, on the legs or arms, and around the waist like a chute. There's also a separate set for the hands specifically.
Alternatively, DragSox from AquaVolo is used specifically around the ankles for kicking. AquaVolo does have DragSleevz, which goes on the arms and legs for other drag options. 
Both of these are one size fits all, but they come in various levels of resistance to fit each swimmer's abilities. I wouldn't recommend them for young or new swimmers
Gear Bag or Swim Bag
Gear and swim bags get a lot of use out of them. Between being dragged around on the floor and tossed around, these bags take a lot of abuse.
Even when taken care of properly, bags can tear and seams can start to come apart. If your swimmer has an older gear or swim bag, see if they need a new one. 
Make sure you check to see what type of swim bag your swimmer prefers. Some swim bags come in large and smaller sizes, based on the brand and model. 
Gear bags are pretty simple in comparison. However, some swimmers prefer their gear bags with pockets for extra storage. 
If you want to get the best gift for your swimmer, double-check the type/style they prefer 🙂
Goggles and Caps
What are good last-minute gifts to give that swimmers will actually use? Goggles and caps!
Swimmers go through goggles and caps like crazy.  And it's always a good idea to have at least one backup handy. Maybe even a backup to the backup!
It never fails that goggles or caps break just before a meet and they can't find any backups.
That said, you typically can't go wrong with a new cap or goggles. So long, of course, as you ask your swimmer which cap and goggles they prefer. Or which they need. Some swimmers use different goggles for practice then they do at meets.
Related articles:
As an added bonus, don't forget goggles straps if your swimmer prefers the bungee type of strap compared to the standard strap. Even though bungee goggle straps tend to last much longer than the standard strap, they do need replacing after a while.
Swimmers who use bungee goggle straps should always have an extra or two on hand. They're just the right size for a small, last-minute gift and extremely easy to get. Plus, they come in dozens of different colors!
Ear Drops
Looking for last-minute gifts and need something small? Most swimmers use ear drops on a daily basis.
As a personal opinion, I believe that every swimmer should have ear drops. They're perfect for drying out any water in the ears, which helps prevent swimmer's ear. This is especially true if you're swimming in different pools, as each pH level is different.
And if you want to go the extra mile, have your swimmer use them after their shower/bath to make sure their ears are dry. 
Keep a bottle at home in the bathroom for after showers. And keep another one in their bag or car for use directly after practice. 
Related article: 7 Things Every Swimmer Should Have
In Closing
Whether you waited until the last minute to get your gift or you've been searching for weeks, hopefully, this list has given you some ideas! If you're still left feeling in the dark, ask your swimmer for some hints. They might have something they want unrelated to swimming 🙂
As always, to happy swimming!
Chevron 
---
Bonus Gift Content:
Best Gifts for Swimmers in 2020: Shopping for gifts for swimmers this year? Find inspiration with our 10 gift ideas for swimmers. They're perfect for any occasion!
14 Gifts Swimmers Will Actually Use: Looking for gifts that swimmers will actually use this year? Avoid the hassle of getting the wrong gift with these 14 gift ideas.
---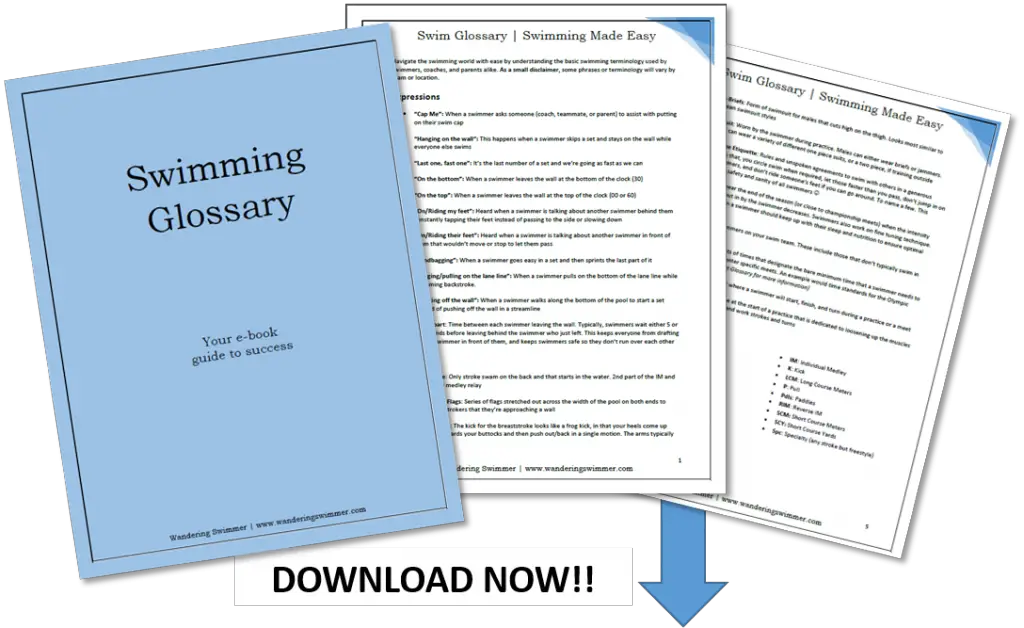 Want to Improve at the Pool?
Join swimmers and swim parents to receive my free newsletter and receive a free Swimming Glossary e-book as a thanks!
Every month you'll receive tips and coaching to help you find success at the pool.