Surprisingly, it's difficult to find a good, waterproof fitness tracker for swimming. Most are only water-resistant and the truly waterproof ones aren't always the best at tracking, well, swimming!
So what are the best fitness trackers to use for swimming? We've rounded up the best 8 swimming fitness trackers for you.
Disclosure: This post may contain affiliate links, meaning we earn a small commission at no cost to you if you purchase something through one of our links. As an Amazon Associate, we earn from qualifying purchases. Please check out our disclosure page for more information.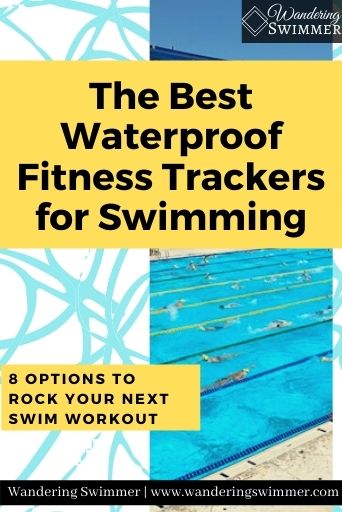 8 Best Waterproof Fitness Trackers for Swimming
Smart Goggles
Not all fitness trackers for swimming are watches.
The FINIS Smart Goggle tracks and displays your laps, splits, and more all within the corner of your goggle.
So while you won't be able to track your heart rate or sleep habits, you can keep track of your swimming without the need to stop and check your progress.
Powered by Ciye, this little device sits in the corner of your goggles and provides real-time feedback as you swim.
It'll help track the number of laps, your distance, and your time. And it takes away any guesswork during your workout!
After your workout, you can view the details of your swim on the Ciye app so you can get the most out of your swim. 
It is important to note that Ciye (the digital device that counts/tracks everything) is designed to fit exclusively in these goggles from FINIS. 
When it comes time to replace your FINIS goggles, you'll need to get the FINIS Smart Replacement Goggles.
The battery lasts about 6 hours, meaning you don't have to worry about it dying in the middle of a workout. And you can charge your Ciye with a provided USB cable. Just make sure everything is dry before hooking it up to charge 🙂
One negative of the FINIS Smart Goggle is that it's not for everyone. The viewing port to read the data is small and some swimmers may have trouble reading the information. 
Lastly, competitive swimmers should know that you can only use these goggles during practice. These types of goggles are banned at swim meets.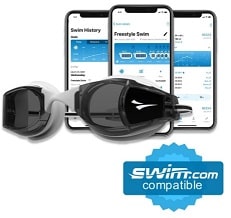 Another smart goggle is the FORM Swim Goggle. It provides the same function but executes it differently. 
But it's still a great fitness tracker to monitor your swimming workout!
Unlike the FINIS Smart Goggle, the display is built into the goggle lens so it's directly in front of you. It will take some time to adjust to the display being in your eye line. But it's not so distracting that it obstructions your view.
The battery lasts a bit longer, with a full charge lasting around 16 hours.
Download the Form Swim App to review your swimming metrics following a workout. You can also use the app to customize the display on your goggles.
There is an option to view a workout library and various drills. However, you can only access these if you sign up for the membership
For those wanting to track their heart rate while swimming, you can purchase a separate sensor to monitor this. 
Unlike the FINIS Smart Goggle, these only come in one color (black) and don't offer a good, tinted lens. 
These goggles run just a tad cheaper than the FINIS goggles, but they can still be pricey.
Lastly, competitive swimmers should know that you can only use these goggles during practice. These types of goggles are banned at swim meets.
Swimming Watches
Swimmo is a swimming fitness tracker that does it all. And while it might seem like it's a swim watch for only serious, competitive swimmers, it can be used by any swimmer.
Set Swimmo to help you achieve your swimming goals. Whether that's increasing your swimming distance, burning calories, or dropping time. 
Swimmo automatically counts the laps you've swam and can count them in meters or yards. It also tracks your swim pace/speed and your lap time. And it monitors your heart rate and the calories you've burned.
You can set your goals before each workout on your phone and then sync your Swimmo to help you get there. 
One of the features that we like is the ability to track your speed/pace. Swimmo can detect whether you need to speed up or slow down based on the goal that you've set for yourself. 
And based on your speed, this swim watch will send a gentle vibration telling you to speed up or slow down.
Use this feature to hit a specific time or a set number of calories burned!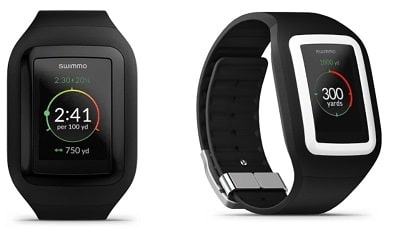 Garmin makes several different watches but the Garmin Swim 2 was built almost exclusively for swimmers and triathletes. 
It features options to track your distance, stroke count, pace, and your heart rate. There's also a GPS feature for open water swimming, to help track your distance and your route.
This syncs with an app where you can view all your swimming stats to help track your progress. 
For some, the number of options available to track your swimming may be overwhelming and more than what they need. However, you can use the various features you need to keep from feeling overwhelmed.
Despite its name, the Garmin Swim 2 can be used outside of swimming. 
It can also be used to track running and biking, making it ideal for triathletes. We will note that the fitness tracker is geared more towards swimming, so some of the features in the app won't work for running and biking.
But you can use it to monitor your average speed, heart rate, etc.
The battery (when not connected to Bluetooth) can last for a few days. Using other features, such as the GPS and heart rate monitor can lessen the battery life and you'll need to recharge a bit more frequently.
Best Smart Watches for Swimming
Smart Watches are some of the newest fitness trackers to hit the scene and they're pretty robust devices! Probably one of the most frequently used smartwatches are Apple Watches.
It's important to note that the older series of Apple Watches are not waterproof. And you shouldn't attempt to swim with them. Unless you want to pay for repairs 😉
Apple Watches are a great blend of phone, watch, and fitness tracker molded into one device. For some, though, this can be overwhelming. And receiving notifications during a workout may annoy others.
Just know that if you're hoping to use the Bluetooth feature to listen to music while swimming, you may find that the connection isn't the best. Instead, you're better off getting a separate waterproof MP3 player if you're wanting to listen to music.
In terms of swimming, the Apple Watch is on par with other swimming watches. 
It'll count your strokes (to a decent degree) and calculate the total distance of your workout. It doesn't work as well with kick sets, but that's fairly normal for most swimming fitness trackers. 
There is built-in GPS tracking for open water swimmers. This tracks not only your route but also the distance of your swim as well. Perfect for preparing for your next open water competition! 
We recommend either the Apple Series 5 or Series 6 (as of this writing) for the best swimming watch. 
The only downside of the Apple Series is that they are expensive. But with all that it can do (both on land and in the water), it might be well worth the price for some.
Fitbit makes an incredibly long line of fitness trackers and more recently, smartwatches. Much like the older models of the Apple Watches, the older versions of Fitbits aren't waterproof.
The new Fitbit Charge Series though does have waterproof Fitbits that will track your swimming and count your laps. And with the added GPS, you can track any outdoor swims in terms of route, distance, and time.
Just know that the GPS feature does drain the battery pretty quickly. We recommend charging it completely before your swim to ensure it doesn't die mid-workout.
Use this fitness tracker to monitor your sleep (always important for better swimming performance!) and track your heart rate. You can also monitor the number of calories you're burning.
We like that you can set goals in the app and use the device to work towards daily goals. And that you can see your progression and goals while you're working out. 
For some, seeing this progress is incredibly motivating. And can help you make it through the rest of the workout. Or day 😉
When looking at the Fitbit Charge Series, we recommend the Charge 4 or Charge 5. Although we will note that the Charge 5 requires a member subscription to access most of the features.
Best Budget Waterproof Fitness Tracker
When it comes to budget waterproof fitness trackers, your definition of 'budget' might need to adjust a bit. 
While there may be cheaper options out there that aren't on this list, they're not the best at tracking swimming workouts. Just something to keep in mind 🙂
Although it's a smartwatch, the Amazfit GTS is relatively affordable for all that it does. You'll find that in addition to tracking your swimming and calories burned, the Amazfit monitors your heart rate, blood oxygen, and sleep monitoring. 
Just to name a few.
With 70 built-in sports modes, you can use it for a variety of different activities other than just swimming. And its smaller size makes it ideal for cutting through the water.
Be sure to switch the device to swimming sport mode before use. This helps lock the screen so you're not accidentally activating various widgets.
And although it has a small screen, it's still easy to use and navigate. 
Probably one of the cheaper Fitbits, the Fitbit Inspire 2 doesn't come with tons of bells and whistles. But it tracks the basics just fine. To include tracking your swimming.
Compared to other, newer models, the design of the Fitbit Inspire 2 is a little bit more streamlined. Making it ideal for swimmers as you cut through the water. However, this does make the display a bit smaller.
It also boasts an impressive 10-day battery life, meaning you won't have to worry about the fitness tracker dying mid-workout.
Lastly, this Fitbit tracks your day-to-day activities. From monitoring your steps and your steps to the calories burned. It holds up well for land use as well as it does land use.
Other options are available with this fitness tracker through Fitbit's Premium Service. You do need to be a member to access this. But you can get a year's free trial before deciding if it's a good fit for you.
Things to Know About Waterproof Fitness Trackers
What Should I Look for in a Fitness Tracker for Swimming?
Ensuring that the device is waterproof is key. Electronics and water don't work well together. And it's important that you check that the fitness tracker is waterproof and not splash resistant. 
Splash resistant means it can take a few splashes of rain and sweat. But won't survive a dunk in the pool.
You should also look to see the depth at which the fitness tracker can go. 
Some can only go a few underwater while others can go a bit deeper. If you plan to dive with your watch, make sure it can handle the water pressure.
Do I Really Need a Fitness Tracker?
This is truly a personal question and it comes down to what you want out of a fitness tracker. And how it fits in with your swimming.
If you want to monitor various biometric stats, your swim times, and your distance while swimming, a swim watch or fitness tracker may be for you. Whether you're looking to decrease your time, better your swimming, or burn calories.
However, if you're fine with using a pace clock to check your splits or don't care to know all the fine details of your swim, then it might not be worth it.
Or it might be worth it to get a regular fitness tracker to monitor your land-based activities. And simply remove your tracker when you swim.
Fitness trackers are great options to monitor various metrics in life. But they can be overwhelming as a whole for some. 
Take this into consideration if you're considering a fitness tracker.
Lastly, one thing that most people don't realize is that fitness trackers have a hard time tracking kick sets. Or when you're using a kickboard. Since the device isn't on your ankle, it doesn't track the activity.
Does a Swim Watch Get in the Way When You Swim?
Not entirely. However, if you're not used to swimming with a watch or bracelet on your wrist, it can take some getting used to. 
You'll find there's the smallest bit of resistance and weight but it doesn't take long to forget it's there. Make sure it's tight enough so it doesn't move around much and you'll be good!
A fitness tracker may get in the way though in terms of all that it offers. If you constantly stop to check your stats or read incoming notifications, you may not get the best workout.
And a personal problem of mine is that I always seem to catch the lane line with anything on my wrist. This probably won't be a huge problem for many but it's still worth noting 🙂
---
Bonus Content
A Swimmer's Review of the YYST Swim Bungee: Swimming at home in your backyard pool is possible by using a swim bungee. For swimmers of any level, the YYST Swim Bungee is affordable and easy to use.
8 Best Swim Bags for Swimmers: A swim bag is a swimmer's best friend. They hold everything from towels and phones to goggles.  We've broken down the 8 best swim bags for swimmers.
---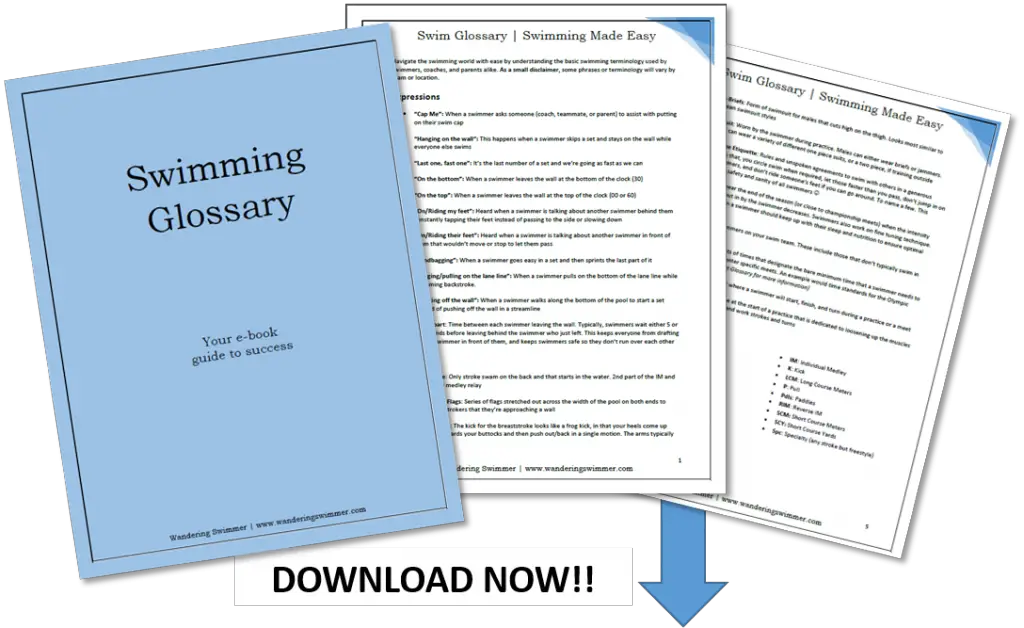 Want to Improve at the Pool?
Join swimmers and swim parents to receive my free newsletter and receive a free Swimming Glossary e-book as a thanks!
Every month you'll receive tips and coaching to help you find success at the pool.
---
About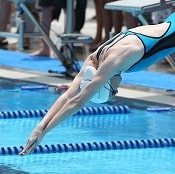 Chevron is a current competitive swimmer with almost 20 years of experience in the pool. And although she fell into the sport by accident in her high school years, she still trains daily and competes throughout the year. She's committed to providing guidance to all levels of swimmers and believes that everyone should know how to swim.