Kickboards come in all shapes, sizes, and materials. Finding the best kickboard for you might seem easy enough, but it can also come with some challenges.
Too small of a kickboard and you might not kick properly. And if a kickboard is too large for you, then you'll struggle to maintain good form. 
Related article: Why Do Swimmers Use Kickboards?
Below, you'll find a selected list of various kickboard brands to help you find the best kickboard. Either for yourself or for someone else!
Disclosure: This post may contain affiliate links, meaning we earn a small commission at no cost to you if you purchase something through one of our links. As an Amazon Associate, we earn from qualifying purchases. Please check out our disclosure page for more information.
Kickboard PSA
Before you go further, we would like to make one important PSA about kickboards. From kids to adults, you should know that kickboards are not meant to be lifesaving/flotation devices.
Primarily, kickboards are used to help swimmers develop and strengthen their kick. Yes, they can usually support the weight of someone sitting on them, but you will not completely float when you use one.
This is especially true if you're an adult who purchased a smaller board meant for a child. Boards designated for children will have the words, youth, junior, or for kids, listed on them. 
Best Kickboards for Swimmers Summary
Kickboards for Kids
When looking for a kickboard for your child, picking a youth or kid's size kickboard is the best way to go. 
Kids younger than about 10 or so will struggle with larger, adult-sized kickboards. And while age is a good, broad scale, you should also consider the height of your child as well. 
More Content for You: How to Pick the Right Swim Goggles
If your child has shorter arms, they may need a smaller kickboard than other kids their age. 
Having a smaller kickboard will help your child find their balance in the water a bit better. And they'll be able to keep a better grip on the board itself. Some adult-sized kickboards can be almost half the size of a younger child!
And while it's cute to watch little kids scurry around on the pool deck with a board half their size, it doesn't do them any good in the water.
A good kickboard for kids will be about 15-17 inches in height and will be marketed as either 'youth' or 'junior'. Or it'll simply say 'for kids'. 🙂
TYR offers a youth kickboard. As does Speedo and FINIS. While all of these boards are designed specifically for kids, they lack various colors or patterns. 
If your child wants something more fun, kickboards from Melissa & Doug Spark can brighten things up!
Best Kickboards for Beginner Swimmers (Teens and Adults)
For adults learning to swim or just starting to swim, you'll want a regular-sized kickboard with a more firm material. The larger size will help give your body some buoyancy and the firm material will keep the board from sinking too much.
We also recommend wearing swim fins to help get your hips higher in the water. Swim fins can be a great training aid to help develop your kick without much effort on your part.
Related articles:
How to Pick the Right Fins for You (coming soon)
Adults learning to swim tend to set most of their torso weight directly on their elbows instead of the full arm. When you use a thinner material, the kickboard can buckle under the weight. It's one of the reasons we would suggest a rigid, 'hard shell' board.
These boards come with a much more firm surface than other boards that you might find on the market. And some of the boards come with hand grips near the top of the board or along the side.
Speedo Unisex-Adult Swim Training Kickboard Adult, Blue
Tried and true, Speedo offers a firm foam board for both youth and adult swimmers. The Speedo kickboard comes with grips along the edge for learning streamline kicking.
Viahart kickboards have cutouts near the top to give newer swimmers a better grip on the board itself. This makes it a bit easier to hold when kicking, along with turning on the wall. 
More Content for You: 6 Reasons Why You Should Wear a Swim Cap
Lastly, Nordesco Rigid Kickboard is a very firm foam kickboard that's suitable for adults learning to swim. While it doesn't have grips or cutouts on the board itself, it does have molded sides that your forearms rest in. This keeps your arms from sliding about 🙂
All three of these boards are made from molded EVA foam, which offers a strong, durable board designed not to bend. However, for some people, the rigidness of the board can be a negative feature in that it hurts their elbows after extended use.
Best Kickboards for Competitive Swimmers
Competitive swimmers use kickboards on almost a daily basis to help develop and strengthen their kick. The kickboard helps those who rely solely on their arms for their stroke to better focus on their kick.
Even distance swimmers can benefit from kick sets! 
And while most competitive swimmers will alternate between using a board vs kicking without one, a kickboard is usually a required piece of equipment. That said, which is the best kickboard for competitive swimmers?
Well, it varies! 
As a younger swimmer or someone new to swimming, boards are specifically designed for age and skill set. They're designed to help them find their buoyancy, correct and develop their kick, and build their confidence in the water.
Related article: How to Select the Best Fin Socks
Competitive swimmers, such as year-round club, high school, college, or Masters swimmers need a board that will hold up to numerous practices. They also might need a board that will challenge them more during kick sets.
That said, there are a few kickboards that meet the criteria for the best kickboard for competitive swimmers. 
Kiefer Training Kickboard
This was my go-to kickboard through high school and college. Although my college coach felt it was cheating due to the larger size as he favored smaller kickboards.
While the size of the Kiefer kickboard is larger than some of the boards listed in this section, it's still a good board. Especially for those competitive swimmers who aren't ready for a more advanced board. 
More Content for You: A Swimmer's Review of the YYST Swim Bungee
It's sturdy enough to support a swimmer's torso and not buckle under the weight. And the size of the board means that your elbows can rest on the board.
One negative – turns out my college coach was right – is that the larger size and added buoyancy can add more stress to your shoulders. It also has the chance to force your torso higher and your hips lower.
Kiefer Training Kickboard, 19 x 12-1/2 x 1-Inch, Blue
Arena Swim Kickboard
This kickboard from Arena is smaller than your average board. And some will argue that it's better suited for kids instead of adults or older competitive swimmers. 
And it's true that if you have long arms, your elbows probably won't rest on the board. But that's not always a bad thing. It's why we recommend this board for those swimmers who have already developed their kick and want it stronger.
One of the disadvantages of a kickboard is that your hips and legs can sink a bit. This happens because your head/torso is above the water. And you're probably getting lazy while you kick 😉
The Arena Swim Kickboard can help with that. 
Because it's smaller, it's easier for a swimmer to keep their head down in the water. And the strategically placed handholds near the top of the board allow swimmers to work streamline and keep a good grip on the board.
More Content for You: 14 Gifts Swimmers Will Actually Use
If you plan to use this kickboard for streamline, it's best to invest in a snorkel, too. This way, you don't have to keep lifting your head and ruin your good streamline. 
Due to the smaller size, it's also easier to turn with. Both on open hand turns and if you flip turn during your kick sets.
As an added plus, it comes in several different patterns and colors. Win-win! Personally, we like the rubber duck print 😀 
Arena Swim Kickboard Swimming Training Aid Pool Exercise Equipment, Orange
FINIS Alignment Kickboard
Probably the smallest kickboard on this list, but don't let the size fool you. The FINIS Alignment Kickboard is a strong training tool. 
Its design allows it to glide just underneath the water's surface for ideal body positioning. The triangular design also helps you focus on a tight streamline and can ease any shoulder stress.
The FINIS Alignment Kickboard has a small strap across the top of the board. This is to help stabilize the board while kicking. I should note that both hands will not fit through the strap itself. Its design allows for only one hand to fit under the strap while the other hand rests on top of it.
This will put you in the best position for holding a good streamline. It also allows you to work some kick drills on your side while still maintaining good body alignment. 
This kickboard works best with a snorkel, although it is possible to kick without one. But if you're wanting to keep your hips up and hold natural streamline, we would recommend using a snorkel.
FINIS Alignment Swim Training Kickboard
Arena Swim Keel
The Arena Swim Keel looks nothing like your typical kickboard, but this little piece of equipment likes to surprise! 
Out of all the kickboards in this section, we think it's the most difficult. That said, it should be used by swimmers who already have developed a strong kick and want a challenge. 
It'll work not just your legs but it'll also your core, as you'll need to engage your abdominal muscles to keep your body positioned correctly. Without a tight core, your hips and shoulders will sink. You'll also slow down as you put more weight on the Keel and it sinks, too.
One of the benefits of Arena's Keel is that it's multifunctional. 
There are at least three ways to use it as a kickboard. Each one varies in difficulty, but it adds more to your kick, core, and streamline.
Arena Swim Keel, Black/Grey, Small
The Keel is on the heavier side compared to other boards. It's dense and bottom-heavy by design. But that same design allows it to double as a kickboard and a pull buoy. Two for the price of one!
When using the Keel as a pull buoy, you'll also need to engage your core. Or you'll be wiggling all over the place! 
As a pull buoy, you can use it in either direction. Placing the larger section above the water provides more stability. But placing it below the water will really work your core as you find balance.
I have found that with the Keel, I tend to kick slower than using a regular kickboard. Given more time though, I hope to get much better using it! While you can use it without a snorkel, I would recommend pairing the Keel with a snorkel so you don't break streamline.
For a more detailed review of the Arena Swim Keel, be sure to read our article: A Swimmer's Review of the Arena Swim Keel Review (coming soon).
In Closing
There are hundreds of kickboards out there for you to choose from. Which one is the best kickboard for you? Truthfully, that depends on your preference. And it also depends on your swimming ability.
The good news is that you don't have to stick with just one kickboard. If you want to challenge yourself or better your kick, you can always change kickboards. Just as you can always look for a new kickboard if you don't like your current one.
Or, you can have several different kickboards!
The best kickboard for you will vary from others on your team. Find one that you like and that works best for you. It might take a few times to find what works best. And you might find that it changes over the years!
Just keep kicking along and you'll find your groove. 🙂
As always, happy swimming!
Chevron
---
Bonus Content
5 Reasons Swimmers Should Own a Shammy: A shammy may look small but it wins big on what it offers swimmers. Quick drying and thin, you might find yourself reaching for it first over a towel.
A Swimmer's Review of the YYST Swim Bungee: Swimming at home in your backyard pool is possible by using a swim bungee. For swimmers of any level, the YYST Swim Bungee is affordable and easy to use.
---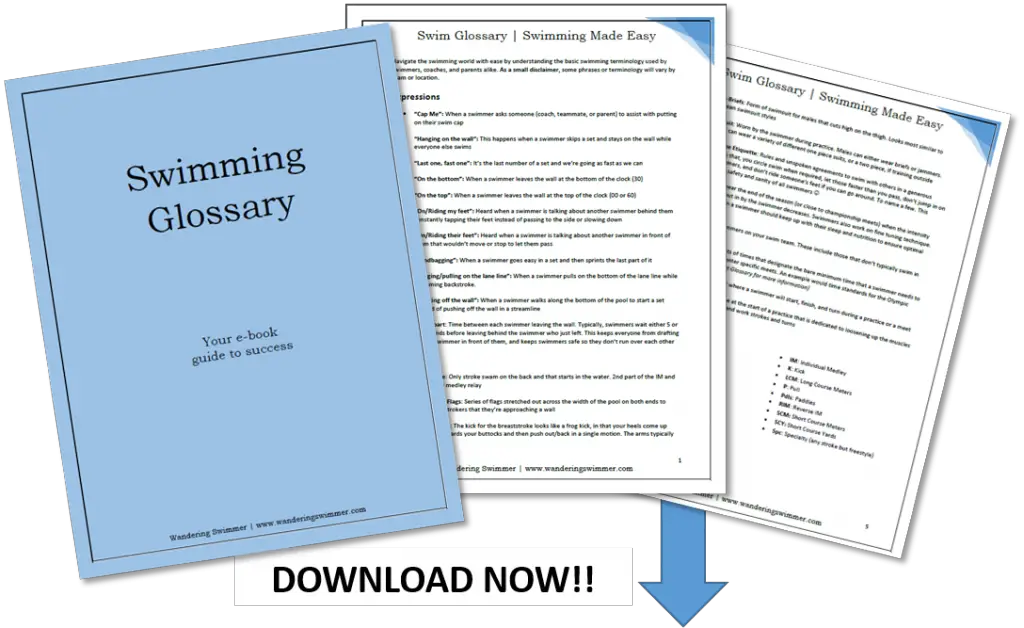 Want to Improve at the Pool?
Join swimmers and swim parents to receive my free newsletter and receive a free Swimming Glossary e-book as a thanks!
Every month you'll receive tips and coaching to help you find success at the pool.