Using fins when you swim can be a great way to add to your workout and they work as a good training aid. However, fins have a nasty habit of rubbing and causing blisters on most swimmer's feet.
Related article: The Best 11 Kickboards for Swimmers
If your fins do start to rub you can either stop wearing them indefinitely or until your blisters heal. Or, you can try these options to stop your fins from rubbing.
Disclosure: This post may contain affiliate links, meaning we earn a small commission at no cost to you if you purchase something through one of our links. As an Amazon Associate, we earn from qualifying purchases. Please check out our disclosure page for more information.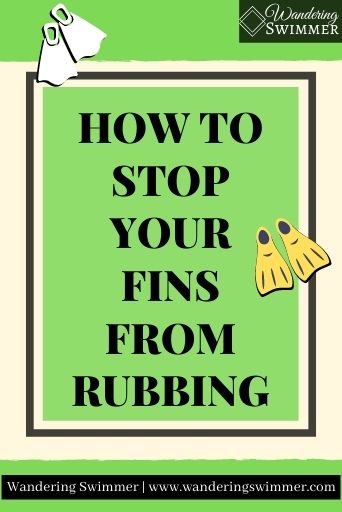 Regular Socks
The cheapest and easiest route to stop your fins from rubbing is to use regular socks. Picking the best sock depends on the swimmer. But we recommend one that sits at the ankle or just above it. 
Anything too high will cause drag. And anything lower than your ankle will probably slide off.
Most swimmers will use socks in a pinch, and in some cases, they do work. The thicker the sock, the better, as it provides more cushion and protection between the skin and the fin itself. 
However, there are a few downsides to using a regular sock.
The largest being that over time, the sock will lose its shape and stretch out. When this happens, the fabric tends to bunch and gather on the top and sides of your foot. Which can lead to additional blisters. 
Even if the sock fits snug, you still run the risk of the fabric rubbing. 
Wet fabric against the skin is a sure way to develop chafing. Socks are no exception to this rule, and as mentioned earlier, the wet fabric will eventually lead to more blisters if used for extended periods.
Related article: Do's and Don'ts of Swim Etiquette
If you plan to stick with socks due to their ease and inexpensive cost, be sure to select thicker socks over thinner ones. We also recommend that you switch out socks whenever one starts to stretch out too much.
Medical Tape
Some swimmers use medical tape to help stop their fins from rubbing. Some may use the tape by itself and others may use it in conjunction with socks.
But much like the socks, medical tape is truly only good in a pinch. While it may help prevent blisters for short kick sets, there's no guarantee that the medical tape will stay on. For a short or long kick set.
Related article: What Equipment Do You Need to Start Lap Swimming?
It's best to put medical tape on your feet when they are dry so it can adhere better to your skin. Medical tape will rarely stick or stay if you wrap your feet when they're already wet. Even if you dry off your feet before wrapping them, the tape doesn't stick as well.  
Additionally, it takes time to properly wrap your feet with medical tape. Especially if you have to wrap multiple places on both of your feet! And as medical tape can only be used once, you'll need multiple rolls if you use fins consistently. 
We'll also note that medical tape isn't guaranteed to stop blisters from forming. One reason is due to the tape being so thin. And at times, the tape itself causes the blister when it bunches and rolls together so that it rubs against the skin. 
Lastly, remember that medical tape is only good for prevention. If you already have an existing blister, we don't recommend taping over it. Not unless you have something to cover the blister first.
Otherwise, peeling off the tape will be a touch uncomfortable 🙂
Fin Socks
Hands down, our best recommendation to stop your fins from rubbing is to invest in a set of fin socks. Fin socks help prevent the rubbing that causes blisters when you wear fins. 
Not all fin socks are created equal though. And some are better than others based on each swimmer's preference.
Related article: What is the Cost Of Swimming?
For those that suffer from your fins rubbing whenever you wear them, we recommend neoprene fin socks. As the name implies, these are made of thick neoprene fabric, usually 2.5 to 3mm. Because the fabric is so thick, it does the best job at stopping your fins from rubbing.
You can even wear them over an existing blister without much issue. 
We're partial to Dakine Fin Socks and Sporti Swim Fin Socks. Both are neoprene and come in 3mm and 2.5mm respectively.
Neoprene can fit tight and make your feet hot though. 
Because of this, not a lot of swimmers prefer neoprene fin socks for long kick sets. Or if they don't always develop issues when wearing fins. 
Instead, they opt for something thinner. Such as FINIS Skin Socks or Sporti Nylon Swim Sock. Both can help protect your feet when using fins.
For a more detailed breakdown of fin socks and how to find the best one for you, check out our article: How to Select the Best Fin Sock.
Get a New Pair of Fins
If you've tried all these options and your fins still rub, you might need a new pair of fins!
After a while, fins can tear or bend in a certain way that makes them uncomfortable on your feet. And based on how they sit, they can start to run when they never did previously.
Related article: How to Pick the Right Swim Fins
One common issue we see is when the section where the toes go starts to tear. Back in high school, it was a race to get the fins that didn't have any tears there. Because we knew that even the smallest tears could start to rub against our toes.
Check your fins if you find that they're starting to rub. 
Especially if they never caused issues before. You might find that the fin is starting to tear near the toe area. Or even in the back of the fin where your ankle is.
Tears near the ankle in either a closed or open heel fin can cause issues if they rub for too long. If you're getting blisters around your ankles, you'll want to check the straps or back piece for anything that might be broken or could cause rubbing.
Different Size Fine
Sometimes, stopping your fins from rubbing is as simple as getting a different fin size.
When fins don't fit well, they tend to rub. If they're too large, there's more space for the fin to shift around and rub in spots where it wouldn't usually rub. Or, if they're too small, they have no choice but to rub.
If you have a fin size that's too large (or too wide) for your feet, fin socks or regular socks can make them fit better. Try using socks if you don't want to buy or use a different fin size.
When your fin is too small though, the best option is to opt for the next size up. If you're concerned it'll be too big, try using fin socks.
Break-in New Fins
Have a new set of fins? 
You might find that they rub or fit just a bit too tight on the top of your feet. We've found that Arena's Fin Pro tends to be a bit stiff when they're new and it takes some time to break them in.
To break in some new fins, start small and work your way. Wear your new fins for short sets or workouts. If you can, switch back to your old fins while you break in the new ones. This will help keep you from developing blisters.
As you continue to wear your new fins, keep them on for longer sets until you're comfortable with them. 
It will take some time to do this based on the type of fin you got. Those fins with more firm material will take longer compared to softer material. We recommend keeping your old fins if you can until you've managed to break in the new ones!
As always, happy swimming!
Chevron
---
Bonus Content:
8 Reasons Your Swim Cap Slides Off: Trying to keep your swim cap on is a challenge. There's no one secret to keep it in place but there are some reasons why your swim cap slides off.
Basic Swim Terminology: Knowing some swimming terminology, or swim terms, will help you navigate the swimming world. Here are 25 common swimming terms to get you started.
---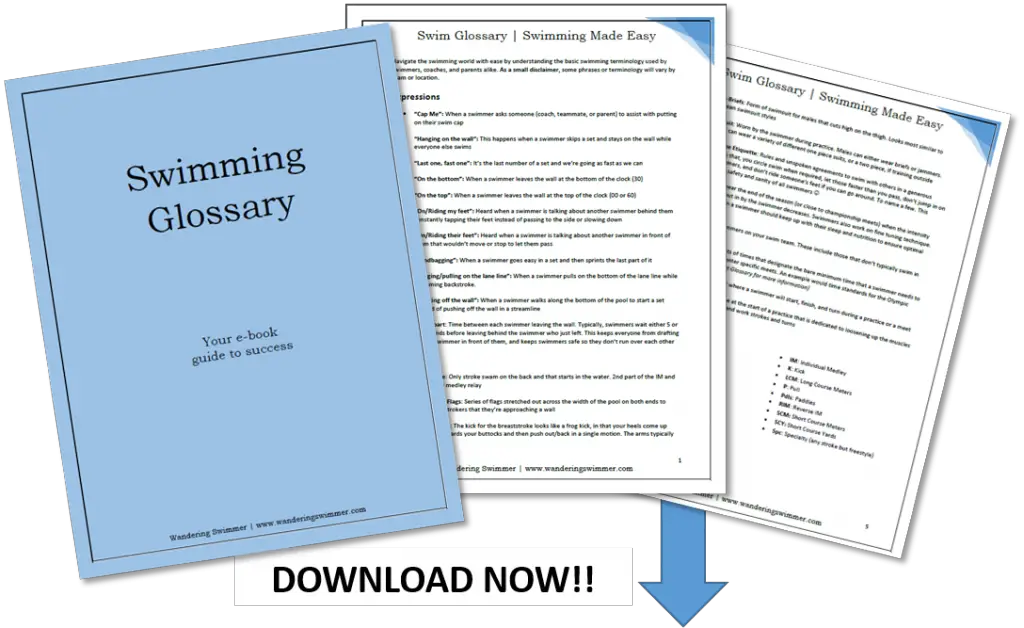 Want to Improve at the Pool?
Join swimmers and swim parents to receive my free newsletter and receive a free Swimming Glossary e-book as a thanks!
Every month you'll receive tips and coaching to help you find success at the pool.