Looking to start swimming but not sure how much swimming costs? The good news is that it doesn't cost much to begin swimming. As far as exercise goes, it's very minimal in terms of cost. 
Below, we'll break down the typical costs that you can expect to pay for swimming.
Disclosure: This post may contain affiliate links, meaning I earn a small commission at no cost to you if you purchase something through one of my links. As an Amazon Associate, I earn from qualifying purchases. Please check out my disclosure page for more information.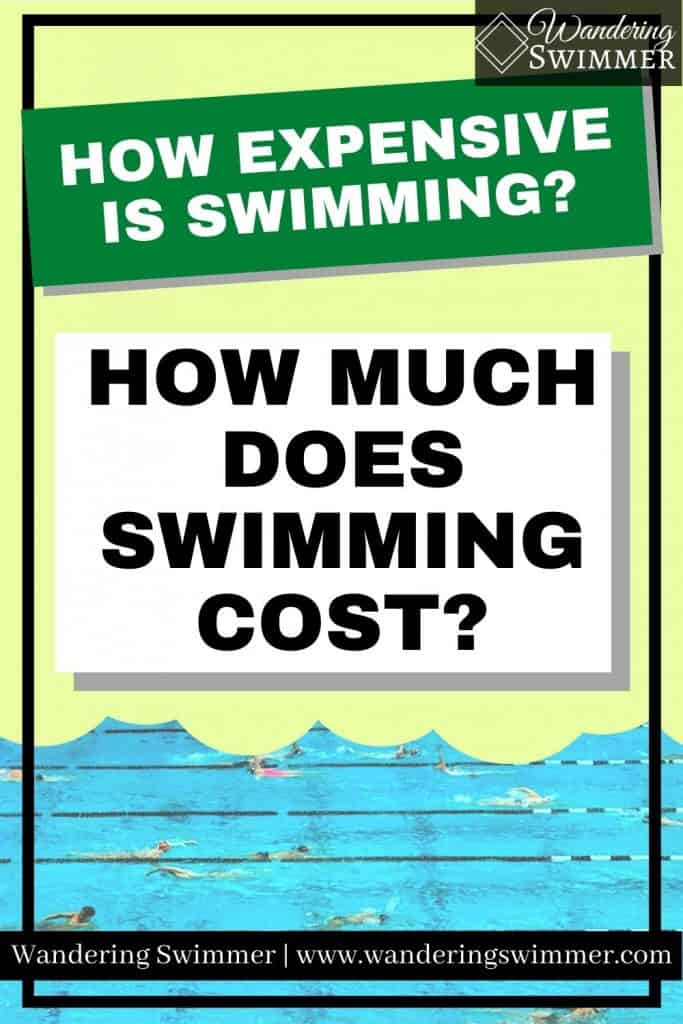 Is the Cost of Swimming Worth It?
In full honesty, we're somewhat biased in our answer. But we believe that the benefits of swimming are worth the expense. If, of course, you commit to frequent workouts. 
Even if you never plan to swim competitively or try a triathlon, swimming, in general, is an excellent form of exercise. It's low impact, high cardio, and works nearly every muscle in your body. 
The health benefits alone make the cost of swimming worth every penny.
Swimming also burns calories and can help aid in any weight loss goals that you have. And while you won't build large muscles while swimming laps, swimming can help tone muscles.
Gym or Pool Fees
Out of all the expenses you'll need to pay for swimming, the cost of using a facility is the largest expense. Gym memberships can run anywhere from $10 to $100 or more a month. 
This might seem expensive to some and it's a steep cost to pay upfront. Especially as gyms require annual membership fees and sign up costs.
However, if you plan to use the facility daily, the cost per month might be worth the membership. Using the gym daily, such as six times a week, can bring the cost per day down to a more tolerable level.
However, if don't plan to swim that often, you might find that the cost of swimming isn't worth joining. 
If a year-round gym membership isn't possible due to cost, consider a membership at community pools. They might be open only during the summer, but they'll cost much less than the gym. 
Backyard/Personal Pools
Already have a pool in your backyard? You might not be able to train year-round like you can at a gym, but you can still swim in your pool. 
This is an excellent benefit for people who work late and can't make it to the gym all the time. Or for those who don't want to work out in front of others. 
You can turn your pool into your own personal lap pool by using swim bungee cords, such as the YYST Swim Bungee. Swim bungees vary in price, starting at $25 and go up to around $75 based on the brand. 
Related article: A Swimmer's Review of the YYST Swim Bungee
To use, simply hook one end to a pool ladder or other strong anchor, and attach the other end around your waist. And start swimming! 
Swimming in place with a bungee is different from swimming laps. And you'll probably find that it's a bit harder, too! For more information on swim bungees and tips while swimming with one, be sure to read our review on the YYST Swim Bungee.
Towels
One swimming cost that you might not consider is the cost of towels. It's tempting to use a bath towel that you have at home, but we wouldn't recommend it. Unless you plan to use that towel solely for swimming. 
Swim towels can get pretty gross after constant use. Even if you wash them weekly, they still can grow mold and they'll always have a lingering scent of chlorine on them.
Because of this, we recommend that you get 1-2 towels specifically for swimming. 
The best time to buy towels is at the end of summer when towels go on sale. Try to avoid larger towels, as they'll take up your entire bag. A 30×60 inch is a good size. 
You can also consider using a microfiber towel or shammy, too. These are much smaller than regular towels, but they do the same job. And dry twice as fast as a regular towel. A bonus if you're going directly from the pool to work.
Related article: 5 Reasons to Own a Shammy
Reusable Water Bottle
One item you should bring is a water bottle. A common swimming myth is that you don't sweat while you swim, but you actually do! Because of that, bring a reusable water bottle and make sure you use it!
Related article: Reusable Water Bottles and COVID
Bringing a reusable water bottle can help save you some money instead of using a plastic water bottle. You're also less likely to lose it!
Swim Bag
Although it's optional, we recommend looking into a swim bag to hold all your belongings and swim gear. You don't have to get a large swim bag unless it fits your needs. Even a small tote bag will hold your undergarments, toiletries, and towel.
Having a bag for your belongings makes it easier to carry everything to and from the gym, too.
Swim bags can cost around $35 and up. 
Swimming Gear Cost
Goggles and Caps
If you're swimming laps and don't plan to compete, there's not much gear that you need. At least compared to competitive swimmers. 
At a minimum though, we do recommend that you look into using goggles and a swim cap. 
Goggles will help protect your eyes from the chemicals in the pool and help you see better underwater. 
Related articles:
Some good goggles to consider are Speedo Vanquishers or Arena Tracks. They tend to fit most faces and usually don't leak if worn properly. We will note that they'll probably fog up after a while, as will most any goggles.
Goggles can cost anywhere from $15 to $60.
A cap will keep your hair out of your face, out of the pool, and protect your hair from the chemicals, too.
Related article: 6 Reasons You Should Wear a Swim Cap
Caps come in a variety of different styles and materials. For lap swimming though, we recommend using a latex or silicone cap. Both do the job of keeping your hair mostly dry while swimming. 
Swim caps can cost around $2-10 depending on the type you get. 
Not sure which cap will work best for you? Be sure to check out our post 'Your Quick Guide to Swim Caps'.
Other Swimming Gear
Goggles and caps aren't the only things you can use when you swim. While swimming laps, you can use some basic gear, such as a kickboard or pull buoy to aid your workout. 
Kickboards help you focus on your kick and can cost around $8-25. While pull buoys stop you from kicking and raise your hips so you can focus on your stroke. These can cost about $6-12.
Most gyms and natatoriums, however, typically provide kickboards and pull buoys for individuals to use.
Two items these facilities won't provide though are fins and paddles. If you're looking to use these in your workout, you'll have to bring your own. 
Lastly, you might want to consider using earplugs if you don't like getting water in your ears. And to help prevent swimmer's ear, look at using swimming specific ear drops to help dry out your ears.
Swimsuit
One of the most obvious things you need for swimming are swimsuits. Yet not all swimsuits are made the same.
For good, long-lasting suits, the fabric of the material is the biggest factor to look at. 
Those swimming several times a week need to look at suits that can withstand being in the water for that amount of time. 
Most suits from your more recognized brands, such as Arena, Jolyn, Nike, and Speedo will run you about $47 – 80 based on fabric type and style. Note that male swimsuits are cheaper than female suits.
If you find that your suit isn't lasting past a season or even a year, it might be worth the investment to purchase a more expensive suit with a higher chlorine resistant fabric. 
Related article: How to Make Your Swimsuit Last Longer
Your Time
Indirectly, swimming costs you your time. It's the time spent going to and from the pool, plus the time spent there. If you're already short on time, the cost of swimming might run a bit more expensive for you. 
However, it might be worth the cost of your time if it helps you relax and you can get in a good workout at the same time. 
The Total Cost of Swimming
So, how much does swimming cost?
While this varies greatly by your gym and what items you purchase for yourself, you can expect to pay a little over a thousand dollars each year. 
We cannot emphasize enough that these swimming costs vary by location and by the gym/natatorium. You should always search around your area for different locations and compare which one works best for you and your budget.
Despite the costs associated with swimming, the benefits truly do outweigh the sticker shock.
Swimming is such a great way to stay healthy and in shape.
And as always, happy swimming!
-Chevron
---
Bonus Content:
Your Ultimate Swim Cap FAQ: While a swim cap seems simple, it can be confusing. To help, we've compiled a list of questions to help you sort through the confusion.
9 Tips for Swimming During COVID: While these tips won't completely keep you from getting COVID, taking some extra precautions can help lessen the risk while swimming during COVID. 
---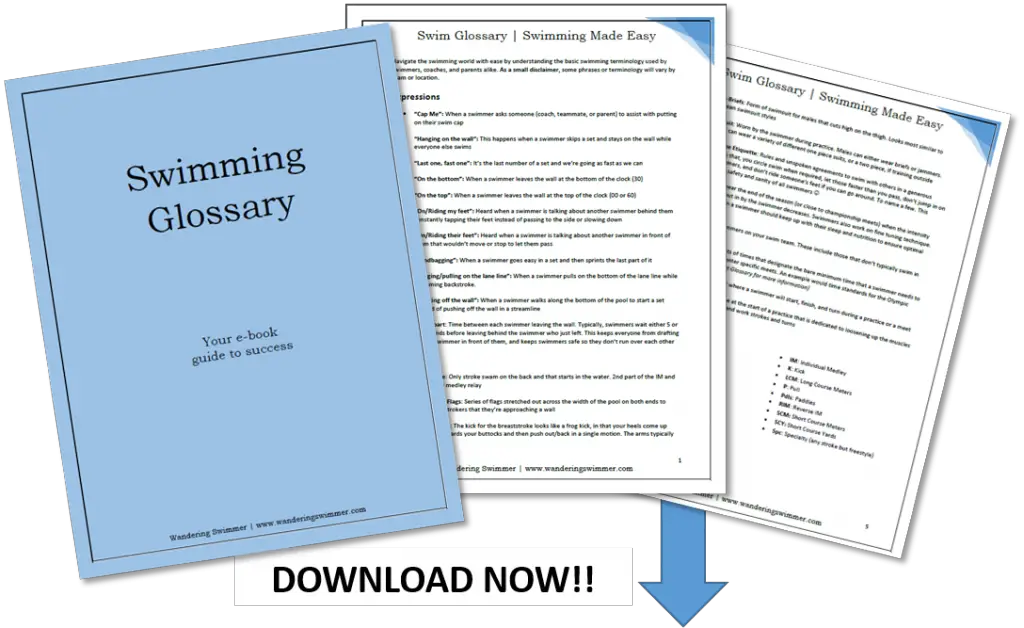 Want to Improve at the Pool?
Join swimmers and swim parents to receive my free newsletter and receive a free Swimming Glossary e-book as a thanks!
Every month you'll receive tips and coaching to help you find success at the pool.