During this pandemic, you may feel anxious about swimming during COVID. And it's understandable! While the chances of COVID spreading through pool water remain low, it's the surrounding people and surfaces that are the biggest danger.
More Content for You: How to Make Your Swimsuit Last Longer
While these tips will by no means completely keep you from getting COVID, taking some extra precautions can help lessen the risk. Both in the pool and away from it.
Disclaimer: These are only my opinions, thoughts, and observations contained in this post. They are provided only for informational purposes and shouldn't be used or considered as medical advice. I'm not a doctor or medical practitioner. I encourage you to speak with your doctor, health care provider, or coach before returning to the water or training.
Disclosure: This post may contain affiliate links, meaning I earn a small commission at no cost to you if you purchase something through one of my links. As an Amazon Associate, I earn from qualifying purchases. Please check out my disclosure page for more information.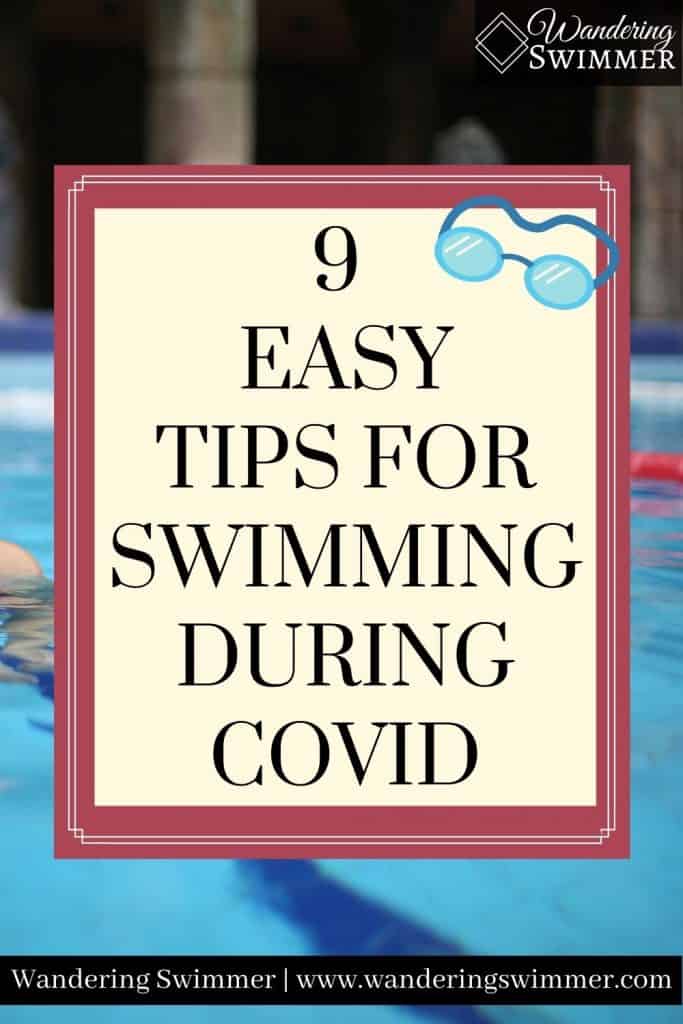 How to Swim During the COVID-19 Pandemic 
1. Mask Up!
This should go without saying, especially if you're concerned about swimming during COVID. But make sure you wear your mask. Most locations already require that you wear a mask before entering the building or pool.
You should wear your mask:
Before going into the gym or natatorium
While you're in the locker rooms
When you're on the pool deck
The only time you shouldn't wear your mask is when you're in the water.
Once you're out of the water, dry off your face and hair, and put your mask back on. Then finish drying off before going into the locker room.
More Content for You: 4 Ways to Prevent Swimmer's Ear
If you're going to change in the locker room, try to keep your face covered. Or at least refrain from holding a conversation if you're not going to wear your mask.
And of course, wear your mask as you're leaving the gym or pool.
Even if you're not worried about getting COVID, please wear a mask in respect for others around you. While you might not feel concerned about COVID, someone else might. 
2. Fill up Your Water Bottle at Home
This may sound like something simple, but it can make a difference if you're anxious about swimming during COVID. Instead of filling up your water bottle at the pool or gym, fill it up instead at home.
This will help prevent any cross-contamination and help mitigate some risk. You can decrease your risk further if you use a water bottle that doesn't have the mouthpiece exposed.
Related article: Reusable Water Bottles and COVID
It's important to remember that some locations still have blocked access to water fountains. And they're highly encouraging members to bring their water bottle already full. 
As of this posting, we couldn't find anything from the CDC about using water/drinking fountains. However, it wouldn't hurt to avoid them altogether by simply filling up your bottle at home. 
On a side note: be sure to clean out your water bottle frequently in-between uses. Not sure how to wash your water bottle? The CDC offers guidance when it comes to washing dishes and bottles.
Stores and online retailers sell specialized brushes to help clean the inside of a water bottle, along with the straw. We use OXO Good Grips Water Bottle Cleaning Set to clean every bit of our reusable water bottle 🙂
3. Arrive with Your Suit On
We understand that not everyone can do this. If you're going to the gym directly from work, you might not be able to change at the office. Or it could be difficult to do so. 
If you can change at the office though (or if you're coming from your home), consider changing at home. It might not always be comfortable to drive with your suit on, but it'll help decrease the time spent in the locker rooms.
Again, it's something small and doesn't seem to amount to a lot. But sometimes the little things can help some people feel better about going out during the pandemic. 
And while it's not always the most comfortable either, you can also leave the gym with your suit on.
If you opt to do this, make sure you dry off as best you can. Use a shammy or microfiber towel, and then use your towel to sit on for the drive home.
Related article: 5 Reasons to Own a Shammy
Or, consider wearing a parka when you leave for the winter months. They'll keep you toasty warm and keep your seats dry 🙂
4. Stretch at Home
Are you sensing a pattern yet? 🙂 
Again, this might not be possible for everyone. But if you're going in for a morning swim or workout, it's pretty easy to do. It just takes some time to get into the habit.
When swimming during COVID, you'll want to limit the amount of time you spend on deck. Especially around other people. While most facilities require masks while on the pool deck, not everyone follows the guideline.
And not everyone likes to stretch with a mask on.
To avoid this, try to remember to stretch at home before you leave. Or at the office, if you're going for an afternoon workout.
5. Bring Your Own Gear/Towel
To help decrease the risk of coming across COVID (or any other viruses), bring your own gear. 
Gyms and pools offer gear for their members to use, such as kickboards and pull buoys. While they might get sprayed down every hour or so, you can avoid the risk by bringing your own.
Related articles:
If you've always wanted your own swim gear, now's the chance to get some! You should also only use your own cap and goggles if you can help it. 
We also recommend that you bring your towel, too, instead of using one the gym provides.
Doing this helps you know who has touched/used the equipment. Which should just be you! Getting to control this can lead to peace of mind. And can help you stay safer while swimming during the pandemic. 
6. Look for Your Own Lane
You probably did this even before the pandemic as most of us like having our own lane to ourselves! This should still apply, even in a pandemic. 
Swimming in your own lane is one of the best ways to help limit exposure and contact with others. It's also a pretty nice way to swim and something most swimmers would consider basic swim etiquette. 
Related article: Top 5 Do's and Don'ts of Swim Etiquette
It's even better if you can get your own lane at the opposite end of the pool from where others are resting. This will help keep more space between you and other swimmers. 
If you have a swimmer in the lane next to you, try to stay socially distant if possible.
7. Sharing Lanes During COVID
At times when the pool is crowded, it's not always possible to have your own lane. Every gym or pool will have its own rules in regards to the number of people in each lane. Some will keep a strict 2 swimmers per lane. While others might flex a bit more.
If you have to split the lane, we recommend that you go to the opposite end of the pool from where your lane mate is. 
Having two or more swimmers sitting on the wall allows for increased exposure. If you have to stop when another swimmer is on the wall, consider stopping at the flags to avoid close contact. 
While pools or gyms may allow for more than two swimmers per lane, it's not a requirement. If you don't feel comfortable getting into a lane with more than one other swimmer, it's okay to wait. Your health and safety should come first.
8. Shower at Home
If you can, try to shower at home instead of using the locker rooms. Taking any steps you can to eliminate exposure and contact can help reduce your chances of catching COVID.
Much like wearing your suit to and from the pool, we understand that it's not entirely possible for some people. If you workout in the morning and go directly to work or school after the gym, you'll probably want to shower.
If you plan to use the locker rooms for showering, just remember to:
Be mindful of conversation when you're not wearing a mask
Watch the various surfaces and items that you touch
Wash your hands 
9. Safe Hygiene
The guidelines set by the CDC urge individuals to maintain a minimum of 6 feet for social distancing. This includes not just in the pool area, but also on the deck and outside the facility.
They also urge individuals to:
Washing your hands frequently
Wearing your mask (and washing it frequently)
Cough/sneeze into your elbow
Monitoring your health and staying home if you show symptoms
Self-isolating if you've been exposed or come in contact with someone who has COVID
A tip specific to swimmers: Remember to wash your hands just before you get into the pool. Especially if you're coming straight from the gym area or outside the facility. 
Most swimmers will touch their faces as they put on goggles and caps. Washing your hands directly before putting on your goggles can help reduce the chance of infection when you touch your face.
Practicing safe hygiene helps protect you from COVID. And it helps reduce the spread of it to others. Respect and treat others as you would like to be treated, and maybe we can get through this pandemic 🙂
As always, happy and safe swimming!
Chevron
---
Bonus Content:
Swimming Terminology: Knowing some swimming terminology, or swim terms, will help you navigate the swimming world. Here are 25 common swimming terms to get you started.
Swimming Basics to Get you Started: Get your feet wet with some basic swimming information to get you started. From swimming terminology to lane etiquette, learn the basics so you can master swimming!
---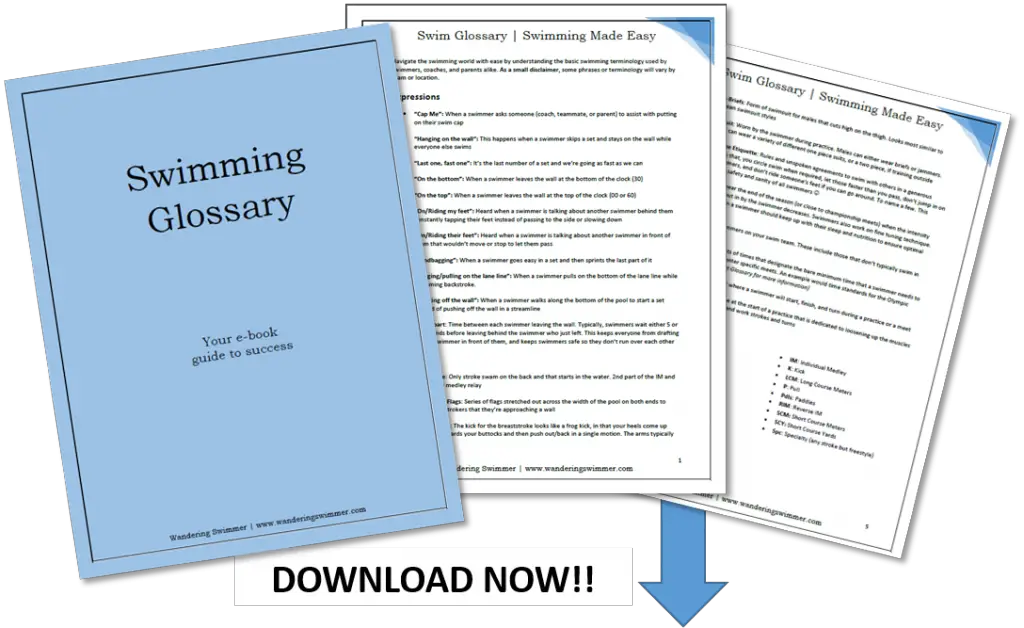 Want to Improve at the Pool?
Join swimmers and swim parents to receive my free newsletter and receive a free Swimming Glossary e-book as a thanks!
Every month you'll receive tips and coaching to help you find success at the pool.