Swimming equipment can be overwhelming with all the various options available. But if you're a casual lap swimmer, you don't need everything the store has to offer. So what swim equipment do you need to start swimming?
Related article: How Much Does Lap Swimming Cost?
We help you break down which gear you need and which gear can help enhance your next workout. And explain why you should or shouldn't consider each item on this list so you can make the best decision 🙂
Disclosure: This post may contain affiliate links, meaning we earn a small commission at no cost to you if you purchase something through one of our links. As an Amazon Associate, we earn from qualifying purchases. Please check out our disclosure page for more information.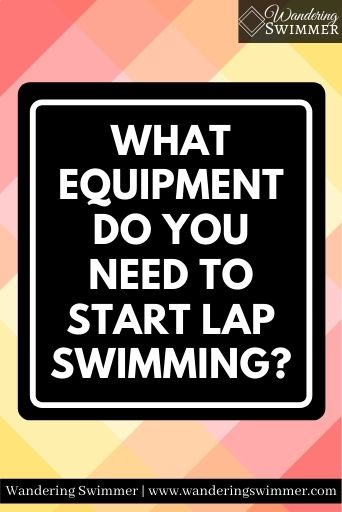 Should Have
When it comes time to start swimming, we believe there are a few items that you should have. Of course, this does come down to personal preference along with any rules determined by the pool.
We're purposely excluding some of the more obvious needs, such as a swimsuit (or rash guard/swim shirt) and a towel. They're not exactly equipment per se, but we felt they could be mentioned here as a quick reminder.
Related article: 5 Reasons Swimmers Should Own a Shammy
That said, here are 5 pieces of equipment that you need to start swimming. In our opinion, of course 🙂
1. Goggles
While some may feel that goggles aren't worth the hassle, their benefits far outweigh some of the frustrations. 
Related article: How to Fix Common Goggle Problems
Wearing goggles when you swim not only helps keep the water out of your eyes but also lets you see better. Both underwater and after your swim!
Chlorine can irritate your eyes if you're swimming with them open the majority of the time. And if you wear contacts, you definitely should be swimming with goggles to prevent infection. 
The good news is that goggles are relatively inexpensive. Competitive swimmers might opt for more expensive goggles for swim meets. But for regular lap swimming, you don't need anything too fancy.
Related article: How to Pick the Right Goggle for You
One of the more popular options for adult swimmers is Speedo Vanquishers goggles. They tend to fit most faces and are a bit larger so your eyelashes don't brush against them. 
A large majority of competitive swimmers also use this brand, so you're in good hands with them!
If you're wanting a goggle that's larger for your eyes, consider goggles that are marketed as 'outer eye'. These tend to form a better suction and are also more comfortable for most individuals. 
Some options are:
Lastly, most swim brands now offer prescription goggles for swimmers who wear glasses. They're a great option if you don't want to swim in contacts or if you don't wear them. 
One goggle we don't recommend for casual swimmers is Swedish Goggles. These goggles have no cushion around them and sit close to the eye. They can be uncomfortable, especially for newer swimmers.
2. Cap
Much like goggles, swim caps are something swimmers everywhere bemoan. And we get it, they can pull your hair and make you warm. 
But if you have long hair or if you're looking to keep the chlorine from damaging your hair, you should wear one. Keeping hair out of the pool and protecting your hair are only a few of the benefits of wearing a swim cap. 
Swim caps for the most part are pretty affordable. They come in several different styles for your comfort and in numerous colors and patterns to match your style. 
Related article: Your Quick Guide to Swim Caps
For most swimmers (competitive or casual) we recommend a silicone swim cap. 
These are a little thicker and warmer than their latex partners, but they tend to pull at your hair less. They can also be easier to put on than latex, too. Silicone caps also have options for those with longer hair.
One downside of silicone caps though is that they can slide off depending on certain conditions. 
3. Swim Bag
As you go to and from the pool, you need to have something to carry your various gear and equipment. 
Having a swim bag helps keep everything in one place and can help store your belongings when you're swimming. 
Swim bags are designed for swimmers and all their various gear. They're large enough to hold bigger towels and other gear. And they also have outside pockets that can store caps and goggles. 
Probably one of the more important features of a swim bag is that they have a separate 'dirt bag', which holds your wet belongings. This helps keep any wet items, such as suits or towels away from your dry clothes.
These bags come in various sizes to fit your needs. They can also be used for functions outside of going to and from the pool. Some good options to consider are:
Arena Fast Urban Backpack: Smaller in size, which makes it perfect for those who don't bring a lot to the pool. Has a separate compartment for wet clothes
Speedo Teamster Backpack: These come in a Medium 25L or 35L size to fit each swimmer's needs. These backpacks have plenty of space to store all that you need
4. Sandals
Pool decks and locker rooms can be gross. And due to their damp nature, you run the risk of getting ringworm or athlete's foot. 
To prevent this, you should bring sandals with you to use on deck and in the locker rooms. 
Yes, it's not exactly swim equipment. But it's something most people overlook when they first start swimming. Especially if they're not swimming in the summer. 
Related article: What Should You Take When You Go Swimming?
Sandals are easy to slip on and off compared to shoes. So while you can wear tennis shoes on deck, you have to dry off to put them back on. Plus, you can't wear shoes in the shower. 
If you like wearing tennis shoes wherever you go, that's okay! Just pack some sandals with you for the time you're at the pool and then change out when you leave.
Just something to consider 🙂
5. Water Bottle
A water bottle is probably one of the most overlooked pieces of equipment that you need to start swimming. Because one common swim myth is that you don't need to hydrate while swimming. Or that you don't sweat in the pool.
Both are false and can be dangerous for you. Let's set the record straight, shall we? You do sweat in the water (especially if it's warm) and you will sweat when you're swimming.
So it's important that you keep hydrated during your next swim. Do this by bringing a water bottle but remember to drink from it!
You can also save money by getting a reusable water bottle instead of a plastic one. As a bonus, they're easier to find on deck and are less likely to be used by accident by someone else.
Related article: Reusable Water Bottles and COVID
Nice to Have
Aside from the items we suggested, there are a few other pieces of equipment that you can use to start lap swimming. These are more optional, as pools may already carry these. And because they're not 100% needed to get in a good swim workout.
However, if you want to take your lap swimming to the next level, here are some quick options.
Kickboard
Kickboards help you work on your kick. They can also help develop and build up your leg muscles. 
Depending on where you swim, your pool might already have a supply of kickboards that you can use. If so, you can always use what's offered at the pool. Or you can consider getting your own kickboard if you'd rather not use a community one.
Related article: Best Kickboards for Swimmers
Kickboards come in various sizes and colors. However, for those just starting to swim, we recommend a full-size kickboard compared to a smaller, specialized one. These will help you work on your kick without feeling as though you're sinking.
Sporti has a great kickboard for any type of swimmer, which comes in sizes for adults and kids. It can bend a bit but should hold your weight without much issue.
If you're wanting a more firm board, consider the Speedo Team Kickboard. It's made of more dense material and has a hard shell. It's least likely to bend on you but can hurt your elbows after a long set.
Pull Buoy
Your pool might also offer pull buoys on site, although you're more likely to find kickboards. 
We've also found that most pools don't offer the right size buoy for their various members. And that most of the time, they're too small.
A pull buoy goes between your legs to keep your hips high in the water and stop you from kicking. This helps you focus solely on your pull.
Most buoys are shaped like an hourglass to better fit between your upper thighs. However, some might have a larger round section on one side and a smaller section on the other. These types offer a bit more buoyancy to them.
If you're looking for a regular-sized buoy, Sporti, FINIS, TYR, and Bettertimes offer your standard hourglass shape buoys. 
For a buoy with more buoyancy, consider Speedo's Team Pull Buoy.
Fins
Swim fins aren't for everyone. And we only recommend them if you're not starting out. We say this because fins can hurt your knees or ankles if not used properly. 
Related article: How to Pick the Right Fins 
However, once you've developed your kick and stroke, fins can add an extra layer of training to your next workout. 
If you're looking for your first set of fins, we recommend:
Sporti's Floating Swim Fins. These are extremely lightweight, flexible, and have a long fin blade, which makes it easier to kick in the water. Long fins also help you get a feel for the water. However, longer fin blades can make it a bit more difficult to kick at times
FINIS Z2 Zoomers: Also lightweight and flexible, but come with a short blade. Short fins make your legs work harder in practice and encourages a faster kick
And while it's tempting to purchase a monofin (two fins combined to form one large fin) and pretend to be a mermaid, they're incredibly difficult to use. Especially for newer swimmers. They're also expensive.
Lastly, if you're prone to blisters, look into fin socks. We highly suggest neoprene socks with a thickness of 2.5 or 3mm. As someone who uses them daily, it's a purchase you won't regret if you get blisters. 
Related article: How to Stop Your Fins from Rubbing
Just remember to size them and your fins accordingly 🙂
As always, happy swimming!
Chevron
---
Bonus Content:
Basic Pool Etiquette: 15 Ways to Share the Pool: Swim etiquette ensures that swimmers share the pool safely. But what is proper swim etiquette and what rules do you follow when sharing the pool?
Swimming on Your Period FAQ: Yes, you can swim on your period! From one menstruating swimmer to another, here are some frequently asked questions about swimming on your period.
---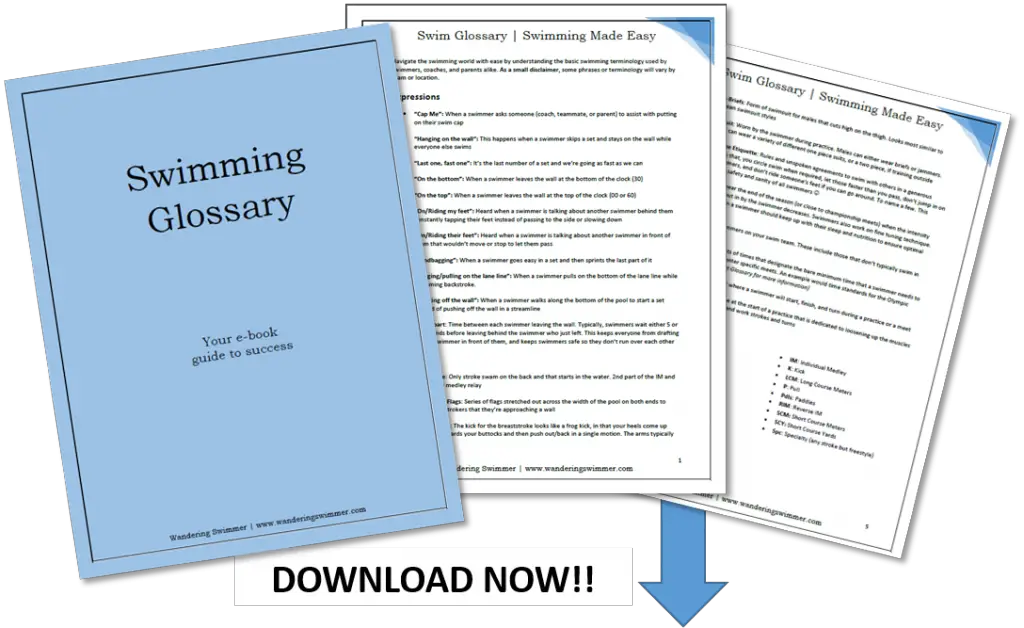 Want to Improve at the Pool?
Join swimmers and swim parents to receive my free newsletter and receive a free Swimming Glossary e-book as a thanks!
Every month you'll receive tips and coaching to help you find success at the pool.