Not sure what you should take when you go lap swimming? We've got you covered!
It might seem straightforward, but it never fails that you always end up needing something. So aside from your gym pass or wallet, what should you bring when you go swimming?
Related article: Basic Pool Etiquette: 15 Ways to Share the Pool
We will note that this is a basic list of items that you should bring and it's by no means complete. Every swimmer will have varying needs. If there's something specific that you know you need to bring (such as medication), please be sure to pack it 🙂
Disclosure: This post may contain affiliate links, meaning we earn a small commission at no cost to you if you purchase something through one of our links. As an Amazon Associate, we earn from qualifying purchases. Please check out our disclosure page for more information.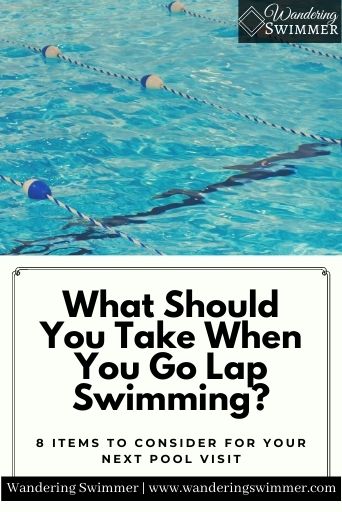 Swimsuit
Probably the most important thing you should take when you go lap swimming is your swimsuit! 
We know, you probably already knew that. But you'd be surprised with how many people forget to bring one. It's easy to pack your bag and forget to put your suit in it with your other belongings. 
Especially if you're just starting to swimming.
One way to help prevent forgetting your suit is to wear it before you leave. Change into your suit before you leave the house if you can. This saves some time at the pool and ensures you don't forget your swimsuit.
Related article: How to Make Your Swimsuit Last Longer
If you can't or don't like to change into your suit before you go to the pool, just remember to check your bag before you leave. Pack your suit the night before so you don't forget it in the morning when you're rushed to leave.
Swim Shirt
Not everyone is comfortable wearing just a swimsuit. And that's okay! One of the best options to help with this is to wear a swim shirt or a rash guard. 
Related article: Answering Your Questions About Rashguards
Both of these shirts are designed for use in the pool or other bodies of water. And we highly encourage you to wear one over a regular t-shirt due to safety and ease of movement.
Regular t-shirts, even when they fit tight, can weigh you down in the water and make it difficult to move. Swim shirts are designed with lightweight fabric that moves with you. As a bonus, most swim shirts also have UV protection, too!
Gear/Equipment
When you go lap swimming, there is some swimming equipment that you should have. We will preface this with the disclaimer that this all comes down to personal preference. And can vary based on the rules at the pool.
But at best, we recommend the following:
We cover these items and other equipment options in more detail in our post: What Equipment Do You Need to Start Swimming?
Bag
One of the more easily overlooked items you should take when you go lap swimming is a bag. 
It's easy to think that you can just carry your towel and a few other belongings. But it doesn't take long to realize that having something to hold all your belongings makes things much easier. 
A swim bag lessens the chance that you'll drop something, such as your cap and/or goggles. And a bag can help keep everything in one place, especially when you're swimming.
More Content for You:
Swim bags specifically are designed for swimmers and the various needs that they may have. 
From holding towels, clothes, and gear, there's plenty of space for nearly everything. And their design makes they're more ideal than a regular gym bag. 
Probably one of the more important features of a swim bag is that they have a separate 'dirt bag', which holds your wet belongings. This helps keep any wet items, such as suits or towels away from your dry clothes.
These bags come in various sizes to fit your needs. They can also be used for functions outside of going to and from the pool. 
Another option to consider is a gear bag. A gear bag is a mesh bag that holds specifically your gear/equipment, such as kickboard, fins, etc. 
It's not meant to carry your towel or clothes though. And it won't keep anything dry since it usually sits on the deck with you so it's easily accessible. 
But it's a good place to store all your wet gear and keep them separate from your dry belongings. 
Toiletries
If you plan to shower or change at the pool/gym, don't forget to pack some toiletries. Certain brands such as TRISWIM and UltraSwim can help remove chlorine from your hair and body. Malibu C also provides facial scrubs and other skincare sets.
We recommend packing a bottle of lotion or moisturizer for after your workout, too. 
Chlorine can be rough on your skin and can dry it out easily. Leaving you with itchy and cracked skin. Using lotion following your workout can help prevent itchy skin or soothe it.
More Content for You: 4 Ways to Prevent Swimmer's Ear
And just a personal preference, but we also recommend bringing sandals with you if you're going to shower. Or use the locker room at all 🙂
Water Bottle
True or false. You don't need to bring a water bottle when you go swimming?
The answer is false!
It's a common swim myth that you don't need to hydrate while you swim because you don't sweat in the pool 
Both are wrong. You do sweat in the water (especially if it's warm or you're outside) and you will sweat when you're swimming.
Because of this, it's incredibly important that you bring a water bottle when you go lap swimming. Of course, you also need to drink from it 😉 
Don't like the taste of water? Try a sports drink or some sport's drink mix to help you stay hydrated. Just make sure you check the amount of sugar!
You can also save money by getting a reusable water bottle instead of a plastic one. As a bonus, they're easier to find on deck and are less likely to be used by accident by someone else.
More Content for You: Reusable Water Bottles and COVID
Optional Items for Lap Swimming
Sunscreen
For those lap swimming outside, be sure you take some sunscreen with you. Especially during the summer months. 
Sunscreen works best when you apply it at least 15-30 minutes before you get into the water. This gives the sunscreen enough time to set so it can best protect your skin.
Swim shirts or rash guards can also help protect you from UV rays. We believe that this should be used in addition to sunscreen instead of in lieu. But that's just our recommendation 🙂
Change of clothes
Going somewhere after your swim, such as work, school, or out to eat? You might need to pack a change of clothes to wear after you finish your swim. 
Keep these clothes in a plastic bag or a dry/wet bag to help keep them dry and easy to find.
Don't forget to pack undergarments! Especially if you wore your suit to the pool. 🙂
Extra Towel to Drive Home In
Not everyone likes to change at the pool.
For this reason, we suggest bringing an extra towel to use for the drive home. Something long enough to wrap around your body and thick enough that you won't ruin the seats in your car.
You can also look at wearing a parka in the cold winter months. This will help keep your car seats dry and keep you warm. One suggestion we have is wrapping up in a dry towel before sitting in your parka.
Related article: A Swimmer's Review of Arena's Team Line Parka
For warmer days, you can also consider a cover-up. This will provide more coverage than a towel would as you walk to your car.
As always, happy swimming!
Chevron
---
Bonus Content:
Swimming on Your Period (And Why You Should): Whether you're a competitive or leisure swimmer, it's perfectly fine to swim during your period. Here are 8 tips to help you while swimming on your period.
Basic Swim Terminology: Knowing some swimming terminology, or swim terms, will help you navigate the swimming world. Here are 25 common swimming terms to get you started.
---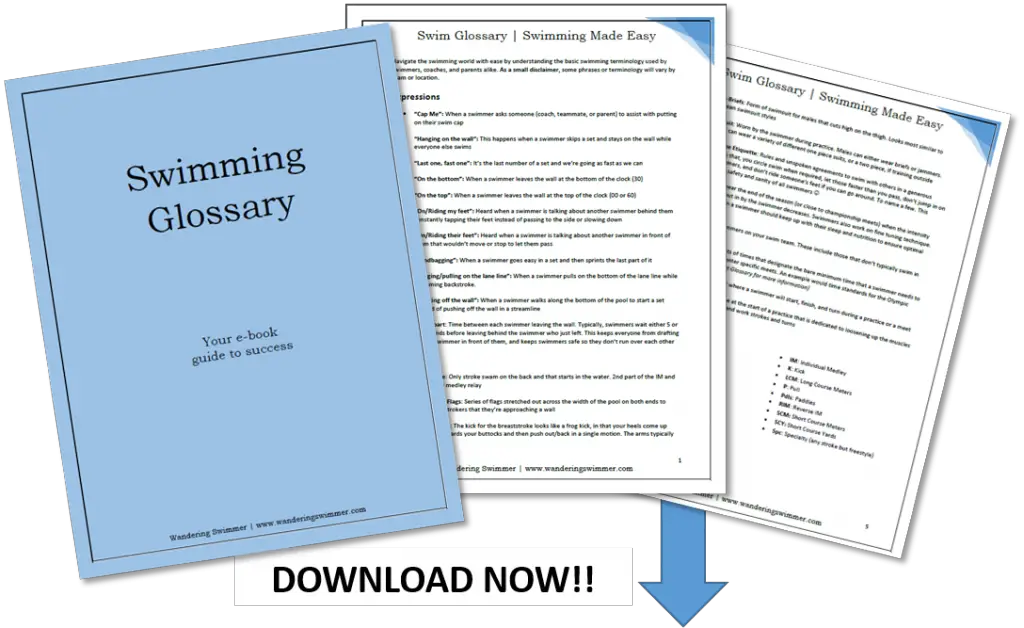 Want to Improve at the Pool?
Join swimmers and swim parents to receive my free newsletter and receive a free Swimming Glossary e-book as a thanks!
Every month you'll receive tips and coaching to help you find success at the pool.