When it comes to storing and carrying your belongings and swim gear, a swim bag is a swimmer's best friend. They hold everything from towels and phones, to caps and goggles. 
Picking the best swim bag though can be a bit overwhelming with the numerous choices.
We've broken down the 7 best swim bags for swimmers (and water enthusiasts), with a bonus option for those fun outings to the pool. 
Disclosure: This post may contain affiliate links, meaning we earn a small commission at no cost to you if you purchase something through one of our links. As an Amazon Associate, we earn from qualifying purchases. Please check out our disclosure page for more information.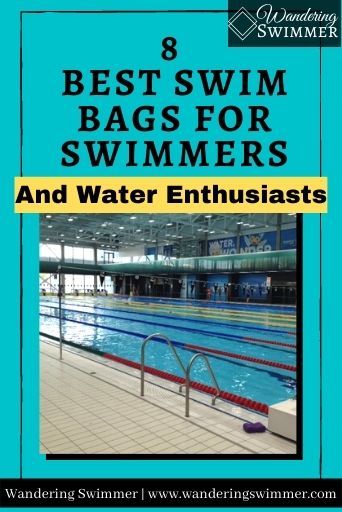 7 Best Swim Bags for Swimmers (+1 for Beach/Pool/Swim Lesson Use)
Arena Spiky 2 Large Backpack (40L):  Best Overall
Speedo Teamster 2.0 (Printed or Solid Color 35L)
Arena Team 45 Backpack (Printed or Solid Color 45L)
Athletico Swim Backpack: Most Affordable
BONUS: F-Color: Best Beach, Pool, and Swim Lesson Bag
Arena makes several different styles of swim bags. And each bag comes with great features based on what you're needing.
Their Spiky 2 Large Backpack is our pick for the best swim backpack due to its many pockets, convenient size, sturdy design, and separate shoe compartment. 
The Spiky 2 Large Backpack is 40 liters. With dimensions measuring 13.75"x9"x19.25". This puts it in the middle of other Arena bags that have 30 and 35 liters of storage space.
It's a perfect size for someone wanting to carry gear and towels. But doesn't want to carry an excessively large backpack.
It also features a square bottom that allows it to be self-standing. And the bottom section is designed as a shoe compartment. However, it can be used to store other items, such as wet towels or gear.
More Content for You:
There are two extra front pockets for storing smaller items. And there are pockets on each side, one of which has an open mesh pocket for a water bottle. 
The main compartment is roomy and has a wide opening. Making it easy to add and remove your belongings.  
One of the things we like about Arena's swim backpacks is the design of the top handle.
Whereas most other swim bags are a simple strap, Arena's bags are thicker and connected to the shoulder straps. This helps make them stronger and more durable, creating a long-lasting swim backpack.
The Adult Teamster Pro Backpack by Speedo checks all the boxes for us. 
At 40 liters (13"x20"x10.2") it's a moderately sized bag. It fits in between bags that range 30 or 45 liters, making it just right for most swimmers.
It features a structured square bottom, which allows the bag to be self-standing. Something older Speedo bags don't quite do. 
The bag has a large opening for the main compartment, which can hold swim gear and your personal belongings. 
There are pockets on either side, one of which can hold small damp items for a short period. There's also a mesh side pocket to hold a water bottle.
One of the unique features of this bag is the front panel, which features webbing loops and velcro straps.
Swimmers can attach bag tags and other trinkets with ease on the webbing loops. And the velcro straps can hold towels, sandals, and foam rollers.
It's a nice touch and helps free up the main compartment for other items. And it's a great way to display bag tags.
The only negative is the handle at the top of the bag, which is a bit thin. It's attached directly to the bag instead of the straps, which can run the risk of tearing.
A bit smaller than the Teamster Pro Backpack is Speedo's Teamster 2.0 Swim Bag. But don't let the smaller size fool you. It has tons of useful storage to fit everything you need.
The Speedo Teamster 2.0 is an updated version of Speedo's original Teamster Backpack (which has since been discontinued) The new design features a square bottom so it stands by itself and has a more streamlined wet compartment.
The main compartment has a wide opening for easy access. And it has an inner sleeve which can hold either a laptop or other gear, based on your needs.
Each side has two pockets, which most swim bags don't have. This gives the bag extra storage for goggles, caps, and toiletries. The wet compartment is on the front of the bag and has mesh ventilation so you can store wet suits.
Speedo's Teamster 2.0 comes in solid colors and printed patterns to fit your style!
One negative feature of Speedo's swim bags is the top handle. It's on the thinner side and can run the risk of tearing if you carry it by then handle when it's heavy.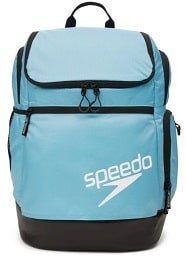 One of the larger bags on this list is Arena's Team 45 Backpack. At 45 liters and measuring 19.6"x13.7"x9.8", it's large enough to fit all your gear and belongings.
It's designed with a large main compartment and various exterior pockets to carry smaller items. One feature we like of the main compartment is the double pocket on the back of the bag. This can help keep dry items away from damp/wet ones.
Related article: A Swimmer's Review of Arena's Team 45 Backpack
The front of the bag features a large mesh pocket. This can be used as a wet bag for any wet gear, such as suits. Or, it can be used for shoes. 
If you plan to use it for shoes, we recommend keeping a plastic bag handy to prevent the inside from becoming dirty. Stick them in the plastic bag and you'll keep your swim bag looking good for years to come!
There are pockets on both sides of the bag. Each with a mesh side pocket, which can hold water bottles and other items. 
We also like the two carabiners that come with the bag. This makes it easy to snap on bag tags, wet suits, or even goggle cases.
The fabric and zippers are made from thick material, for a long-lasting swim bag.
The Arena Team 45 Backpack comes in either solid colors or printed patterns to fit your personality. You can also find Arena's Pride Swim Bag in this style.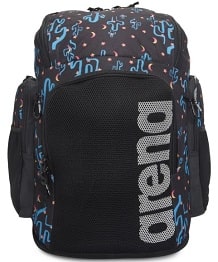 Another large backpack option is TYR's Alliance 45L Backpack. This swim bag is also 45 liters and measures 20"x13.5"x10.5".
The main compartment has a large mouth opening and features an inside pocket to keep dry and wet items separated. And the large square base helps it stand upright.
There are tons of pockets and storage features on this bag. One side has a large pocket for goggles and toiletries. The other side has a smaller pocket for nose plugs, hair ties, and keys. Next to this pocket is a mesh pocket that can hold a water bottle.
More Content for You: Best Gear for Swimmers Returning to the Pool
On the front of the bag are two more pockets. One is for a wet/dry compartment that could also double to hold shoes. And a smaller, flat storage pocket just above it.
This bag comes with a unique backing to help support your back and shoulders when wearing it. It also features a couple of carabiners to hold wet suits or bag tags.
We will note that the material might not last as long as other swim bags. Especially if you're handling it roughly. The bottom and fabric may get some rips or tears.
Lastly, like the Speedo swim bags, the TYR Alliance Backpack has a thin top handle. 
And for a large bag that's filled to the brim with gear and belongings, it runs the risk of tearing. We recommend that you carry it by the straps instead.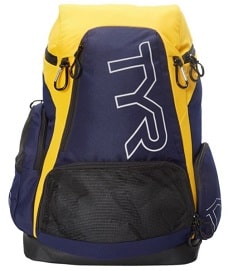 Probably one of the most affordable swim backpacks without compromising space is Athletico's Swim Backpack. It has dimensions of 22"x15"x9.5", putting it at about 40 liters.
This swim backpack comes with many of the same features you would find from other swim brands. The main compartment is large and comes with a padded laptop sleeve, which can be used to store dry items.
There are pockets on each side, along with two smaller pockets to hold water bottles. A unique feature of these pockets is that they cinch shut with a bungee cord, keeping everything secure. 
The pocket on the opening flap is designed to hold your phone or other electronics. It's felt-lined to keep them protected. 
Another pocket is just on the front of the bag and we'd almost call it 'hidden'. Because it's not very obvious at first that there's even a pocket there!
One unique but handy feature is the bungee straps along the front part of the bag. This can be used to hold suits and towels.
Lastly, the mesh compartment at the bottom of the bag is great for storing wet items or shoes. 
Another budget-friendly option (although not as cheap as Athletico's Swim Backpack) is Sporti's Athletic Backpack.
It's also packed with several key features that other swim bags have. At 38 liters and measurements of 19"x10"x13", it's a great swim bag. 
And we like that it doesn't skimp on the pockets. 🙂
The main compartment is large for all your gear needs. It also holds a removable dirtbag, which can be used to hold your wet items. Such as suits.
This bag features pockets on both sides. One pocket cinches shut with a bungee cord to keep items secure. While the other one can hold a water bottle.
Two more pockets grace the front of the bag. The lowest one is another wet/dry bag that can also be used to hold shoes or other items. Just above that is a deceivingly large pocket that can hold items as large as paddles!
Like Athletico's bag, Sporti included a small zippered pocket on the bag flap for smaller items. Such as a phone or keys.
Finally, the front of the bag has two buckle straps that can be used to hold towels, foam rollers, or sandals.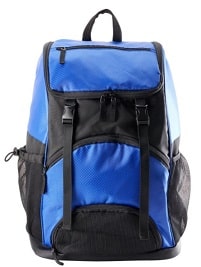 While it's not exactly a swim bag, F-Color's Oversized Beach Bag is a good alternative for casual swimming and pool visits, going to the beach, or even for swim lessons.
Related articles:
It's made of mesh, which means it dries quickly and it's easy to remove sand or dirt for any outdoor excursions.
And at 16.5"x15"x8.5", it's large enough to carry several towels and still have room for more. 
There are 8 pockets, along with one inside pocket for your phone. Use these pockets to carry shoes, water bottles, goggles, sunscreen, and more!
Perhaps the only negative is that the bottom is also made from mesh. Which means that sand or water can get into the bag. To keep your belongings dry, don't set the bag on the pool deck. Otherwise, they're likely to get damp. 
Additional Information on Swim Bags
What is the Difference Between Swim Bags and Gear/Mesh Bags?
It's easy to get the two confused, but there is a difference between swim bags and mesh gear bags.
Swim bags hold dry belongings, such as towels, clothes, phones, wallets, etc. They can also be used to carry gear or equipment, but they're designed to keep your belongings dry.
Gear bags are used specifically to carry swim gear and equipment. Such as fins, paddles, kickboards, etc. These typically sit right next to the pool for easy access to swim gear. They're made of mesh so they can drain and dry easier. 
What Makes a Good Swim Bag?
When it comes down to what makes a good swim bag, it's partially personal preference and partially quality of the swim bag.
In general though, a good swim bag should:
Be large enough to carry/hold all your belongings that you need for the pool (and school/work, if needed)
You can find everything easily
Made of durable and thick material
Has strong stitching along all the seam
Comfortable to carry
Have at least two pockets for smaller items
The pattern/color and number of pockets or other features can also be important options. But these are more preference based compared to the overall design that makes up a good swim bag.
Alternatives to Swim Bags
If a swim bag isn't right for you, there are alternatives to them. 
Duffle bags and tote bags are options that we've seen before. Although we suggest pairing them with a swim gear bag, as they might not hold your belongings and extra gear that you bring.
Kuston Sports Gym Bag (35L) and G4Free 3-Way Duffle Backpack (40L) are some good options when it comes to gym bags.
You may also consider a simple drawstring bag (like this one from Arena) if you don't carry many items to the pool. 
How to Choose a Swim Bag
Most swim bags are the same in what they offer. They're designed to hold your belongings, keep them dry, and come with a variety of different-sized pockets to store everything. 
However, swim bags aren't one size fits all. They come in various sizes to fit the specific needs of its user. And you need to ask yourself what you need in a bag.
If you only require the basics, such as a towel, cap, and goggles, and a place to store your belongings, a smaller bag might work. You can supplement with a gear bag if you start using gear when you swim.
For the swimmer who brings a lot to the pool, a larger bag with several pockets might work best. 
How to Take Care of Your Swim Bag
One great benefit of swim bags is that they last for years. Especially if you take care of them. Follow the tips below to keep your bag in top shape.
Remove wet items, such as towels, clothes, and equipment daily to let your bag dry out
Dry off any equipment before storing it in your bag
Clean out your swim bag once a month to ensure you haven't forgotten any trash, food, or wet items
Try not to carry your bag with just one strap, as this can lead to tearing over time
Wipe down the outside, inside, and the bottom of your bag if it starts to look dirty
---
Bonus Content
6 Best Prescription Goggles for Swimmers: Need prescription goggles to help you see better at the pool? Here are the best prescription goggles for swimming and all your pool needs.
8 Swim Parkas for Swimmers: Whether you're at a swim meet, lap swimming, or playing water polo, staying warm is crucial to finding success in the pool. Here's our breakdown of the 8 best swim parkas for swimmers and other water enthusiasts.
---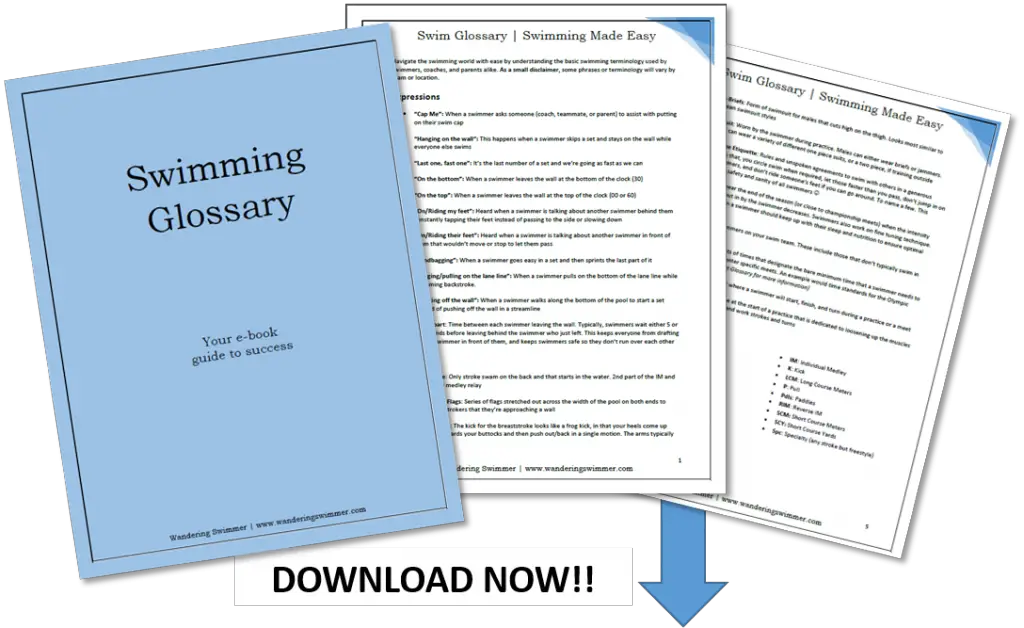 Want to Improve at the Pool?
Join swimmers and swim parents to receive my free newsletter and receive a free Swimming Glossary e-book as a thanks!
Every month you'll receive tips and coaching to help you find success at the pool.
---
About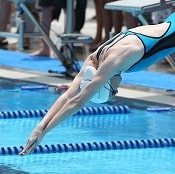 Chevron is a current competitive swimmer with almost 20 years of experience in the pool. And although she fell into the sport by accident in her high school years, she still trains daily and competes throughout the year. She's committed to providing guidance to all levels of swimmers and believes that everyone should know how to swim.