Swim bags are a swimmer's best friend. They hold everything from towels and phones, to caps and goggles. And after almost 10 years of heavy (and sometimes very rough) use, my old Arena swim bag threw in the towel.
As sad as it was to retire it from swimming use, I was also excited to get a new, more current bag.
The bag I chose was Arena's Team 45 Swim Bag, which was my old swim bag's successor. I was a bit worried that it would be too large, but it ended up being just the right size for me.
Keep reading to get my full breakdown and thoughts on Arena's Team 45 Swim Bag. And see if it's the swim bag for you!
Disclosure: This post may contain affiliate links, meaning we earn a small commission at no cost to you if you purchase something through one of our links. As an Amazon Associate, we earn from qualifying purchases. Please check out our disclosure page for more information.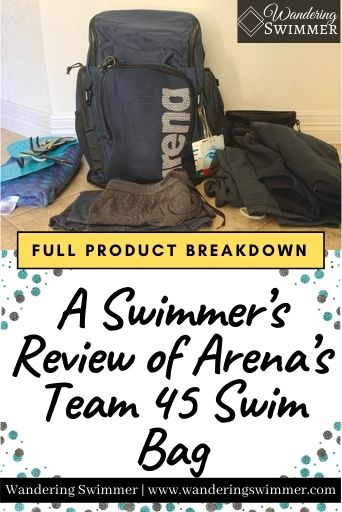 Overall Swim Bag Design
When it comes to bag design, the Team 45 Swim Bag is extremely similar to other swim bags.
It has a large main compartment to store gear, clothes, and other items, such as towels and toiletries. The opening is just the right size to get in and out of the bag. But I do wish the zipper flap came down just a smidge more.
The bottom has a square design, which helps it stand upright without tipping over. A nice plus when you're at practice or a meet! 
Related article: 8 Best Swim Bags for Swimmers
This design does lead it to being boxier in shape. But again, that helps keep it upright and gives it a sturdy construction.
I'm a huge fan of the handle design on all of Arena's bags. 
The handle itself is thick in width and is attached to the shoulder straps. This gives the handle an incredibly sturdy base that is less likely to pull away from the bag, like other swim bags.
Lastly, Arena's Team 45 Swim Bag comes in a plethora of patterns and colors. Pick a pattern that best fits your personality or a solid color that you like best 🙂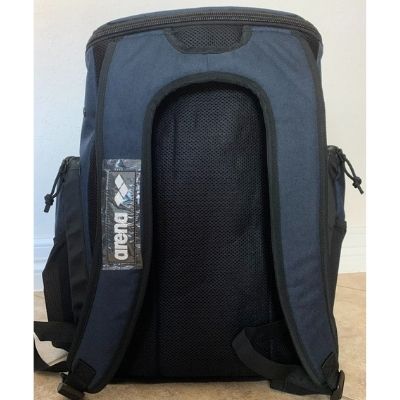 Size
As its name suggests, it's a 45-liter bag. And in terms of size, the Arena Team 45 Swim Bag is one of the larger swim bags on the market today. 
The dimensions are as follows:
Height: 21.7 inches (55 cm)
Length: 12.6 inches (32 cm)
Width: 9.4 inches (24 cm)
TYR's Alliance 45L bag is the only other 45-liter option available as of this writing.
This bag stands about 4 inches (10 cm) taller than my old bag, which gives it much more storage space. A huge plus for me, because it easily fits sweatpants, a hoodie, dryland clothes, towels, and extras with some room to spare.
Pockets
There are 5 pockets total in this bag. Two inside and three outside. Technically, there are 7 total, if you include the two small mesh ones on the outside pockets.
With the several different pocket options, you're not short on storage space. And Arena has developed some nice ways to help maximize storage space with the new pocket designs.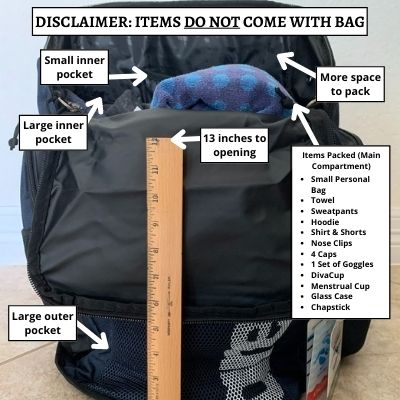 Inside Pockets
Most swim bags feature an inner pocket along the back of the bag for laptops, folders, or tablets. The Team 45 bag has one plus a second smaller pocket!
The first inner pocket is larger and comes up about ¾ quarters of the way. It's a great place to store items to keep them separate from the main compartment.
Some swimmers will put a smaller kickboard in this pocket. As it's just the right size for certain kickboards. Others will use it to carry other gear, such as paddles, caps, and goggles.
I use the interior pocket to hold my glass case, extra socks for meets, and my caps/goggles. Along with a mix of other junk 😀
More Content for You: The 7 Best Swim Caps for Long Hair
The second inside pocket is just above the first and is 5.5 inches (14 cm) deep. I love this pocket for small items. Such as my nose clip, extra contacts, chapstick, and my DivaCup.
You can also use this to store keys or your phone for easy access. 
Outside Pockets
Side Pockets
Arena's Team 45 Swim Bag has two large zipper side pockets. One on each side. They're about as wide as the bag and are 11 inches (28 cm) deep. 
This gives you enough space to put two boxes of goggles in one pocket and still have space above them for caps or extra goggle straps.
I like how deep these pockets are, as it gives me more space to store other items. Previous bags had relatively shallow pockets that just fit goggle boxes. And maybe a folded-up cap on the top or side.
Because these pockets are deeper, the mesh pockets on the outer pockets are also deeper. Again, another huge plus because I can easily fit my toiletries in them without always knocking them out.
More Content for You: The 7 Best Swim Shampoos to Remove Chlorine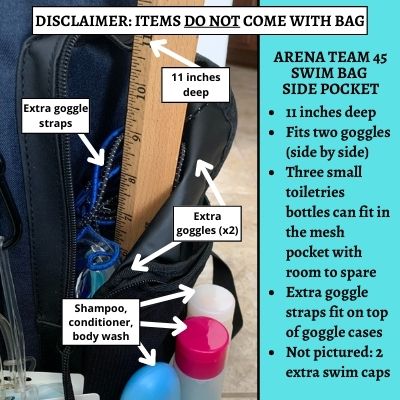 Front Pocket
There is one large front pocket on this bag. It has a mesh covering on the front with breathable fabric just behind it. Making it perfect for wet gear or suits. 
I use it for my paddles, but it's large enough that you could also store fins and a snorkel, too.
Admittedly, this pocket is probably the one thing I don't really like about this swim bag. 
Mostly because I don't store much gear (or wet things) in my swim bag. So this pocket mainly goes unused, which is a waste of space for me.
More Content for You: What Equipment do you Need to Start Swimming?
And while I do store my paddles there instead of using the inner pocket like I used to, I miss having the smaller pockets on the front. 
Carabiner Clips
Having carabiner clips come with my bag made me more excited than it should've. 🙂 This bag has two smaller ones on the front, one on either side of the front pocket.
For those who don't know what carabiner clips are, they're basically a D-Ring. And they can be used to clip on wet suits, bag tags, and goggle cases. 
This makes them handy because they're much easier to use than threading a suit through the handle of a bag. Or fighting to get a bag tag through that small little plastic loop.
And for those swimmers who have a lot of bag tags, these carabiner clips take some of the weight off the bag's zipper. Meaning your swim bag won't cave in on itself from all those bag tags. 😉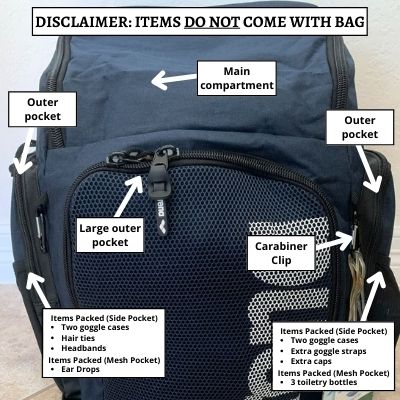 Durability
So far, the Team 45 Swim Bag has held up well. The material is thick and well stitched together, so I'm not worried about the bag falling apart. 
As mentioned earlier, the straps and handle are designed together for durability. I have no concern about picking up the bag by the handle and having it tear away. 
Material
The majority of the Arena Team 45 Bag is made from a thick canvas-like material. And the material dries pretty quickly if I drip water on it.
Inside, the bag is lined with water-resistant polyester. This makes it easy to clean out with a damp washcloth if I ever spill something.
Comfort 
The back of the bag and straps on the Team 45 are lightly padded and lined with mesh to increase airflow. I haven't had anything to complain about in terms of comfort. 
It rests well on my shoulders without digging in. And the back doesn't completely sit against my back, allowing some air to pass through.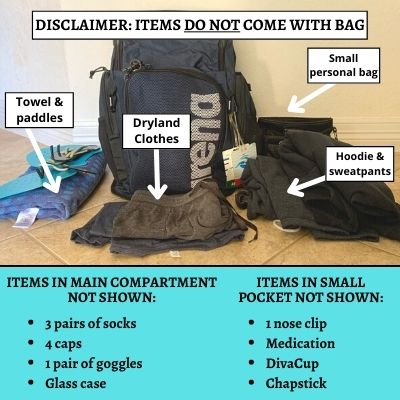 Price
Lastly, comes the cost. 
Compared with other swim bags on the market, the Arena Team 45 swim bag costs about the same as other brands. There are a few cheaper options, such as Sporti Large Athletic Backpack. 
But for the most part, all bags are priced about the same. With maybe a $5-10 difference. 
Solid color bags typically run cheaper than their printed siblings. That's standard across the board for most swim bags.
If you're looking for a new bag, I recommend waiting for sales when they're marked down.
Weighing the Pros and Cons
Pros
I have many things that I like about this bag. 
It's well designed with the swimmer in mind. The deep pockets and large main compartment are suited for carrying bulky gear with ease. And still have room to pack smaller items such as towels, clothes, and more.
The small inner pocket makes it easy to store small items without them getting lost. The D-rings, of course ;). And all the pattern options to pick from!
What we Like In Review:
A large amount of storage in the main compartment
Can carry swim gear and personal gear
Carabiner clips to hold bag tags and wet suits with ease
Deep outer pockets that hold goggle cases and more
Deeper mesh pockets on the outside pockets
Small interior pocket for small items
Many patterned designs 
Square bottom so the bag doesn't tip over
A sturdy and well-designed handle/strap system
Cons
Truthfully, I only have two things I dislike about this bag. 
One is the lack of smaller pocket options, which the front pocket took away. I think I would've liked to see at least one small outer zip pocket just above one of the outside pockets. Much like Speedo's Teamster 2.0. 
Again, that's just my opinion based on my personal preference. 
Secondly (and this is such a minor complaint), I wish there were more solid color options. Arena has a good amount of print designs, but not many solid colors.
What We Didn't Like in Review:
Other Swim Bag Options
Arena's Team 45 Swim Bag isn't the only one out there. Nearly every brand makes its own swim bag. And while the design of the bag will be the same, each will have other small differences that may appeal to you more.
A few different options to consider are: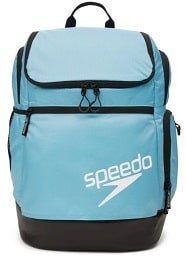 Final Thoughts
Do I like my Arena Team 45 Swim Bag?
Yes! It's a great, sturdy, and simple bag for anyone who needs to carry a lot of belongings. It does well at practice in holding my clothes and other items. And I can pack it for a swim meet and still have room left over.
That said, the bag may be too large for some.
Large swim bags are great because they can fit so much stuff. But they can be a pain at swim meets when you're running into people with it. Or if you have to fly to a swim meet and it doesn't fit under the seat.
And it can just be unwieldy to carry around for certain swimmers. 
But that's okay! Not every swimmer is going to like every bag out there. You may want a smaller bag, such as Speedo's Teamster 2.0. Or you may want something in between like Speedo's Adult Teamster Pro Backpack or Athletico's Swim Bag
I always recommend that you ask your teammates about their swim bags and their opinions on them. See if you can poke around one to see its design and even wear it for a minute or two. This can help give you an idea of how it feels and how you'd use it.
As always, happy swimming!
– Chevron
---
Bonus Content
6 Best Prescription Goggles for Swimming: Need prescription goggles to help you see better at the pool? Here are the best prescription goggles for swimming and all your pool needs.
A Swimmer's Review of Arena's Team Line Parka: Parkas aren't just for competitive swimmers. Anyone can use them as a means to stay warm in cold weather. One such parka is Arena's Team Line Parka.
---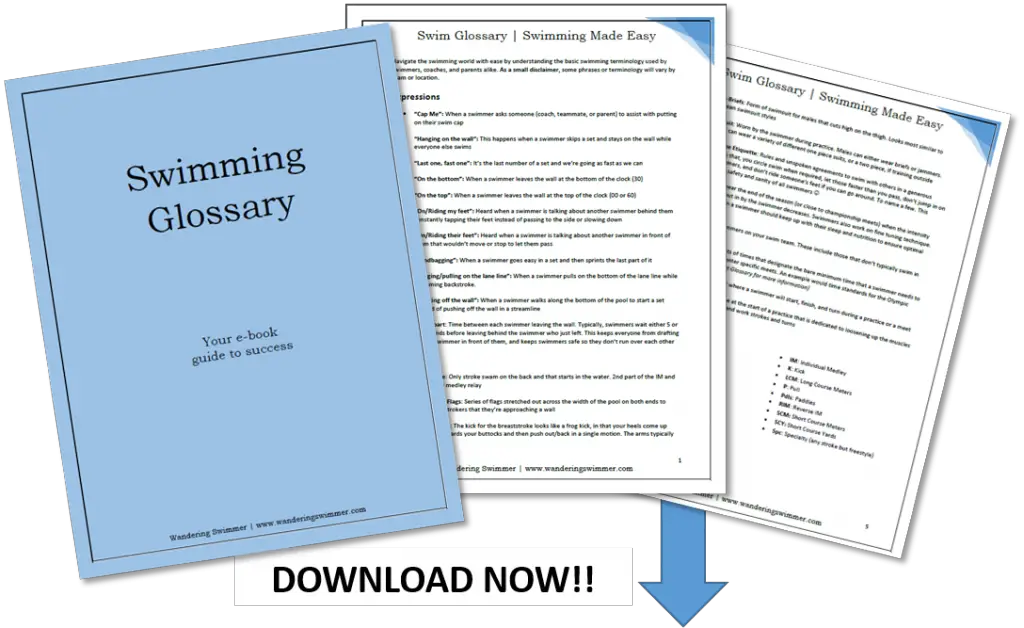 Want to Improve at the Pool?
Join swimmers and swim parents to receive my free newsletter and receive a free Swimming Glossary e-book as a thanks!
Every month you'll receive tips and coaching to help you find success at the pool.
---
About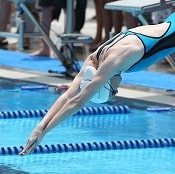 Chevron is a current competitive swimmer with almost 20 years of experience in the pool. And although she fell into the sport by accident in her high school years, she still trains daily and competes throughout the year. She's committed to providing guidance to all levels of swimmers and believes that everyone should know how to swim.